Coconut Mango Panna Cotta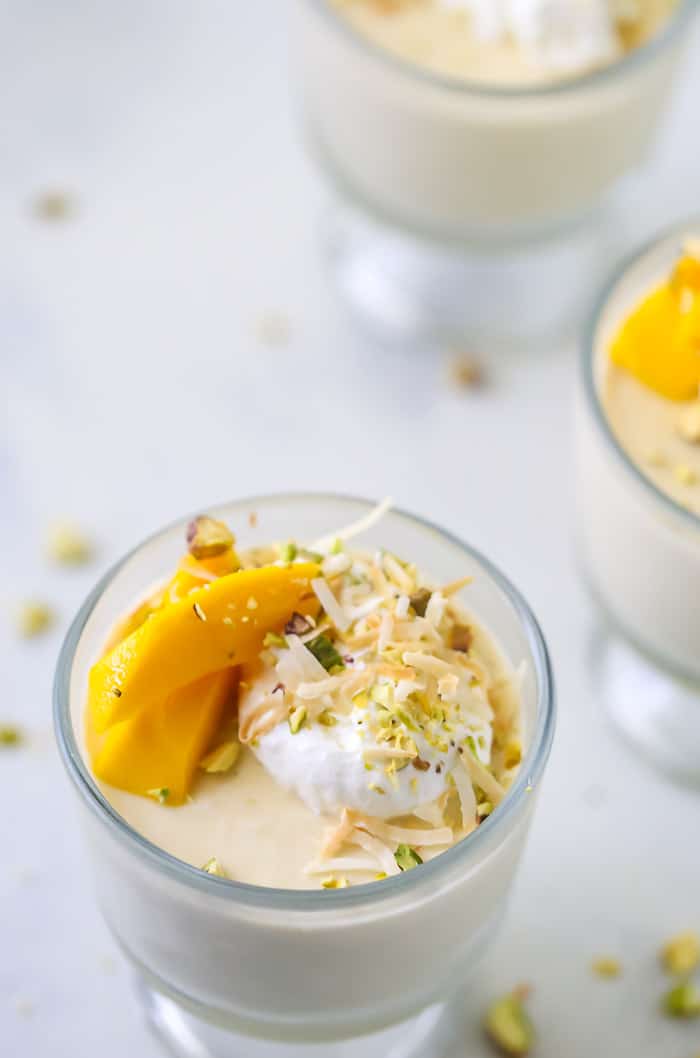 Hello friends! It seems as if this week has turned into a tropical custard week. I shared this luscious passionfruit creme brulee on Monday and today, we have this equally luscious coconut mango panna cotta.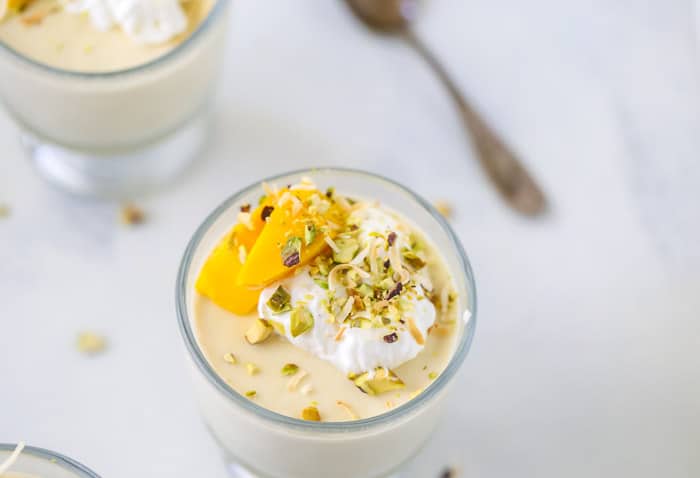 What's funny is that these were made and shot over a month apart. The coconut mango panna cotta was created back when I made these coconut mango cupcakes. I think that was in June. I had leftover coconut milk and also mango puree so I whipped up a panna cotta for an easy no-bake dessert. It turned out to be delicious and warranted a re-make for the blog.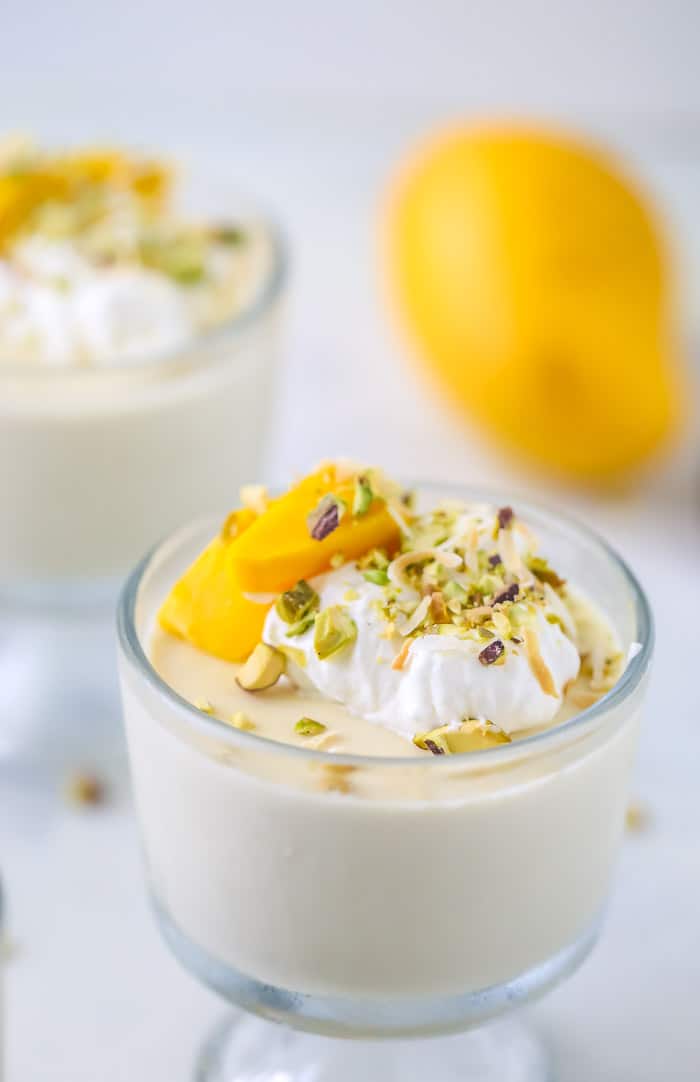 Most of my experiments start like that. I have leftovers from a flavor combo that worked and I think to myself what else can I make?? And this week, it was hot and humid and I was not willing to turn on the oven again so a sweet custard it was.
I love me some panna cotta. If you are new to panna cotta, it is an Italian dessert of sweetened cream thickened with gelatin. That is basically it. You can do a lot of flavor combinations and it is very forgiving. I have a few here on the blog because I just love how decadent and silky this custard is. Here are some of my faves: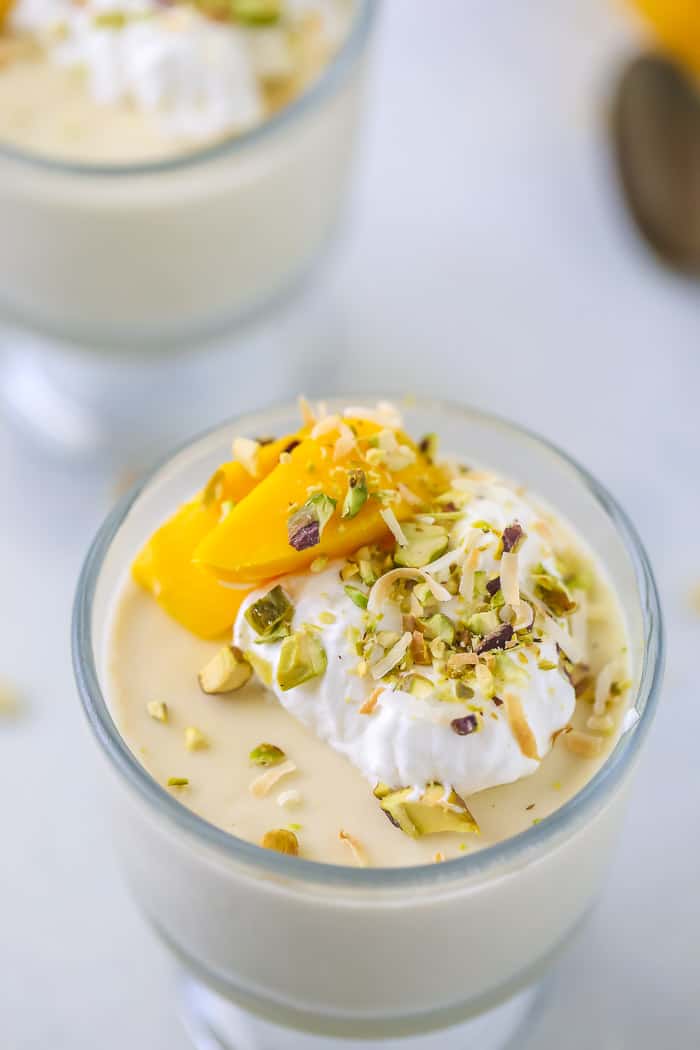 For this coconut mango panna cotta, the base is made with coconut milk and heavy cream. It is not dairy-free but you can use all coconut milk if you would like to skip the heavy cream.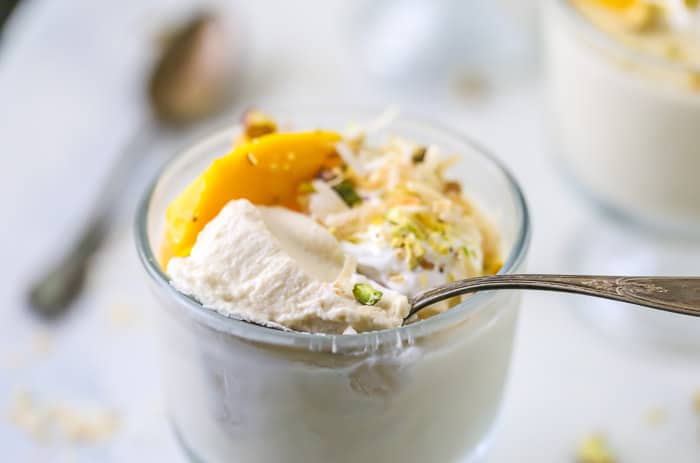 The coconut milk and cream are then infused with mango puree. I tried to balance the flavors so one is not overpowering over the other but the coconut is what is the star here. Probably because I used Nature's Greatest Foods organic coconut milk and the flavor is more robust. The mango flavor is subtle and I loved that. However, if you are here for the mango, I would suggest using mango nectar or concentrate to get a bolder flavor.
Regardless, the two combined; coconut and mango, are a delight in this panna cotta. This Italian classic can be easily made at home and enjoyed every season of the year.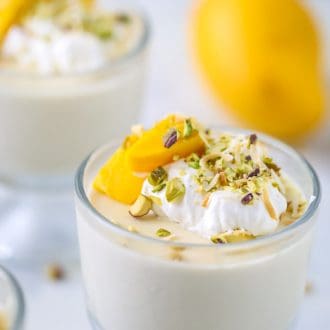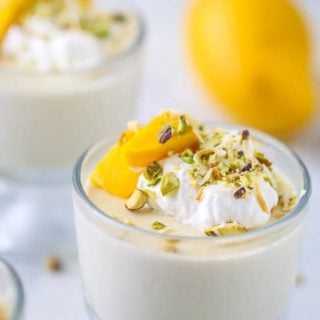 Yield: 4 6 ounce ramekins
Coconut Mango Panna Cotta
This creamy custard dessert is flavored with sweet mango puree and coconut milk. Simple, elegant, and will be a crowd-pleaser at your next dinner party.
Total Time
3 hours
20 minutes
Ingredients
1 packet (~2 1/4 teaspoons) gelatin
3 tablespoons water
1 teaspoon vanilla extract
2/3 cup mango nectar or mango puree
1 cup canned coconut milk, well shaken
1½ cups heavy cream
3 tablespoons honey
Topping:
homemade whipped cream, fresh mango slices
Instructions
In a small bowl, whisk together the gelatin, water, vanilla extract, and mango nectar. Let sit while you prepare the rest.
In a medium saucepan, combine the coconut milk and heavy cream. Bring to a boil over medium heat and lower heat to a simmer. Remove from heat and whisk the gelatin mixture into the warm milk until completely dissolved. Whisk in the honey until completely dissolved.
Pour into three 6-ounce ramekins or mini bundt pans. Chill overnight until set.
Top with fresh whipped cream, fresh mangoes, coconut flakes and chopped pistachios
Notes
For a dairy-free option, you can use all coconut milk or substitute with a dairy-free cream.
Recommended Products
As an Amazon Associate and member of other affiliate programs, I earn from qualifying purchases.