Root Beer Float Cupcakes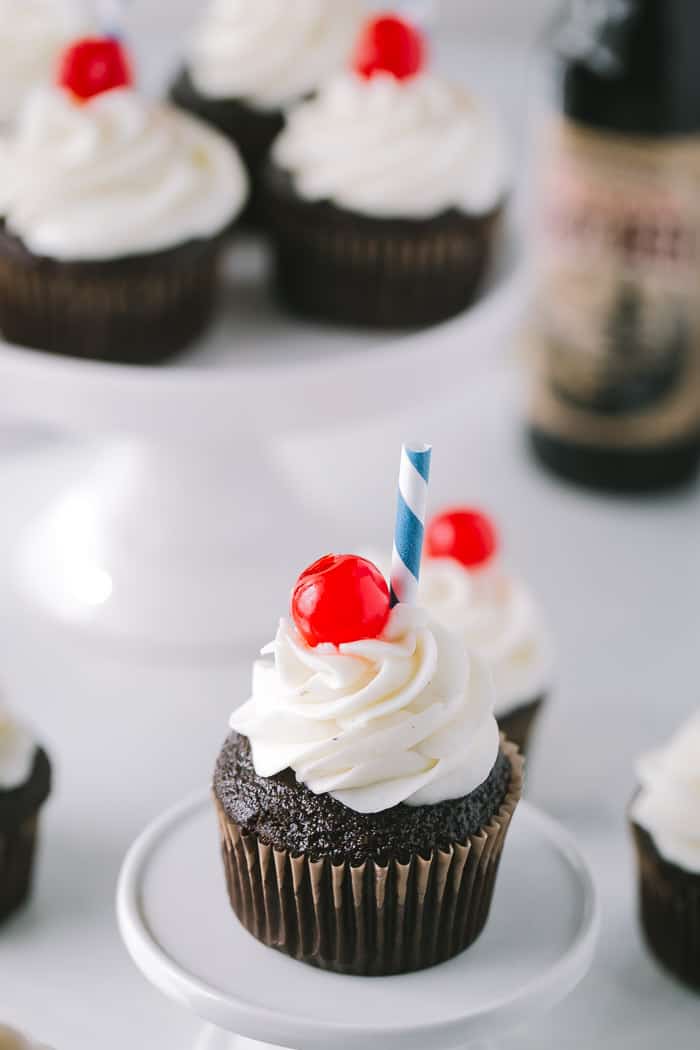 Hi guys! Happy Cupcake Mondays! How are you doing? I hope you are enjoying the last few weeks of summer. We are trying to squeeze in as much of the summer bucket list as we can given the current state of the world. We recently introduced my 5-year-old to root beer floats and he is in love with that treat. No surprise there! He inspired the creation of these root beer float cupcakes.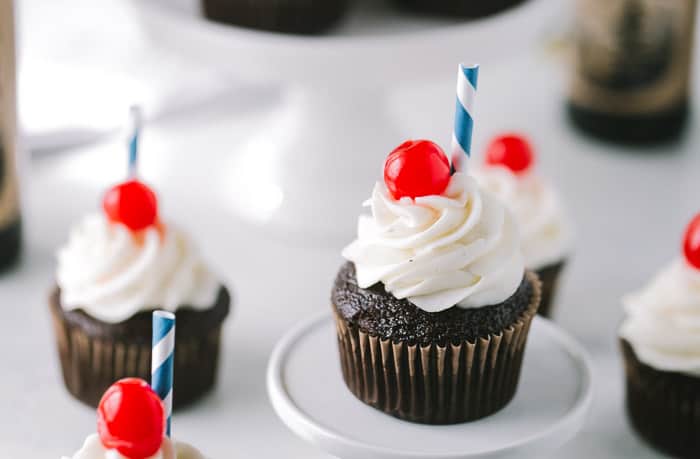 Root beer floats are a summer classic and I am so excited I can enjoy them in cupcake form. I didn't really grow up with root beer floats but my husband did and he wanted to make sure our son enjoys this tradition. They tend to be too sweet for me but I can get behind rich decadent chocolate cupcakes infused with root beer.
Getting the root beer into the cupcake was easy. I used my Chocolate Guinness Cupcakes as a base; I know the recipe will be easy to adapt. The chocolate flavor in these cupcakes is truly enriched by the root beer. "You get a subtle taste of root beer at first when you taste the cupcakes but then it hits you and you get the explosion of flavor" – review from one of my favorite taste testers.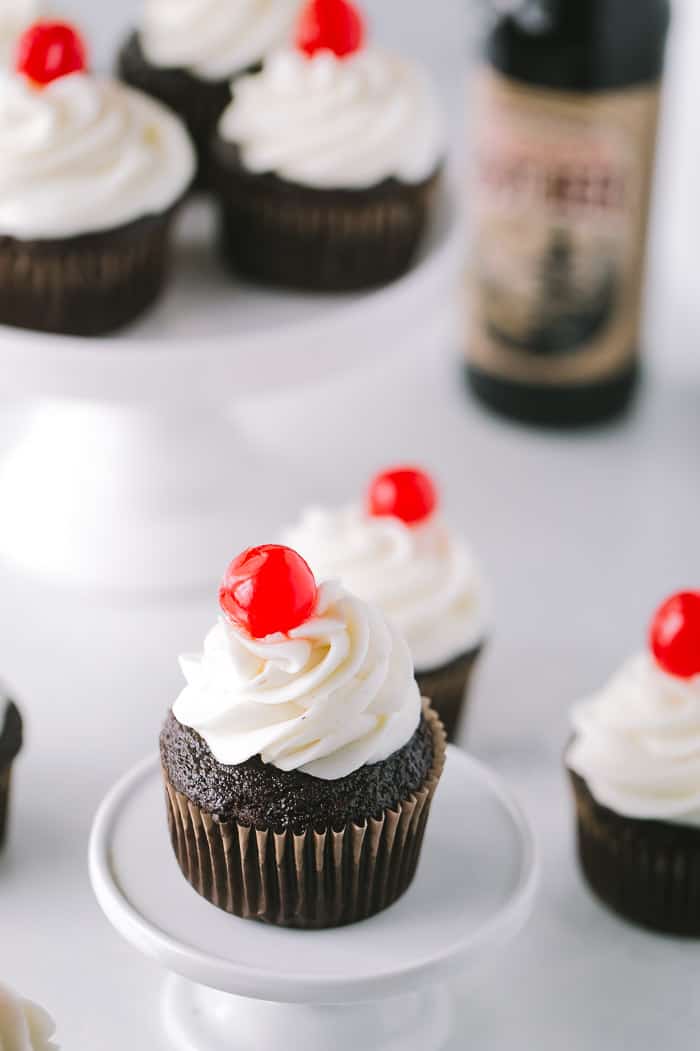 For the frosting, I had to experiment a bit. Like the classic drink, I wanted these root beer float cupcakes to have ice cream incorporated. I've never played with ice cream in frosting but I needed to for this experiment. The frosting has a little bit of butter (just 1/4 cup) and then ice cream. The ice cream has to be soft but not melted to incorporate with the butter. Then you add in your powdered sugar to bind it all together.
The first few attempts with the frosting failed. I either let my ice cream stand too long at room temperature or I didn't add in the powdered sugar quickly enough. So I suggest you follow the directions closely for success for this one.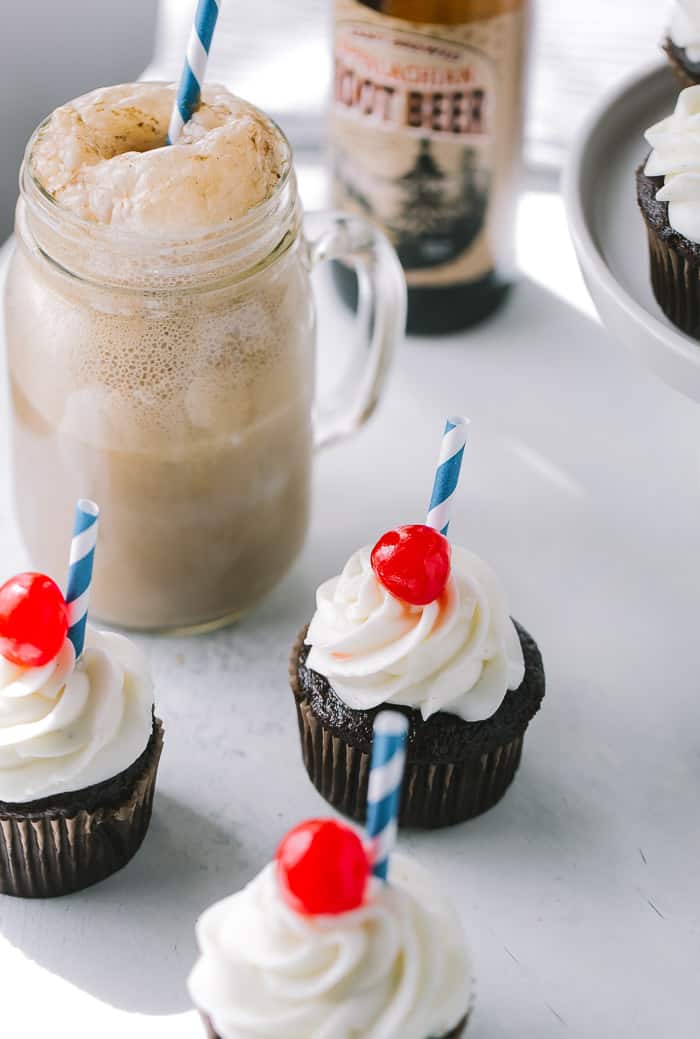 The result of the ice cream experiment is that you can have ice cream frosting with these root beer cupcakes. It is sweet, filled with vanilla flavor, and goes perfectly with the richly decadent chocolate cupcakes.
If you are a fan of the summer classic drink, then you will love these root beer float cupcakes. Be sure to whip up a batch before summer is up and gone.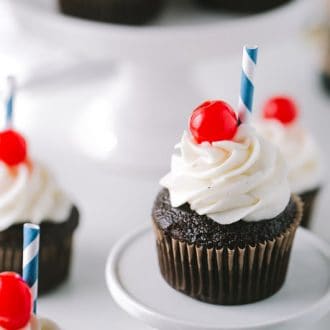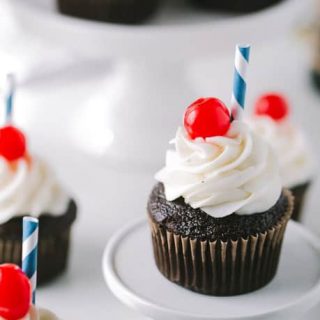 Yield: ~12-15 cupcakes
Root Beer Float Cupcakes
Decadent chocolate cupcakes made with root beer and topped with ice cream frosting.
Ingredients
For the Cupcakes:
1 cup all-purpose flour
1 cup granulated sugar
⅓ cup cocoa powder (natural cocoa powder)
1 teaspoon baking soda
½ teaspoon baking powder
½ teaspoon kosher salt
1 large egg, at room temperature
½ cup buttermilk, at room temperature
½ cup root beer
¼ cup vegetable oil
1½ teaspoons pure vanilla extract
Ice Cream Frosting:
1/4 cup unsalted butter, at room temperature
3/4 cup vanilla ice cream
3-4 cups confectioners' sugar
2 teaspoons pure vanilla extract
Instructions
FOR THE ROOT BEER CUPCAKES:
Preheat oven to 350 degrees F. Line muffin tins with cupcake liners.
Sift together all the dry ingredients in the bowl of an electric mixer.
In a medium bowl, combine all the wet ingredients using a whisk.
Mix the dry ingredients on low speed for 1 minute. Stop the mixer and add the wet ingredients. Mix for 2 minutes on low speed and scrape the sides and bottom of the bowl. Mix for an additional minute on medium speed.
The batter will be thin. Divide evenly among the cupcake liners.
Bake for 12-15 minutes or until a toothpick inserted in the center comes out almost clean.
Cool cupcakes on wire racks completely. Meanwhile, you could start on the frosting.
For Ice Cream Frosting:
Allow the butter to soften at room temperature for at least 30 minutes. Allow ice cream to stand at room temperature for 10 minutes.
Beat the butter on medium speed for about 2-3 minutes until light and creamy. Add the ice cream and mix until just combined.
Immediately add in the powdered sugar, one cup at a time, and mix on low for 1 minute until combined. After adding in all the powdered sugar, add in the vanilla extract and increase speed to medium-high and whip for 2-3 minutes.
Frost cupcakes and top with cherries.
Notes
Frosting adapted from BHG.
For the ice cream frosting, once you add the ice cream to the butter, mix on low speed briefly to just combine and IMMEDIATELY add in the powdered sugar. If you allow the ice cream to mix for longer with the butter, the cold ice cream will freeze the butter and it will be an utter mess you will have to dump and start all over again.
Recommended Products
As an Amazon Associate and member of other affiliate programs, I earn from qualifying purchases.