Passionfruit Creme Brulee
This passionfruit creme brulee is bursting with the sweet, tart flavor of passionfruit puree in a silky smooth and delicious vanilla custard.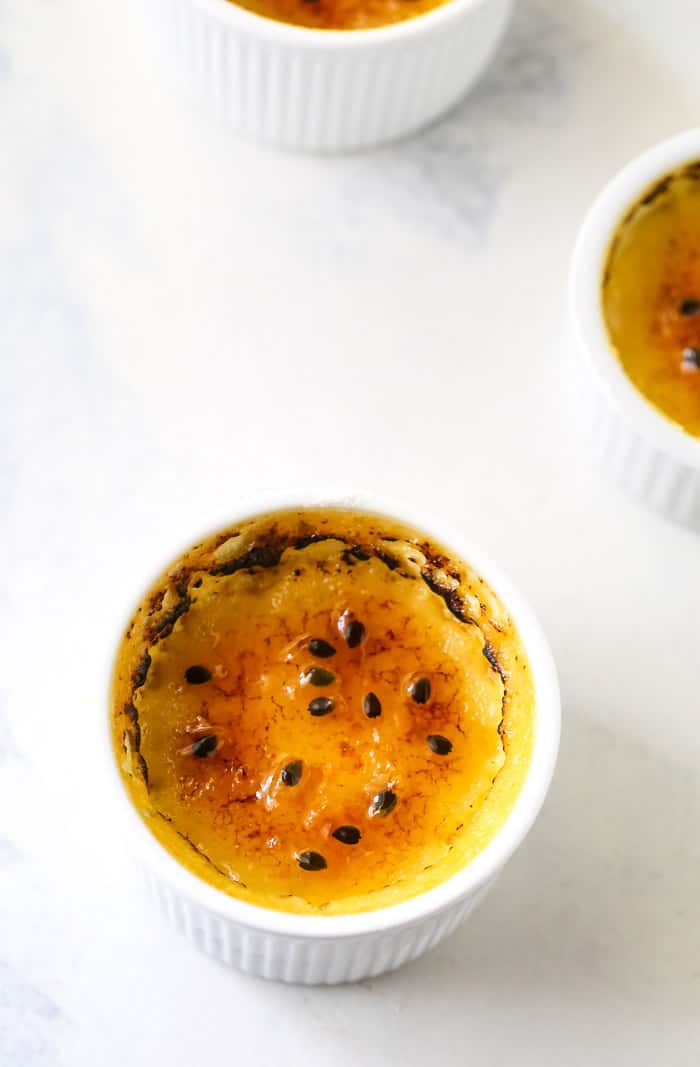 Creme brulee in the middle of summer? Why yes, why not!! I am not shy of turning on my oven in the summer months but I make sure it is for special treats. Like this fresh strawberry cake or this passionfruit creme brulee. The temporary increase in house temp is worth the delightful silky creamy custard that is this creme brulee.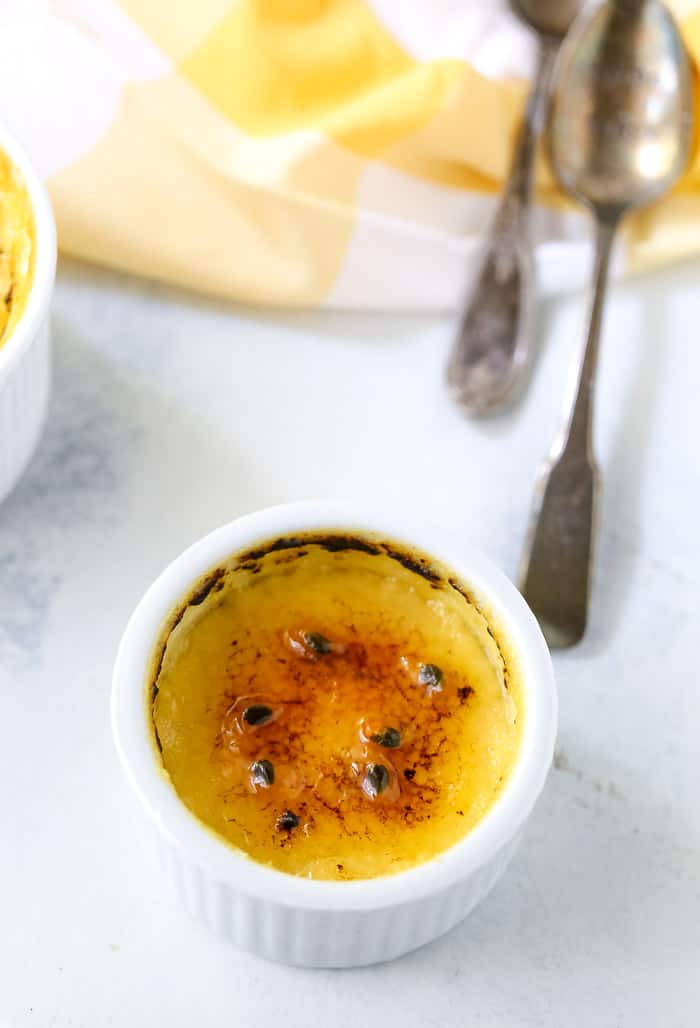 This creme brulee is a summer version of my classic vanilla bean creme brulee. I had leftover passionfruit concentrate after making these passionfruit pie and passionfruit coconut cake recipes and I needed to use it before it goes bad. I infused it in the custard of my go-to vanilla bean creme brulee. It adds a refreshing tart flavor to the custard as well as a jolt of summery vibes.
This flavor infusion takes your regular creme brulee, which is already rich and indulgent, to a whole new level that makes you crave more from summer. The passionfruit is a sweet and slightly tart flavor that I adore and one that is amazing in this custard dessert.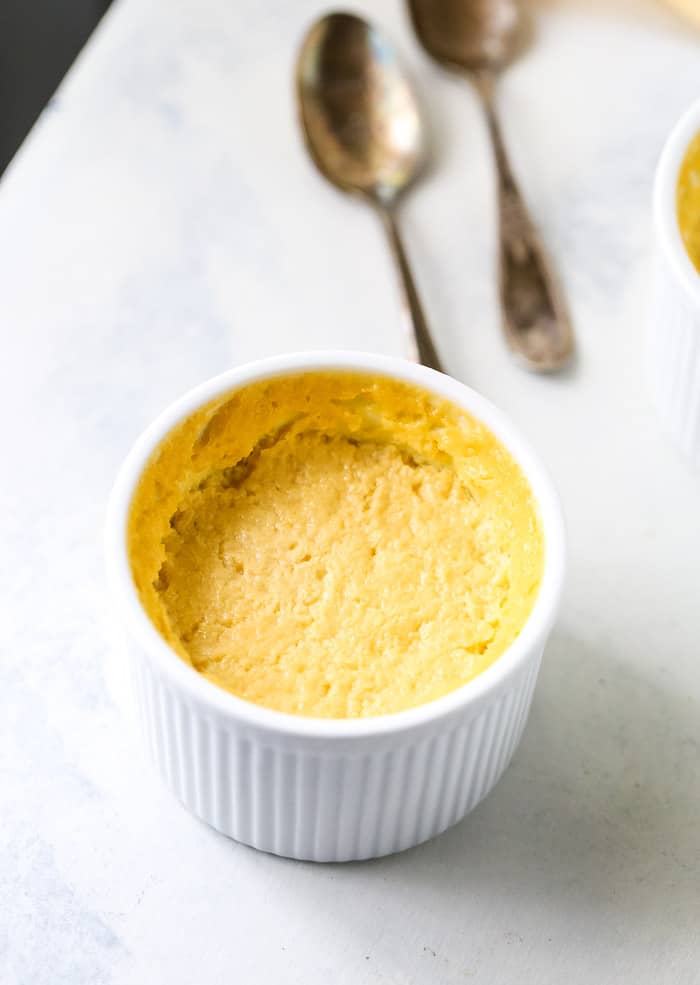 Given the tartness of the passion fruit juice, I had to be careful not to "curdle" the custard. I added in the puree to the eggs and whipped it all together. So when we temper the eggs, the passionfruit curd is also incorporated. Prior to this, on my first test of the recipe, my custard was curdled because I didn't incorporate the passionfruit puree well. So, please learn from my lessons.
If you are a creme brulee lover or you would like to impress someone with a restaurant level dessert, please make this passionfruit creme brulee. I can see this being perfect over the winter when we need that burst of sunshine and tropical flavors to survive the dreary days.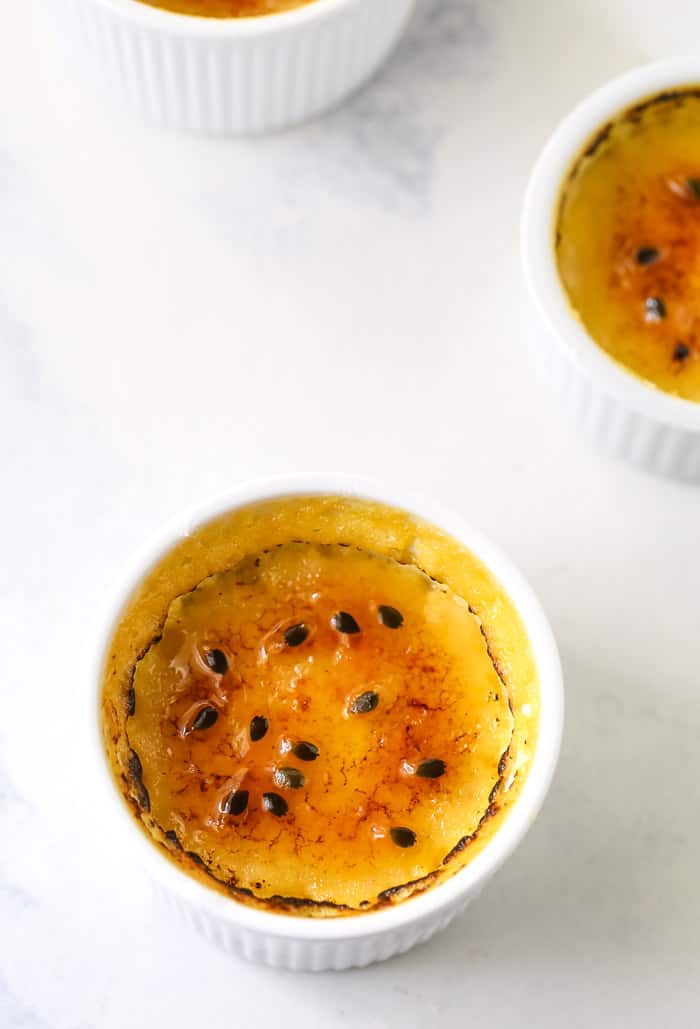 Enjoy!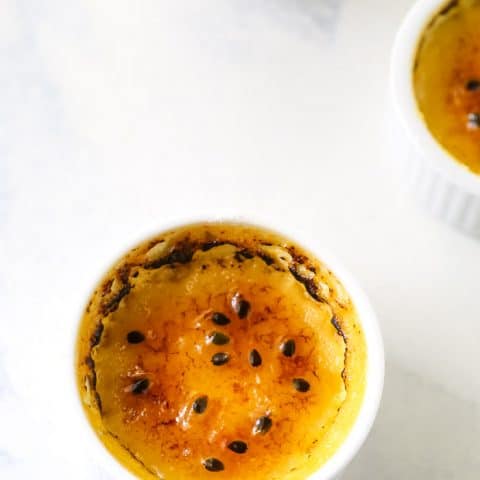 Yield: 4 servings of 6-ounce ramekins
Passionfruit Creme Brulee
This passionfruit creme brulee is bursting with the sweet, tart flavor of passionfruit puree in a silky smooth and delicious vanilla custard. 
Total Time
5 hours
10 minutes
Ingredients
1 1/4 cups heavy cream
8 large egg yolks
½ cup granulated sugar
1/3 cup passionfruit concentrate or pulp juice
Topping:
3 tablespoons superfine sugar
Optional: top with fresh passionfruit pulp
Instructions
Preheat oven to 300 degrees F.
To medium saucepan set over medium heat, add the cream and heat until the cream starts foaming around the edges. Do not boil.
Remove the cream from heat. Let cool slightly and as you prepare eggs.
In a large bowl, whip the egg yolks, sugar, and passionfruit concentrate until pale yellow in color and slightly thicken. While stirring constantly, gradually add the hot cream mixture into the egg mixture. Add the cream slowly to avoid cooking/scrambling the eggs. Mix until combined.
Fill about 4 6-ounce ramekins about 2/3 full with the mixture. Transfer ramekins to a large baking pan (9-inch or bigger) and fill baking pans with hot water about halfway up the sides of ramekins. You may need 2 9-inch pans or bigger.
Bake custards until set but still jiggly in the center, about 35-40 minutes. Remove from the oven and let cool on a cooling rack. Cover with plastic wrap and refrigerate for at least 4 hours or overnight.
When ready to serve, sprinkle about 1 tablespoon granulated sugar over each ramekin.
Using a torch, melt the sugar until golden brown. Or using an oven set to broil, broil for 30 seconds to a minute to melt the sugar. Be careful not to burn the sugar if using the broiler.
Let cool until the sugar hardens. Serve with fresh passionfruit pulp, fresh strawberries, or raspberries.
Recommended Products
As an Amazon Associate and member of other affiliate programs, I earn from qualifying purchases.