Banana Walnut Cheesecake Ice Cream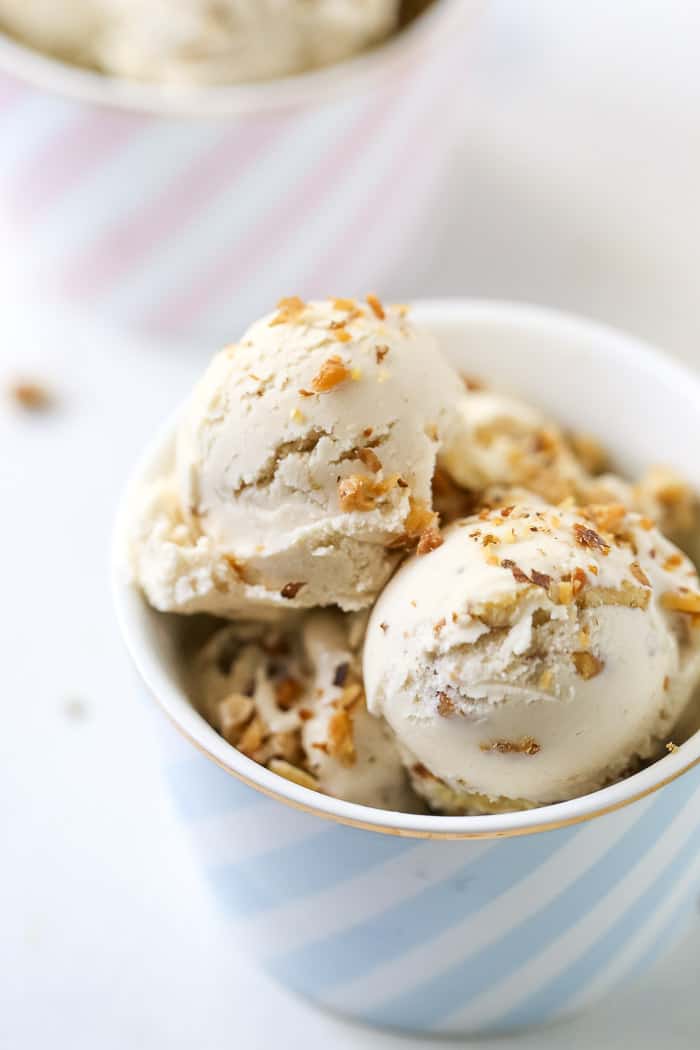 Hi friends! Is it still icecream season?? That sounds like a trick question because every season is ice cream season. At least in my house and in my head. I even have a pumpkin spice cheesecake ice cream for the fall season. That's how seriously I take my ice cream. This banana walnut cheesecake ice cream has been a staple this summer.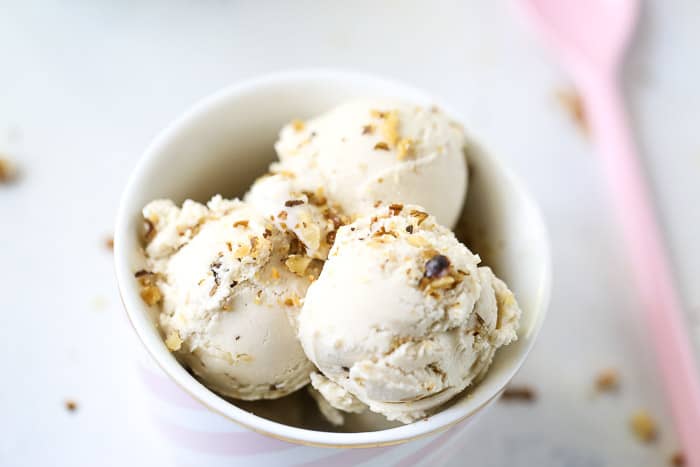 I actually made this ice cream months ago and never got around to sharing it. Back in May when the pandemic lockdown was getting us to the brink of our ropes, we always had leftover bananas. After making my two favorite banana bread recipes, Banana Bread Recipe Another Banana Bread Recipe and this banana foster cheesecake, I decided I needed another way to use my leftover bananas. Ice cream was the next best option and I am so glad I did it.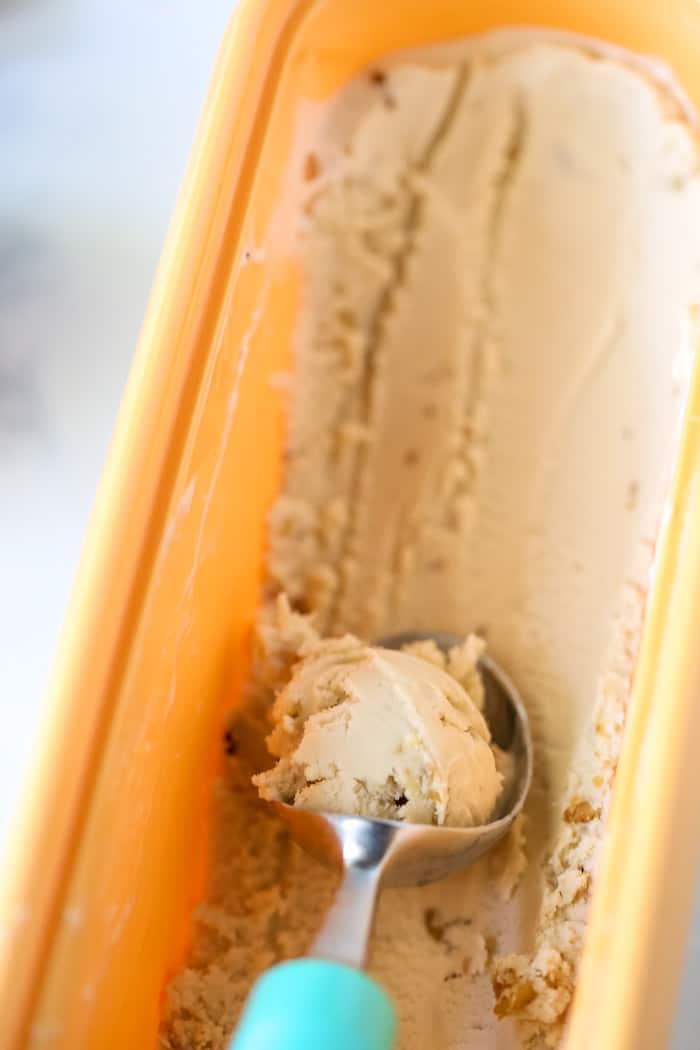 This banana walnut cheesecake ice cream is based on my favorite cheesecake ice cream base. It is easy to make (you whip it all in a food processor) and great for changing your flavors. For this one, I used overripe bananas, brown sugar, and greek yogurt with the cheesecake. The ice cream is delicious, tangy and so satisfying. I added in toasted walnuts for added in crunch.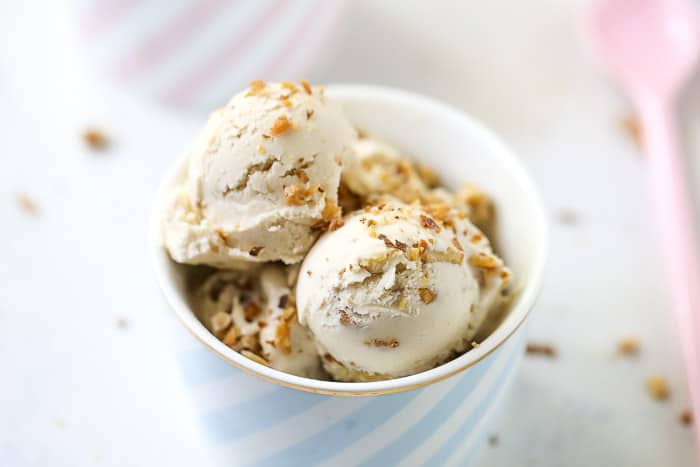 And be sure to share your ice cream stash with a friend. I use these cute little Tovolo containers to share with friends.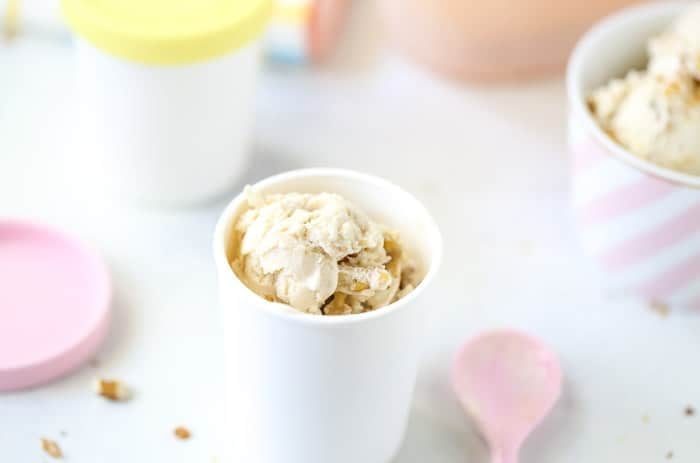 I am keeping it short this week as it has been a hectic one. My 5-year-old decided this was the week of the pandemic he would fracture his elbow. This is our first injury so I am grateful we had 5 years without a cast. But it was a hectic time for us even though he is doing well and loving the cast. This momma just needs a rest and maybe a cocktail. Perhaps I need to make my peach frose again to distress.
Have a great weekend!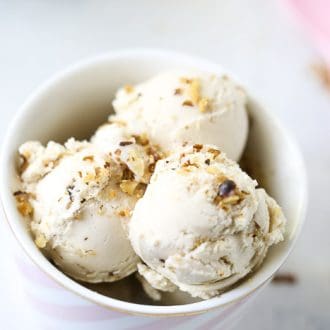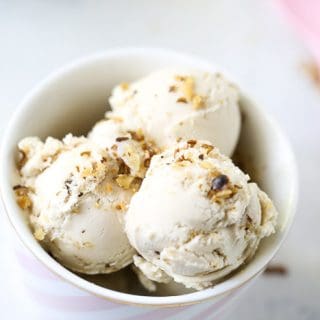 Yield: ~3 cups
Banana Walnut Cheesecake Ice Cream
Easy, delicious, tangy Banana Walnut Cheesecake Ice Cream
Total Time
1 hour
5 minutes
Ingredients
For ice cream base:
3 medium ripe bananas
8 ounces cream cheese, room temperature
2 teaspoons pure vanilla extract
1 cup Greek yogurt, chilled
½ cup half-and-half, chilled
⅔ cup brown sugar
⅛ teaspoon salt
Toppings:
¼ cup walnuts, toasted and chopped
Instructions
In the bowl of a food processor, combine all the ingredients for the ice cream base. Process until smooth, about 2 minutes, Transfer to an airtight container and chill for at least 3-4 hours or overnight.
When chilled, churn ice cream according to the instructions of your ice cream maker. When completed, transfer half of the ice cream to a freezer-safe bowl. Top with the walnuts and swirl into the ice cream. Add the rest of the ice cream to the bowl and swirl again.
Freeze the ice cream for a few hours until hard.
Serve with sliced bananas and walnuts.
Recommended Products
As an Amazon Associate and member of other affiliate programs, I earn from qualifying purchases.