Pumpkin Pie Popsicles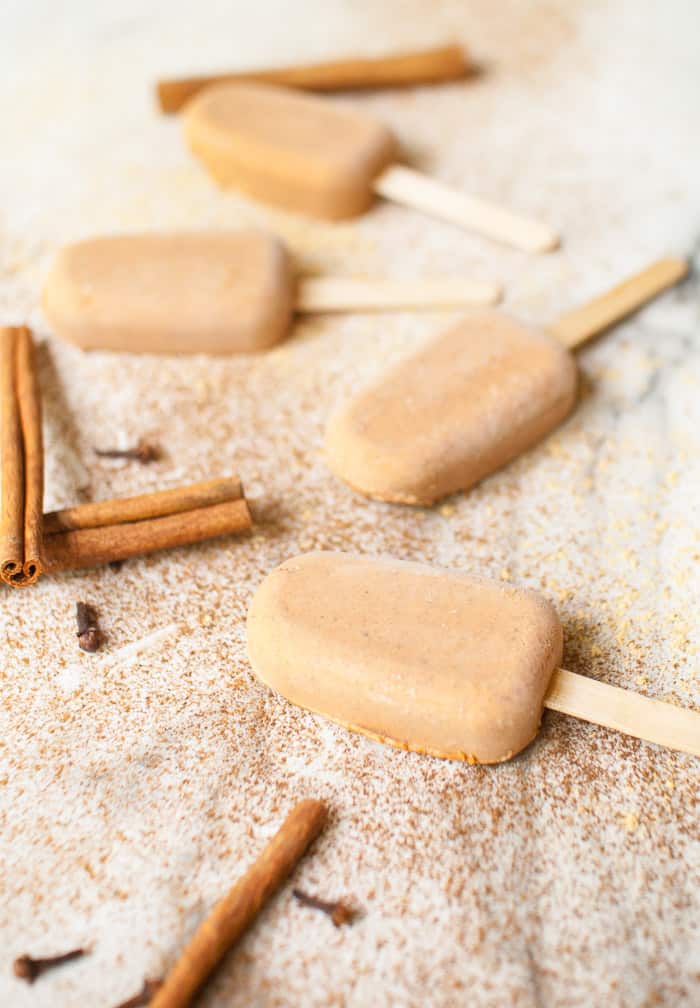 I know I know it is still summer. And here I am sharing a fall recipe and even yet a pumpkin recipe!! Well, hear me out first because these pumpkin pie popsicles are a great blend of summer and fall.
I absolutely love summer. There is just something about the stress-free schedules, pool days, car rides with the windows down, and flip-flops. I never want it to end. But then as we start to get a few weeks into August when I start to see the fall decorations come out in the stores I think I might actually be ready for fall.
It's hard to believe it's just right around the corner. With the crisp air, you can actually have your windows open, and all things pumpkin. Typing up a recipe involving pumpkin isn't something you usually want during the summer but I could not resist sharing these Pumpkin Pie Popsicles with all of you.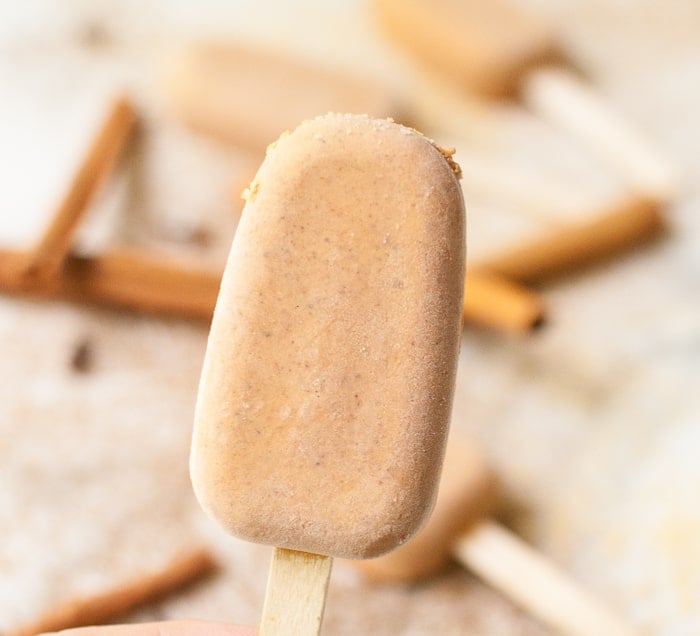 Just because fall is all about pumpkins doesn't mean we can only eat pumpkins in the fall. Why not try something different! When I came across these amazing molds for mini popsicles, I immediately couldn't wait to try them with this recipe. It's not just delicious but they are easy and fun to make. This was my first time using the molds with this recipe. It's a healthy, gluten-free way to get your pumpkin fix before fall arrives.
The popsicle base mixture is gluten-free! You can add in anything you'd like, or make a crust for it with anything you like, but if you are gluten-free make sure your add-ins and crust are gluten-free.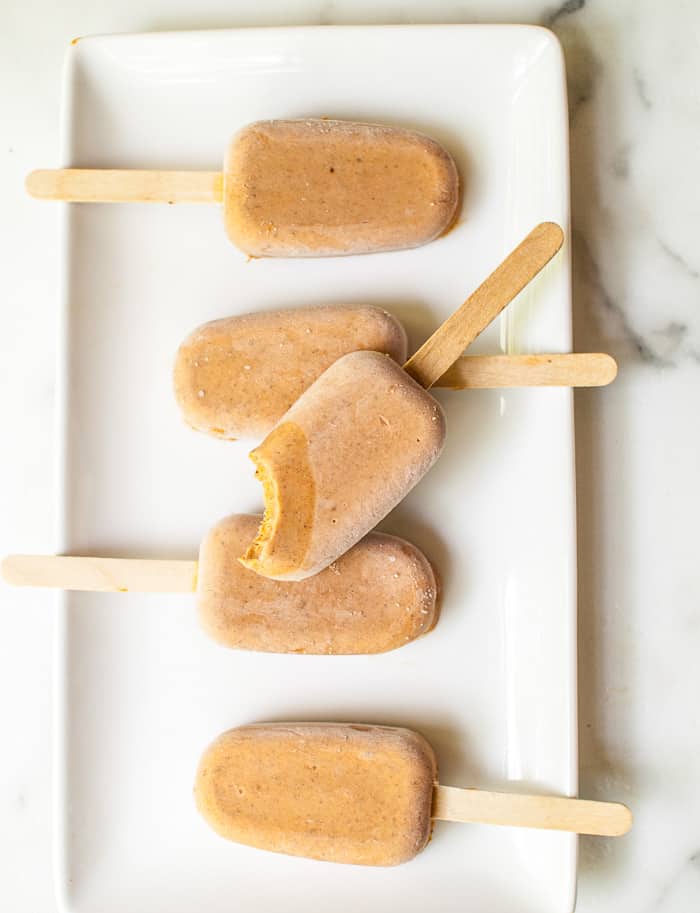 Who would have thought popsicles would be better than a freshly baked pumpkin pie? These popsicles have just enough pumpkin but not too much. Even though it seems like a long list of ingredients, it's a simple list. These Pumpkin Pie Popsicles have the perfect touch of sweetness. Honestly, they are even a great way to start the day. Who said you couldn't have popsicles for breakfast? Dessert for breakfast is a great way to start some days.
These really do taste just like a bite of pumpkin pie, in all the best ways!
In my opinion, they are the best plain… but I also truly believe anything dipped in chocolate is pure heaven!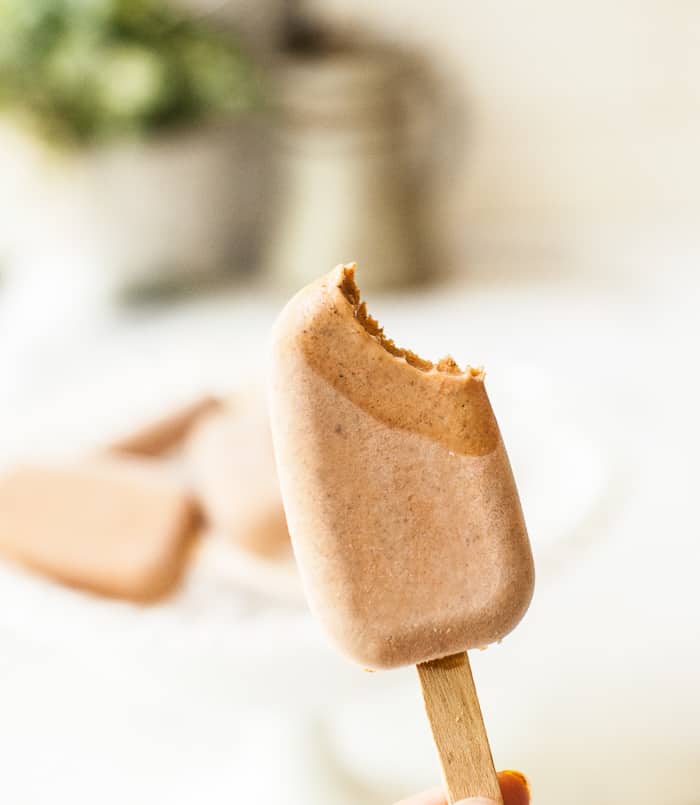 Not to mention, whoever came up with the idea of pumpkin popsicles is a genius. It surely does get you in a bit of a Fall mood too. It will make you want to bring out all of my Fall decorations and light a pumpkin candle.
Just to give you a little tip as you are whipping up this sweet treat, I would recommend using a small spoon to add your pumpkin mixture to the mini molds. Pop them in the freezer for 4 – 8 hours and they will be ready to enjoy. While they usually are frozen in 4 hours, I suggest keeping them in your freezer for 8 for better results.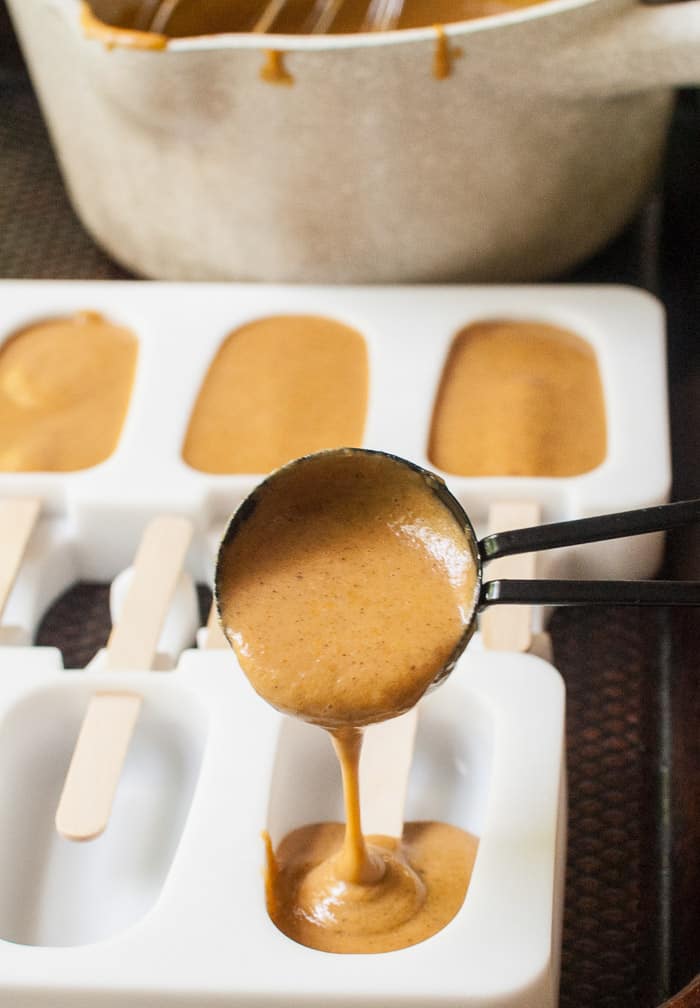 Are you a pumpkin fan? If so, you're in good company. You definitely don't need warm weather to enjoy these. You can have them any time! Other Pumpkin recipes to try this fall season are Spiced Pumpkin Cake With Brown Sugar Frosting, Buttermilk Pumpkin Waffles, and for a full list of all pumpkin recipes go here.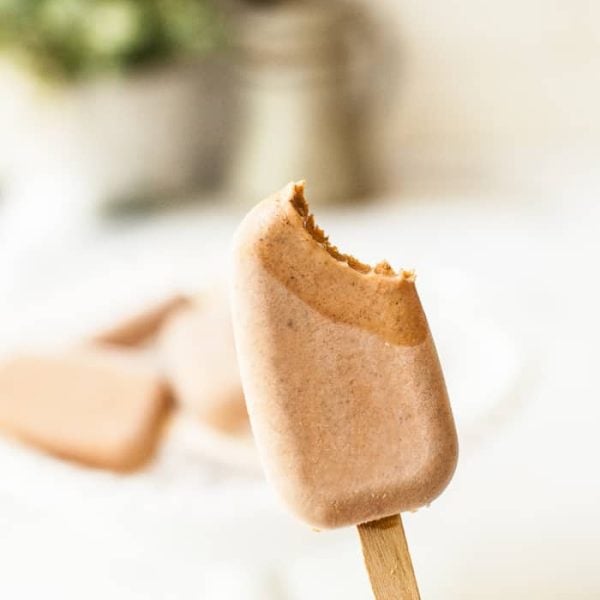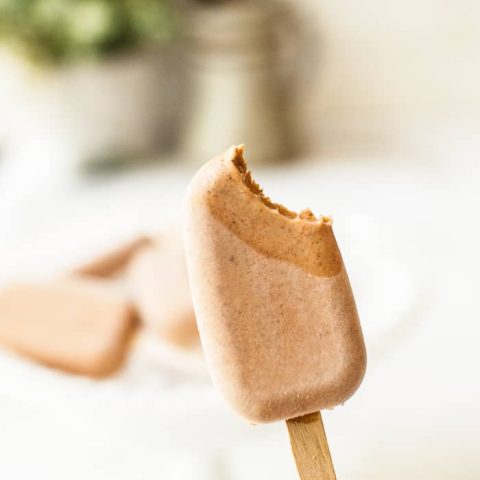 Yield: 8-10 mini popsicles
Pumpkin Pie Popsicles
Additional Time
8 hours
6 seconds
Total Time
8 hours
10 minutes
6 seconds
Ingredients
½ cup pumpkin puree
¾ cup heavy cream
¼ cup brown sugar
2 tablespoons maple syrup
1 tablespoon pure vanilla extract
1/2 teaspoon ground cinnamon
1/4 teaspoon ground clove
1/4 teaspoon ground nutmeg
1/4 teaspoon ground ginger
¼ teaspoon salt
¼ teaspoon guar gum (optional)
Instructions
In a small saucepan mix together the pumpkin puree, cream, sugar, spices, salt, vanilla, and maple syrup until combined.
Heat mixture on the stove until it is hot, not boiling or simmering just hot.
Very slowly add in the guar gum while whisking the mixture, this is very important as it will prevent clumping.
Continue mixing until combined and the mixture begins to thicken a little bit.
Remove the mixture from the heat.
Use a spoon or ladle to pour the mixture into your popsicle molds and place in the freezer for at least 8 hours.
Pop the popsicles out of the molds and enjoy!
Notes
Guar gum is an awesome product, it is used in a lot of ice creams and popsicles, it helps to stabilize the mixture and reduce ice crystals so that you get a perfectly smooth creamy experience!
Recommended Products
As an Amazon Associate and member of other affiliate programs, I earn from qualifying purchases.