Spiced Pumpkin Cake with Brown Sugar Frosting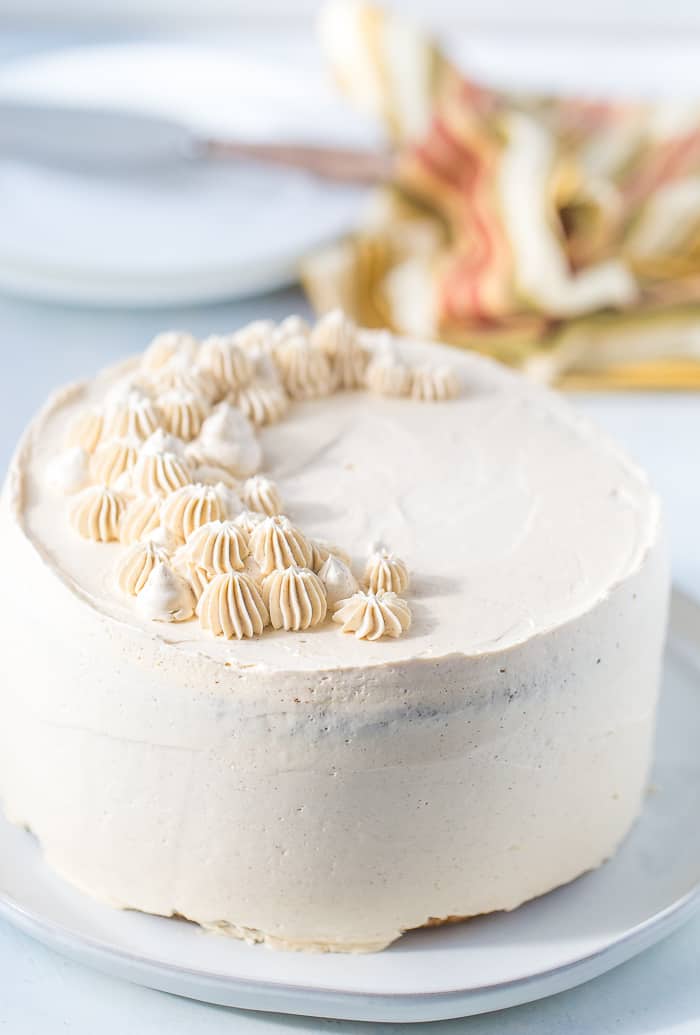 Hi friends!! Pumpkin cake is on the menu today. Not just any pumpkin cake but this spiced pumpkin cake with brown sugar swiss meringue buttercream. That's right, we are getting fancy with our frosting and bringing in lots of flavors!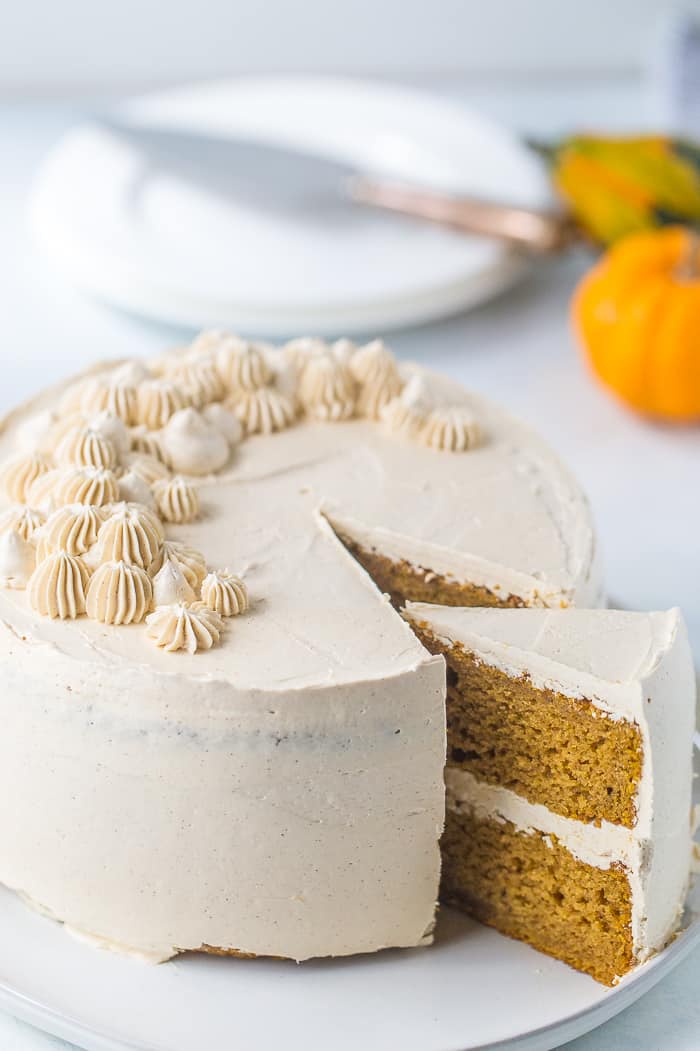 I have a lot of pumpkin cakes here on the blog and many that are favorites. Like this pumpkin cake bars with brown butter frosting and this pumpkin cake with caramel frosting. However, we always need a new and improved pumpkin cake in our arsenal and that's what this one here today is.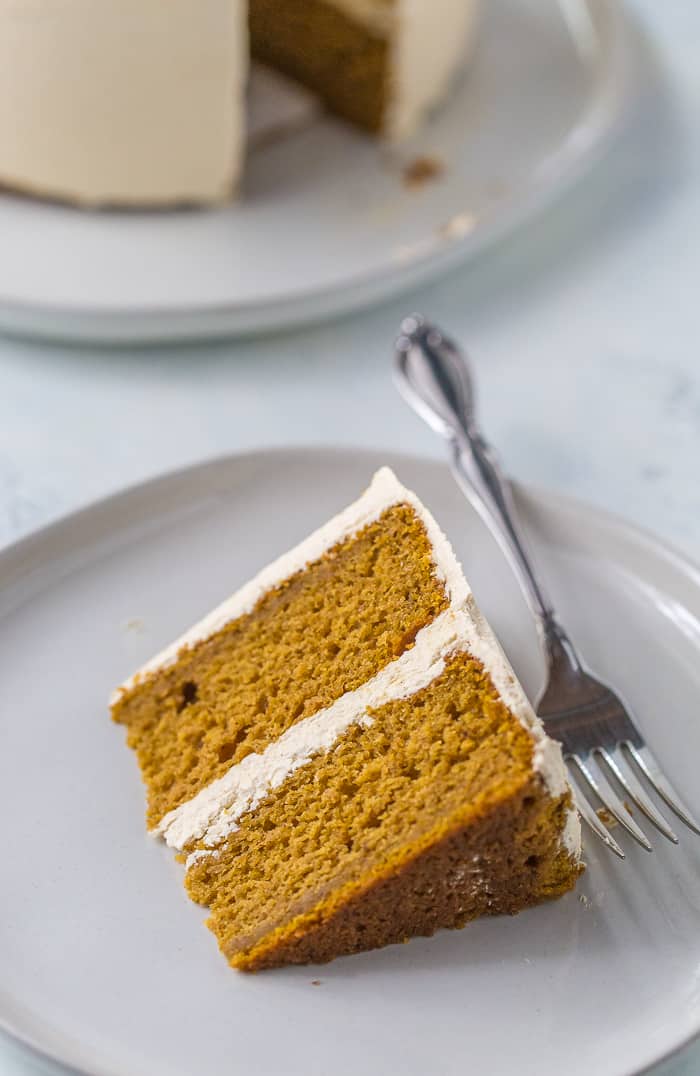 Spiced pumpkin cake, check. Think warm cinnamon, ginger, and cloves and a good dose of brown sugar in the batter. The cake is soft and moist, thanks to using vegetable oil instead of butter in the cake. It bakes up easily and perfectly each time. Oh, you use up the whole can of pumping which I know is a plus as I dislike leftover pumpkin puree. I have also used this cake batter in a bundt pan and also for cupcakes.
For the frosting, I went with my favorite of all buttercreams, swiss meringue. It is not too sweet, it is silky and creamy and also great for decorating. Made with brown sugar instead of granulated sugar brings in a caramelized sugar flavor that I love. It is a great compliment to a light pumpkin cake.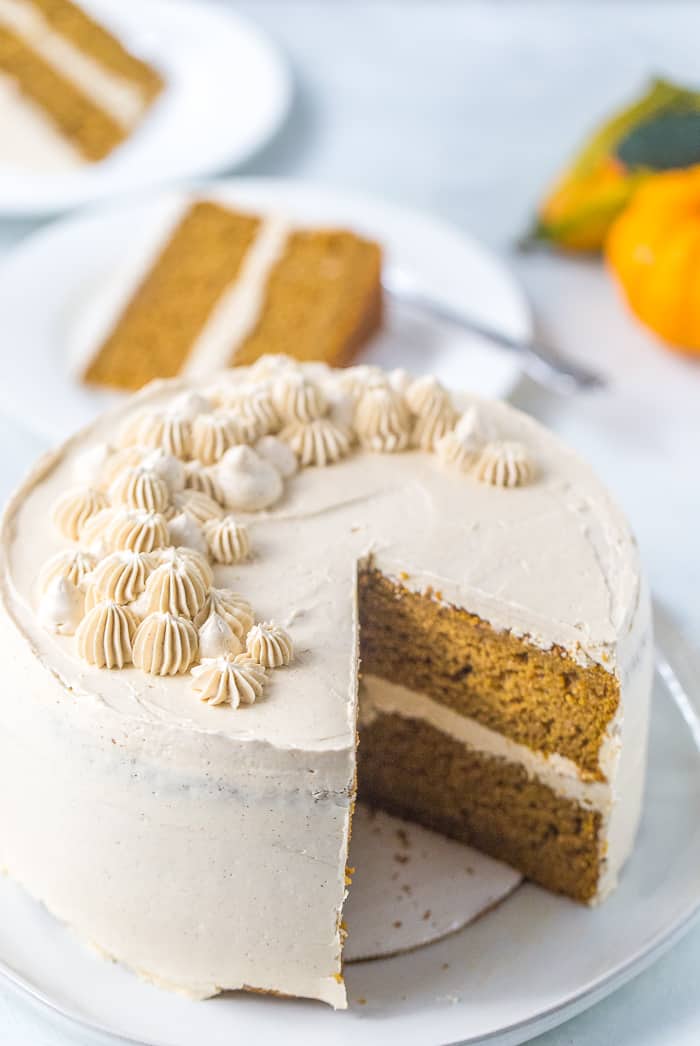 This spiced pumpkin cake with brown sugar swiss meringue buttercream is truly a special and delicious cake. It is the simple flavors we like for the fall and yet it is elegant enough to be a centerpiece to any holiday table. I hope you give it a try.
Happy Baking!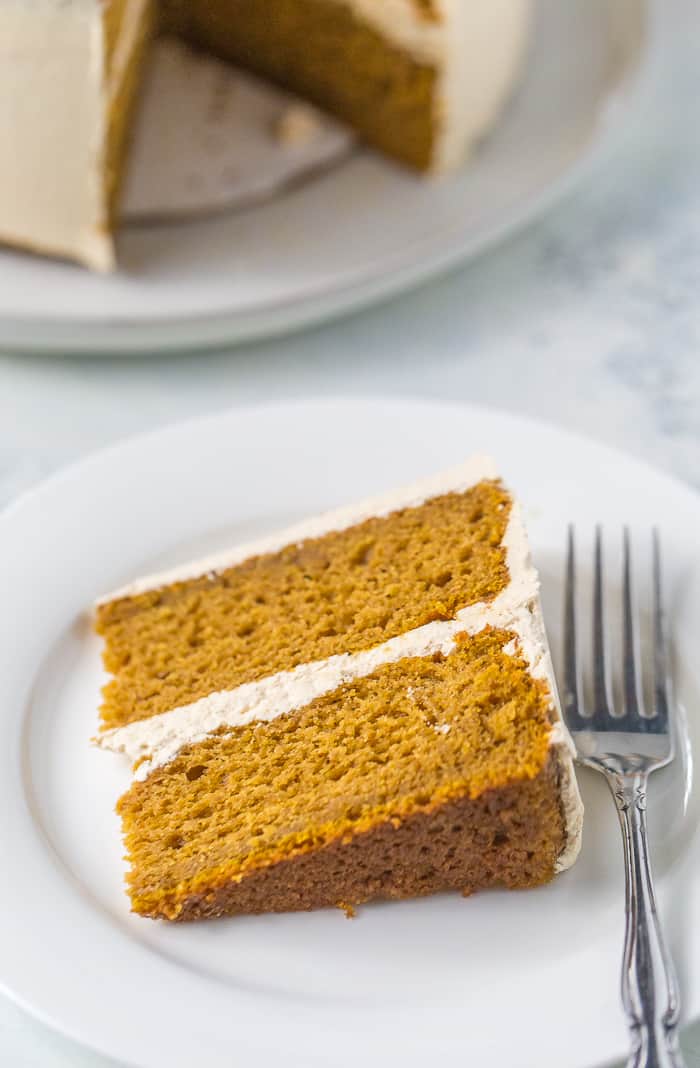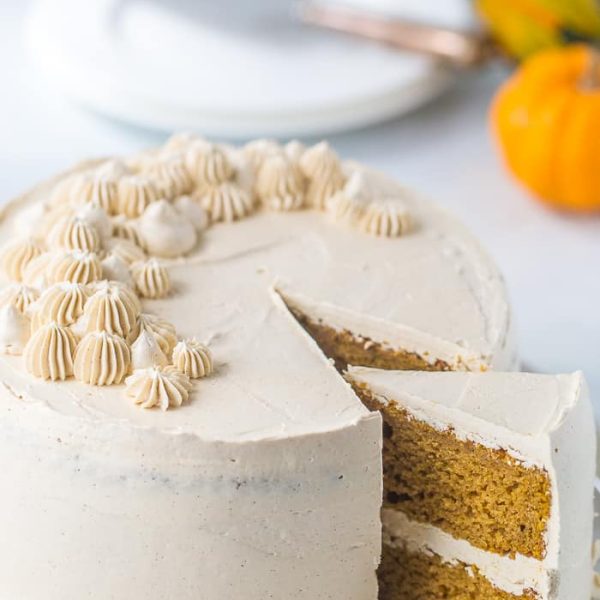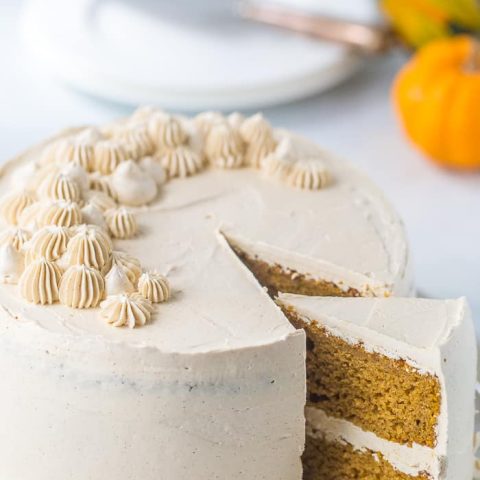 Yield: 1 2-layer 8-inch cake
Brown Sugar Pumpkin Cake
This spiced pumpkin cake with brown sugar swiss meringue buttercream is truly a special and delicious cake.
Total Time
1 hour
15 minutes
Ingredients
For Cake
2 cups all-purpose flour
2 teaspoons baking powder
3/4 teaspoon baking soda
1 teaspoon salt
1 1/2 teaspoon ground cinnamon
1 teaspoon ground ginger
1/4 teaspoon ground cloves
1 1/2 cups packed brown sugar
4 large eggs, at room temperature
3/4 cup vegetable oil
15 oz (1 1/2 cup) pumpkin puree
1 teaspoon pure vanilla extract
1/2 cup milk, room temperature
For brown sugar cinnamon swiss meringue buttercream
5 large egg whites, room temperature
1 1/4 cup light brown sugar
2 cups (4 sticks) unsalted butter, room temperature
2 teaspoons pure vanilla extract
1 teaspoon ground cinnamon
Instructions
For Cake:
Preheat the oven to 325 degrees F. Butter and flour two 8-inch round cake pans. Line with parchment rounds and grease parchment.
In a large bowl, whisk together the flour, baking powder, baking soda, salt, cinnamon, ginger, nutmeg, and cloves.
In the bowl of your Stand Mixer, beat the brown sugar and eggs until light and fluffy. Gradually add vegetable oil and mix until just combined.
Beat in pumpkin puree and vanilla extract.
Alternate the dry ingredients and milk, in three batches, and beat until combined between each addition.
Divide batter equally into prepared pans. Bake cake, about 35 to 40 minutes, until a cake tester inserted into the center, comes out clean.
Let cakes cool in the pan for at least 10 minutes before inverting onto a wire rack. Let cool completely before frosting.
For brown sugar cinnamon swiss meringue buttercream:
Whisk together egg whites and brown sugar in a heatproof mixing bowl set over (NOT IN) a pan of simmering water.
Whisk until warm and sugar is dissolved (mixture should feel completely smooth when rubbed between your fingers), 2 to 3 minutes. Remove from heat.
With a mixer on medium speed, whisk egg white mixture for 5 minutes (using the whisk attachment).
Increase speed to medium-high, and whisk until stiff, glossy peaks form and meringue has cooled (test by the feeling bottom of the bowl), about 6 minutes.
Reduce speed to medium and switch to the flat beater attachment. Add butter, one piece at a time, beating well after each addition. Keep mixing until the butter incorporates into the meringue, about 3-5 minutes. Once it comes together, keep beating until the buttercream is smooth.
Beat in vanilla extract and ground cinnamon.
Use immediately or store in an airtight container in the fridge for up to a week.
Notes
Cake layers can be baked and frozen up to a week in advance

Recommended Products
As an Amazon Associate and member of other affiliate programs, I earn from qualifying purchases.