Pumpkin Bread Pudding Recipe
This post is sponsored by Duke's Mayonnaise and includes tracking links. For more information about tracking links and how to opt-out, please visit All About Do Not Track prior to clicking any links found in this post. Thank you for supporting the brands that make it possible for me to keep creating authentic recipes for you!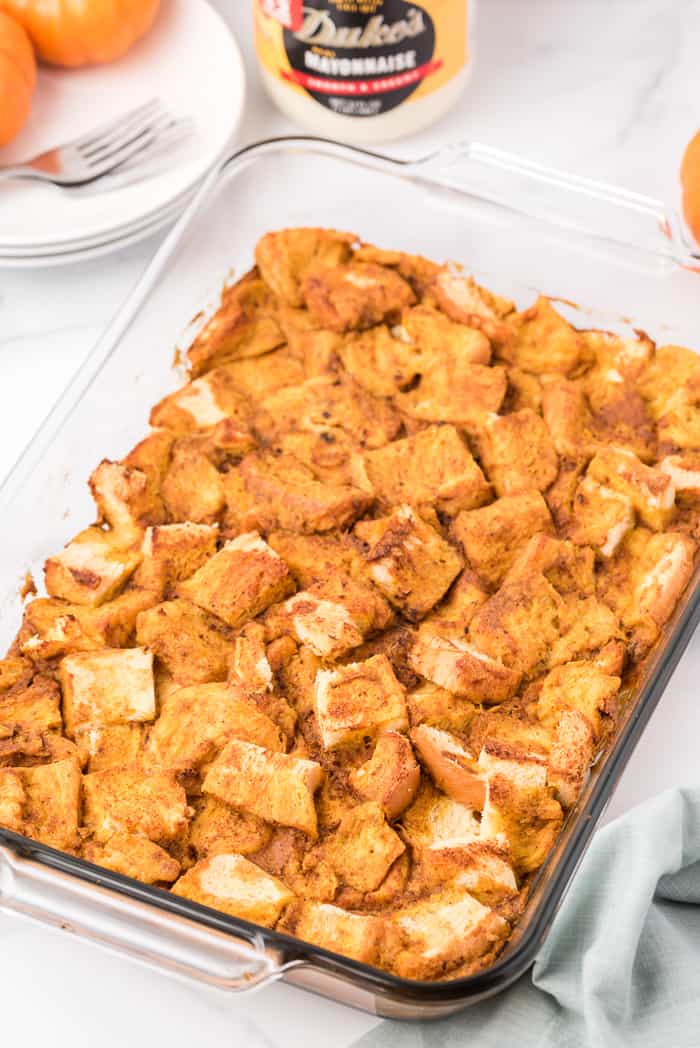 Hi friends! I have a cozy, easy, and delicious fall recipe for you today. This pumpkin bread pudding recipe is going to be one that will stay on repeat on your fall baking list especially when you find out what secret ingredient I used to create the creamy gooey center we all love in bread puddings.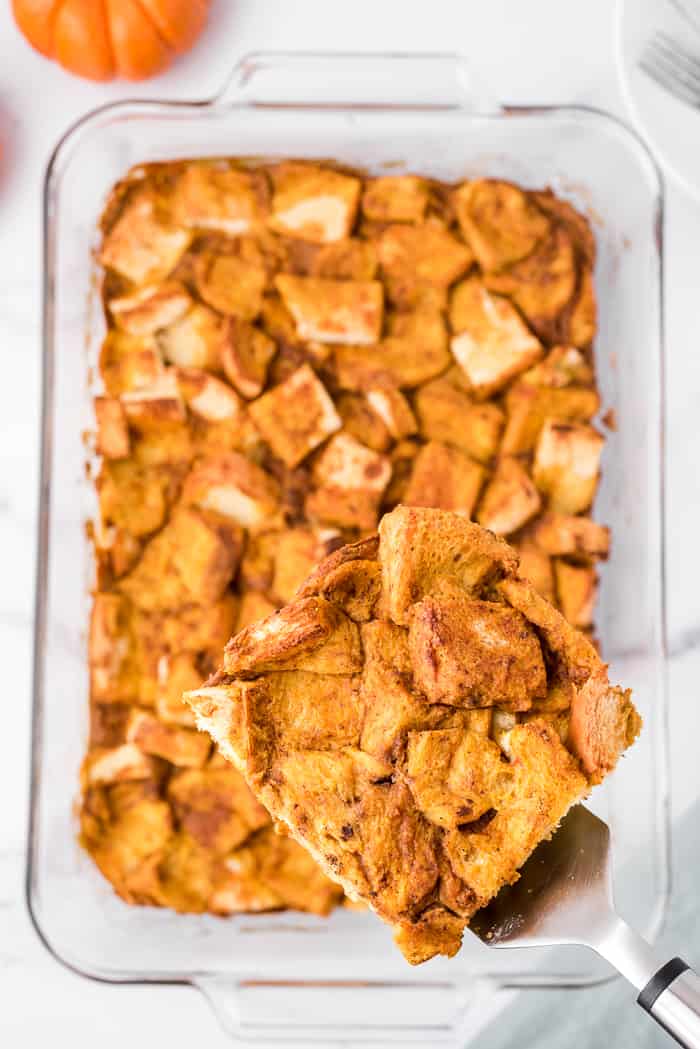 Are you a bread pudding fan? Full confession, I wasn't always a fan of bread pudding because I thought it was just soggy flavored bread. And then, I had an encounter with bread pudding recently when I ordered from a new to me local restaurant. Thanks to the pandemic, we have been branching out in our go-to restaurants and one of the places threw in a free bread pudding dessert. After I tried it, I was amazed at the decadence that was bread pudding. This is what I have been missing this whole time? So glad I came to my senses and now I can create my own at home!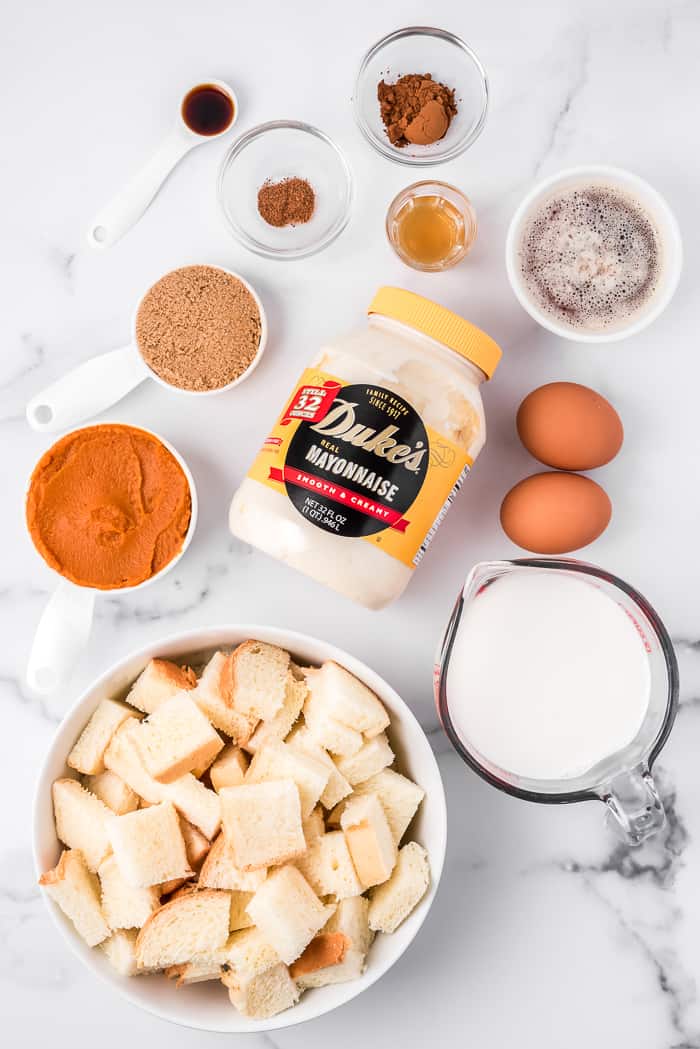 I created this pumpkin spice bread pudding to celebrate my new found love for bread pudding. A gooey, custardy treat that is filled with real pumpkin flavor and warm fall spices.
If you haven't made bread pudding before, it is usually made with stale bread (I used fresh brioche), milk or cream (I used both for maximum richness), eggs, and a form of fat such as oil, or butter (I used Duke's Real Mayonnaise).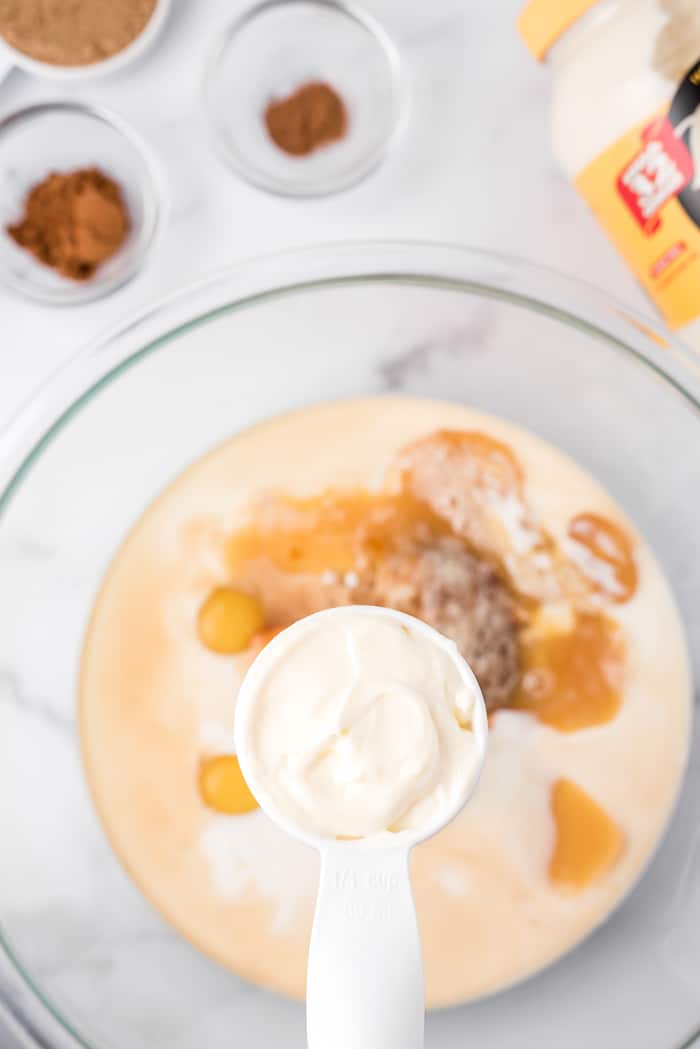 Why mayo you ask? Well, the issue with bread pudding is that sometimes it can be too egg-y due to having to use too many eggs for the filling. Most recipes use at least 4 eggs which cause the issue. I solved that problem by using mayo. Not just any mayo but the no sugar, tangy flavored Duke's Real Mayonnaise that's loved by so many already. This southern favorite goes well beyond sandwiches and can really upgrade your desserts and recipes. It adds a bold tang that is uniquely responsible for the reason why you won't stop making this pumpkin bread pudding.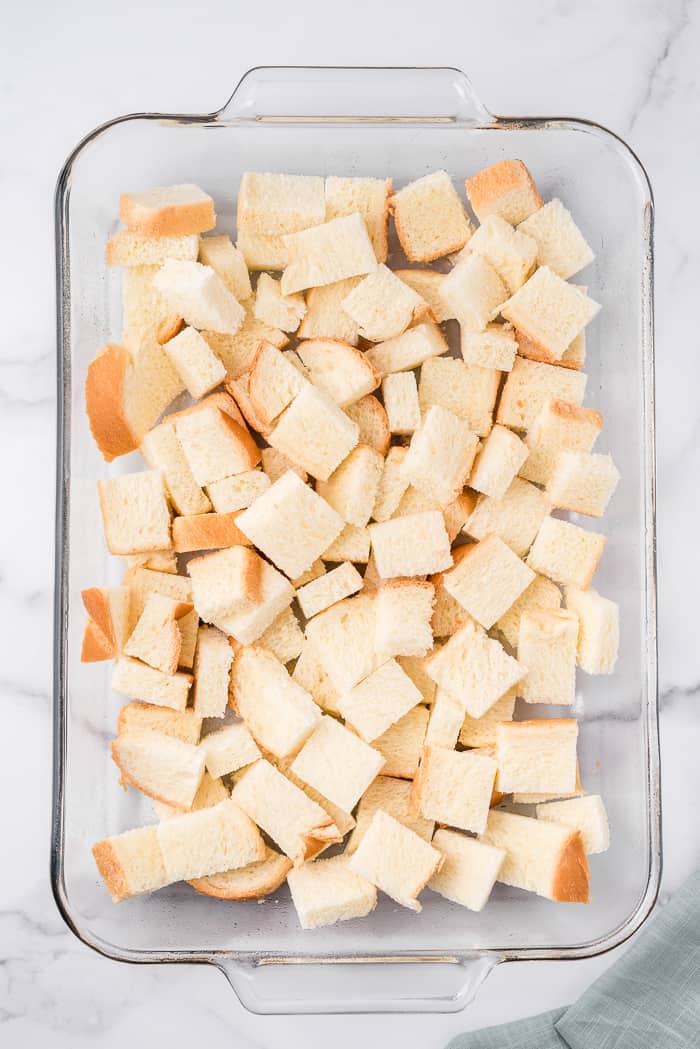 So how do you make this pumpkin bread pudding??
Cubed brioche bread is soaked in a batter that is made of cream, milk, pumpkin spice, pumpkin puree, mayo, and a dash of whiskey. Yes, you heard me! But you can skip the alcohol if you'd like.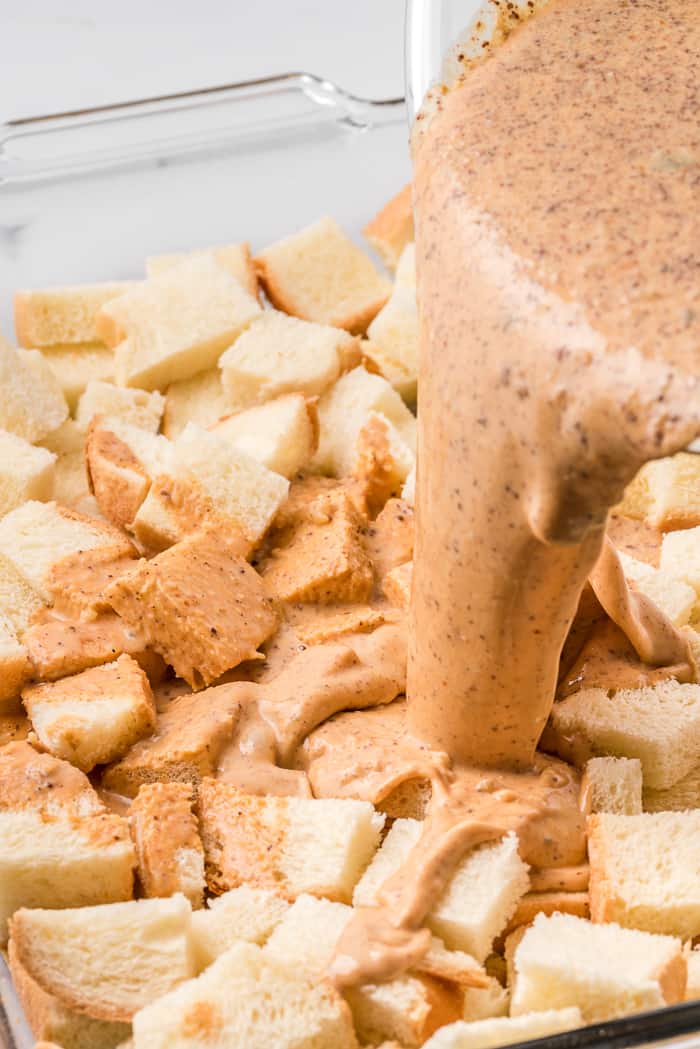 The key to ensuring you get a rich creamy custard in the middle of your bread pudding is letting the bread soak for at least an hour before baking. Be patient and you will reap the benefits. You can also assemble the bread pudding and refrigerate overnight.
Bake the bread pudding until the filling sets, is no longer wobbly and the top is crusty and toasty. Think decadent French toast middle served with a crunchy topping. It's truly a slice of delightful flavors.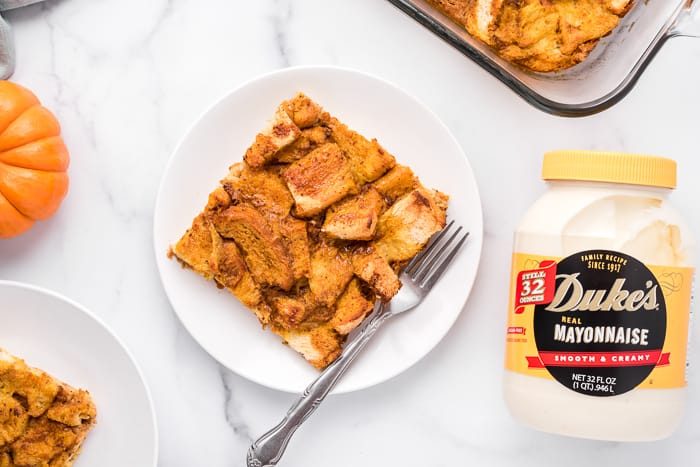 You can serve bread pudding with a sauce, like caramel sauce, or a melted butter + sugar sauce. I find the sauce to be over the top as the pudding itself carries a LOT of flavors. Simple whipped cream would suffice or if you truly would like to indulge, a scoop of ice cream. Regardless of how you serve this pumpkin bread pudding, it is one you and your family will enjoy this holiday season.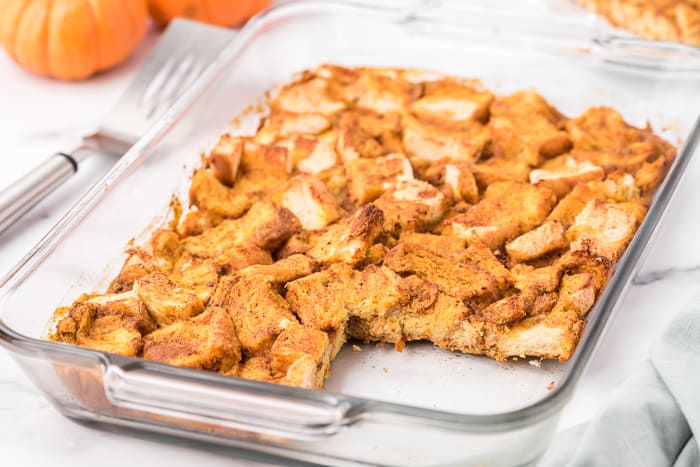 For more creative ways to use Duke's Real Mayonnaise, visit their website and social pages, Facebook, Instagram, Pinterest, and Twitter.
Happy baking!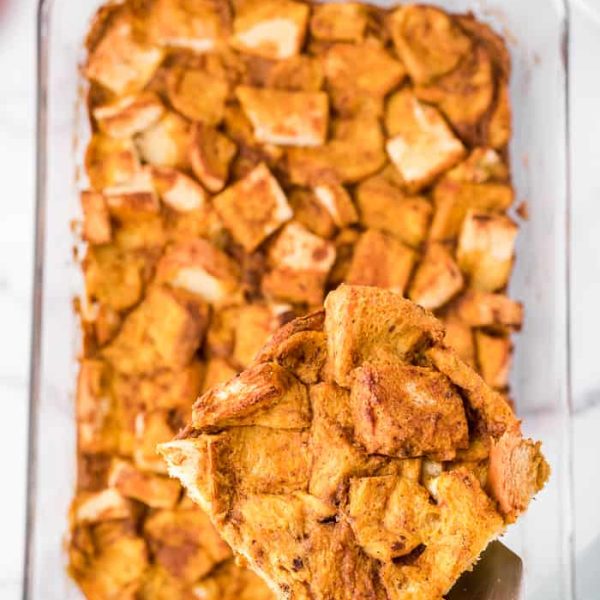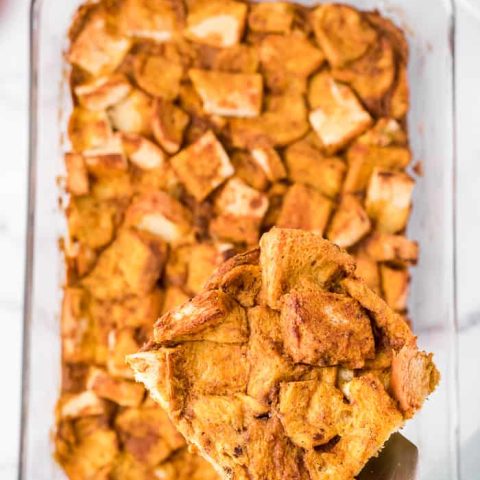 Yield: 8 servings
Pumpkin Bread Pudding
A decadent pumpkin bread pudding full of pumpkin flavor, fall spices, and a secret ingredient.
Total Time
1 hour
15 minutes
Ingredients
2 cups whole milk (OR 1 cup whole milk, 1 cup half and half)
1 cup canned pumpkin puree
¼ cup unsalted butter, melted and browned, and cooled
1 teaspoon pure vanilla extract
2 large eggs, at room temperature
¼ cup Duke's Real Mayonnaise
1/3 cup brown sugar
2 teaspoons pumpkin pie spice
¼ teaspoon ground nutmeg
1 tablespoon bourbon or whiskey (optional)
½ load brioche or challah, cut in 2-inch cubes, about 6-7 cups
Instructions
In a large bowl, whisk together the milk, pumpkin puree, melted butter, vanilla extract, eggs, and mayo. Whisk until well combined. Add in the brown sugar, pumpkin pie spice, nutmeg, and whiskey if using. Mix until well combined.
Grease a large casserole dish (5qt or bigger) with cooking spray. Layer the bread cubes in the dish.
Pour the liquid mixture over the bread in the dish, ensuring all the bread cubes are covered.
Let the bread soak in milk for about an hour. (NOTE: You can skip the soaking and go straight to baking if you'd like but I recommend soaking at least an hour.)
Preheat oven to 350 degrees F.
Bake bread pudding for about 40-45 minutes until it is not wobbly and the top layer is golden and starting to be crunchy.
Remove from oven and serve warm with whipped cream or maple syrup.
Notes
You can assemble this recipe and refrigerate overnight. When ready to bake, let sit at room temperature for 30 minutes. Continue with Step 6. The baking time might be prolonged when starting from refrigerated.
Recommended Products
As an Amazon Associate and member of other affiliate programs, I earn from qualifying purchases.