No-Churn Snickerdoodle Ice Cream
Chewy, cinnamony snickerdoodle cookies, brown sugar, and a splash of vanilla are swirled into a custard-like whipped cream and sweetened condensed milk base to create this delectable no-churn snickerdoodle ice cream. This simple mixture is then frozen for a few hours to create the creamiest homemade ice cream you've ever tasted.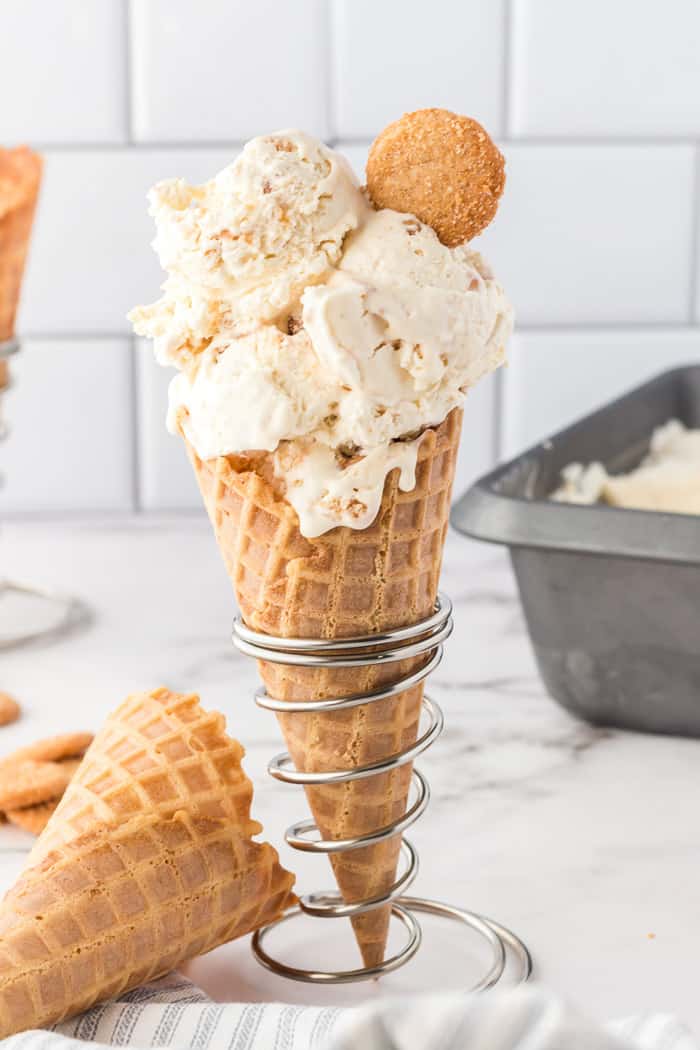 I love how customizable, fun, and delicious homemade ice cream is. Ever since I learned how to make homemade ice cream, about 10 years ago, I've been churning new varieties every summer. This blackberry coconut ice cream is one of my favorites. However, I don't always plan ahead for homemade ice cream using an ice cream machine and that's why no-churn ice cream exists.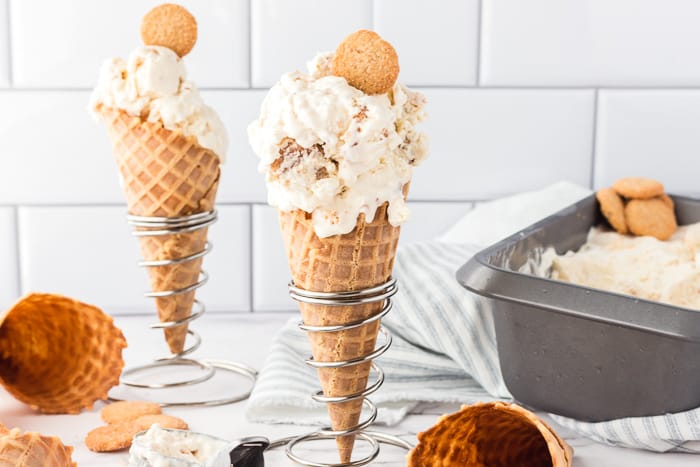 As we are getting to the end of summer, I was on a mission: I wanted a deliciously creamy homemade ice cream taste that tastes like fall. The answer? This No-churn snickerdoodle ice cream! The spicy cinnamon, chewy cookie pieces, and buttery brown sugar truly shine in this super-easy-to-make ice cream base!
Let's walk through some of the important aspects of making this no-churn ice cream. If you'd rather just get the recipe and bounce, feel free to scroll to the end for the recipe. No judgments!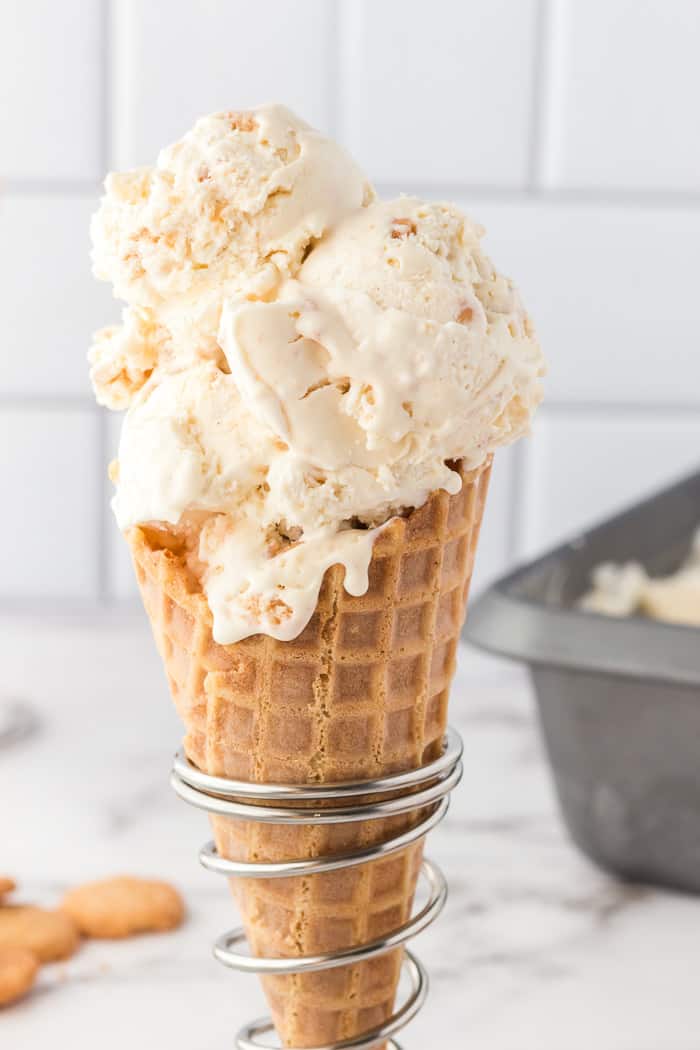 What is No-Churn Ice Cream?
No-churn ice cream recipes allow you to make deliciously creamy ice cream at home without needing to buy any specialty kitchen equipment or even turn on your stovetop! Traditionally churned ice cream is made from a cooked custard base that contains eggs and must be churned in an ice-cream churner before being frozen. No-churn ice cream, on the other hand, can be made in just a few hours using only a hand mixer, a rubber spatula, and your home freezer.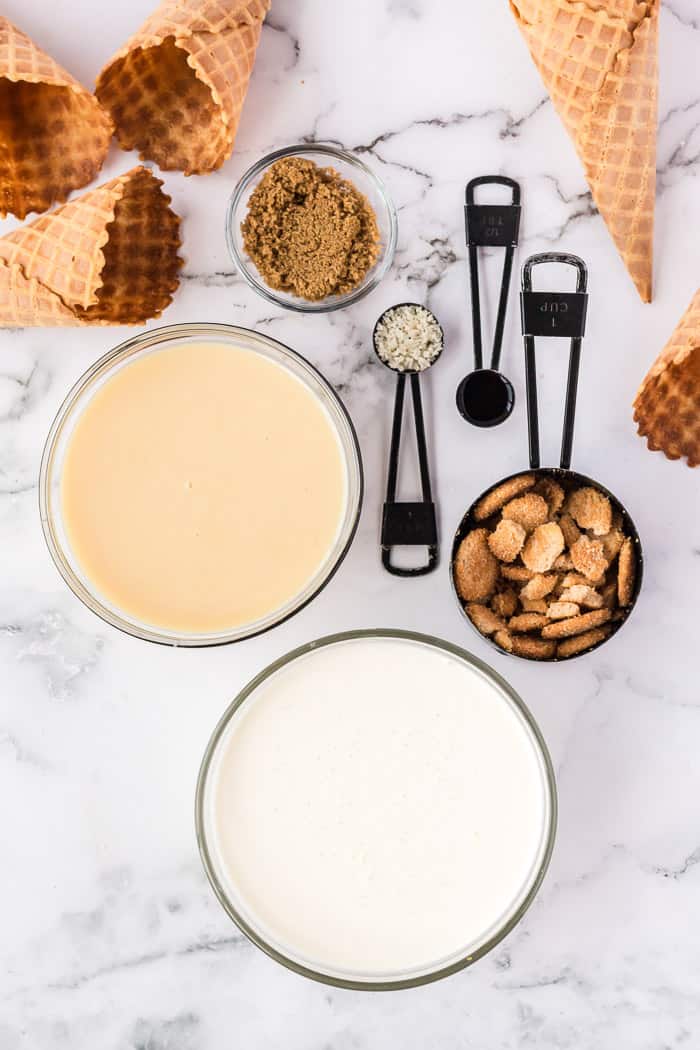 Ingredients You'll Need
Heavy Whipping Cream—Freshly whipped heavy whipping cream will act as a light and airy base for your no-churn ice cream.
Sweetened Condensed Milk—Sweetened condensed milk is simply cow's milk that has had most of the water removed from it. Adding it to your snickerdoodle ice cream will make it sweeter, smoother, and easier to scoop.
Brown Sugar—A small amount of brown sugar is used to add a molasses flavor and homey feel to this ultra-creamy no-churn ice cream.
Crushed Snickerdoodle Cookies—Homemade or store-bought snickerdoodle cookies will both work in this recipe. Alternatively, you can add a teaspoon of cinnamon to your ice cream base and use crushed shortbread cookies instead of a snickerdoodle.
Vanilla—A splash of vanilla extract helps to round out and enhance the other cinnamony, caramelly flavors in this ice cream.
Salt—A generous sprinkle of salt is added to the ice cream base in order to balance out the intense sweetness of the sweetened condensed milk and brown sugar.
How to make No-Churn Snickerdoodle Ice Cream
Begin making this custard-like no-churn snickerdoodle ice cream by whipping your heavy cream. Use a stand or hand mixer to do this and make sure your cream is very cold. Once your cream has formed stiff peaks, use a rubber spatula to gently fold in your sweetened condensed milk, brown sugar, vanilla, and salt.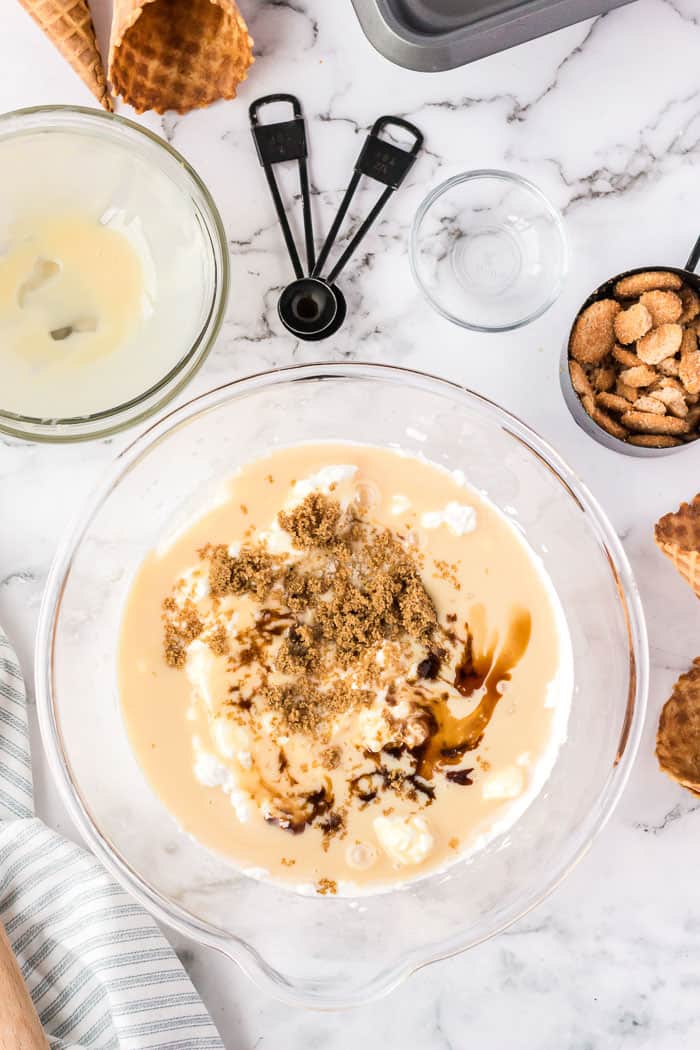 Using the same rubber spatula, gently fold your crushed snickerdoodle pieces into your ice cream base. Carefully transfer your ice cream mixture to a loaf pan, cover it with a layer of plastic wrap, and pop it into the freezer for at least four hours or until thoroughly set.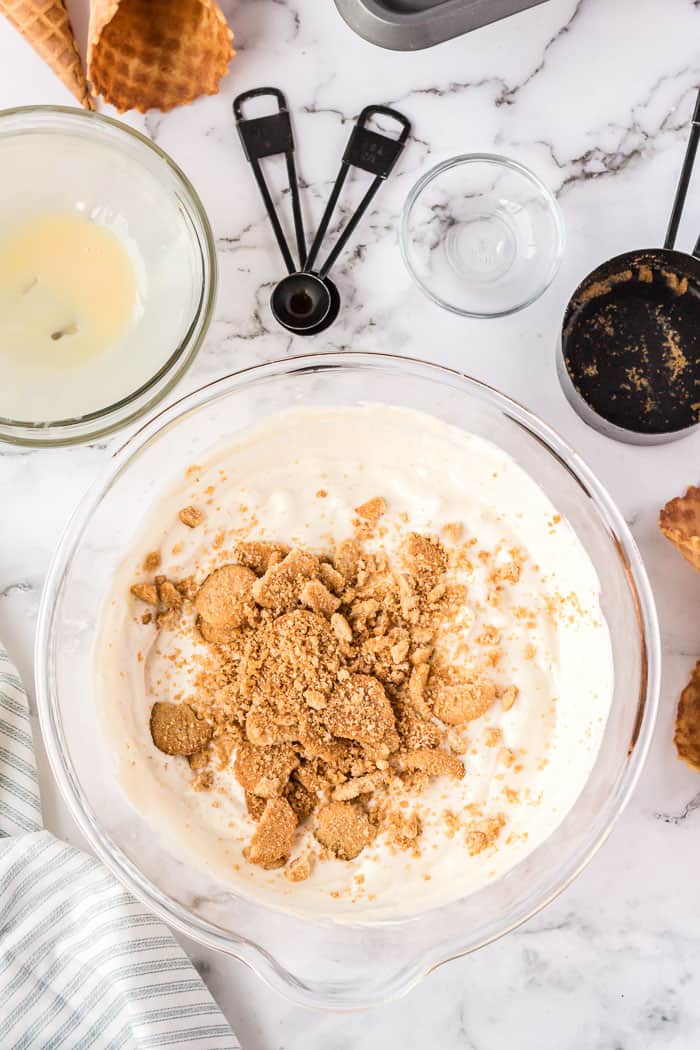 Use an ice cream scoop to scoop your no-churn snickerdoodle ice cream into waffle cones, bowls, or sandwich a few scoops between two snickerdoodle cookies. Top your ice cream with additional cookie crumbs and enjoy!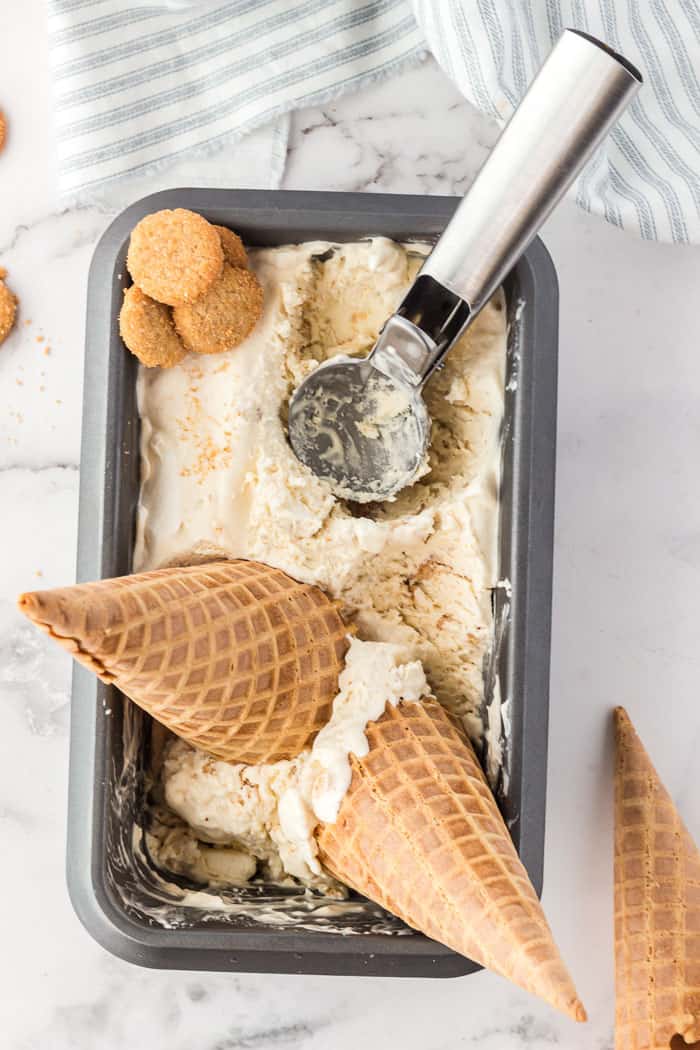 Frequently Asked Questions
Can I make no-churn snickerdoodle ice cream gluten-free?
Absolutely! To make snickerdoodle ice cream gluten-free, all you need to do is make sure that your snickerdoodle cookie crumbs are gluten-free. An easy way to do this is to make your own snickerdoodles with gluten-free flour instead of regular flour.
I don't have a loaf pan; can I freeze my ice cream in something else?
Yes! I like freezing my no-churn ice creams in a loaf pan because it fits nicely into my freezer; however, you can use any freezer-safe container that you have. This could be another size or shape of bakeware or even a plastic food storage container.
How long does no-churn snickerdoodle ice cream last in the freezer?
As long as you keep your no-churn snickerdoodle ice cream properly covered with plastic wrap, it will stay good in the freezer for several months.
Recipe Tips and Tricks
For a dessert with a bit of a crunch, try swirling in a handful of cinnamon toast crunch before freezing your snickerdoodle ice cream.
I suggest making your snickerdoodle ice cream in the evening and allowing it to freeze overnight so that you can enjoy it the next day.
This super simple no-churn ice cream base can be used to make a variety of ice cream flavors. Simply omit the brown sugar and cookie crumbles and replace them with the extracts, spices, mix-ins, and toppings of your choice.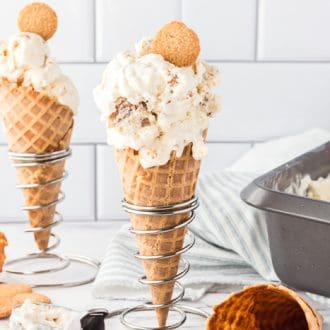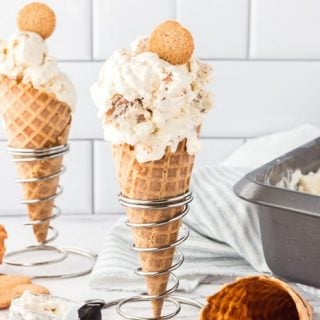 Yield: serves 10
No-Churn Snickerdoodle Ice Cream Recipe
Total Time
4 hours
15 minutes
Ingredients
2¼ cup heavy whipping cream
1 (14 ounces) can of sweetened condensed milk
1/8 cup brown sugar
1 teaspoon salt
½ teaspoon pure vanilla extract
1 ¼ cup crushed snickerdoodle cookies
Instructions
Using a stand or hand mixer, whip your heavy cream until stiff peaks
form.
Gently fold the sweetened condensed milk, brown sugar, salt, and
vanilla into your whipped cream. Continue folding until the mixture is just
uniform, being careful not to mix too vigorously.
Add your cookie pieces to your ice cream base and gently mix until the
pieces are evenly distributed.
Transfer your ice cream into a loaf pan, cover it with plastic wrap,
and leave in the freezer for at least 4 hours.
Once completely frozen, scoop, serve, and enjoy your snickerdoodle ice
cream!
Recommended Products
As an Amazon Associate and member of other affiliate programs, I earn from qualifying purchases.