Apple Caramel Dutch Baby Pancake
An easy apple caramel dutch baby pancake that is perfect for all your fall brunch and breakfasts.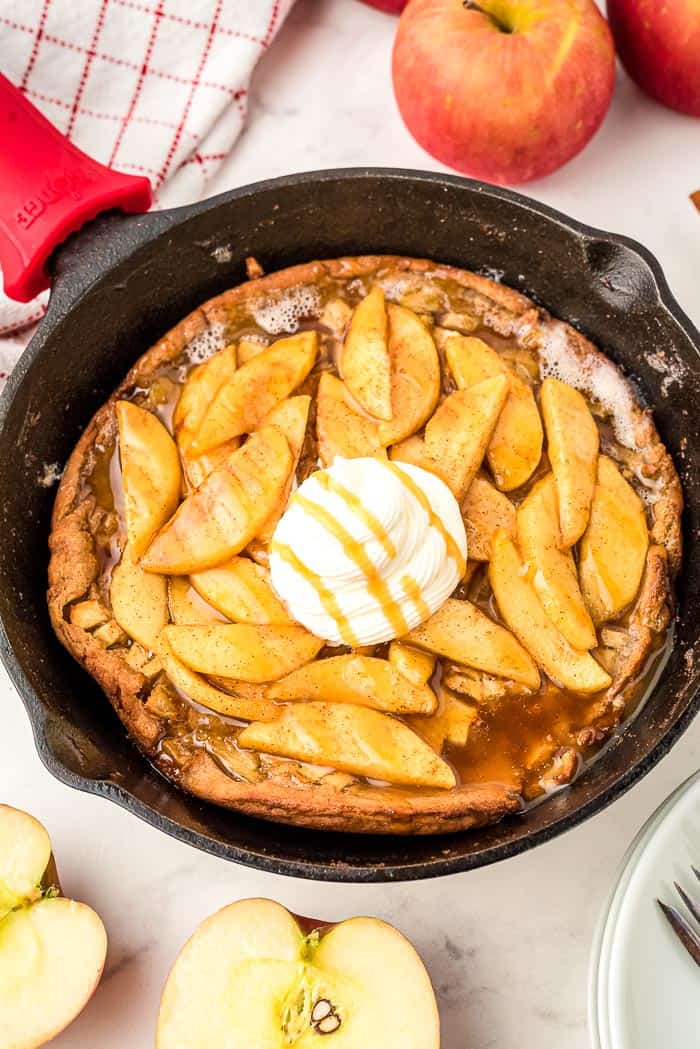 I can honestly say that we had a memorable Summer. After the chaos of moving into a new home, we enjoyed numerous days splashing through sprinklers, family outings to strawberry patches, and all the delightful foods that make the heat more bearable. But, with all that being said, this mama is ready for fall!
Crisp weather, layered looks, fall decorations in a new home, and all the signature fall favorites we have grown to love. Fall starts comfort food season, and nothing is more comforting than a delicious and filling breakfast to fuel your day. If you have never tried a dutch baby pancake, this is your sign to start with my Apple Caramel Dutch Baby Pancake.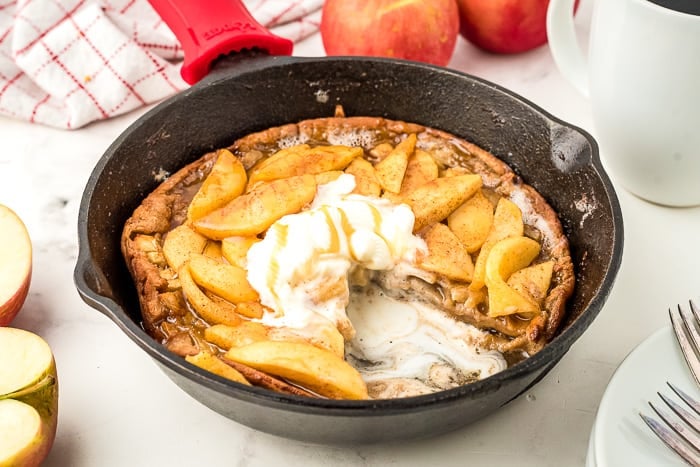 You may be wondering, "What the heck is the difference between a pancake and a dutch baby pancake?" Traditional pancakes are fluffy and thick. Compared to the dutch baby pancake that is typically thinner and baked in a cast-iron skillet. They can be served with savory or sweet toppings. The center becomes deflated to hold whatever toppings your stomach desires.
This Apple Caramel Dutch Baby Pancake will be one of your new fall favorites in no time. The pancakes are cooked with apple, nutmeg, and clove, then topped with an even more fantastic apple topping filled with cinnamon, and ginger spices. Can you think of a better way to start your morning?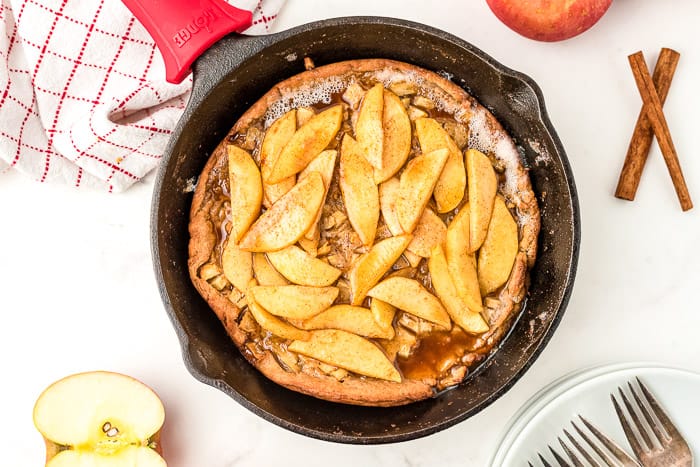 Not a breakfast person? This recipe has no boundaries! Make this for lunch, dinner, or even a snack to share with family or your girls when wine nights resume and you need something to soak up all that pinot or sangria.
Keep in mind when baking these that they are best to be enjoyed fresh from the oven and steamy hot. Once the topping is added, the consistency of the dutch baby pancake can become very soggy if you let it sit for too long or try to reserve any leftovers. Top with a hefty dusting of powdered sugar, a drizzle of caramel sauce, and fluffy whipped cream.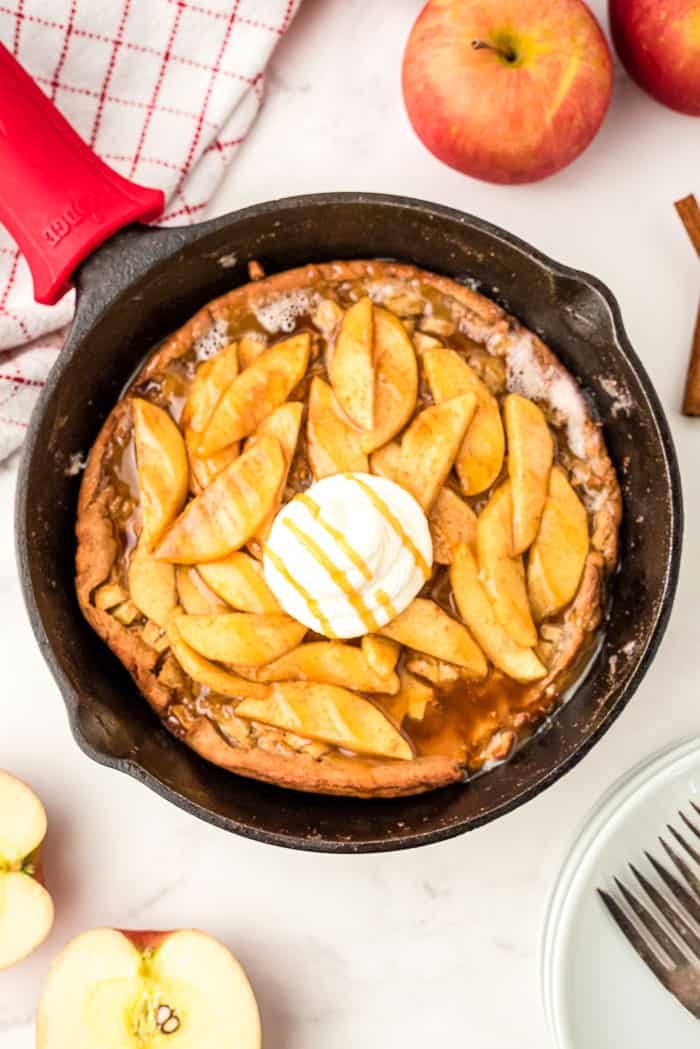 Embrace the season and fill up on these Apple Caramel Dutch Baby Pancakes to get in the festive mood for a day of apple picking, hayrides, endless rows of pumpkins to pick, and walks through the orange and yellow leaves decorating the forest.
If you are looking for other flavor options, you should check out the Blueberry Lemon Dutch Baby Pancake and the winter months this Gingerbread Dutch Baby Pancake. Each recipe is just as unique as the last and will be a show stopper whenever you serve them.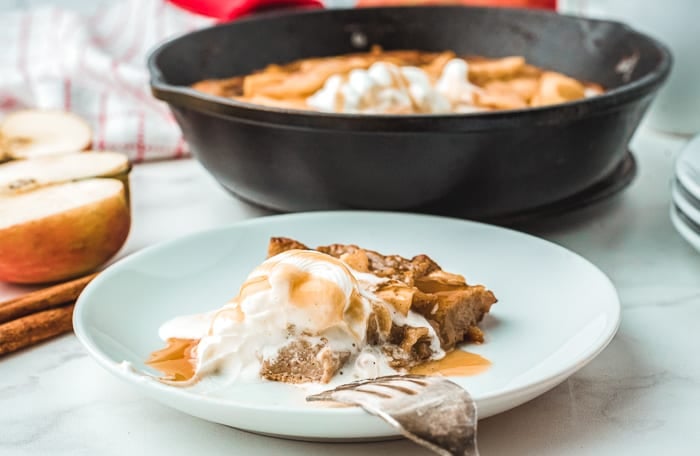 What do you think of this recipe? Let me know in the comment section below, or if you share across social media, make sure to tag #aclassictwist. Nothing makes me happier than these recipes come to life in your very own kitchen and the joy food brings us all.
Until next time, have a wonderful day :-).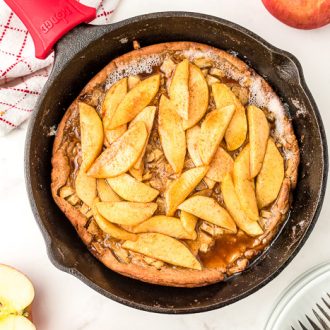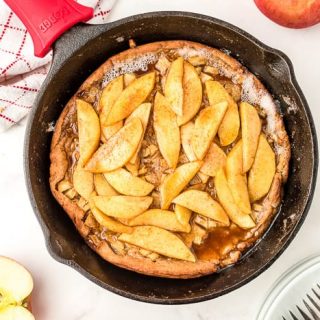 Yield: 1 large pancake
Apple Caramel Dutch Baby Pancake
A sweet and fluffy pancake that is filled with fall spices and gooey apple filling.
Ingredients
For pancake:
1/2 cup all-purpose flour
1/2 cup whole milk or almond milk
2 large eggs
2 tablespoons granulated sugar
1/2 teaspoon ground cinnamon
a pinch of nutmeg
a pinch of cloves
2 tablespoons unsalted butter, cut into small pieces
1 medium apple, finely diced
For Apple Topping:
2 medium apples, cored and sliced
1/4 cup granulated sugar
1 teaspoon ground cinnamon
1/4 teaspoon ground ginger
1 tablespoon lemon juice
Toppings (Optional):
2 tablespoons caramel sauce
½ cup homemade whipped cream
powdered sugar, for serving
Instructions
Preheat oven to 425 degrees F.
In the bowl of a food processor or blender combine all the ingredients for the pancake, except the butter and apples. Blend until they are well combined and smooth, about 1-2 minutes.
Let the pancake batter sit in the food processor for at least 20 minutes. You can also refrigerate the batter for 1-2 hours.
During this time, make the topping. Combine all the ingredients for the topping in a small saucepan and cook over medium heat, stirring occasionally, until the apples are softened and the sauce starts to thicken about 10-15 minutes. Remove from heat and transfer to a small bowl. Let cool. You can make the apple topping the day before and refrigerate until ready to serve.
When you're ready to make the pancakes, place the butter in a large casserole dish or large cast-iron skillet and heat it in the preheated oven. Let it melt completely and as soon as it does melt remove the skillet from the oven and pour the pancake batter into it. Top the batter with the chopped apples
Bake the pancake in the heated oven for 15-20 minutes or until puffy. Lower oven temperature to 300 degrees and bake additional 5 minutes as needed.
Remove from the oven and top immediately with caramel drizzle, whipped cream, and powdered sugar.
Serve immediately.
Recommended Products
As an Amazon Associate and member of other affiliate programs, I earn from qualifying purchases.