Chicken Souvlaki Salad Bowl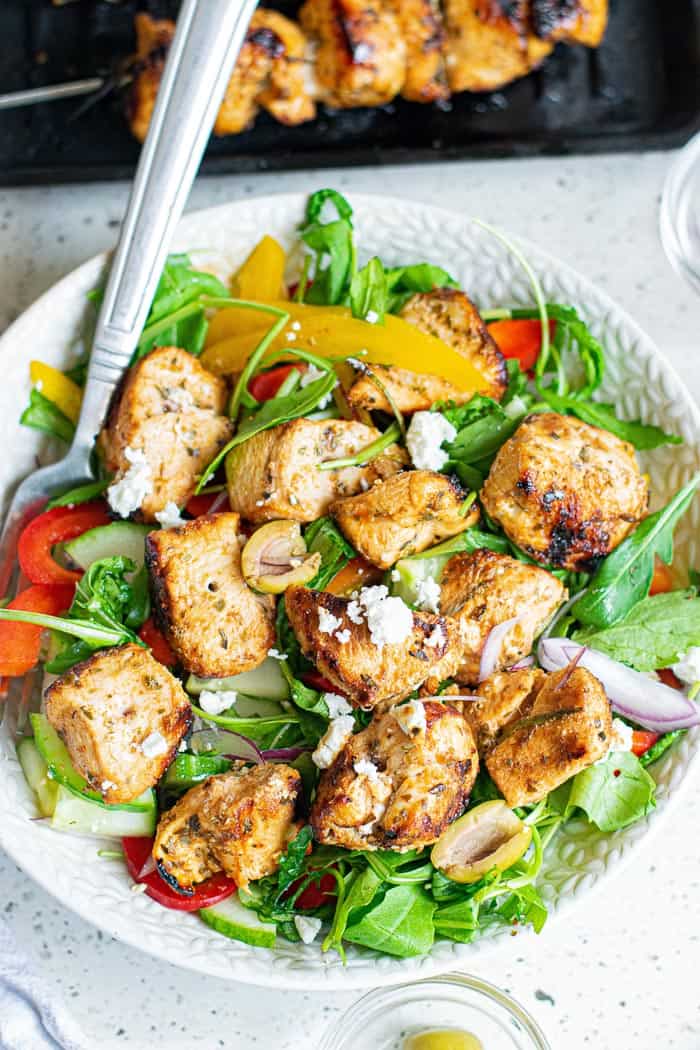 Hello friends! I have a new salad bowl recipe for you. Remember these chicken souvlaki?? Well, you can serve it over rice, on pita, or in a salad bowl. This chicken souvlaki salad bowl is a delicious light lunch to have any time of the year.
You will love this salad bowl as it is simple, light but can still make a whole meal. It's the best way to use seasonal vegetables like tomato, cucumber, bell peppers, and onion. Add feta, olives and complete with a splash of Greek olive oil dressing. You can vary as much as possible like if you have family gatherings, make a giant hearty mezze platter. I promise that this will be a hit and it's so easy to put together with simple ingredients in a short time.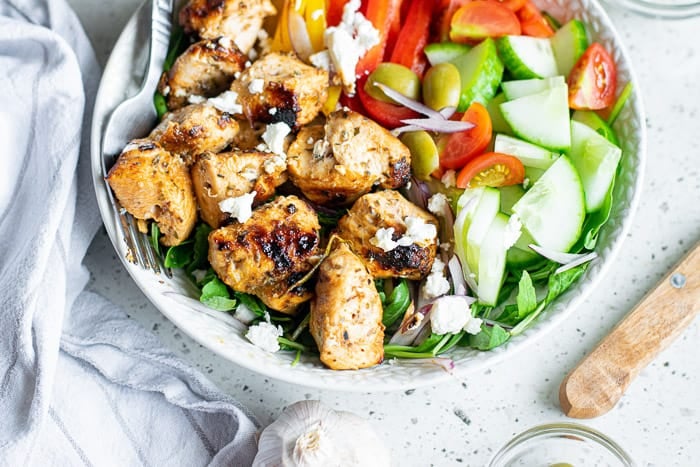 Who else is trying to eat healthier this summer?? Summer brings new resolutions for a lot of people. Most of them are about taking care of ourselves in different ways. Those can range from going to the gym, reading more books, taking vacations, but one of the most popular ones is eating healthier.
When we choose to eat healthier it does not mean the food can't taste good too. It doesn't always have to be shakes, protein bars, or plain chicken. Life is about enjoyment and treating ourselves. Living the best way we can and still taking care of our bodies. This chicken souvlaki salad bowl does both! It is healthy and it tastes superb. Juicy, marinated chicken grilled to perfection over a bed of amazing veggies. Drizzled with a homemade dressing that really brings this whole salad together.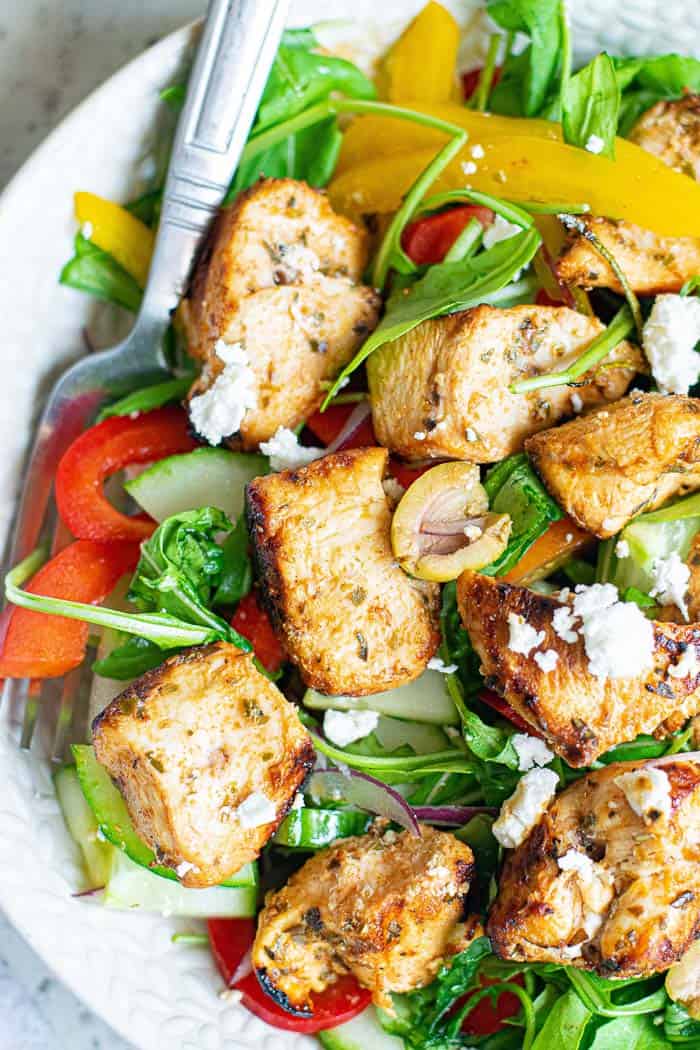 To make this salad bowl, make the chicken souvlaki recipe first. Don't forget to let the chicken marinate for as long as possible before grilling.
For the salad components, I love using a mix of arugula and romaine lettuce, cherry tomatoes, crumbled feta cheese, greek olives, sliced red onion, red and yellow sliced peppers, and fresh cucumber. You can use any vegetables you like for this. Toss it all together with the dressing.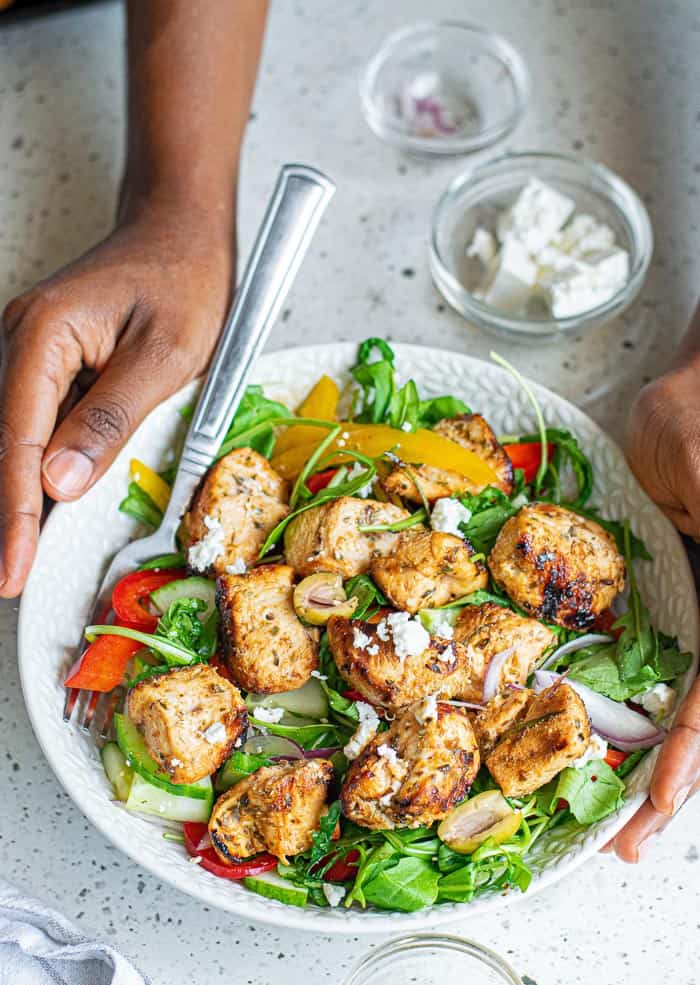 Drizzle lemon juice and greek style olive oil on top of everything. You can add in as little or as much as you want. I personally like a lot on top of my bowls to keep everything super flavorful. After mixing in your homemade dressing top off with fresh mint. To get more flavor out of the mint you can grind it up a bit before adding it on top of the mixture. This will bring those aromas into all the ingredients. Don't forget to salt and pepper.
I hope you enjoy it!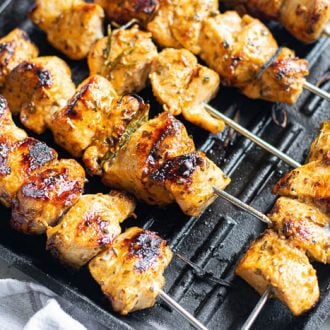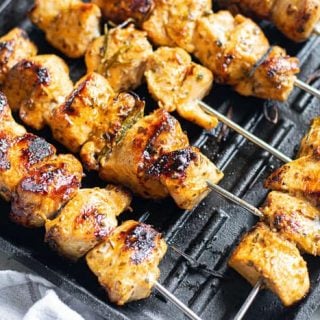 Yield: 6 skewers
Greek Chicken Souvlaki
Total Time
2 hours
15 minutes
Ingredients
2 chicken breasts, boneless and skinless, cut in chunks
Sea salt and black pepper, to taste
1 tablespoon garlic paste or 6 garlic cloves, minced
1 teaspoon fresh rosemary, minced
1 ½ teaspoons dried oregano
1 teaspoon sweet paprika
Juice of 1 lemon
2 tablespoons dry white wine
¼ cup extra virgin olive oil, preferable a Greek brand
Instructions
In a large bowl, add chicken and season with salt and pepper.
Prepare the chicken marinade. In a small bowl, combine garlic, rosemary, oregano, paprika, lemon juice, wine, and oil.
Top chicken with marinade and toss to coat all chicken. Cover with plastic or aluminum foil and refrigerate for at least 2 hours, not more than overnight.
When ready, prepare 6 skewers with chicken pieces.
Heat a grill pan on medium-high heat. Place skewers on a grill pan and cook on each side until beautiful brown and cook through. While cooking keeps brushing chicken with marinade.
Transfer chicken to serving bowls and serve immediately.
Once you prepare the chicken souvlaki above, you can proceed to assemble your bowl.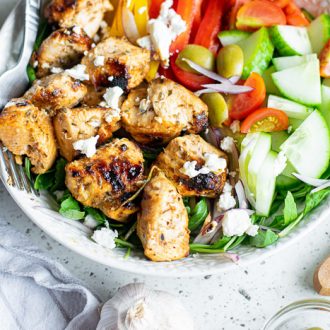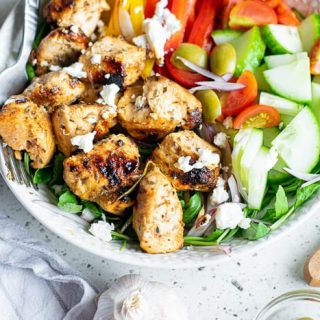 Yield: 2 servings
Chicken Souvlaki Salad Bowl
Total Time
2 hours
30 minutes
Ingredients
Chicken Souvlaki Recipe above
Bowl fillings
Arugula or romaine lettuce
Cherry tomatoes, sliced
Feta cheese
Olives
Red onion, sliced
Red bell pepper, sliced
Yellow bell pepper, sliced
Cucumber, sliced
1 lemon, juiced
3 tablespoons extra-virgin olive oil
1 teaspoon dried mint or a handful of fresh mint
kosher salt and pepper
Instructions
Prepare the chicken souvlaki skewers per the recipe above.
In a large bowl, toss the lettuce, cherry tomatoes, feta cheese, olives, red onions, bell peppers, cucumber.
Drizzle the lemon juice and olive oil over the bowl. Add in the mint.
using your hands, mix the salad together. Add salt and pepper to taste.
Divide the salad into serving bowls and top with grilled chicken souvlaki.