Strawberries and Cream Baked Donuts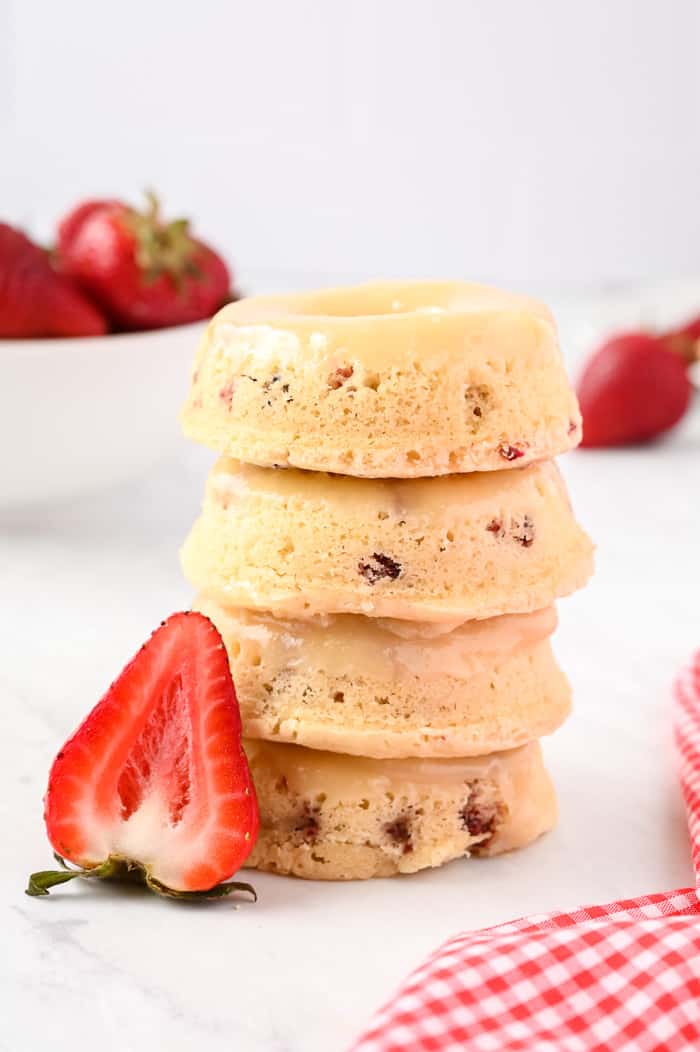 On the weekend what is the one breakfast food your kids always ask you to make? For me, it's donuts. My 5 year old loves homemade donuts. Have you ever tried making your own at home? Don't worry, my recipe is beginner-friendly, and will be a huge hit. These Strawberries and Cream Baked Donuts are adding to my repertoire of baked donuts.
Baking donuts is one of my favorite ways to enjoy donuts. It's healthier than fried and it is easier too. Usually one bowl. Here are a few of my other baked donuts recipes:
Okay back to these strawberries and cream baked donuts. They are to die for! Not to mention that gooey cream cheese glaze coating the top is one you will be tempted to add to all desserts.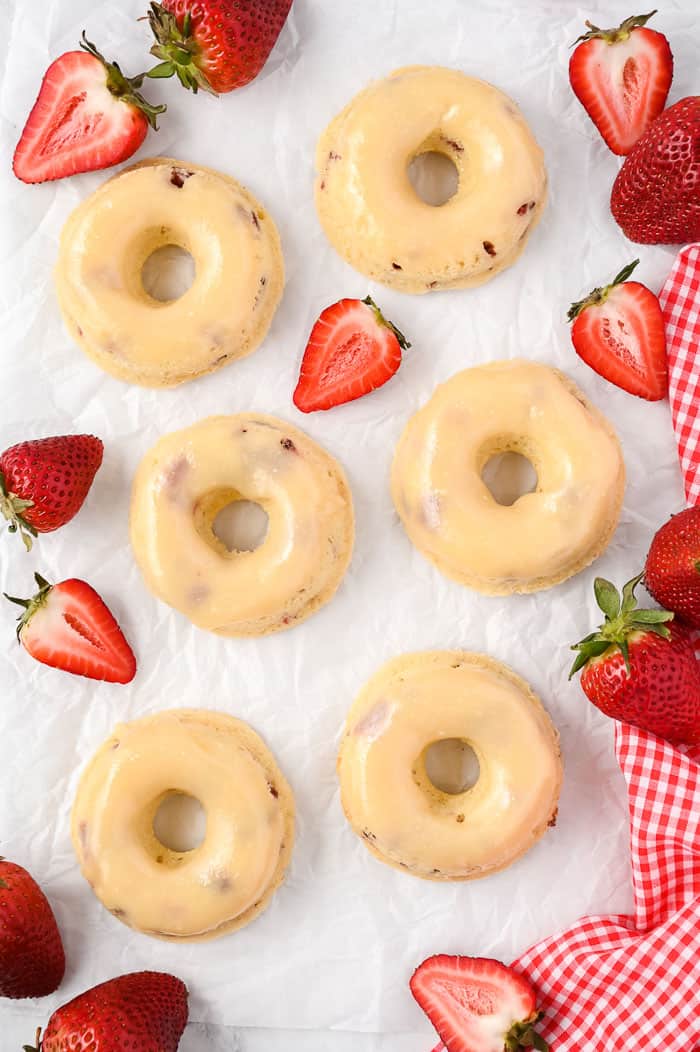 Let me walk you through how to make these easy strawberries and cream donuts!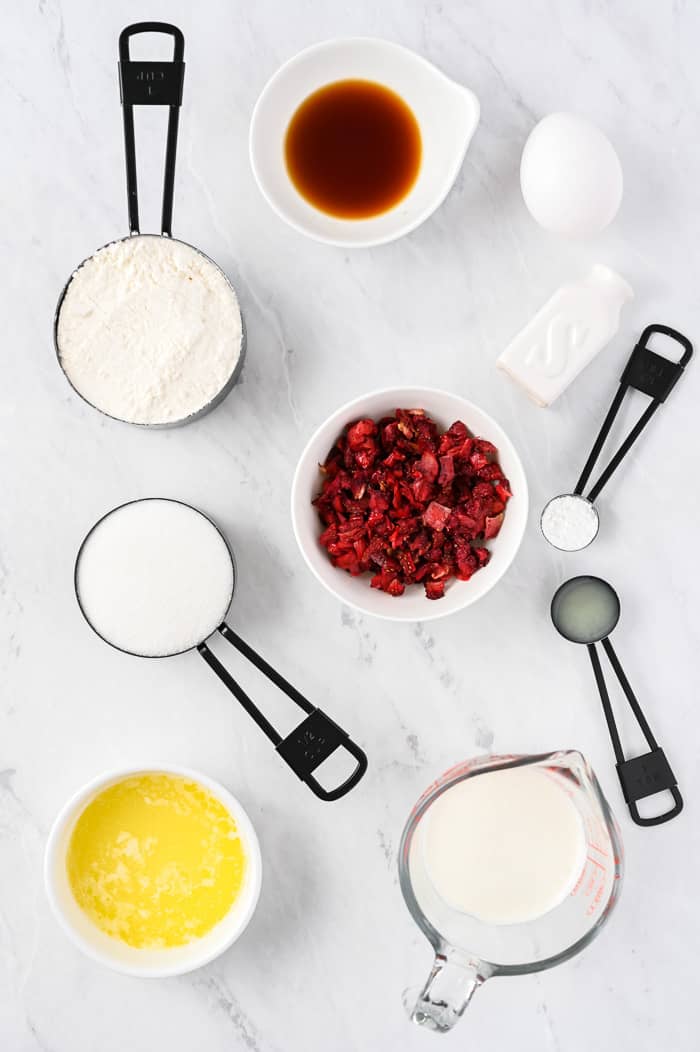 Let's gather up our ingredients. All basic. We use dried strawberries for an enriched strawberry flavor without the burden of the liquid it brings. You can buy dried strawberries at the store or make it at home. I include how to do that below in the FAQs.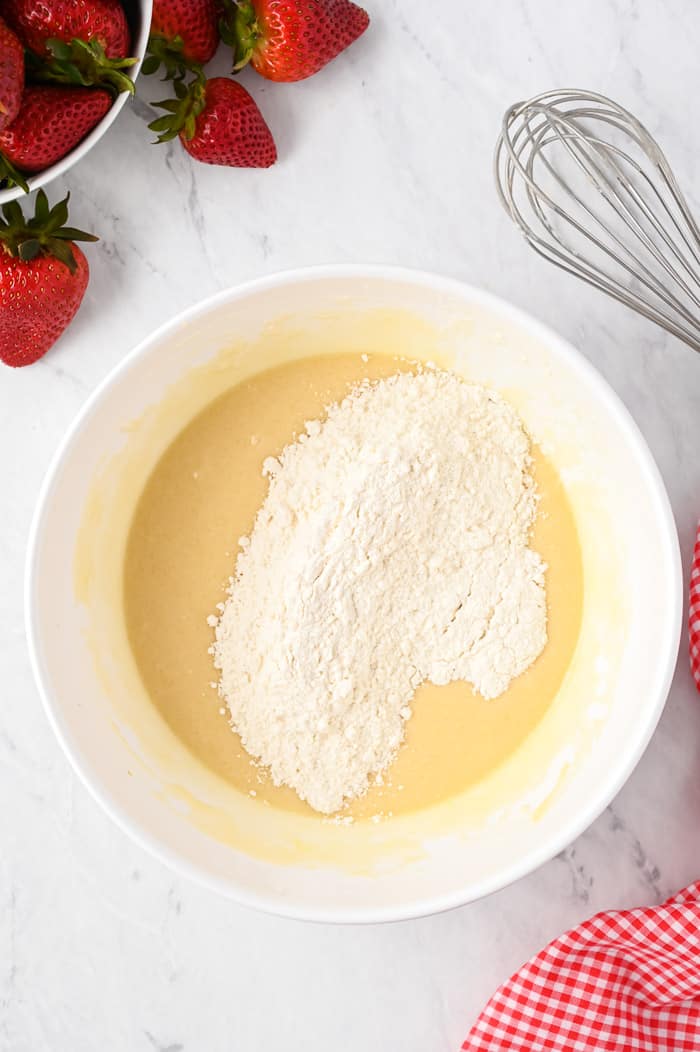 The batter can be made in one bowl but combining the wet and dry ingredients carefully. The "cream" part of the recipe comes from the use of heavy cream. It is rich and brings in a great flavor!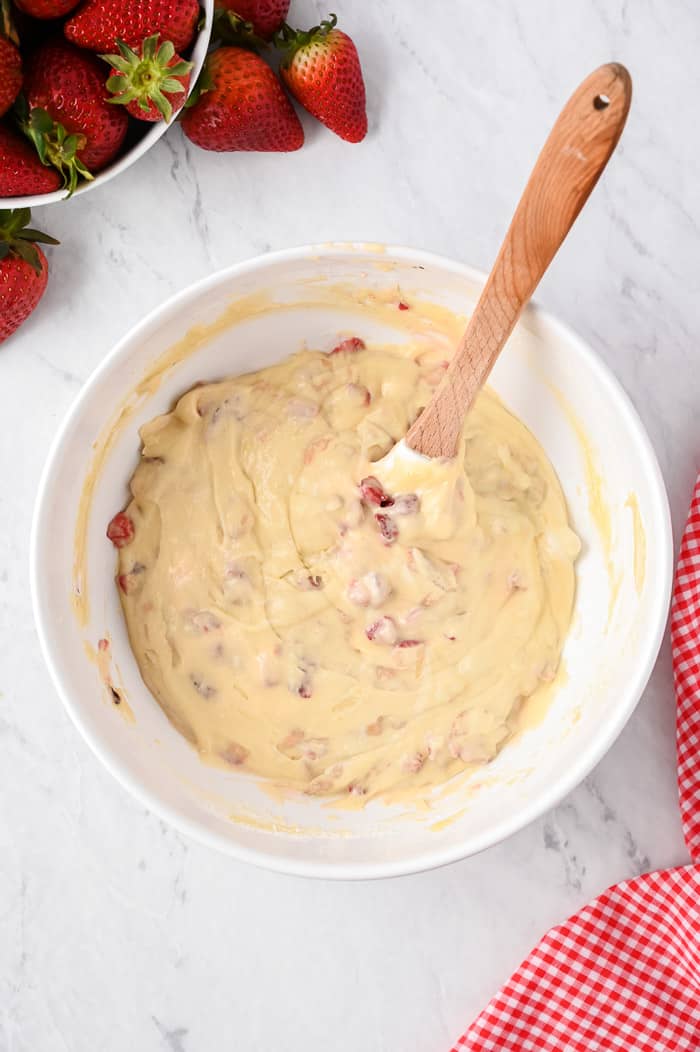 The dried strawberries go in last before we divide up the batter into our donut pans.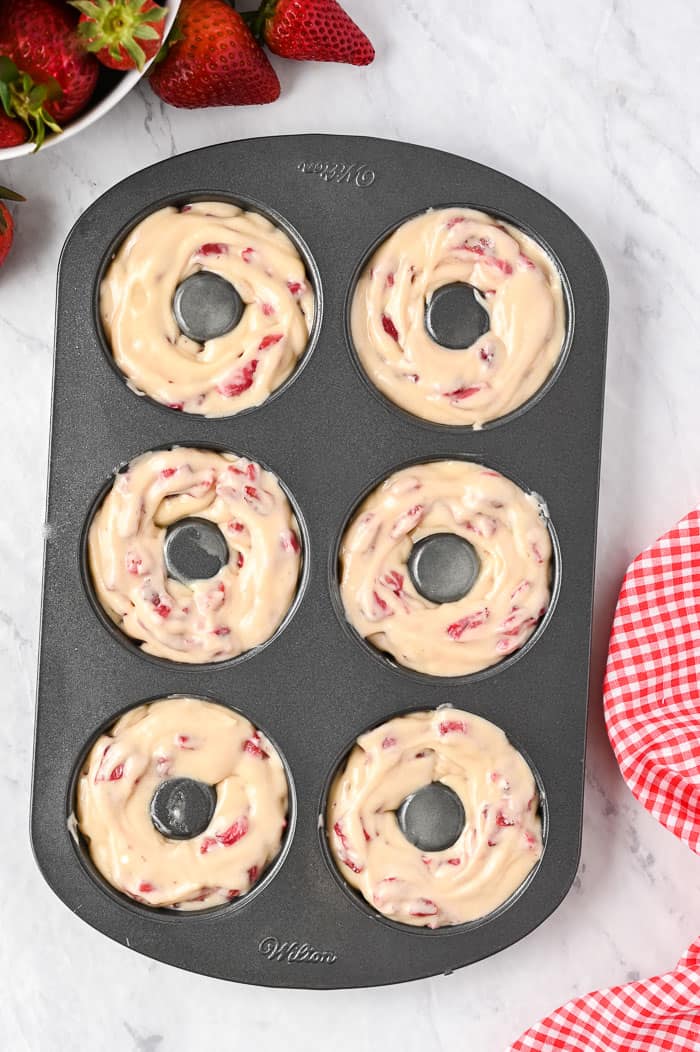 If you don't have a donut pan, you need one. It is one of my favorite baking tools as it ensures I am baking donuts instead of frying :). I linked one at the end of the recipe for you.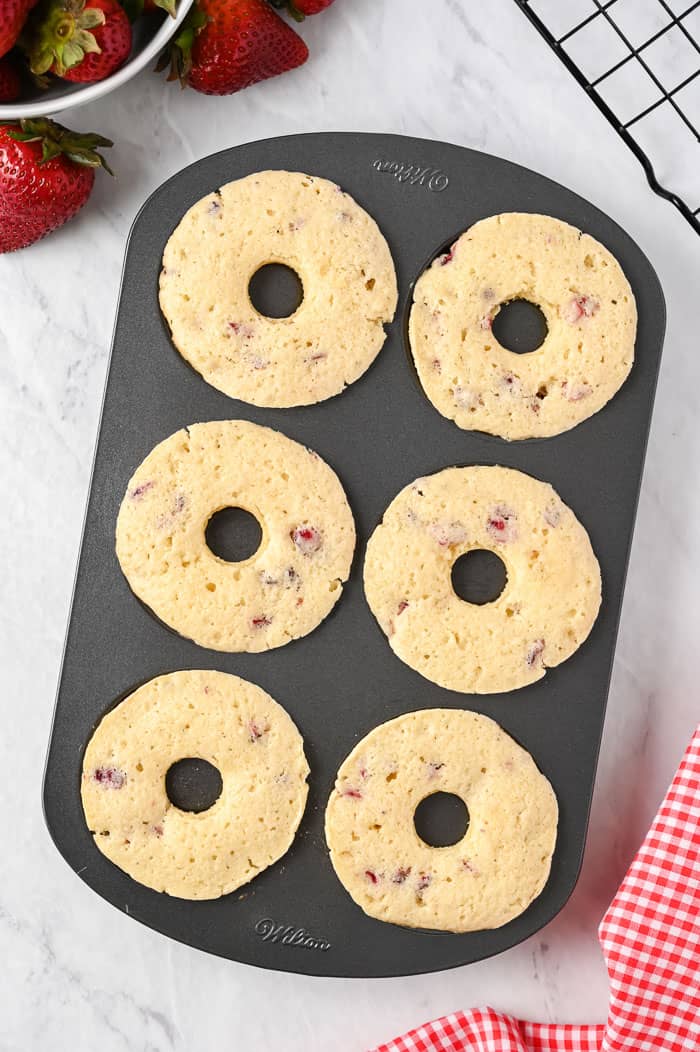 This recipe makes exactly 6 donuts which is the perfect amount for my family. However, feel free to double if you'd like more.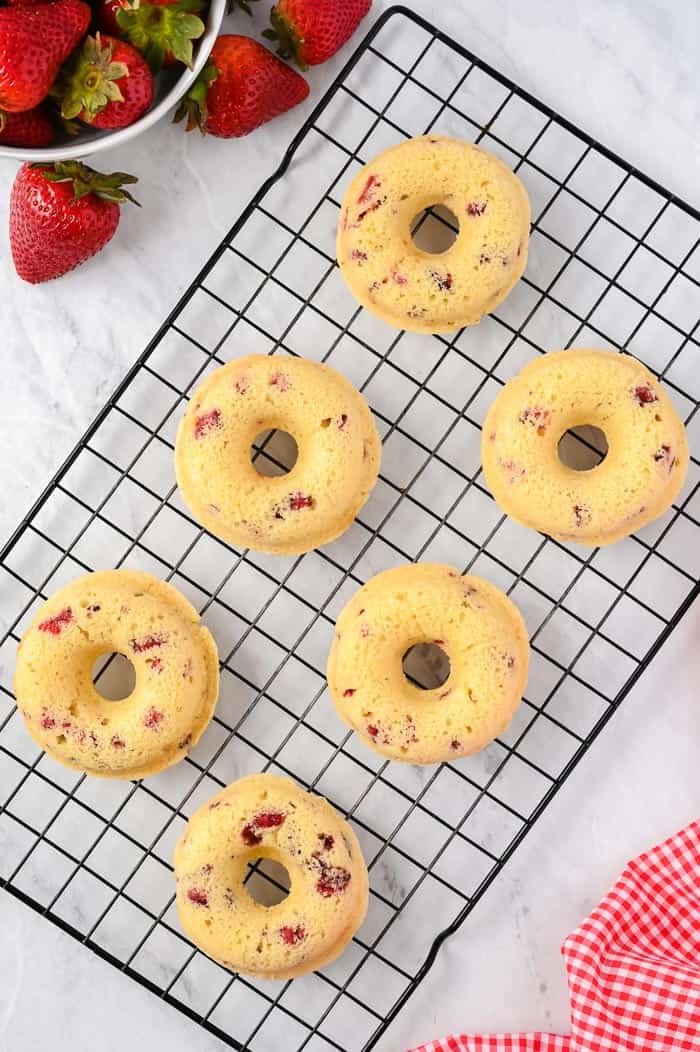 While the donuts cool, we will make the frosting/glaze.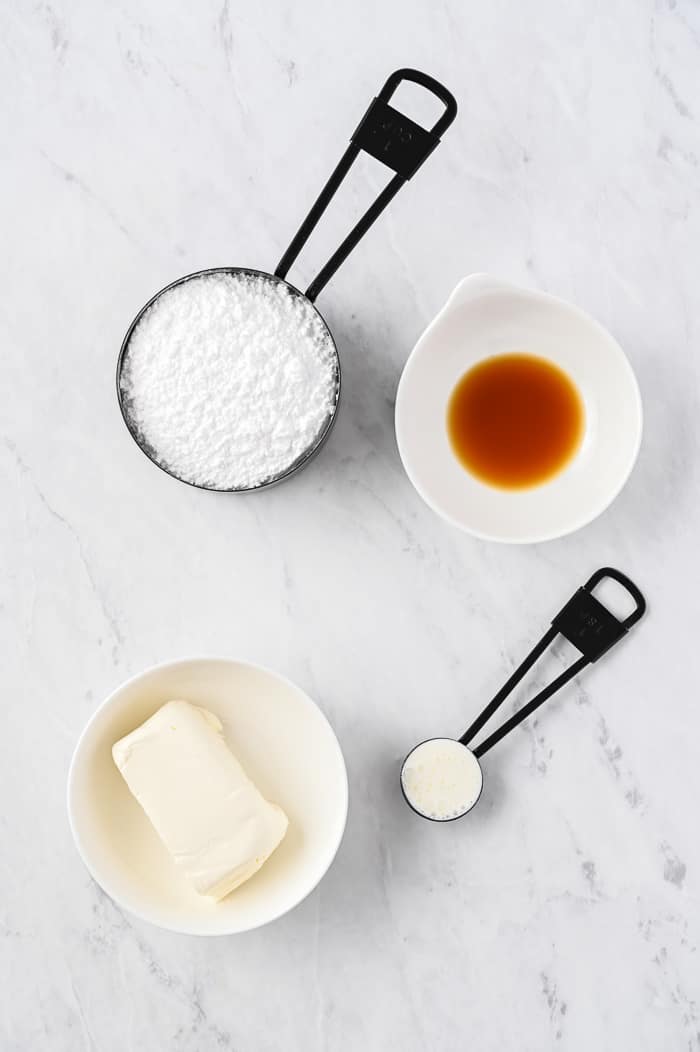 The ingredients are simple for that too. I like adding the ingredients all to a saucepan and combining over medium heat until smooth.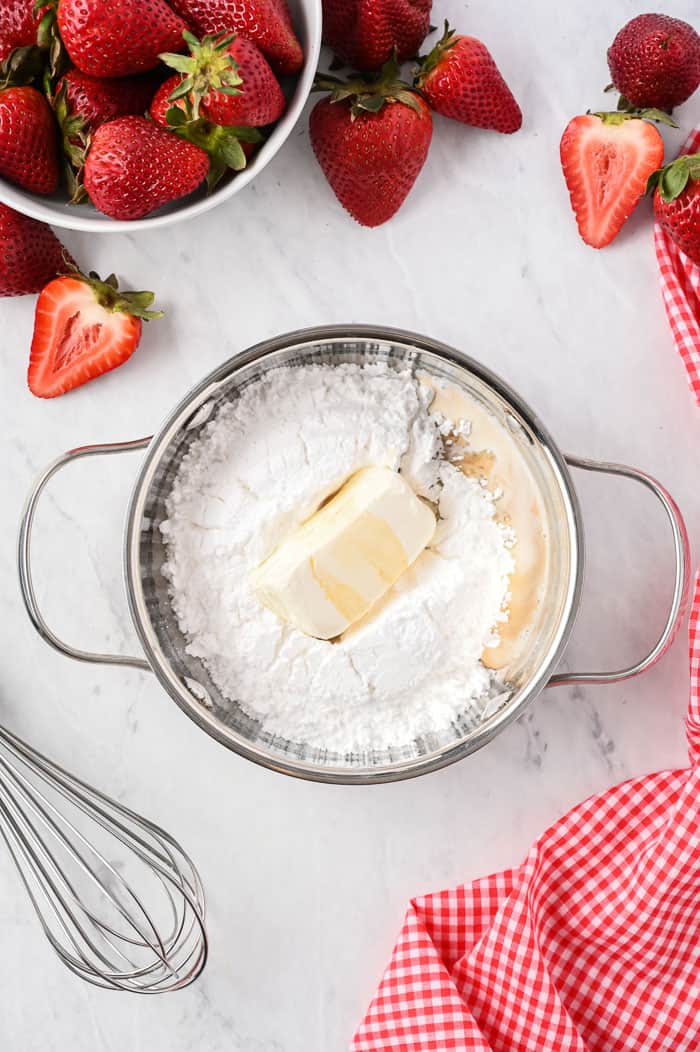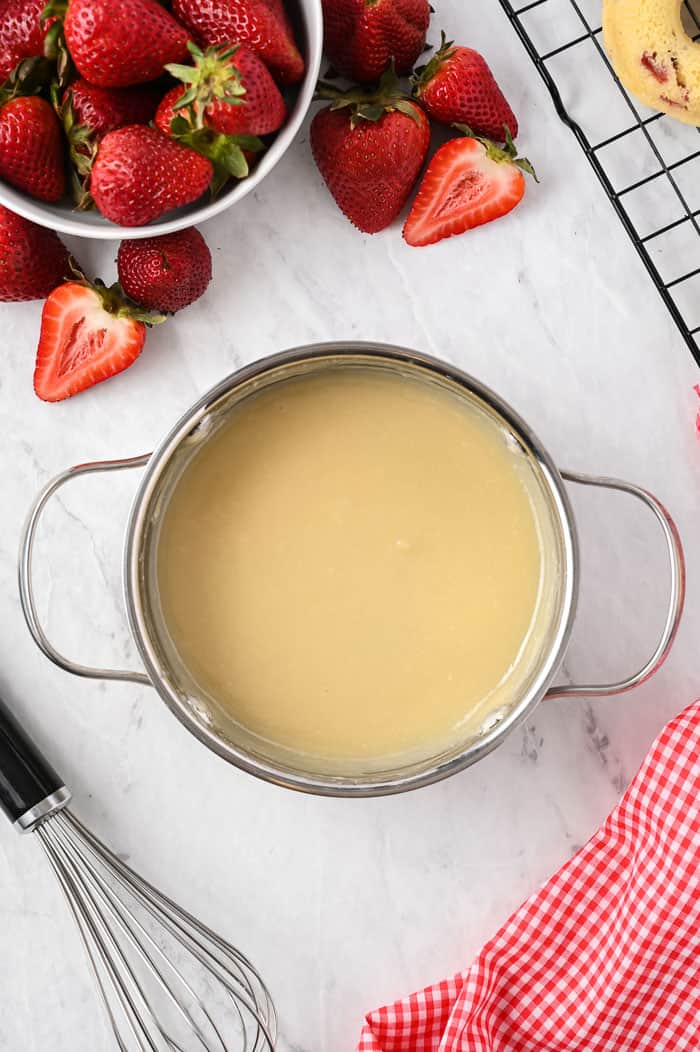 And that's it! Cool slightly and then dip your cooled donuts into the glaze. You can decorate the tops or enjoy as is 🙂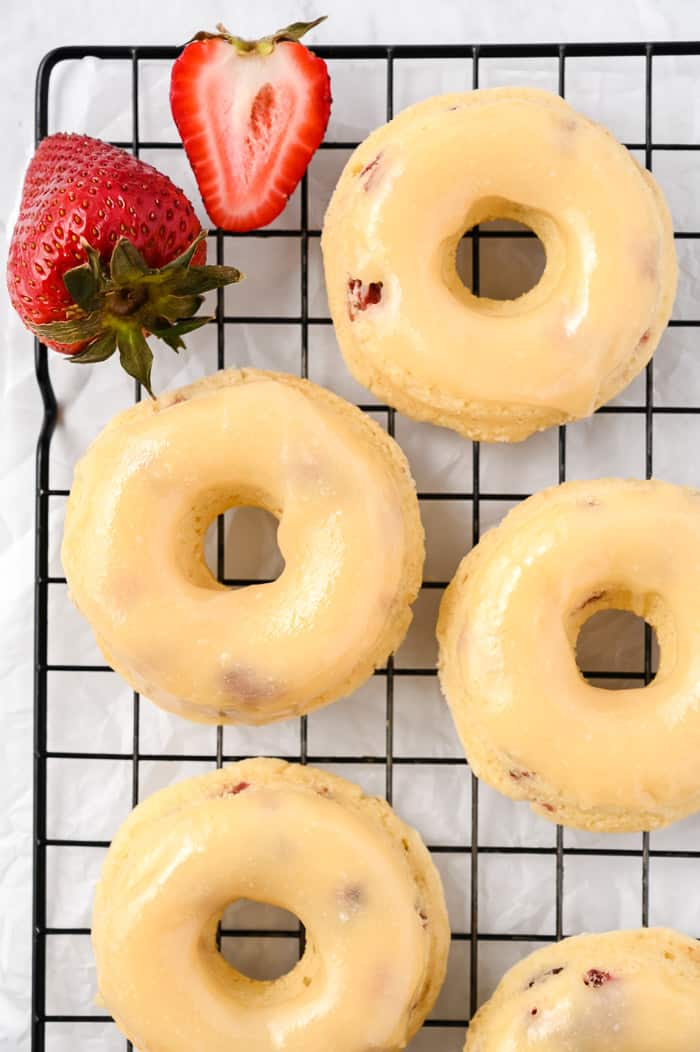 When you bake a donut it turns into a cake-like consistency which makes for a more dense breakfast treat.
It truly makes my kids' day when I make donuts. I usually try to get up before they do and have it ready. That way I can cut down on the mess of them trying to help. let's be real, baking with kids is a lot of work.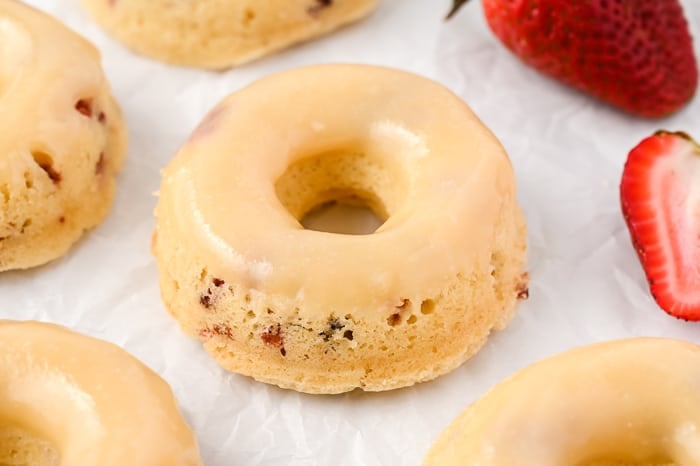 These Strawberries and Cream Baked Donuts are not only perfect for breakfast but make a fun twist for a birthday party instead of cake or at a baby/bridal shower. Dried strawberries infused through the entire donut ensure you get that sweet strawberry flavor in each bite and also makes for an outstanding presentation.
FAQ Questions:
Storage Instructions

Serve immediately or the day of. These donuts are best served the same day they're baked but will keep for a few days (up to two) in an airtight container at room temperature.

Can I substitute buttermilk for the heavy cream and lemon juice mixture?

We wouldn't recommend it. While the combination of heavy cream and lemon is to provide a similar reaction that buttermilk does for baked goods, the heavy cream is what puts the "cream" in "strawberries and cream". It affects both the texture and creaminess. We'd recommend sticking to heavy cream!

Where can I get dried strawberries?

If you can't find dried strawberries at the store, you can easily make them yourself! It only takes about an hour in the oven to dry them out enough for this recipe's purposes. Here's how to make them yourself:

Preheat the oven to 250.
Dice 8- 15 strawberries (depending on their size) into small chunks. You'll need a total of 1.5 cups of diced strawberries.
Line a baking sheet with parchment paper and spread the diced strawberries across the sheet evenly. Bake for 1 hour and toss the pieces over halfway through. The strawberries will feel dry on the edges, although the insides will still be soft.

Note, the strawberries don't need to be completely dehydrated for this recipe. Fresh strawberries have too much moisture for the batter to completely bake, so the need is to reduce the amount of liquid. This recipe was tested with both store-bought dried strawberries as well as strawberries dried using the method above, and both produced the same donut.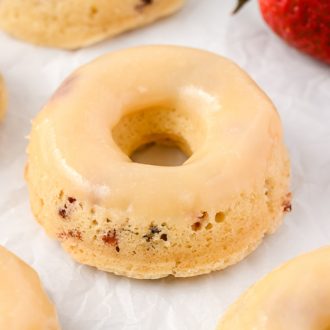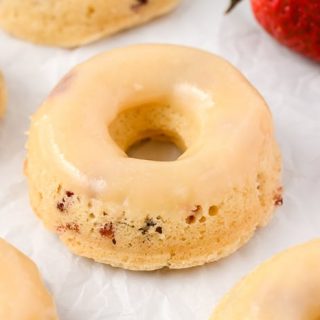 Yield: 6 donuts
Strawberries and Cream Donuts
These easy and delicious strawberries and cream baked donuts are the perfect breakfast or afternoon snack. Packed with dried strawberries.
Ingredients
For the Donuts:
½ cup heavy cream + 1 teaspoon lemon juice
1 cup all-purpose flour
½ teaspoon baking powder
½ teaspoon salt
3 tablespoons unsalted butter, melted
1 medium egg
½ cup granulated sugar
2 teaspoons pure vanilla extract
⅓ cup diced dried strawberries
For the Glaze:
1 cup confectioners sugar
1 tsp vanilla extract
1 tsp heavy cream
2 oz cream cheese
Instructions
Preheat the oven to 350 degrees Fahrenheit. Spray a donut pan with nonstick spray. Set aside.
Add the lemon juice to the heavy cream, mix, and let sit for 5 minutes
Add the flour, baking powder, and salt to a small mixing bowl and mix.
In a large mixing bowl, add the melted butter, egg, sugar, vanilla extract, and heavy cream and lemon mixture. Whisk together to mix.
Add the dry ingredients to the wet and combine. The mixture will be thick and have some lumps. Fold in the strawberries.
Pipe the batter into the donut cavities using a piping bag with a large tip or snipped tip.
Bake for 15 minutes, until the dough springs back when lightly touched. Place on a wire rack to cool.
While the donuts bake, make the glaze:
Add all glaze ingredients to a saucepan on medium-low heat. Whisk frequently until smooth. The glaze will be thick.
When the donuts are cool enough to handle, dip one side into the glaze and transfer back to the wire rack to cool. For a thick glaze coating, dip again after the first coat has slightly hardened.
Recommended Products
As an Amazon Associate and member of other affiliate programs, I earn from qualifying purchases.