Strawberry Lemon Donuts
These strawberry lemon donuts are soft, moist and bursting with fresh lemon flavor while popping with fresh strawberries in both the tender donuts and the sweet strawberry glaze.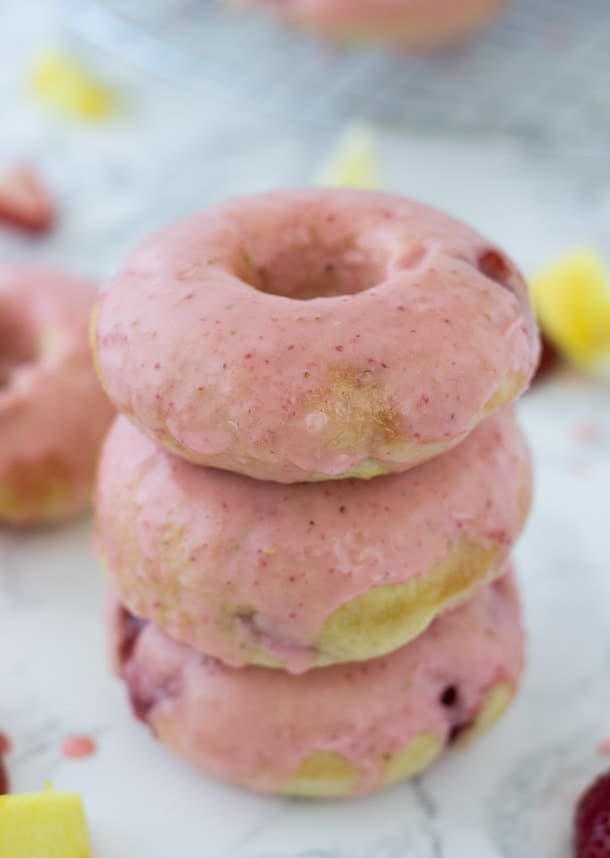 Happy Monday friends!! I hope you had a great weekend. It was a gorgeous sunny one for us and we took advantage of the opportunity to go strawberry picking! You know how much I love strawberries around here so you can imagine that nothing is as exciting as picking 15 pounds of strawberries fresh from a local farm. Granted it is tough to reach down to the strawberry bed at 34 weeks pregnant but I had a great time with the hubs doing my biddings (advantage #546 of being preggos).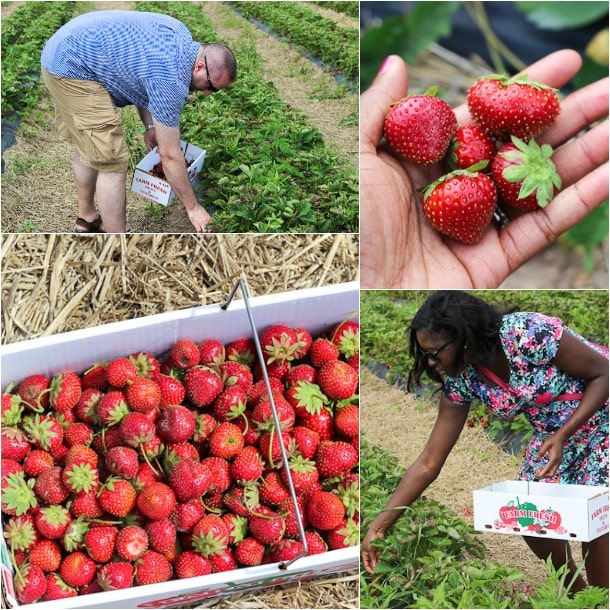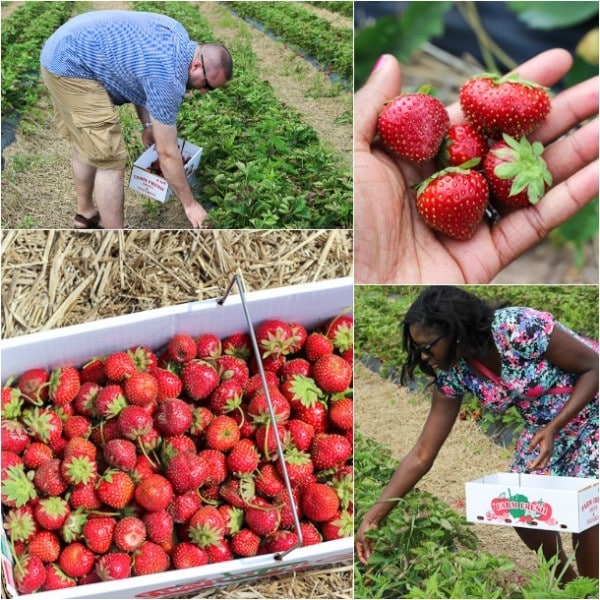 My goal for these strawberries was to do some canning. I've always wanted to but was scared about sterilizing, boiling etc. I finally got over my fear and decided to give it a shot with our strawberry haul and I think we were successful, thanks to preserving guides from Simple Bites and Love and Olive Oil. We shall see if the jam keeps. But you know I had to bake some things!! These strawberry lemon donuts were the first things I baked the next morning.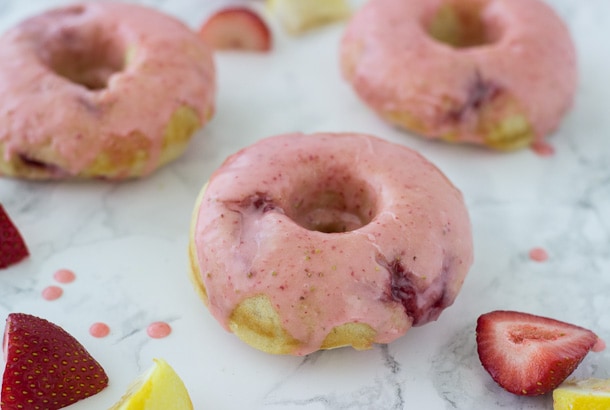 Look at these donuts? Aren't they pretty?? They are a super soft lemon donut that is filled with juicy strawberries and then topped with a strawberry glaze. It's beyond delicious and everything a morning donut should be. And of course it's baked so you have it ready in 30 minutes.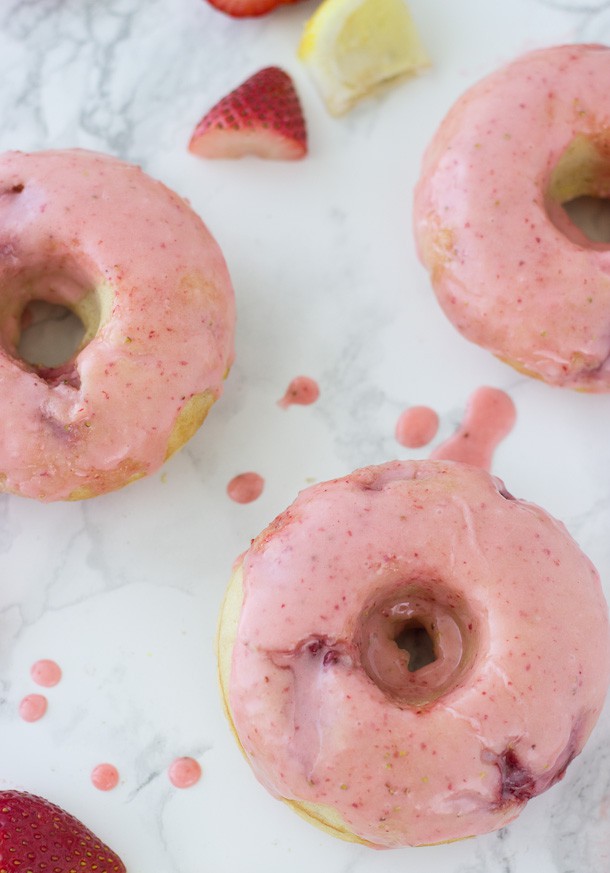 I still have lots of strawberries to use after the canning and these donuts. So I making a few other strawberry delights that I will share later this week. Prepare for a strawberry party (aka Strawberry Week!) on the blog this week. There might be a cocktail showing up 🙂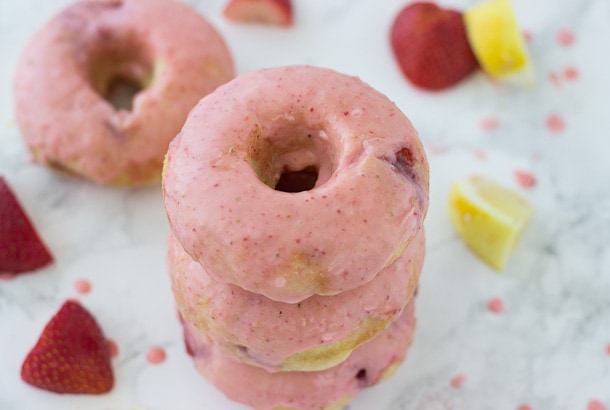 Till then, please grab some fresh strawberries and make these strawberry lemon donuts!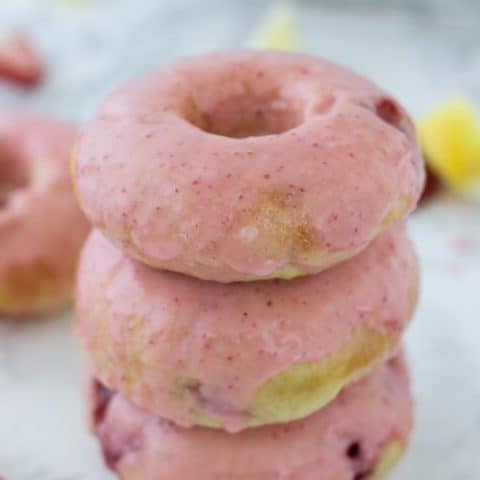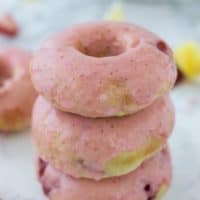 Yield: 6 donuts
Strawberry Lemon Baked Donuts
Ingredients
For the Donuts
1 cup cake flour, sifted
⅓ cup plus 1 tablespoon granulated sugar
1 teaspoon baking powder
½ teaspoon salt
⅓ cup plus 1 tablespoon buttermilk
juice of half a lemon
1 tablespoon unsalted butter, melted and cooled slightly
1 egg
1 teaspoon vanilla extract
1/4 cup chopped strawberries
For the glaze:
1 cup fresh strawberries
2 cups powdered sugar
Instructions
Preheat oven to 375 degrees F. Lightly grease a doughnut pan with baking spray and set aside. In a medium bowl, whisk together the cake flour, sugar, baking powder and salt. In a measuring cup, whisk together wet ingredients; buttermilk, melted butter, egg, lemon juice and vanilla extract.
Add the wet ingredients to the dry ingredients and mix until just combined. Gently fold in the strawberries. Do not over mix as you will have rubbery donuts. Using a small spoon, scoop batter into prepared donut pan, filling each about ⅔ full.
Bake for 8-10 minutes or until the donuts are baked through and spring back when lightly touched. Let cool in pan for 1 minute and then transfer to a cooling rack to cool completely. While cooling, make the glaze.
To make glaze, combine the strawberries and powdered sugar in a blender or food processor. Blend together until smooth. Pour into a medium bowl. Add some more powdered sugar (one tablespoon at a time) if glaze is not thick to coat donuts.
When donuts are completely cooled, dip each in glaze. Let glaze set for 20 minutes before stacking or serving. Donuts are best enjoyed within two days.