Greek Chicken Souvlaki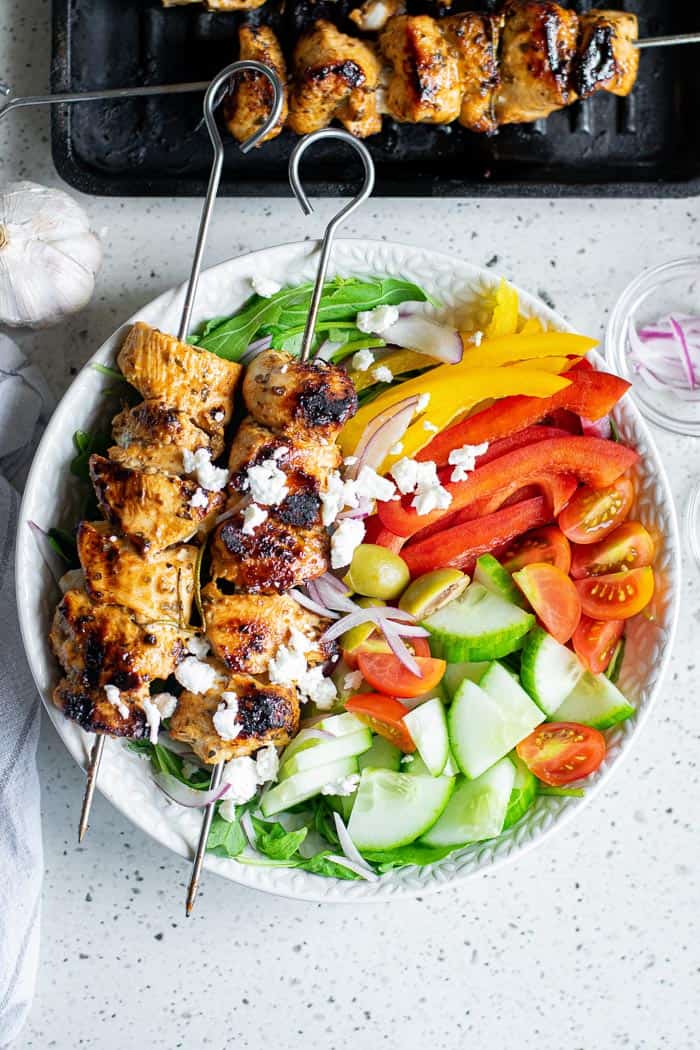 Hi friends! I have another savory recipe for you. I've decided to share with you the classics I make over and over again in my kitchen, just like I share my passion for sweets with you. One of my go-to weeknight dinners and lunch prep is this Greek Chicken Souvlaki. Easy, flavorful and so very versatile. It is one you need in your recipe box.
I have been making this Greek chicken Souvlaki recipe for years as it can be served in so many ways. Sometimes I like to eat it with warm pita bread, fries and Tzatziki sauce! My personal favorite is the one I show you here, in a salad bowl full of colors. I just used a simple traditional olive oil dressing to complete my meal.
You can of course serve it with a traditional Greek salad as a mezze or as you wish. No matter how you choose to serve it, it will still be delicious and everyone will love it.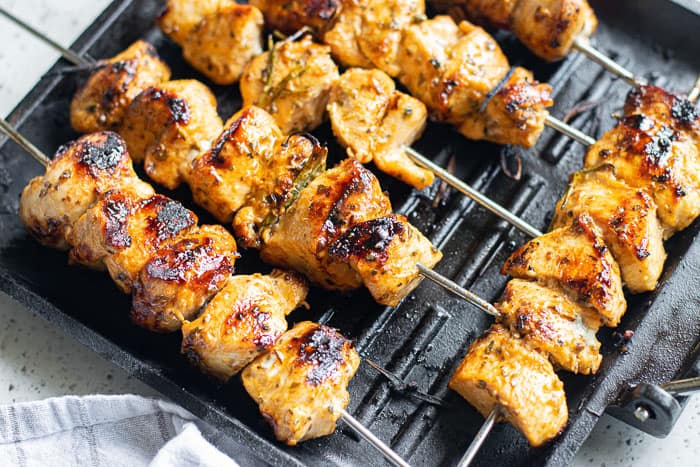 WHAT IS GREEK CHICKEN SOUVLAKI?
Like Kabobs, the word Souvlaki simply means "meat on skewers". It is a popular Greek dish made with marinated and grilled chicken. Normally served with warm pita, vegetables and topped with Tzatziki sauce. Also sometimes accompanied with fries.
Souvlaki is traditionally seasoned with lemon, olive oil, garlic, dried oregano, salt, and pepper. When you go to the store, make sure to grab the Mediterranean oregano.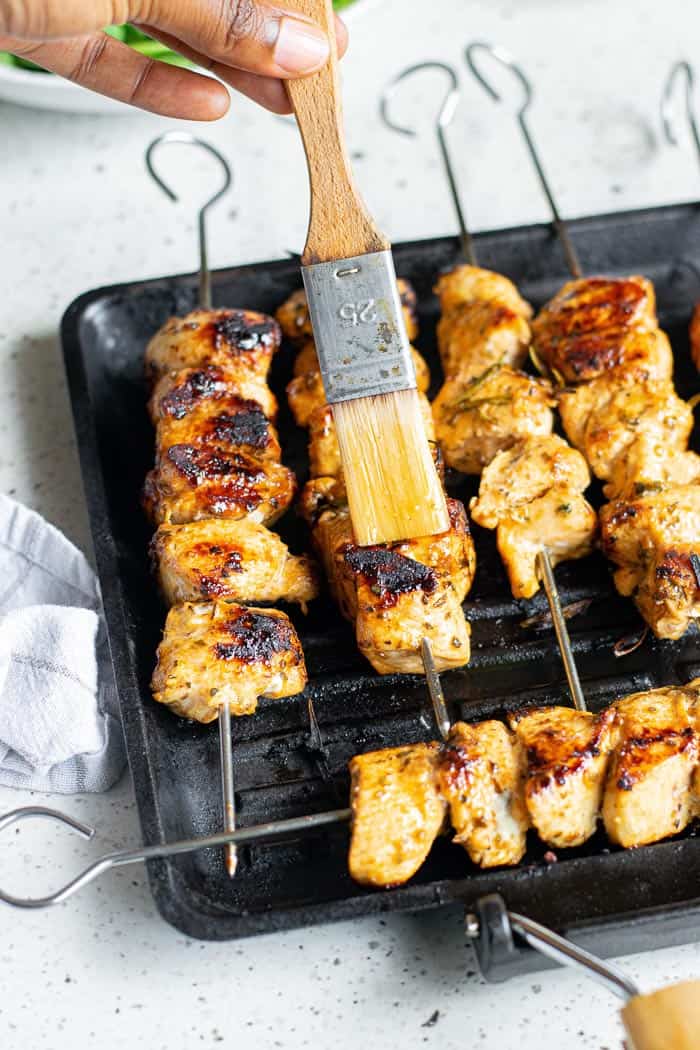 One of the first questions people ask is WHAT IS THE DIFFERENCE BETWEEN A GYRO AND SOUVLAKI?
Gyro and Souvlaki are both 2 popular meat dishes and Greek street food. Both are traditionally served with pita bread. The difference is Gyros is made from slices of meat that are shaved off a vertical rotisserie while Souvlaki consists of grilled chunks of chicken, pork, or beef.
The ingredients are simple as you can see below and I am sure you have them in your pantry. Flavor packed and just delicious. The grilled meat is juicy, easy to make, and frankly a healthier meal.

As mentioned, souvlaki is typically served with pita bread, tzatziki sauce, and vegetables. Here I am making a healthy summer version of it because chicken Souvlaki is my type of meal. The skewers are being served in a large salad bowl. I love to take advantage of the summer weather to make chicken skewers on a stick that is moist, juicy, and full of flavor.

CAN GREEK CHICKEN SOUVLAKI BE MADE AHEAD?
The longer you marinate the better. It will result in a tender, juicy and flavorful Souvlaki. Cut chicken breast into chunks before marinating for maximum flavor. Make sure to toss the whole chicken well. Marinate for at least 2 hours or overnight.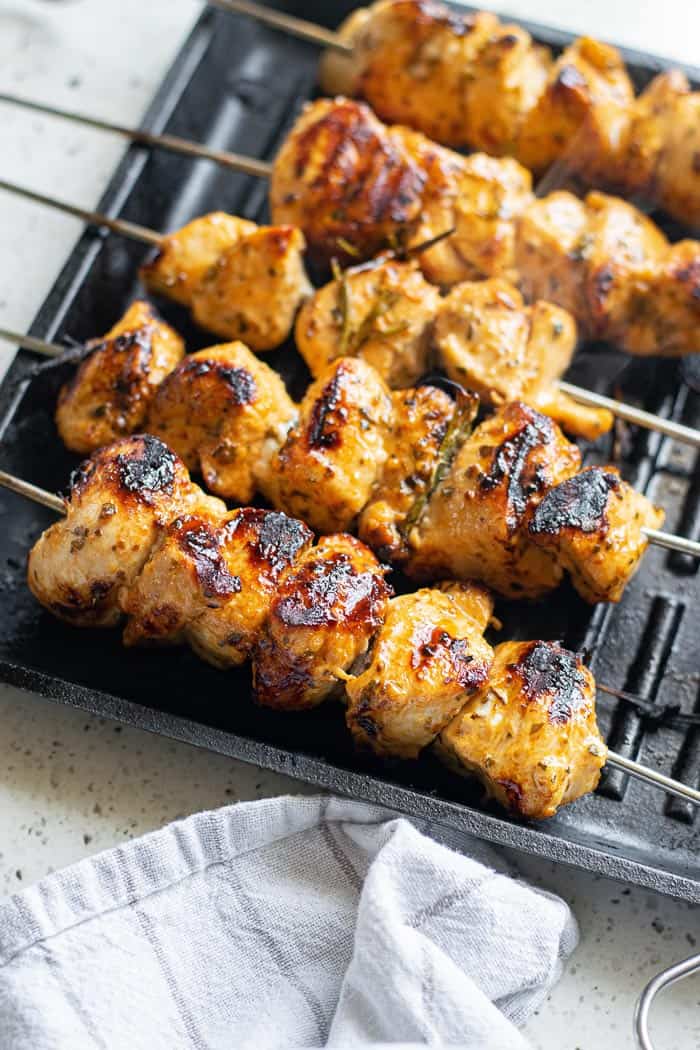 Freezer friendly: Prepare the chicken with its marinade and place it in a ziplock bag. Freeze it and when you are ready, remove it from the freezer and allow it to thaw in the refrigerator overnight. The chicken will absorb with marinade again while defrosting. All you have to do is cook it the next day.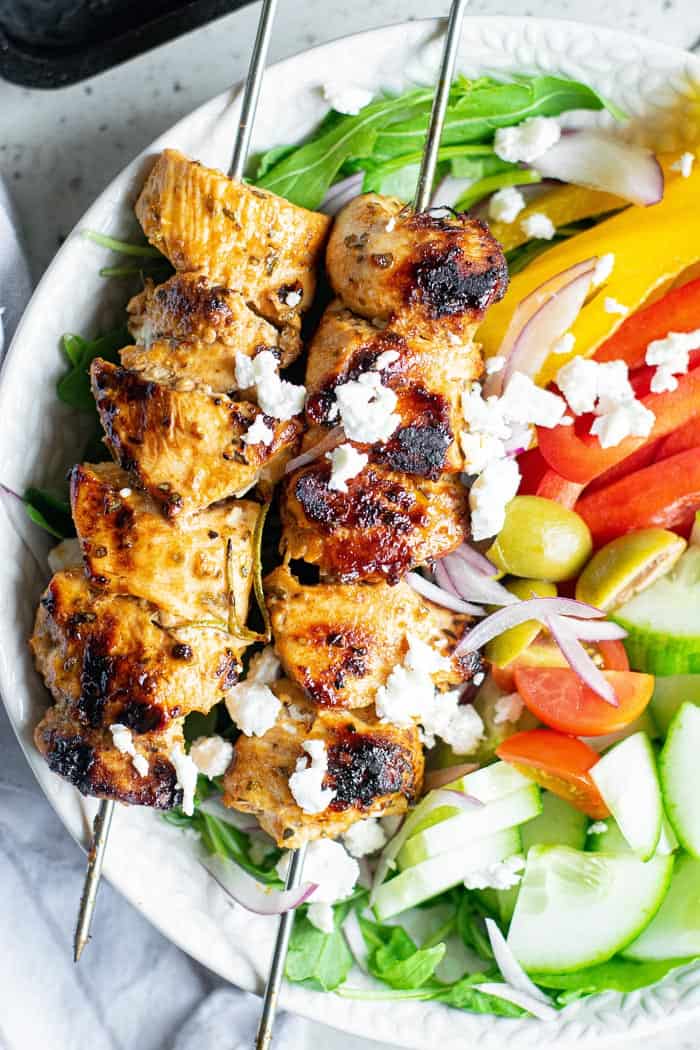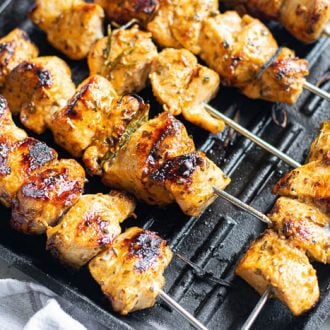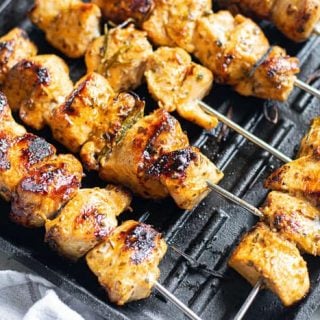 Yield: 6 skewers
Greek Chicken Souvlaki
Total Time
2 hours
15 minutes
Ingredients
2 chicken breasts, boneless and skinless, cut in chunks
Sea salt and black pepper, to taste
1 tablespoon garlic paste or 6 garlic cloves, minced
1 teaspoon fresh rosemary, minced
1 ½ teaspoons dried oregano
1 teaspoon sweet paprika
Juice of 1 lemon
2 tablespoons dry white wine
¼ cup extra virgin olive oil, preferable a Greek brand
Instructions
In a large bowl, add chicken and season with salt and pepper.
Prepare the chicken marinade. In a small bowl, combine garlic, rosemary, oregano, paprika, lemon juice, wine, and oil.
Top chicken with marinade and toss to coat all chicken. Cover with plastic or aluminum foil and refrigerate for at least 2 hours, not more than overnight.
When ready, prepare 6 skewers with chicken pieces.
Heat a grill pan on medium-high heat. Place skewers on a grill pan and cook on each side until beautiful brown and cook through. While cooking keeps brushing chicken with marinade.
Transfer chicken to serving bowls and serve immediately.