Pink Ombre Cake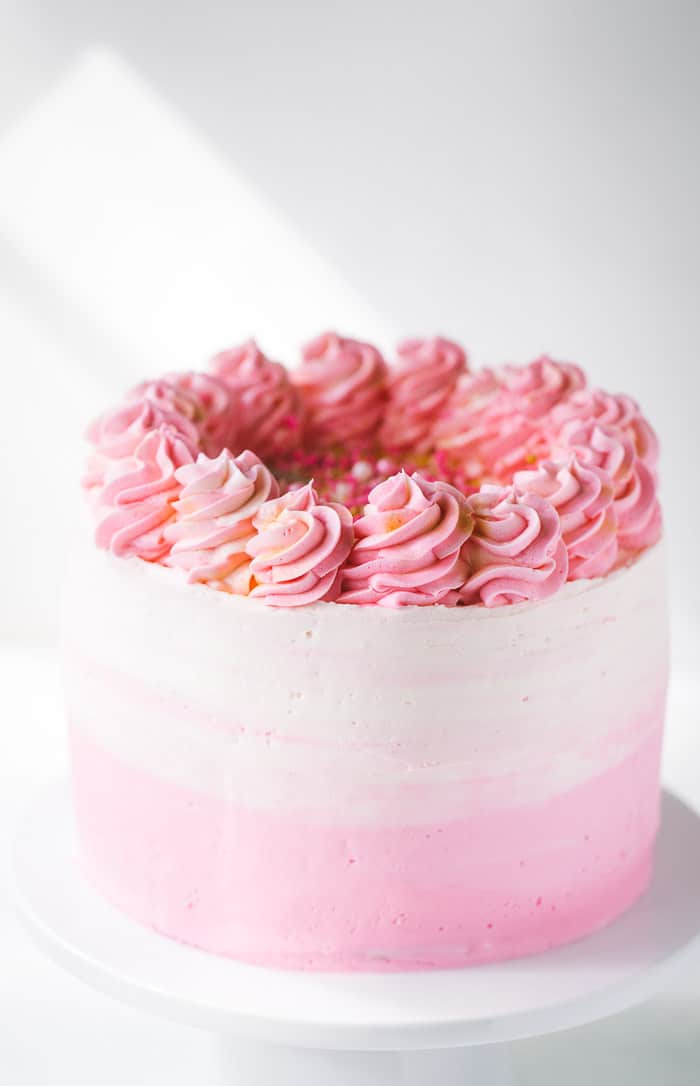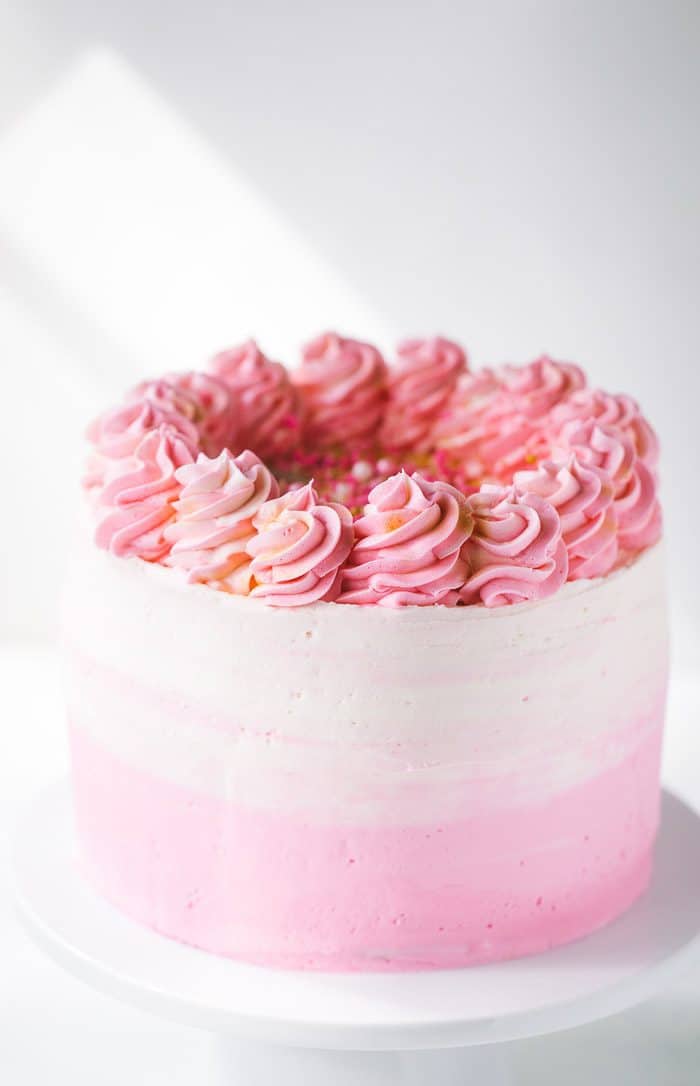 Hello friends, I have a fun and pretty cake for you today! A pink ombre cake. Doesn't it just make you happy? I made this cake for a bridal shower and I was just so excited about how it turned out that I took some pictures of it before I brought it to the shower.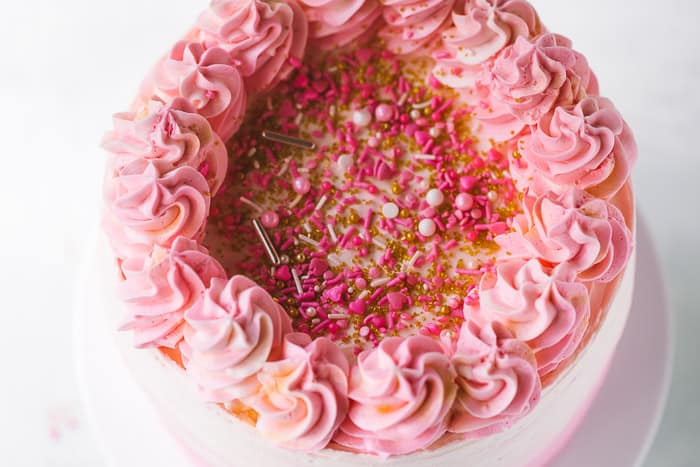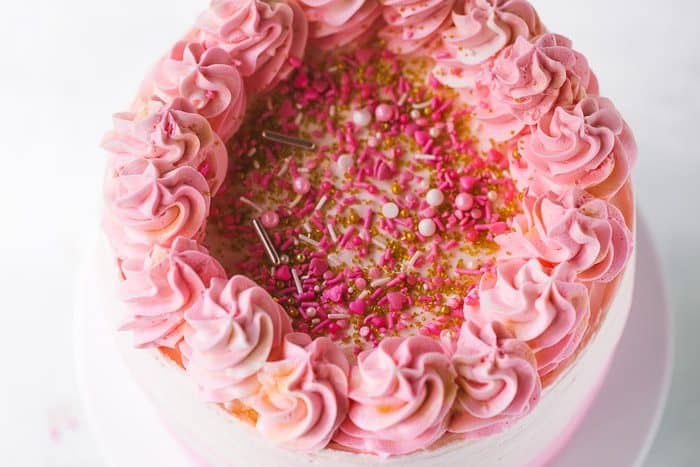 I haven't baked and decorated a cake in so long that I was visibly excited as the day approached for the shower. See, I actually started my baking journey with cake decorating lessons at my local Michael's Craft store. The Wilton decorating classes were a great way to learn the basics and cemented my love for baking! You can see one of my first cakes here. Try not to judge me for it.
Fast forward to today where this busy mom of two barely has enough time for class cupcakes. I tend to do quick and easy designs when I must make a cake; naked cakes and bundt cakes are my go-to's. However, every now and then, I love making something more involved and elaborate. And I save these for special occasions like the bridal shower for one of my favorite cousins.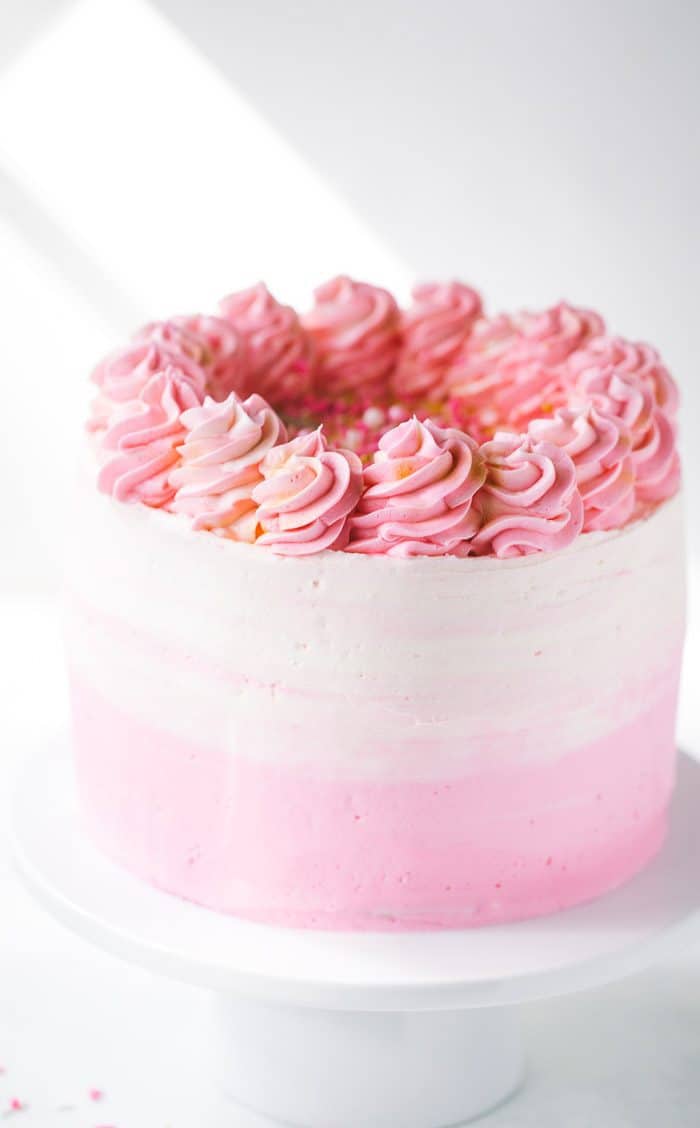 As the resident family baker, I had free range on what to do for the cake. I've been meaning to try ombre frosting for a while now. My last ombre attempt can be seen here in this lemon layer cake recipe but I focused on the piping technique for the ombre. But for this pink ombre cake, I reserved piping just for the top.
To make ombre cakes, you need to decide on your colors and how many shades of said color. To keep it simple, it's best to start with just two shades which is what I did here. You would color half of your frosting with your color of choice, pink for me, and leave the rest plain. But of course, you can always do more than two colors and divide your frosting accordingly.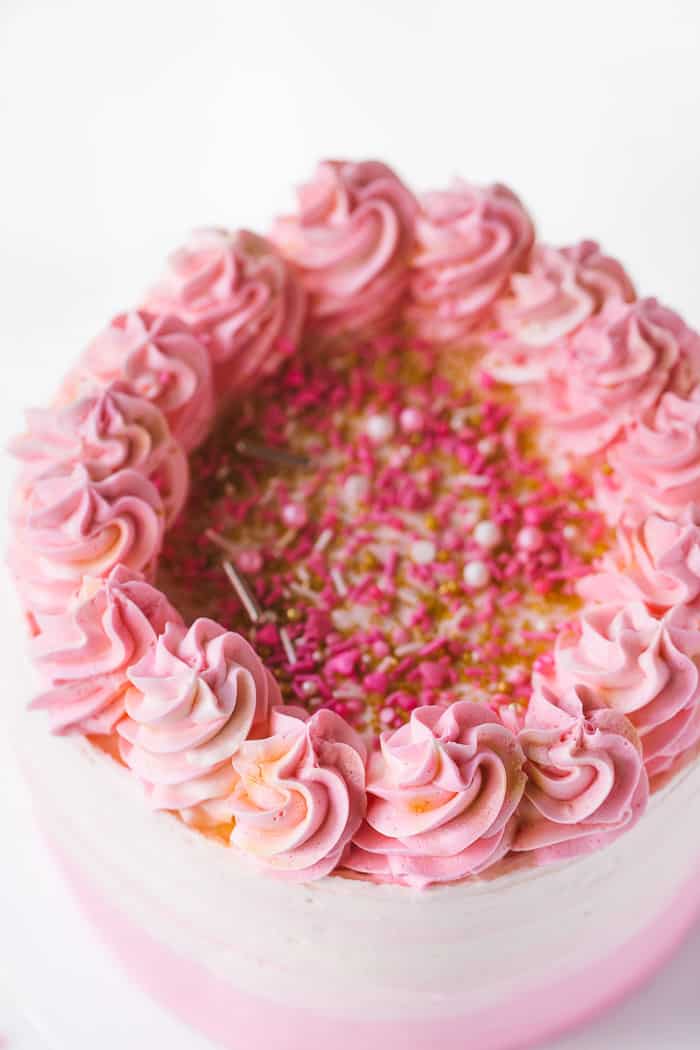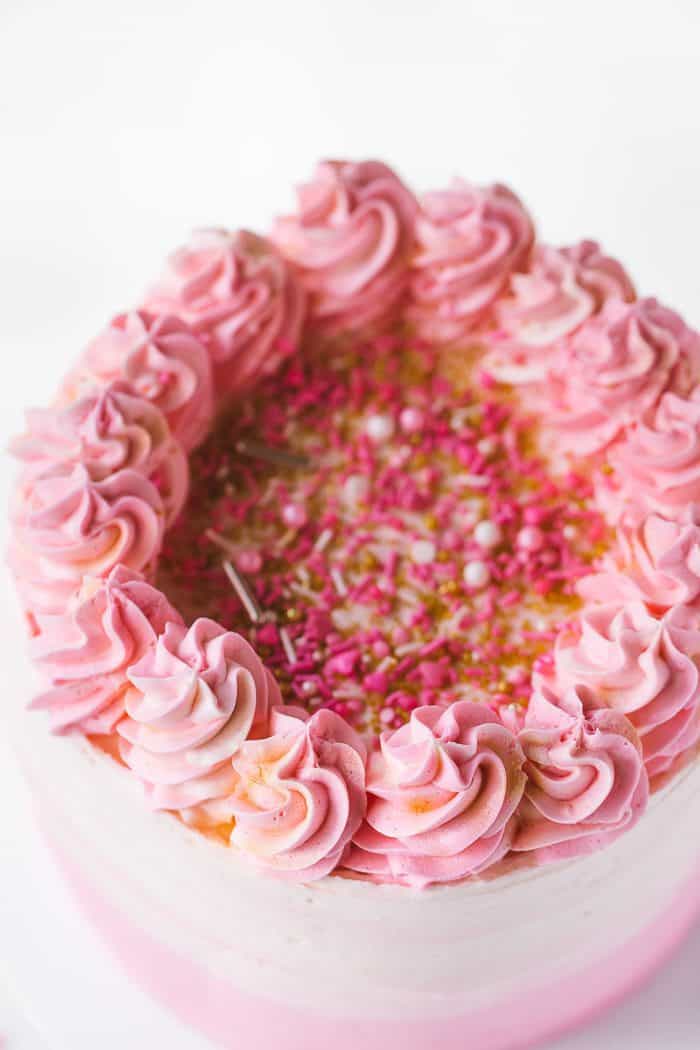 Bake your favorite recipe. Cool. Fill and frost your cake with a base coat. Chill your cake for at least 20-30 minutes to make it easier to frost. I like putting it in the freezer. Once the cake is very cold, apply your frosting to the cake in the order you want your colors. For example, frost the bottom half of your cake with pink frosting. Frost the top half with plain white.
As you smooth out the frosting with a spatula or bench scraper, the colors will blend together in the middle and top. You can be precise as much as you want, based on the look you are going for. I like imperfect things when it comes to cake decorating so I never strive for a super polished look. But that is just my preference.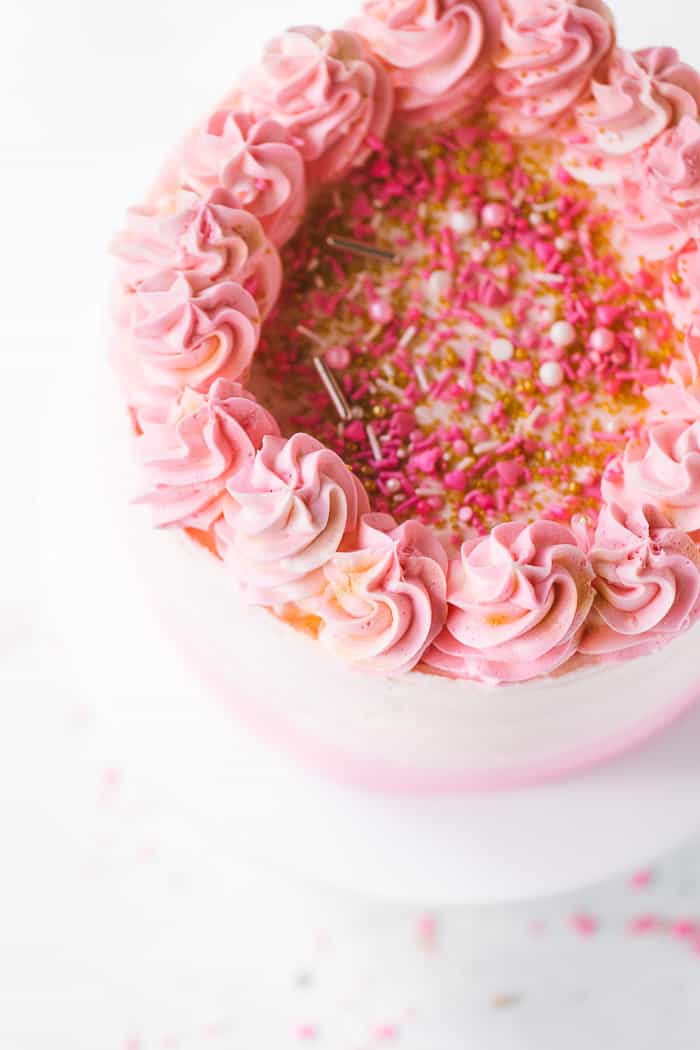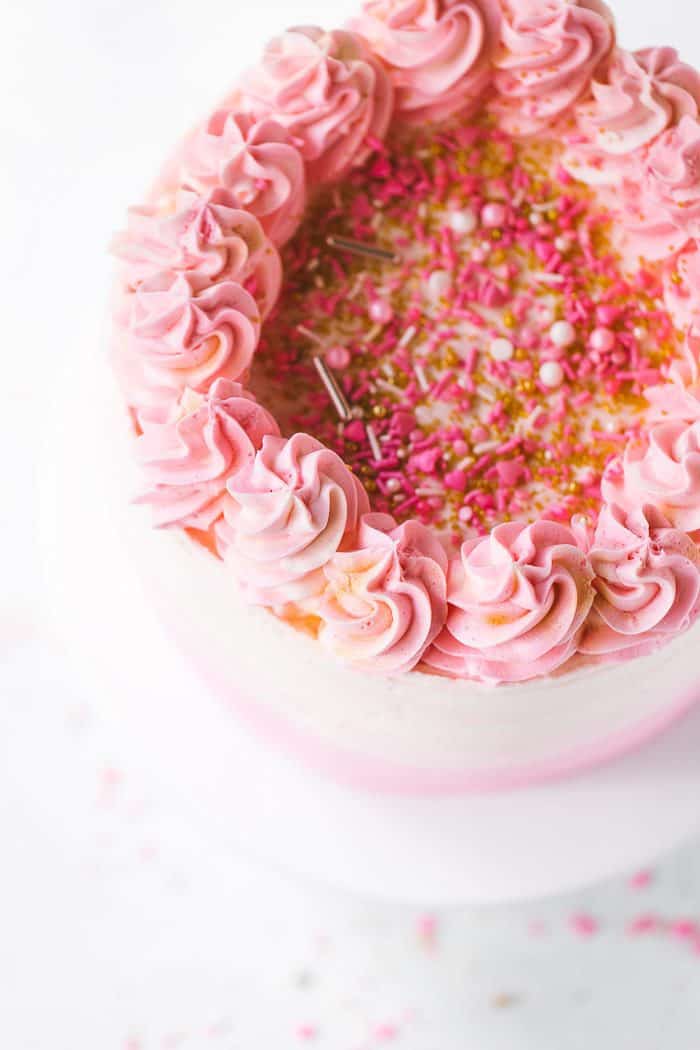 And there you have it! Super simple, easy, and elegant. Using Wilton Tip 1M, I piped tall swirls on the top of the cake and finished off with some sprinkles. If you would like a visual, I found this video tutorial helpful.
I'm linking below my favorite vanilla cake with vanilla frosting. You would just need to color the vanilla frosting as desired.
This pink ombre cake would be perfect for baby showers, bridal showers, or even girl birthday parties.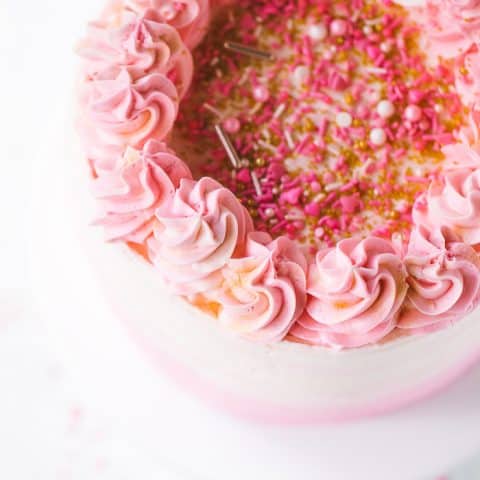 Yield: 1 6-inch layer cake
Pink Ombre Cake
This pink ombre cake starts with a moist vanilla cake filled with a strawberry rose compote and frosted with whipped rose buttercream.
Total Time
1 hour
20 minutes
Ingredients
For Strawberry Compote:
1 cup fresh strawberries, hulled and sliced
2 tablespoons granulated sugar
2 tablespoons water
½ teaspoon rosewater
For the Cake:
1 cup cake flour, sifted
¾ cup all-purpose flour
1 cup granulated sugar
1 ½ teaspoons baking powder
½ teaspoon salt
½ cup (1 stick) unsalted butter cut into 1-inch cubes, room temperature
2 large eggs, at room temperature
½ cup whole milk, at room temperature
½ teaspoon vanilla bean paste or 1 teaspoon vanilla extract
¼ teaspoon rosewater
For the Frosting:
1 1/2 cups (3 sticks) unsalted butter, softened
4 cups confectioners' sugar, sifted
2-3 tablespoons milk
1 teaspoon pure vanilla extract
½ teaspoon rosewater
pinch of salt
Instructions
Strawberry Rose Compote
In a medium saucepan set over medium heat, bring the strawberries, sugar, and water to a boil.
Cook on medium-low heat, stirring occasionally until the berries break down and compote thickens up about 10 minutes.
Remove from heat and stir in rosewater. Let cool completely before filling the cake.
FOR CAKES
Preheat oven to 325 degrees F. Grease four 6 x 2-inch cake pans or two 8-inch cake pans with baking spray. Line with parchment and grease the parchment.
In the bowl of an electric mixer, combine the dry ingredients and mix on low speed until well blended.
Increase speed to medium-low and add the cubes of butter, one at a time mixing each one for a few seconds before adding the next. Mix until there are no large chunks.
Add eggs, one at a time and mix well between each addition. In a small mixing bowl, whisk together the milk, vanilla, and rosewater. Increase mixer speed to medium and add in the wet ingredients in 3 parts, mixing until incorporated and scraping down the bowls after each addition. DO NOT over beat otherwise, you will end up with dense cakes.
Divide batter into prepared cake pans, filling each about ⅔ full. Bake cakes until a toothpick inserted into the center come out clean, 20-25 minutes. Let cakes cool in the pan for at least 10 minutes before inverting onto wire cooling racks. Let cool on a cooling rack completely before frosting.
Once cool, shave off the top of each cake if domed, using a wire cake cutter or serrated knife. You want to make sure your cake has an even layer for stacking.
FOR FROSTING
Whip butter for 8 minutes on medium speed using the paddle attachment of an electric mixer. The butter will become pale and creamy.
Add the rest of the ingredients and mix on low-speed for 1minute. Then increase speed to medium and mix for 6 minutes until the frosting is light, creamy and fluffy.
To ASSEMBLE
Place one layer of cake on a cake stand or serving platter. Spread about ½ cup of frosting over the top using an offset spatula. Add half of the strawberry rose compote on top and gently spread.
Top with another layer of cake and repeat until you get to your final layer. Top with a final layer of cake. Frost cake with a thin crumb coat of buttercream. Smooth as much as you can. Chill cake for 15 minutes.
Divide the remaining frosting into the colors you plan to use for the ombre effect. I used two shades of pink and white.
Frost cake, starting at the bottom with the darkest color and then the next color and finally the top with white.
Decorate the cake with a border (i used tip 1M) and with sprinkles and fresh strawberries.
Recommended Products
As an Amazon Associate and member of other affiliate programs, I earn from qualifying purchases.