Lemon Layer Cake Recipe
This classic lemon layer cake recipe was previously published in 2013 but I am updating the pictures and recipe.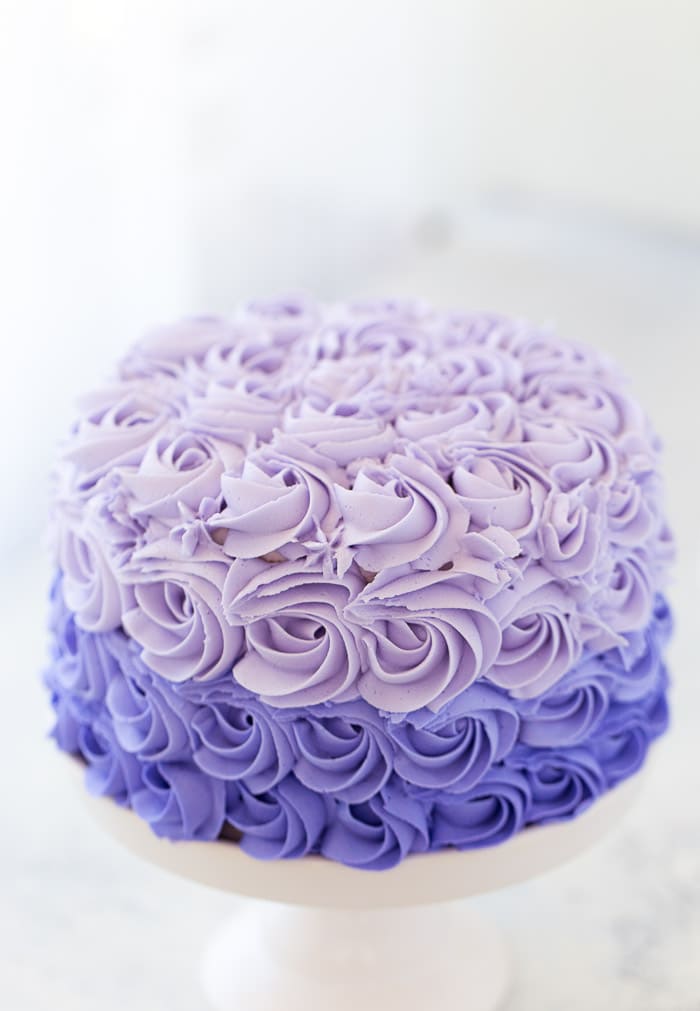 Hi friends! This lemon layer cake recipe is about four years old and I am reviving it with new pictures and an updated recipe for you. It is one of my favorite lemon cake recipes and rivals these
classic lemon cupcakes
for Spring desserts around my house.
We all know spring means lemon this and lemon that and I am a HUGE fan of lemon desserts all year round. There's something about that lip-puckering tart and sweetness that's just perfect. This lemon layer cake starts with a sweet, tender white lemon cake that is fluffy and moist. I love the double dose of lemon zest and lemon extract in the cake giving it a vibrant burst of lemon flavor. The cake is filled with an equally delicious whipped lemon buttercream AND a lemon curd filling. For the lemon curd filling, I used a homemade recipe you can find here but you can also use any store-bought lemon curd you like.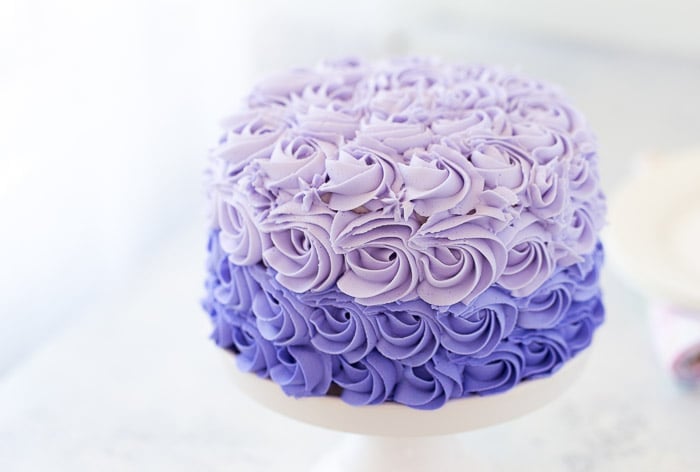 Four years ago when I made this cake, it was all about the rose buttercream technique. I was excited to try this technique for the first time in my baking adventure.
Here's an excerpt from that post and the original image: "I've seen the idea around Pinterest for a while now (originally from I am Baker) and I figured I should give it a try. See my two favorite tutorials here and here. I figured it could only help improve my piping techniques, or it could be a total disaster."
As you can tell I was successful on that first try and I've since been using this easy technique to decorate celebration cakes like this Strawberry Rainbow Cake from last year.
And when I say it is easy, I really do mean it. All you need is a great recipe for decorating buttercream (seriously this is the KEY and my favorite is below), Wilton Tip 21 or 1M and a 16-inch piping bag. The rosettes are easy to pipe out and here is a great video TUTORIAL from I am Baker (the queen of rosettes).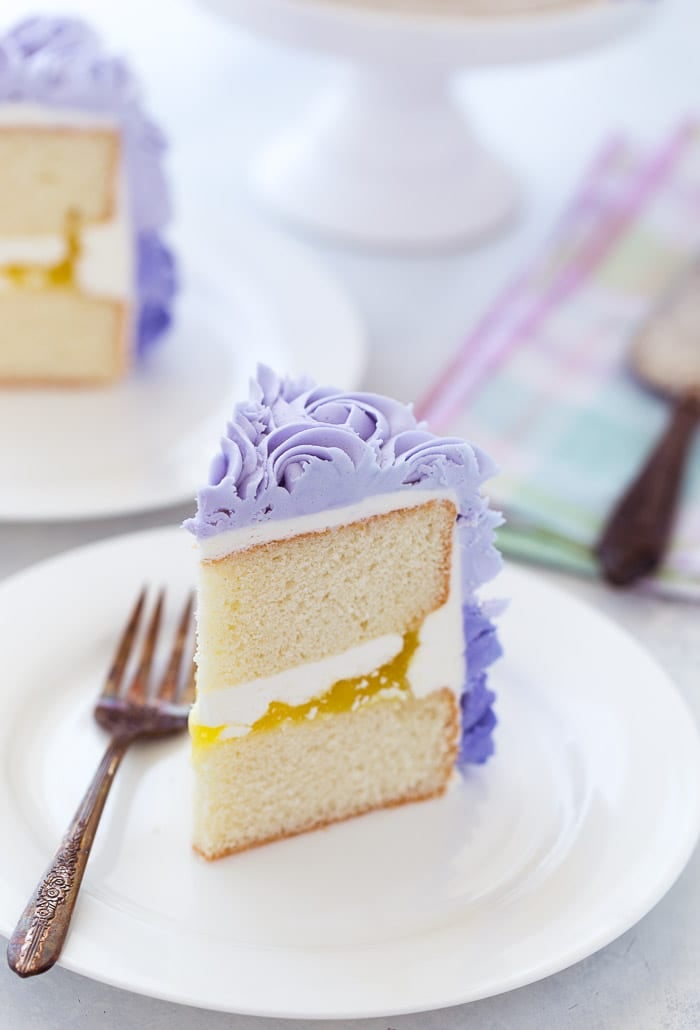 For a show-stopping (easy) cake this Spring, consider this lemon layer cake with an ombre lemon buttercream.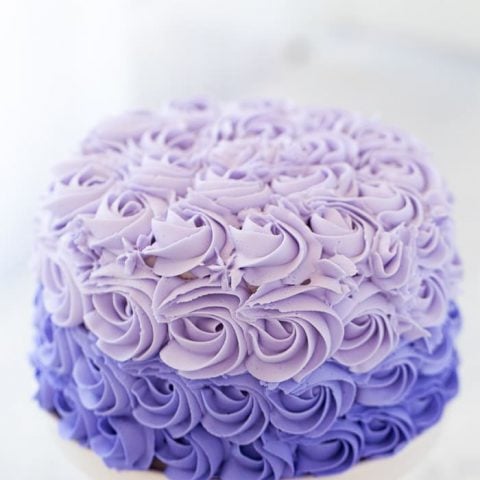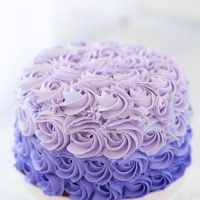 Yield: 1 9-inch layer cake
Lemon Layer Cake Recipe
A classic lemon layer cake recipe with a moist, tender lemon cake filled with lemon zest and fresh lemon juices. The cake is dressed in a beautiful ombre lemon buttercream perfect for Spring entertaining. 
Prep Time
1 hour
30 minutes
Total Time
2 hours
5 minutes
Ingredients
Lemon Layer Cake
1 ½ cups unsalted butter (3 sticks), room temperature
3 ¾ cups all-purpose flour
1 tablespoon plus ¾ teaspoon baking powder
¾ teaspoon salt
2 ½ cups sugar
5 large eggs, room temperature
2 teaspoons pure vanilla extract
½ teaspoon lemon extract
½ teaspoon almond extract
Zest of 1 lemon
1 ¼ cups buttermilk
For the Whipped Lemon Frosting:
2 cups (4 sticks) unsalted butter
1 pound powdered sugar
½ teaspoon salt
¼ cup heavy cream
1 teaspoon vanilla extract
2 teaspoons lemon juice
Assembly
Decorating tools: Wilton Tip 21, Wilton Tip 1M and decorating bag.
Gel Food coloring (in the colors you want)
Instructions
For the Cake:
Preheat oven to 350 degrees C. Butter 3 9-inch cake pans, line with parchment circles and butter the parchment.
Whisk together flour, baking powder and salt in a medium bowl.
Combine buttermilk, vanilla, lemon and almond extract. Set aside.
In the bowl of an electric mixer, beat the butter and sugar on medium speed until pale and fluffy, about 5 minutes.
Add eggs, 1 at a time, beating well after each addition and scraping down the side of bowl as necessary. Mix in lemon zest.
With the mixer on low speed, add flour mixture in 3 batches, alternating with 2 batches of buttermilk and beginning and ending with flour.
Divide batter among pans, smoothing the top with an offset spatula.
Bake until golden brown and a cake tester comes out clean. About 30-35 minutes.
Transfer pans to wire racks to cool for 10 minutes. Turn out cakes onto racks to cool completely.
For the frosting:
In the bowl of a stand mixer, beat the butter on medium-high speed for 6 minutes until light and fluffy. Add in the rest of the ingredients and mix on low speed for 1 minute or until combined. Increase speed to medium-high and beat the frosting for 5 minutes until fluffy and light.
Divide the frosting, reserving 1 to 2 cups, into mixing bowls and add one to two drops of the gel color of your choice.
Assembly:
Place your first cake layer on a cake plate.
Fill a decorating bag with your frosting and pipe a border along the edge of the cake, creating a dam in the middle.
Spread 1/2 cup of your lemon curd filling on the cake, within the piped border. Spread evenly. Top the curd with some frosting, about 1/3 cup and spread.
Repeat the process with your next cake layer. Finally, frost the top and sides of your cake with a thin coat of frosting.
Place cake in the refrigerator and let chill for 20 minutes.
Meanwhile, color your frosting with your desired colors. I used purple gel coloring for this cake and divided the frosting into three to have three shades of purple.
Using Wilton tip 1M or tip 21 fitted to your decorating bag, start with your darkest color and pipe rosettes around your cake in one row. Repeat the process, using lighter colored frosting, until the cake is covered in rosettes.
*Affiliate links included*