Coconut Meringue Nests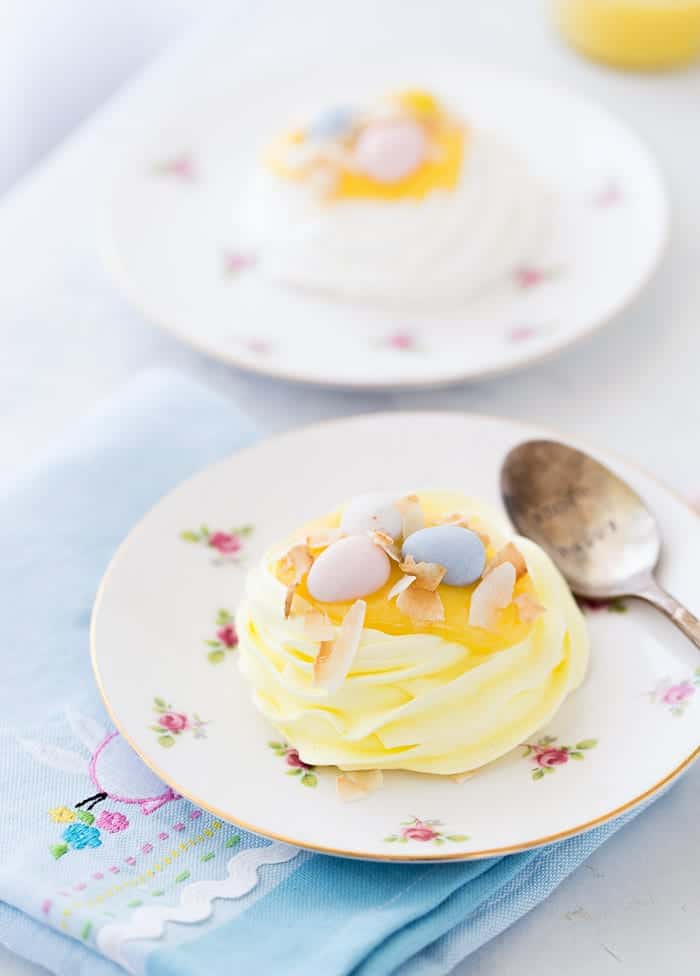 Hi friends!! I have a sweet and short post for you today. You need to add these coconut meringue nests to your Easter weekend as they are incredibly delicious and easy to make. If you are like me and have not yet completed your plans, then these meringue nests are for you. And if you are not celebrating Easter, that's fine too because these are Spring perfect with a good dose of coconut and lemon.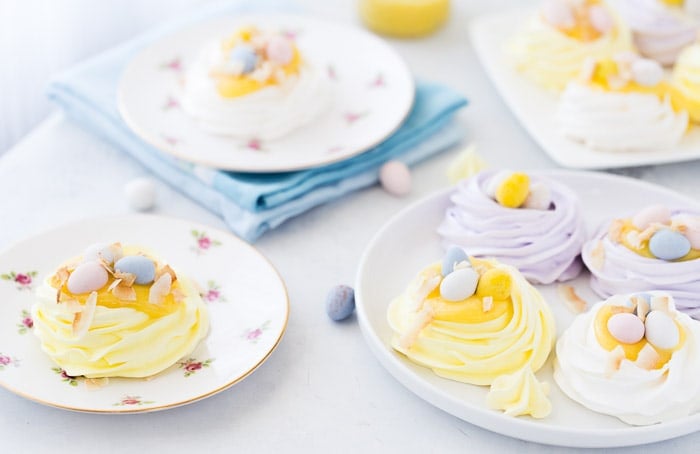 I love meringue cookies! They are seriously the best case of a crunchy sweet exterior and a rich moist center. These meringue nests are like any meringue cookies with a sweet coconut interior and baked crunchy outside. I infused a hint of both coconut and lemon into these meringue shells for a Spring flavor.
The best parts of these coconut meringue nests is truly the filling. A sweet coconut lemon mousse is piled into the center of these nests. Freshly whipped coconut cream gets folded into lemon curd for a tart addition to the whipped cream. This sweet filling sits inside each of these nests and is in every bite you take. Totally refreshing and deliciuex!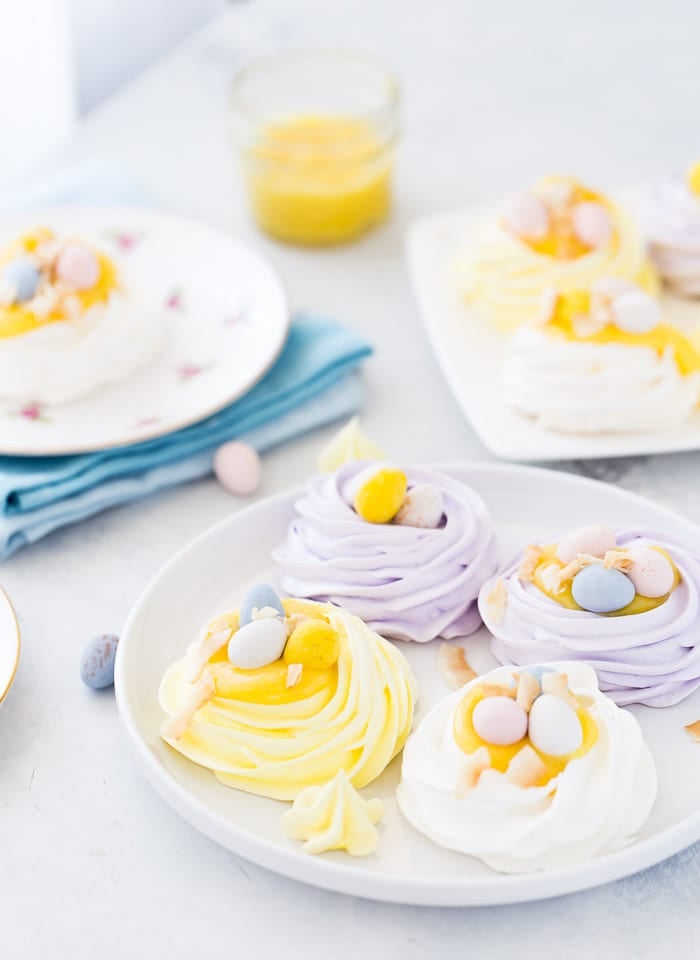 As you can see, I colored a few of my meringue nests with pastel Spring colors. It was a fun way to bring some color to my table setting. It's optional in the recipe but I think you should add some color to yours 🙂
If you are looking for that easy, stunner dessert for your Easter table, them make these meringue nests. In just short 30 minutes of active time, you will have these in the oven.
Wishing you a Happy Easter!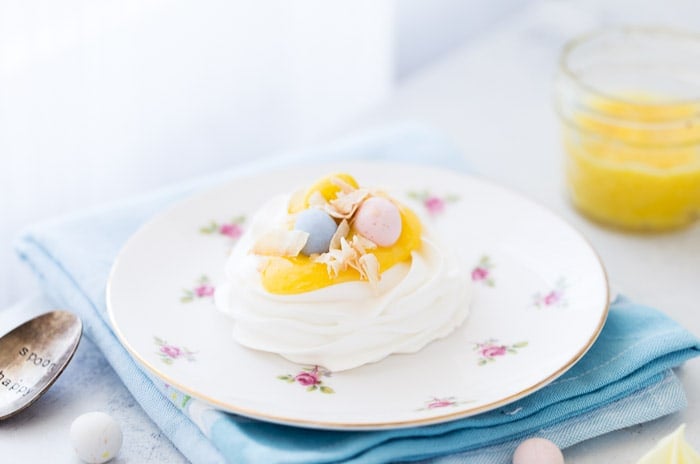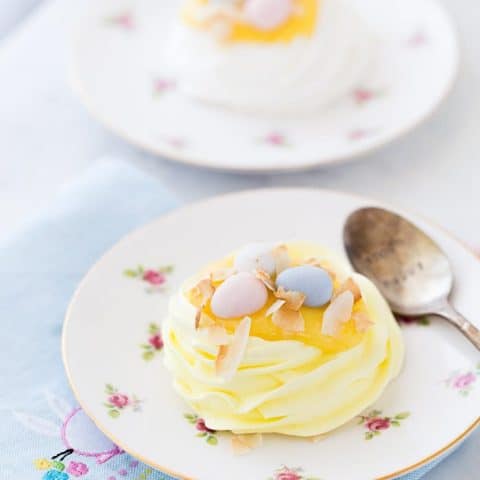 Yield: 8-10 meringue nests
Coconut Meringue Nests
Cook Time
1 hour
30 minutes
Total Time
2 hours
10 minutes
Ingredients
For the meringue nests:
4 large egg whites, room temperature
¼ teaspoon cream of tartar
3/4 cup superfine sugar
1/2 teaspoon coconut extract
1/4 teaspoon lemon extract
a drop of pastel gel color of choice
For the filling:
1/2 cup heavy whipping cream, chilled
2 tablespoons coconut cream (NOT coconut milk)
2-3 tablespoons lemon curd (homemade or jarred)
fresh fruits, chopped
toasted coconut flakes
Instructions
To make Meringue Nests:
Preheat the oven to 200 degrees F. Line two baking sheets with parchment paper and set aside.
In a large mixing bowl, using an electric mixer attached with a whisk, whisk the egg whites on medium speed until its frothy. With the mixer running, beat in the cream of tartar and continue mixing until soft peaks form. Gradually add the sugar and beat until stiff peaks form. Add the coconut and lemon extract and a drop or two of gel coloring.
Bake for 90 minutes. Then turn off of the oven and leave the meringue in the oven until they cool.
Store meringues in an airtight container.
When ready to serve, combine the chilled heavy cream and coconut cream in a medium bowl and whip with an electric mixer until soft peaks form. Fold in the lemon curd into the whipped cream.
Fill each meringue with the whipped cream curd mixture and top with fresh fruit or toasted coconut flakes.
Notes
NOTES:You can bake the meringues the day before and store in an airtight container at room temperature or refrigerator.
Only fill the meringues when ready to serve as they will get soggy if filled and left sitting for a long time.