Garlic Cheddar Beer Bread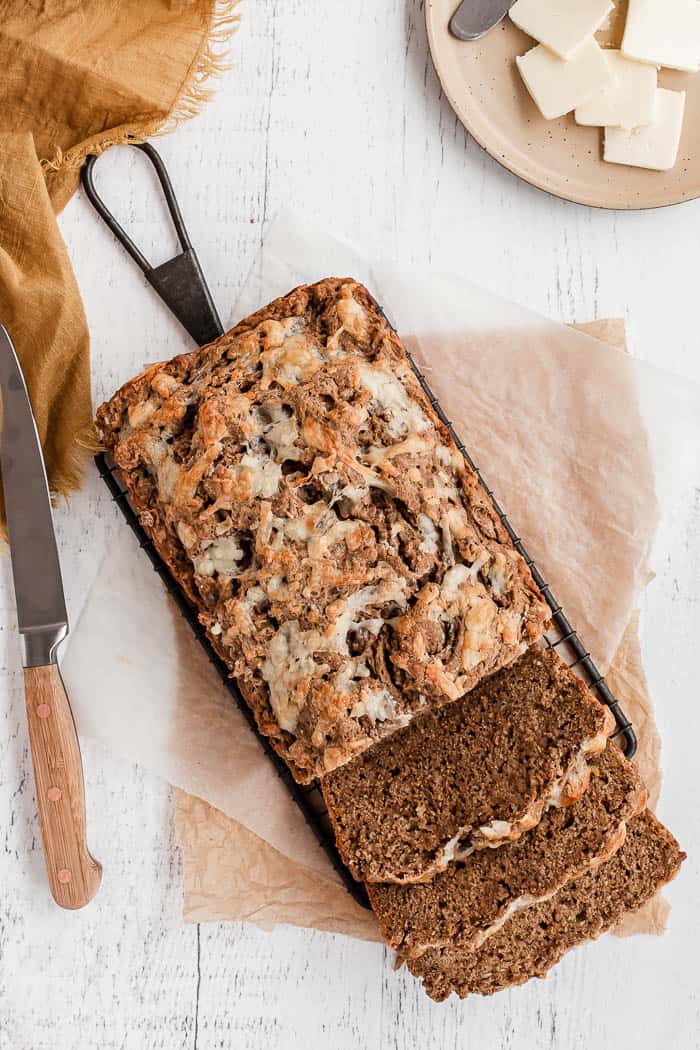 This post is sponsored by Cabot Cheese. All opinions are my own. Thank you for supporting the brands I love and who make it possible for me to keep creating content for you.
Hi friends! I am so excited to share this recipe with you! Allow me to introduce you to this Garlic Cheddar Beer Bread. It's March and St. Patrick's Day is just around the corner. Around here, that means incorporating beer and Guinness in my baked goods. These Chocolate Guinness Cupcakes or Whiskey Caramel Cupcakes are some favorites for the occasion. However this year, this warm Garlic Cheddar Beer Bread with a melted square of butter is my new favorite way to infuse some Irish cheer.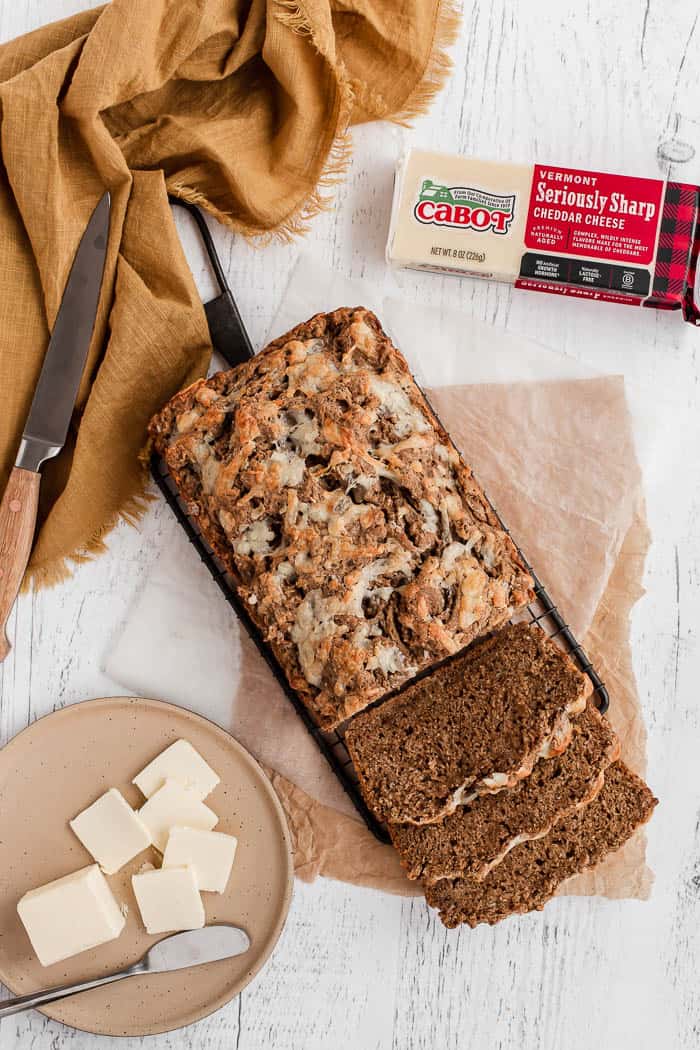 By now, you know I love Cabot Cheese and find every excuse to add their cheddar cheese into anything. Especially in bread. Remember this cheddar twist bread?? So good!! Just like this garlic cheddar beer bread, but we will get to it soon.
If you don't already know Cabot Cheese, you need to. They are a co-operative of dairy farm families — and a B Corp — creating award-winning cheese and dairy products. I was introduced to their products by my husband a decade ago when we were dating and have been lucky to work with them the past few years. Their sharp cheddar is one of my favorite cheeses ever and you cant find my fridge without it.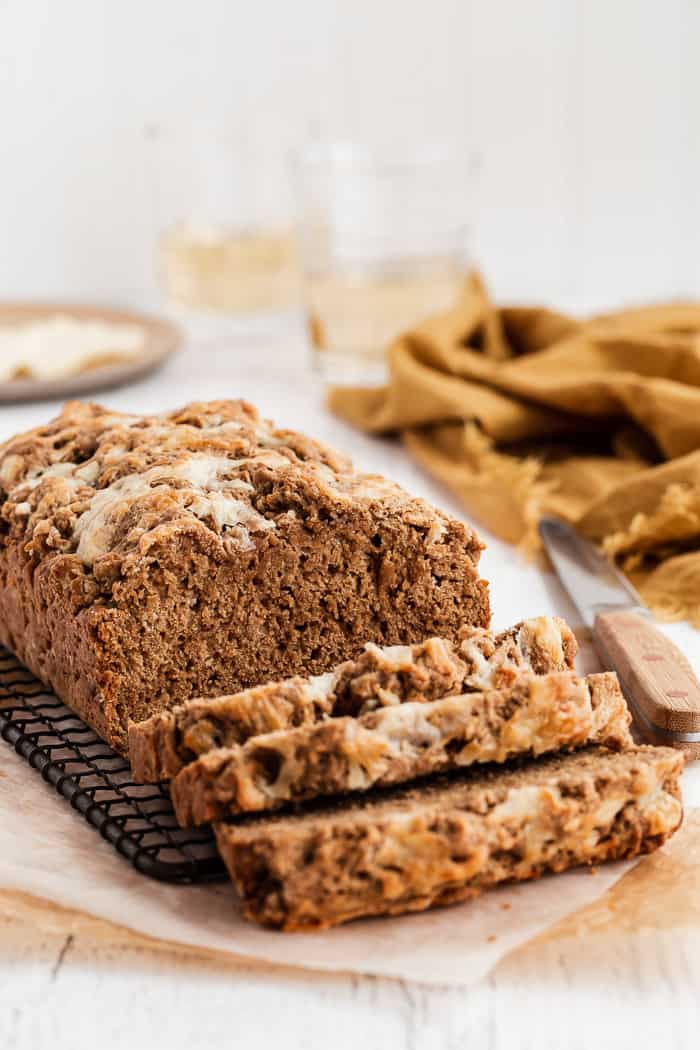 Let's get to this beer bread recipe, shall we? Have you ever tried beer bread? I hope so. It is a simple bread made with beer (and the yeast in beer) baked to perfection. Did you know the yeast in the beer helps the dough rise and makes it not so dense? If you are scared of working with yeast, then beer bread is the way to go.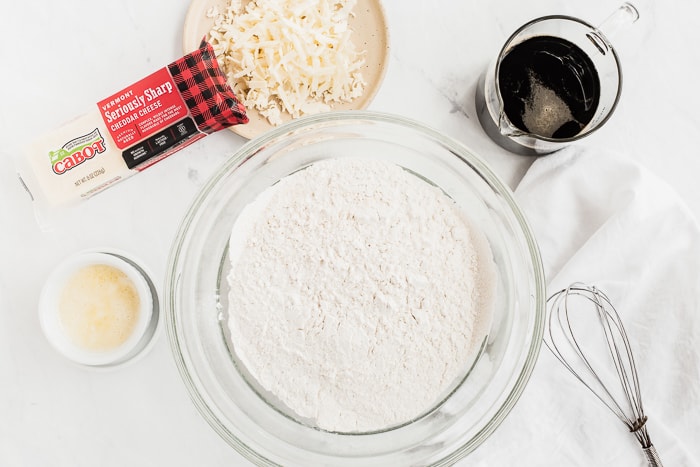 Of course, the flavor of the beer you choose will impact the flavor you end up with. The best beer for bread is a lighter ale that compliments the rest of the ingredients. To spice it up you can even use seasonal ales like pumpkin or hard cider in the fall. Sounds delish! In this Garlic Cheddar beer bread, I use a light ale beer but you can use any beer you like honestly.
I also used garlic powder and some cheddar cheese to bring in some savory cheesy notes. It truly doesn't get any easier. One bowl, mix everything up, and bake! It's as simple as that. The best thing is you do not have to let this dough sit and proof before baking! Just mix, top and bake.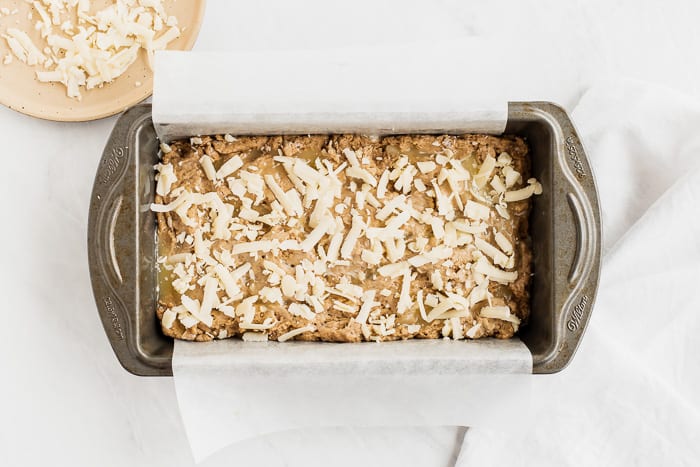 The bread is soft, best served warm with a slice of butter, and perfect as a side to any dinner. I love having mine with a stout beef stew or chili in the winter months. During the warmer months, it pairs very well with a charcuterie board. I love a good meat and cheese spread with olives, nuts, and amazing dips. Whatever you serve this bread with, you will enjoy it!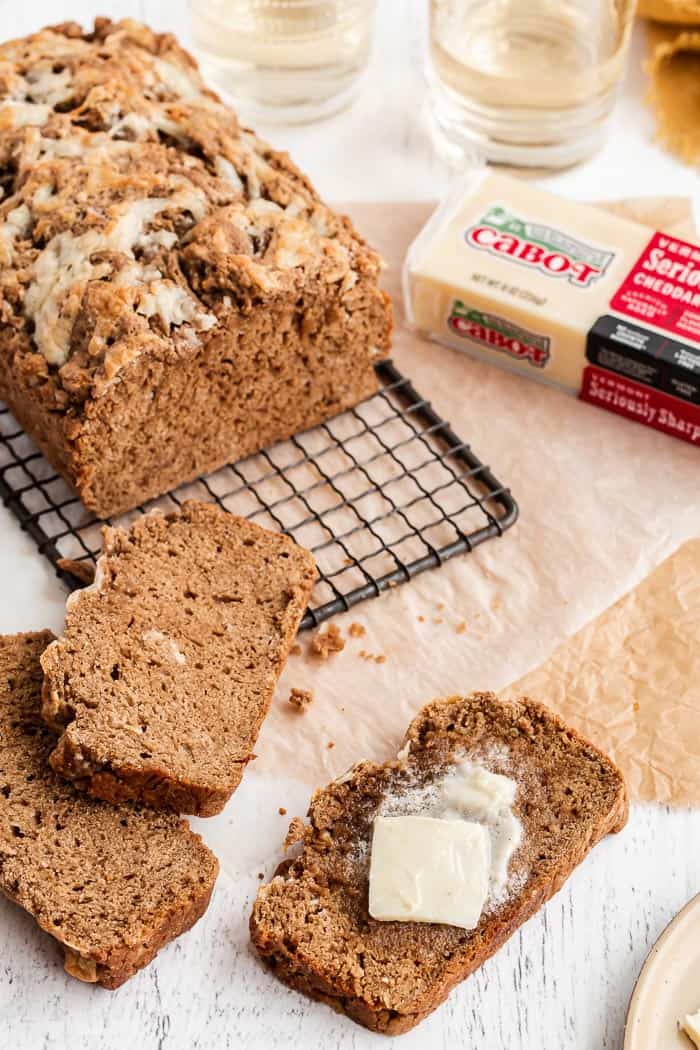 As always if you try this dish please tell me how you liked it! Use hashtag #aclassictwist if you share on social media.
For more recipe inspiration, check out Cabot Cheese on Instagram or Facebook.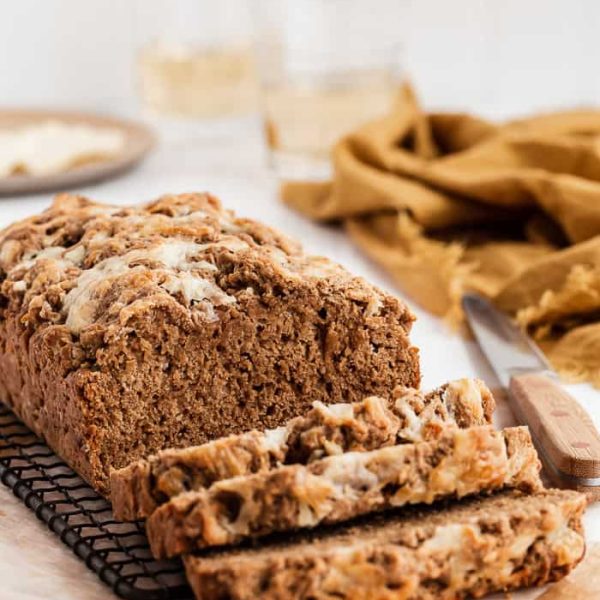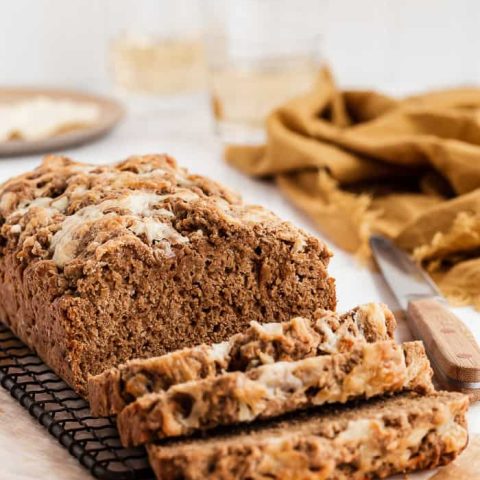 Yield: 1 loaf
Garlic Cheddar Beer Bread
A soft, cheesy, and savory bread with notes of light ale.
Total Time
1 hour
5 minutes
Ingredients
3 cups all-purpose flour, sifted
1 tablespoon baking powder
1 teaspoon fine sea salt
1 teaspoon garlic powder
½ teaspoon onion powder
1/4 cup shredded Cabot Seriously Sharp Cheddar cheese, plus more for toppings
12 ounces beer (use your favorite beer)
1/4 cup butter, melted
Instructions
Preheat oven to 350 degrees F. Using baking spray, grease and line a 9x5-inch loaf pan with parchment.
In a large bowl, whisk together the flour, baking powder, salt and garlic powder. Add in the cheese, beer and half of the melted butter. Mix well until all is just combined. Do not over mix as you can end up with a dense bread.
Spoon batter into the prepared pan. Pour the remaining melted butter over the bread. Brush it around evenly. Sprinkle 1-2 tablespoons shredded cheese.
Bake bread for 40-50 minutes or until a toothpick inserted in the middle comes out clean. Transfer bread to a cooling rack and let cool for at least 10 minutes before removing from pan.
Slice and serve warm.
Recommended Products
As an Amazon Associate and member of other affiliate programs, I earn from qualifying purchases.