Meyer Lemon Crinkle Cookies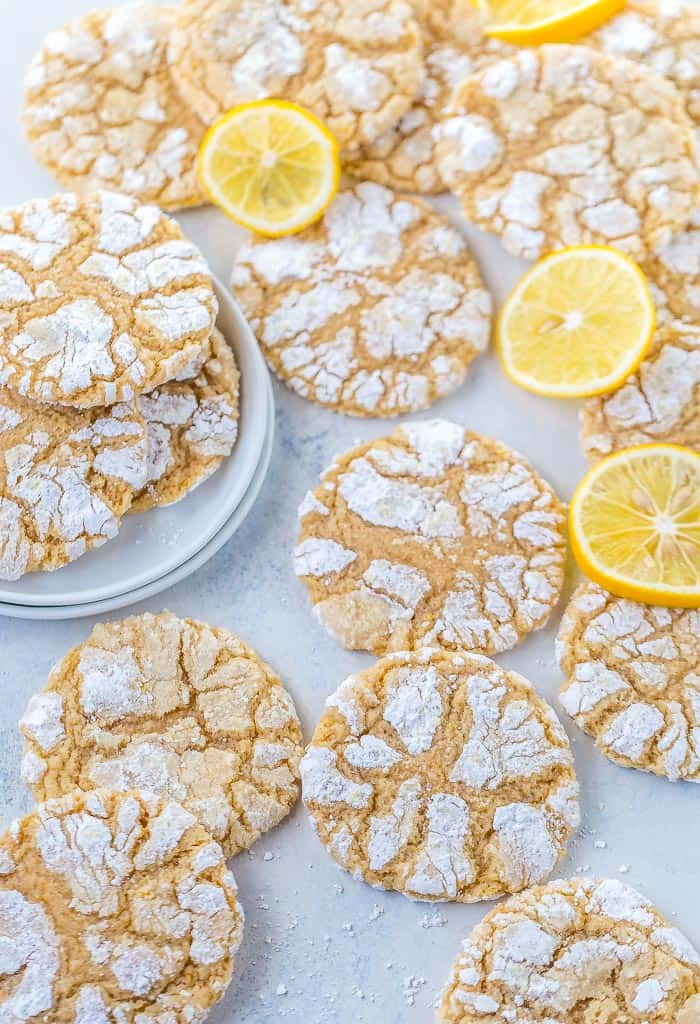 Lemons!! Let me ask you when you think of lemons what is the first thing that pops in your mind? It better be lemon cake, but I'm here to give you these Meyer lemon crinkle cookies to add to your lemon dreams.
If you've been around here, you know I love Meyer lemons. if they are new to you, Meyer lemons are sweeter than regular lemons with a hint of orange flavor. Honestly, I prefer them to lemons as they are less tart but yet still refreshing in the winter.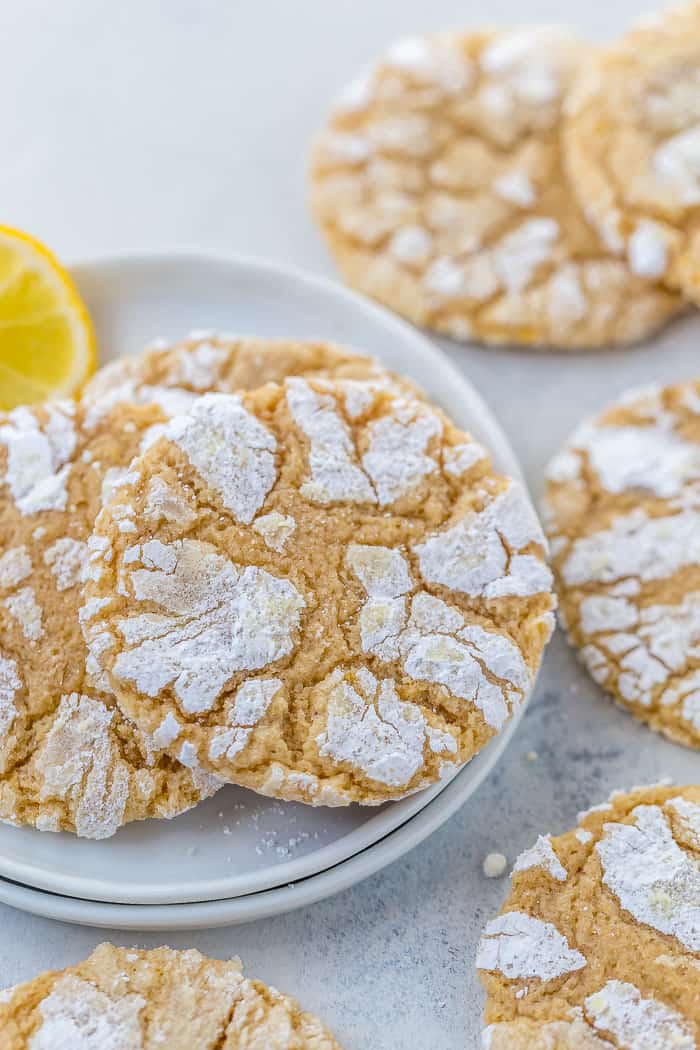 Let's get to these Meyer lemon crinkle cookies. Crinkle cookies may be one of my favorite cookies to make! These Red Velvet Crinkle Cookies or Double Chocolate Crinkle cookies are a few favorites around here. The cookies get their name from the process of baking them. You first roll the dough in powdered sugar before baking and then sprinkling more on top when they finish. Powdered sugar melts between all the crevices of your freshly baked batch.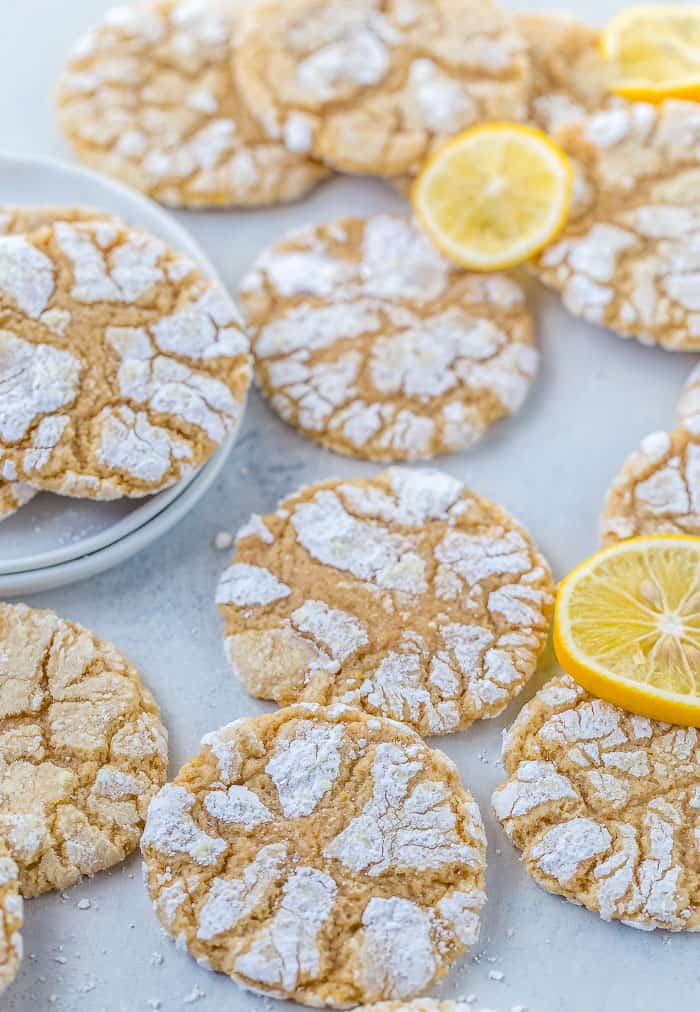 These lemon crinkle cookies have a healthy dose of lemon zest and lemon juice in the cookie batter. The dough is chilled for at least 2 hours (please don't skip this step!!). Each cookie dough is then rolled in granulated sugar and powdered sugar right before baking.
The resulting cookie is chewy, soft, and delicious. Lip puckering from the lemon but also a sweet orange undertone. This is why I love Meyer lemons.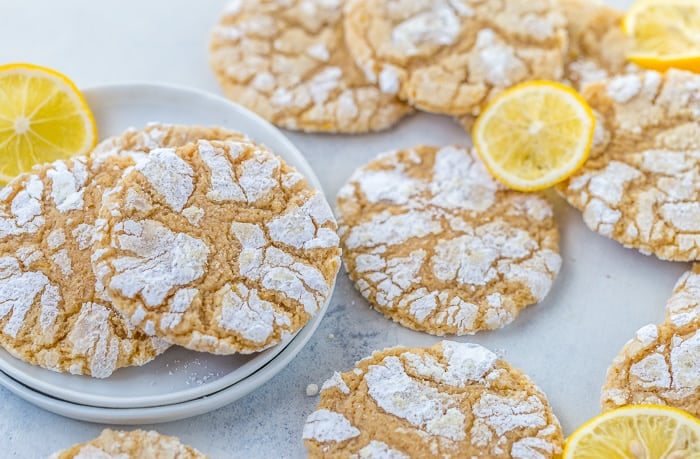 My husband and children get the important task of being my taste testers and I try never to disappoint. Anyone who has kids knows how brutally honest they are and it is the same with food. My son who is now 5 will tell it as it is when it comes to treats. He is not a picky eater so his refusal to eat things is usually based on whether they taste good or off. He loved these Meyer Lemon Crinkle Cookies!
If you are looking for a new cookie to add to your cookie box, then these are for you. They are also great for gifting. This is a great quick and easy sweet to give to new neighbors in a basket. They are not only delicious but a beautiful presentation — add a candle for their new home and a bottle of wine. If you want to impress – these cookies are a must. As always I try and go for recipes using things you already have in your pantry. Meyer lemon can be picked up at your local grocery store.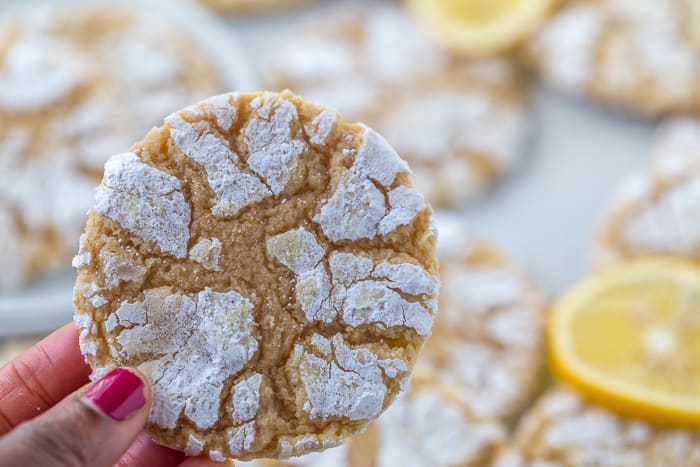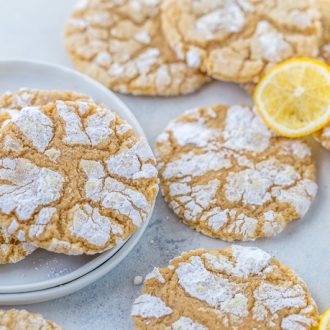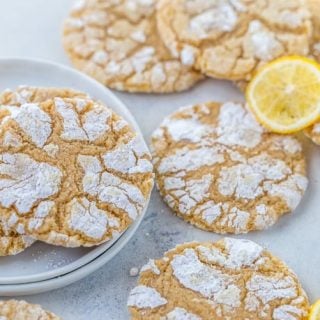 Yield: ~2 dozen cookies
Meyer Lemon Crinkle Cookies
Meyer Lemon Crinkle Cookies that are chewy, soft, and lip-puckering!!
Total Time
2 hours
40 minutes
Ingredients
• 1⅓ cups granulated sugar, divided
• ½ cup unsalted butter, melted and cooled
• ½ teaspoon pure vanilla extract
• 1 large egg, room temperature
• 1 large egg yolk, room temperature
• 2 tablespoons, packed Meyer lemon zest
• 2 tablespoons, fresh Meyer lemon juice
• 2 cups all-purpose flour
• ¾ teaspoon kosher salt
• ½ teaspoon baking soda
• ½ cup confectioners' sugar, sifted
Instructions
In a large bowl, whisk together 1 cup of sugar, melted butter, vanilla extract, egg, and egg yolk. Whisk until well combined. Add in the lemon zest and lemon juice.
In a medium bowl, whisk the flour, salt, and baking soda. Add the flour mixture into the wet ingredients in two additions. Mix until combined after each addition. Refrigerate the cookie dough for at least 2 hours.
Preheat oven to 325 degrees F. Line 2 baking sheets with parchment paper.
Place the confectioner's sugar in a small bowl. Place the remaining 1/3 cup granulated sugar into another small bowl.
Working in batches, use a medium cookie scoop or 1 tablespoon spoon and shape cookie dough into balls. Roll the ball in granulated sugar and then in the powdered sugar. Place on the cookie sheet, 2-inches apart.
Bake cookies until edges are set and cracks have formed, about 8-10 minutes. Let cookies cool completely on the pan.
Store leftovers in an airtight container at room temperature.
Notes
Recipe adapted from Bake from Scratch Magazine
Recommended Products
As an Amazon Associate and member of other affiliate programs, I earn from qualifying purchases.