Passionfruit Coconut Panna Cotta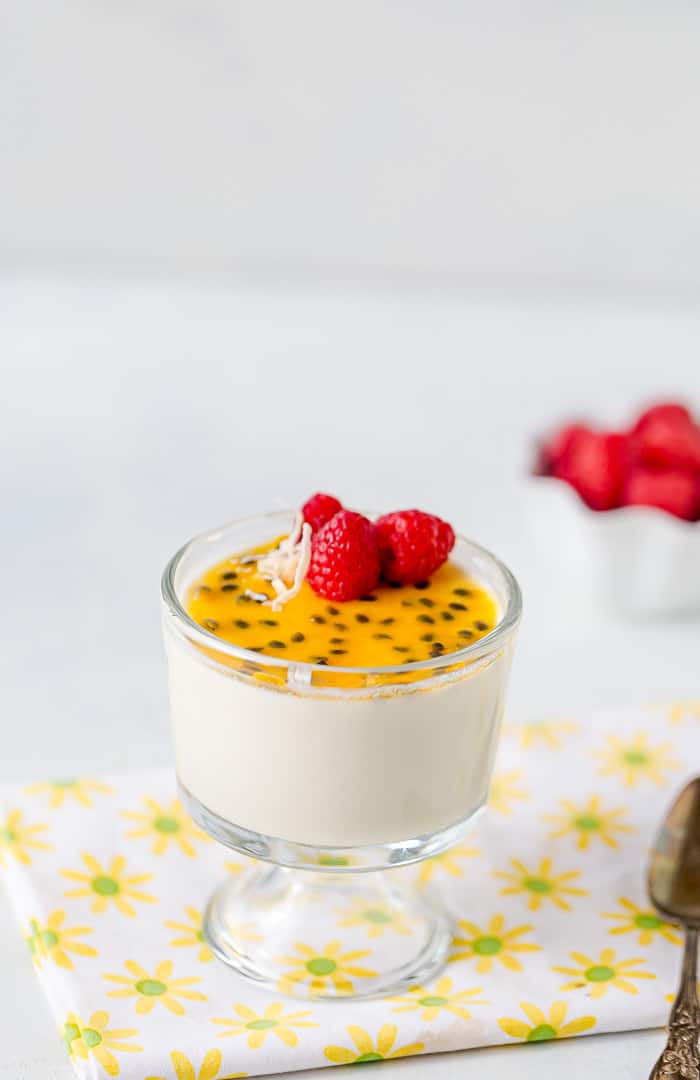 Hello friends! If you've been around here for a while you know I love tropical flavors. Thanks to my growing up in the tropics. A lot of my desserts are inspired by this but I also love trying new things. Panna Cotta is one of those desserts you order at a restaurant. It is creamy, decadent, and luscious. Let me introduce you to this passionfruit panna cotta which is my current way to enjoying this Italian dessert with a tropical twist!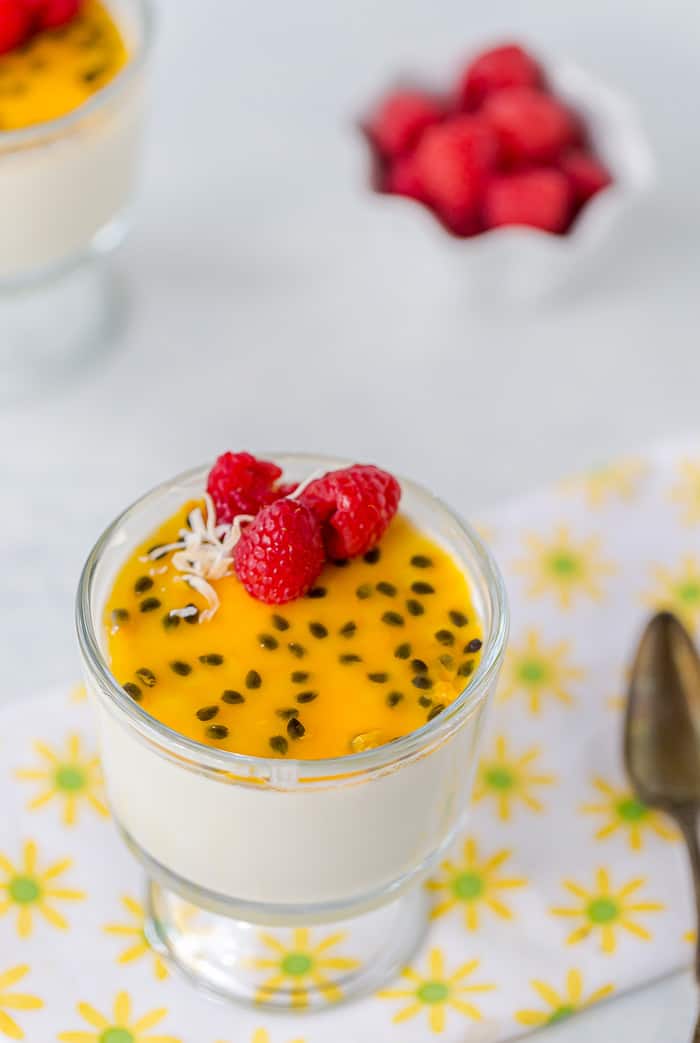 When I first started baking there were some recipes that intimidated me. I focused on easy and basic recipes like cakes, cupcakes, and cookies. Dishes that sounded super fancy also sounded hard to master. The more my passion for baking and cooking grew, the more I started branching out and trying harder recipes. Panna Cotta is one of those recipes. It not only looks absolutely amazing but how easy it is to make will also blow your mind.
I decided I was going to give it a try! "You can do anything you put your mind to" is what I kept telling myself. Sure, cookies, cakes, and brownies are great but I wanted to challenge myself. My first try of panna cotta was this
buttermilk panna cotta
from 4 years ago. It started my love for these desserts and it used to be my go-to for dinner parties. I added more flavors and now have over
seven panna cotta recipes
on the blog.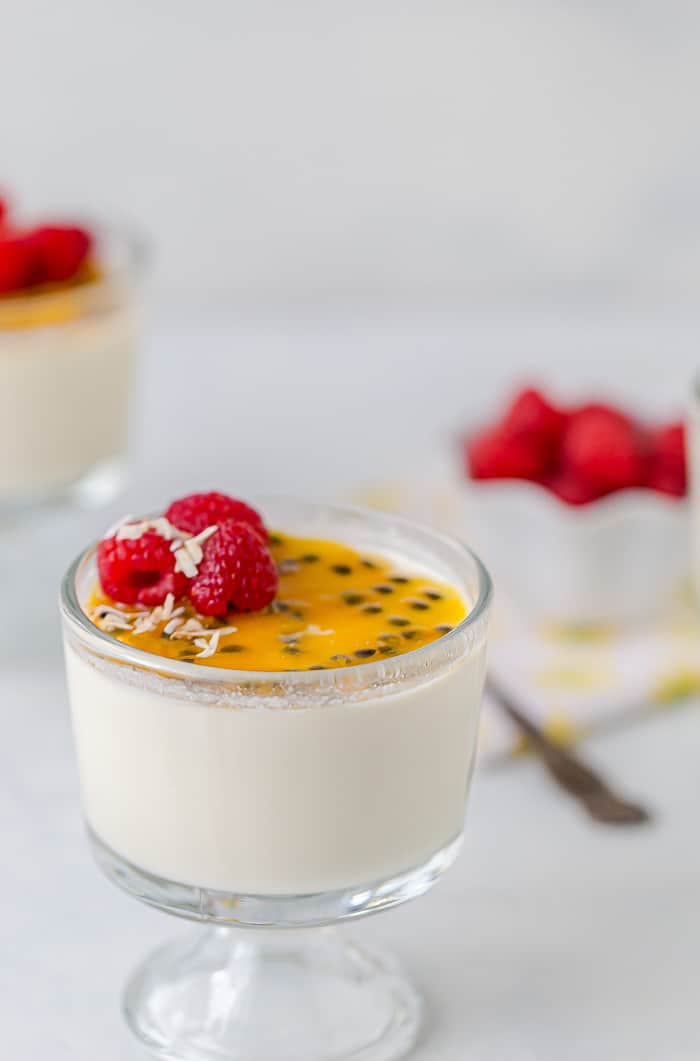 For this passionfruit panna cotta, I used a coconut base and infused it with passionfruit flavor. You all know I love coconut so it is no surprise it is my go-to when it comes to tropical flavors. Adding in the tartness of passionfruit in this panna cotta brings on a refreshing taste as well as cuts down on the sweetness. Passionfruit compliments coconut so well. The mild sweetness and little kick of tart ended up being perfect.
My husband was at first skeptical about panna cotta but once he tried it, he's been a fan! He also has to taste test and approve all the flavors I try to infuse in it. This combination was a winner he says. The rich taste of sweet cream and distinctive passionfruit, coconut, and raspberries was a healthier alternative to some of my other recipes. It can even be made into a dairy-free option! Just use dairy-free creamer or coconut milk. Same amazing flavors but no dairy to worry about.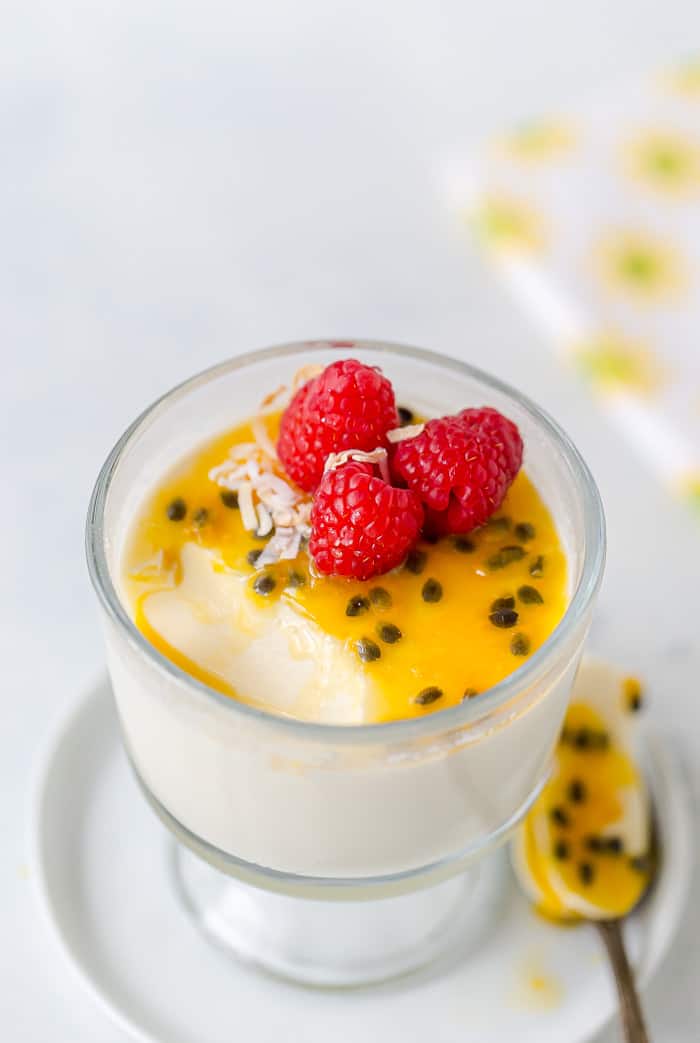 Since it is a refrigerated dessert you want to keep it chilled until it is time to serve. I recommend adding the topping right before serving so the flavors are fresh. Since most of us are still staying at home why not change up your traditional dinner and do theme nights? On your Italian night, this would be the perfect way to end an awesome family dinner. Spice it up a little and go outside of your comfort zone. Trust me, you can recreate this Passionfruit Panna Cotta just like I did. Let me know in the comments what you think! Enjoy guys!
If you love coconut as much as I do, try out my
coconut cheesecake
that is topped with delicious toasted coconut.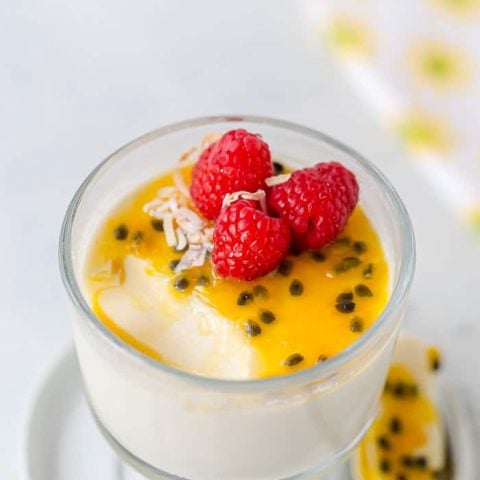 Yield: 4 6-ounce ramekins
Passionfruit Panna Cotta
This creamy custard dessert is flavored with tart passionfruit combined with tropical coconut.
Total Time
3 hours
25 minutes
Ingredients
1 packet (~2 1/4 teaspoons) gelatin
3 tablespoons water
1 teaspoon vanilla extract
2/3 cup passionfruit pulp, puree or concentrate
1 cup canned coconut milk, well shaken
1½ cups heavy cream
2/3 cup granulated sugar
Topping:
homemade whipped cream, passionfruit pulp, raspberries, coconut shavings
Instructions
In a small bowl, whisk together the gelatin, water, vanilla extract, and passionfruit. Let sit while you prepare the rest.
In a medium saucepan, combine the coconut milk, heavy cream, and sugar. Bring to a slow simmer over medium-low heat stirring occasionally until sugar melts. Remove from heat and whisk the gelatin mixture into the warm milk until completely dissolved.
Pour into three 6-ounce ramekins or mini bundt pans. Chill overnight until set.
Top with fresh passionfruit pulp, coconut flakes, and raspberries or whipped cream.
Notes
For a dairy-free option, you can use all coconut milk or substitute it with a dairy-free cream.
You can also use a passionfruit cocktail for this recipe.
Recommended Products
As an Amazon Associate and member of other affiliate programs, I earn from qualifying purchases.