Honey Whipped Goat Cheese Crostini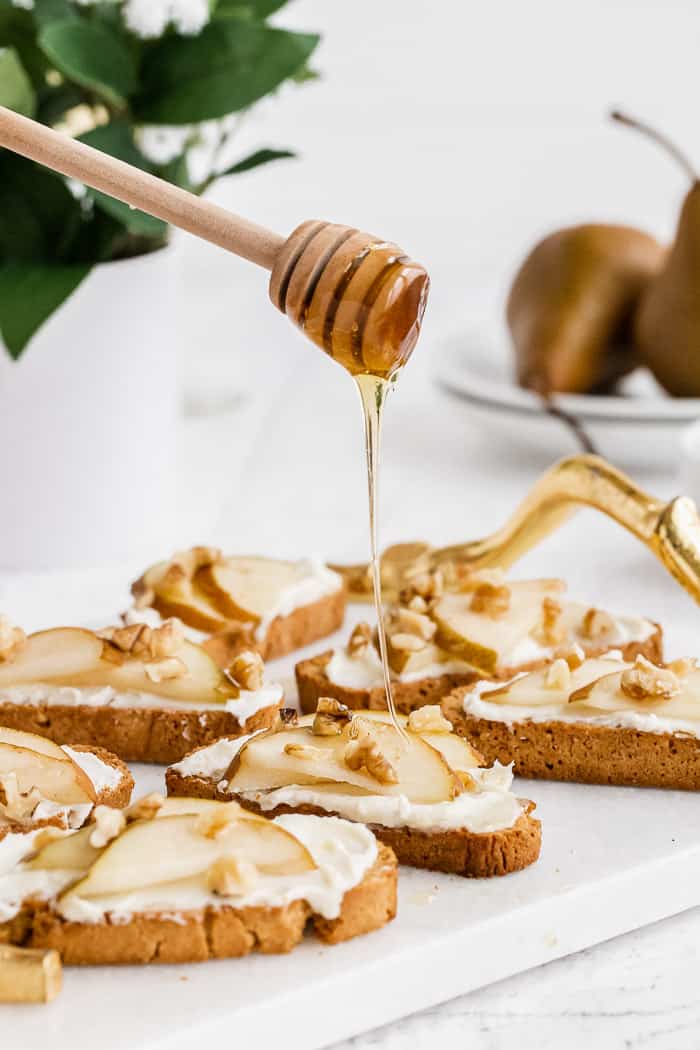 This recipe is sponsored by Bob's Red Mill. All opinions are my own. Thank you for supporting the brands I love that make it possible for me to keep creating authentic recipes for you!
Hi friends! I have a new exciting recipe for you today. These honey whipped goat cheese crostini are a new date night favorite in our home and they are made with Bob's Red Mill Grain-Free Flatbread Mix.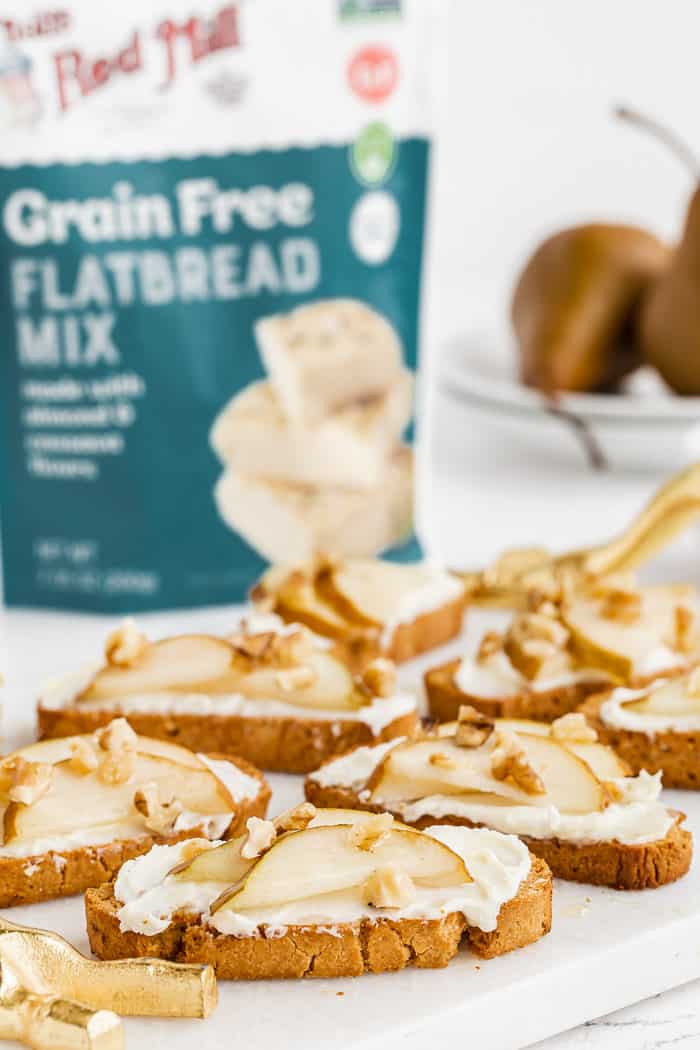 How's your date night situation? Given the current times, I am sure you find yourself in a similar situation as me.
One of the things that have been difficult during this past year is finding time to date one's partner. Especially when you are both working from home and have to juggle childcare and work from home duties. Or you are working as an essential employee and have to deal with the stress of protecting yourself and your family from a deadly virus. At the end of the day, you are exhausted and just want to binge-watch something that takes your mind of reality. Or is that just me??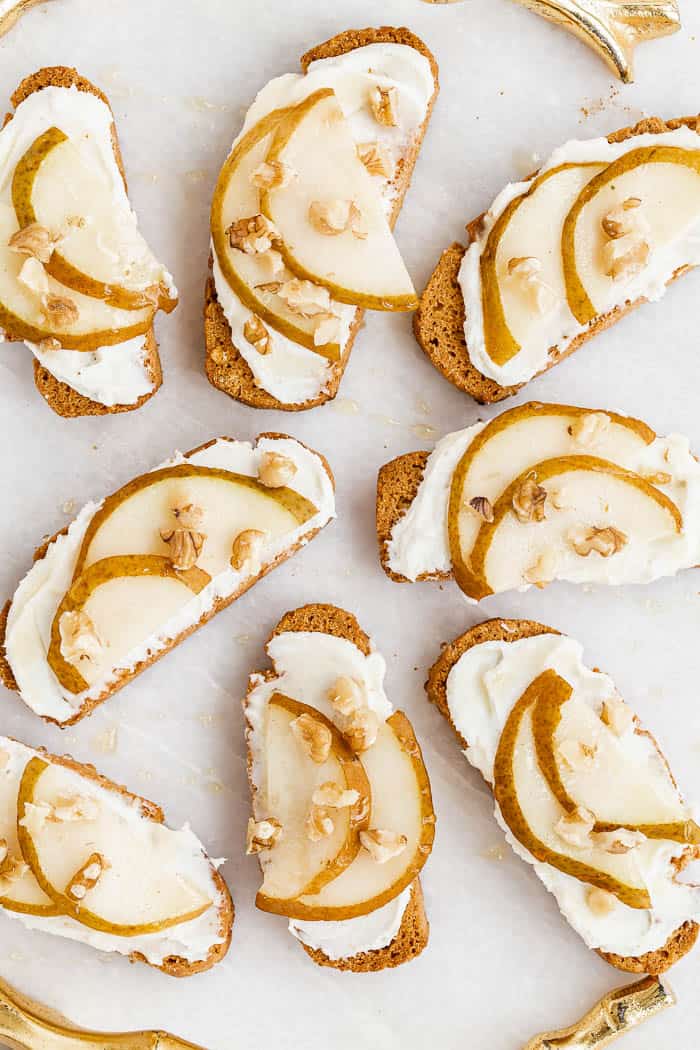 Despite the times, we do need to pay attention and cultivate those relationships that matter. Those relationships get us through the hard times in particular. Date nights every few weeks is one way we do that. I've been using this time to perfect my at-home date night meal. I love appetizers and goat cheese so naturally, these goat cheese crostini were created!
I love Bob's Red Mill products. The quality of each of their grains and the ease of finding them at my local grocery store make them a staple in my pantry. I use their almond meal flour for all the macaron recipes you see on this blog.
I've been enjoying their gluten-free mixes recently and the new Grain-Free flatbread mix is one of my favorites for dinner. You don't have to do anything (but add water!) to get yourself a perfect base for tasty pizza and yummy treats like these goat cheese crostini. It's vegan, paleo, gluten-free, and perfect for those with allergies.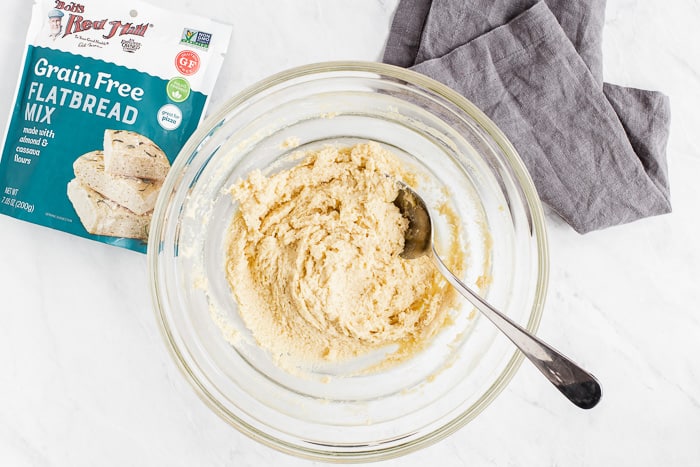 Let's talk about this goat cheese crostini, shall we?. They start with the flatbread as the base. It's savory, crunchy, and toasted.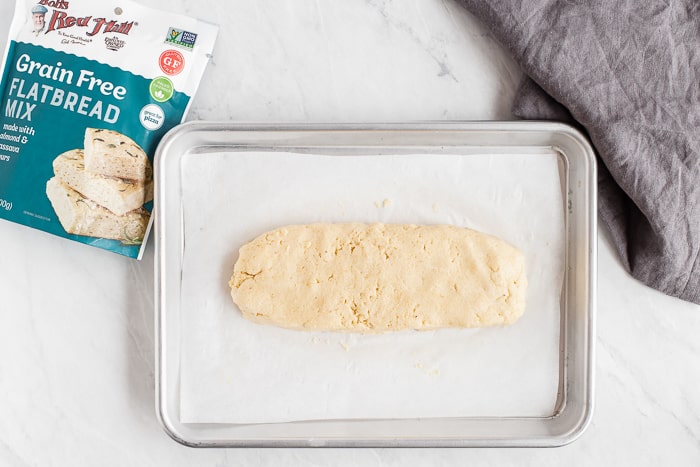 As a cheese lover, whipped goat cheese is one of my favorite things to spread on everything. It's sweet, tangy and the perfect spread for snacks and cheeseboards.
This crostini can be topped with a variety of things after the goat cheese spread. I've done pears with walnuts (pictured), figs, or even peaches. These fruits all pair very well with goat cheese and the variety brings some fun to our low-key at-home date nights.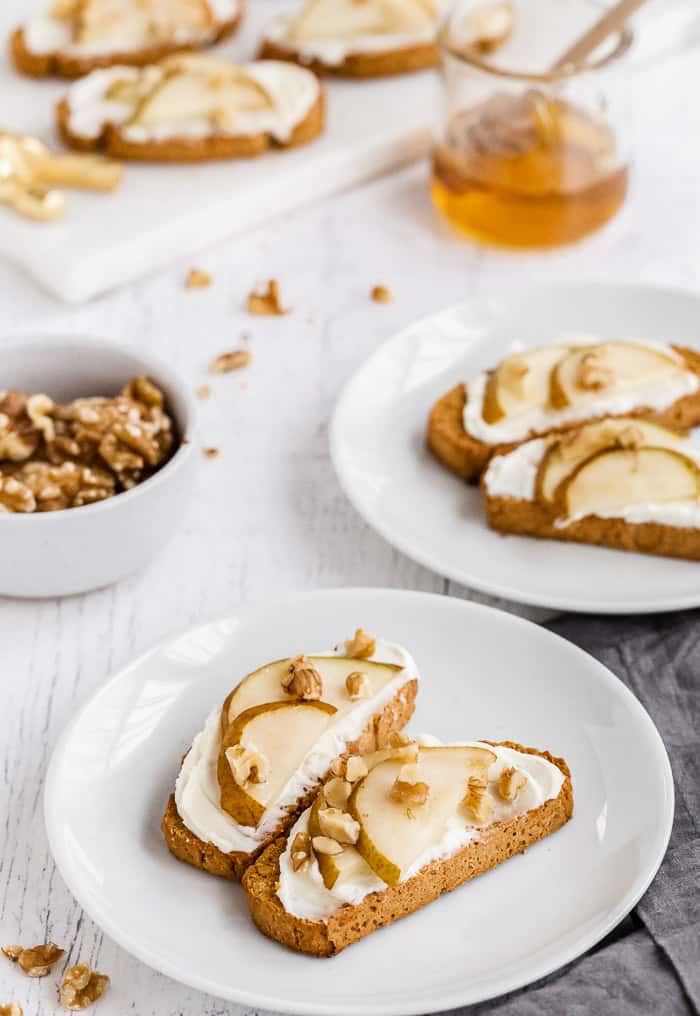 I urge you to make an effort to bring back date night, even in a pandemic. We can carve some time out, make some treats (starting with this crostini!!), and enjoy time with our partners.
For more recipe inspiration using Bob's Red Mill's grain-free mixes, check out their website, Instagram or Facebook. Thank you for supporting the brands I love and partner with to bring you great content.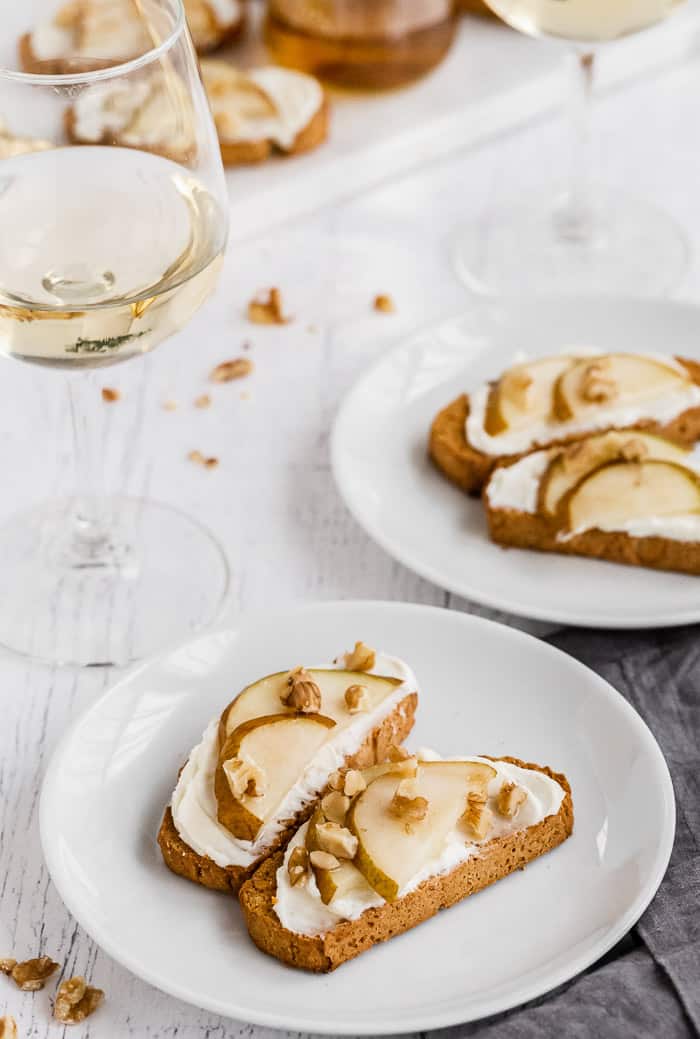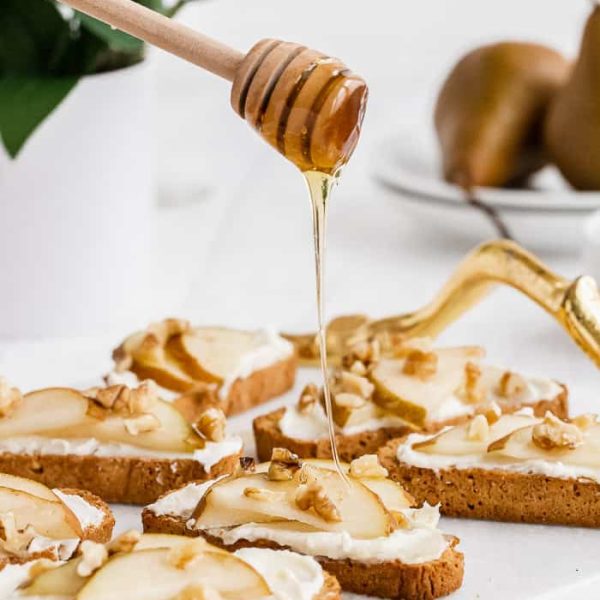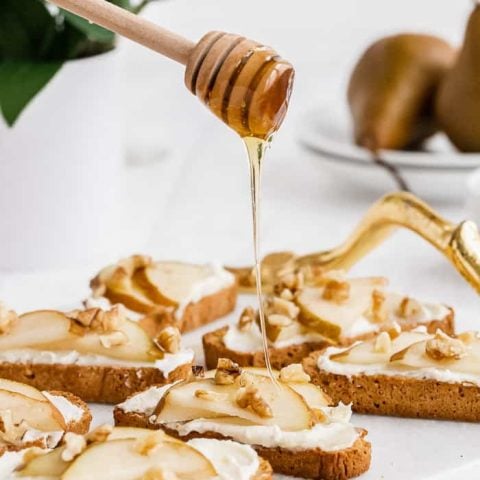 Yield: 12 servings
Honey Whipped Goat Cheese Crostini
These honey whipped goat cheese crostini start with a flatbread (gluten-free) which is topped with goat cheese, pears, and toasted walnuts.
Ingredients
For the Bread:
2 large eggs
¼ cup unsalted butter, melted (or coconut oil)
¼ cup water
For the Topping:
8 ounces goat cheese, crumbled
2 ounces cream cheese
¼ teaspoon kosher salt
2 tablespoons orange blossom honey
Toppings: pears, figs, peaches, chopped walnuts,
Instructions
Preheat oven to 400 degrees F. Line a baking sheet with parchment and set aside.
In a large bowl, combine the flatbread mix, eggs, butter, and water. Mix until well combined. Let the mixture sit for 5 minutes.
Transfer the batter to the prepared baking sheet. Using wet hands, shape the batter into a loaf, about 10 inches.
Bake the loaf until golden, about 20 minutes. Let cool for at least 30 minutes.
Slice bread into thick slices (1/2 inch – 1inch). Spread on baking sheet and bake at 400 degrees F until well toasted, about 15 minutes. Flip over each crostini and bake for additional 5 minutes.
Remove from oven and transfer to cooling rack. Let cool completely.
In the bowl of a food processor, combine the goat cheese, cream cheese and salt. Process until smooth. With the processor going, drizzle in the honey and process for an additional minute to combine.
Transfer the whipped goat cheese to a serving bowl.
Spread goat cheese over each crostini. Top with poached pears, walnuts and a drizzle of honey.
Recommended Products
As an Amazon Associate and member of other affiliate programs, I earn from qualifying purchases.