Whiskey Caramel Cupcakes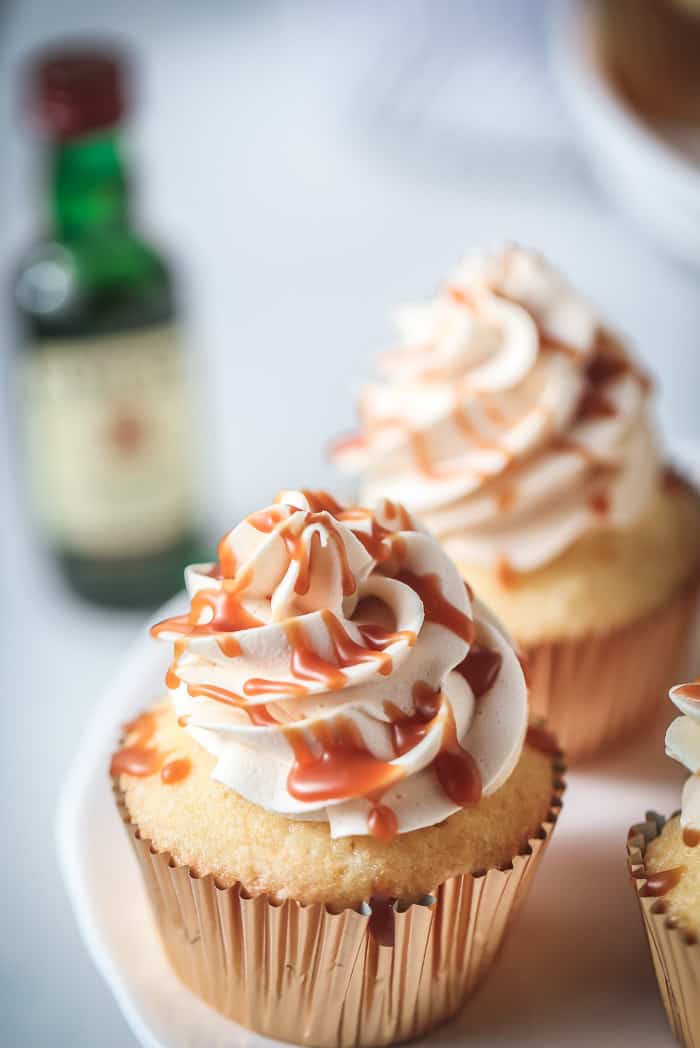 Happy Monday friends! Today's post is a short and sweet one. I am checking in while sharing a recipe for whiskey caramel cupcakes in commemoration of this year's St Patrick's Day.
How are you doing? I hope you are hanging in there as we deal with the past and upcoming chaotic few weeks due to the global pandemic. I am sending you virtual hugs as we all deal with this and hope you are taking all the precautions you can to protect yourself, your family, and the community.
We are trying our best to practice social distancing in an effort to reduce the spread. Even though statistically my immediate family is not at risk of a serious outcome, we are concerned about our neighbors and community members who may not be in the same boat. If you can, I urge you to. I understand it can be hard, complex, and impossible with demanding jobs, responsibilities, and children, but any little quarantine you can practice will help.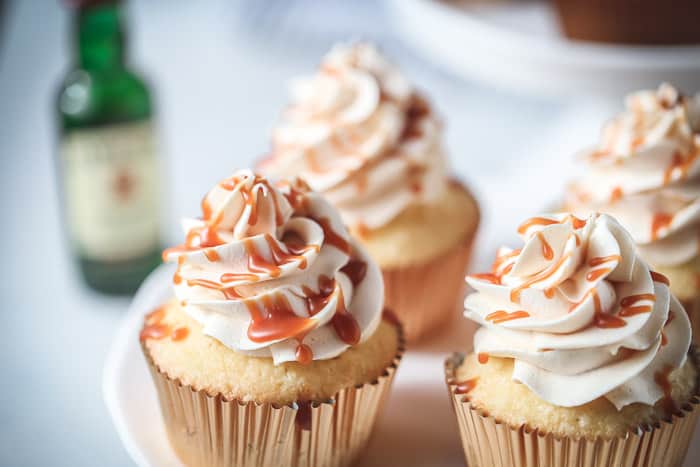 For now, all I can do is continue baking. Stress baking to keep sane as well as a project to keep my kids occupied (for 30 minutes). Easy chocolate chip cookies recipe, fun peanut butter M&M cookies, or Easter cupcakes, are all easy recipes to make with kids. These whiskey caramel cupcakes may not be kid-friendly but they are perfect for adults looking to make something boozy and eat their booze.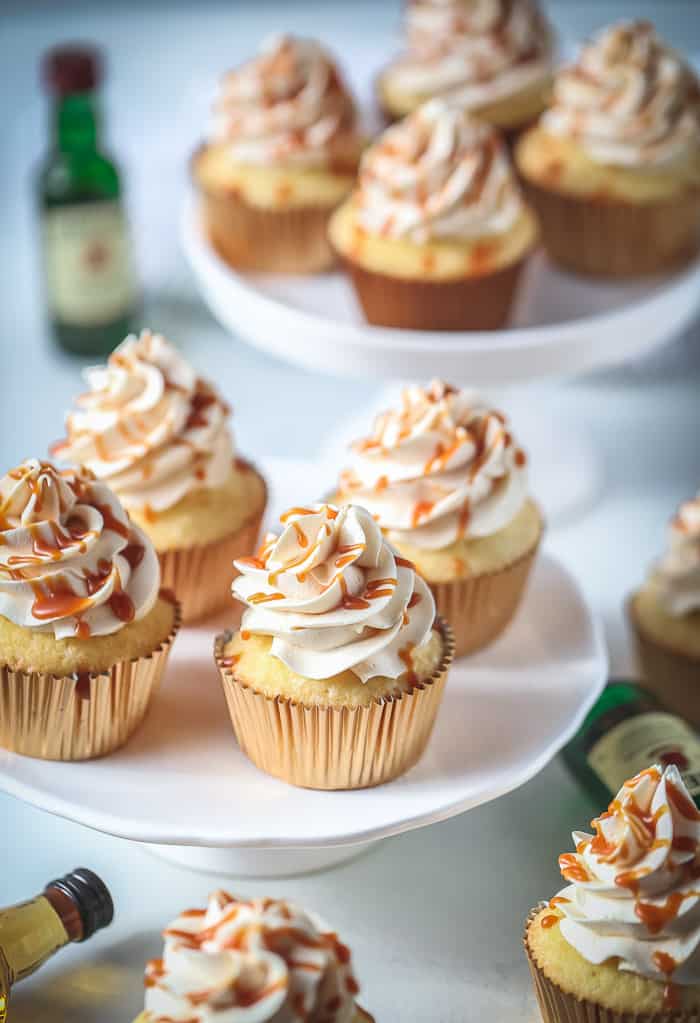 These cupcakes are based on one of my popular recipes this time of the year for St Patrick's Day, Drunken Whisky Caramel Cake. It is a southern caramel cake that I added whiskey to. These cupcakes take the two flavors of caramel and whiskey blended in a soft, tender yellow cupcake.
The whiskey is baked off but the flavor and taste remain in the cupcake. So even though it does not have any alcohol, you may not want to introduce kids to the taste of whiskey 🙂 But you can also leave off the two tablespoons whiskey from the cupcake batter and caramel to make this a yummy caramel cupcake.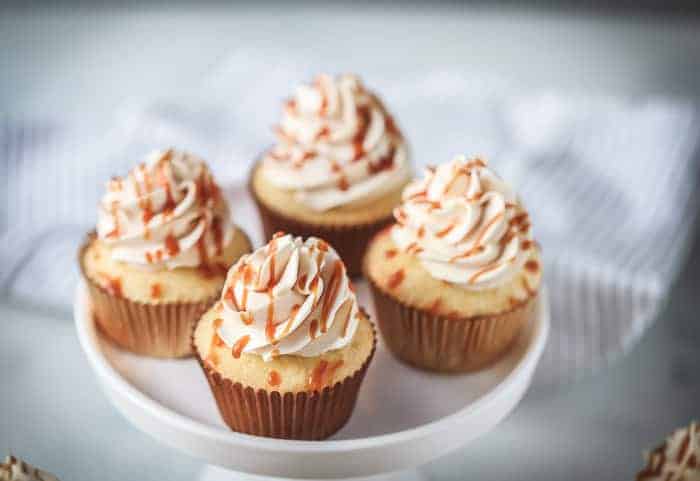 Either way, these cupcakes are delicious and amazing and I hope they can try to brighten up your days. It has been a hard few weeks for many of us and about to get worse for some places, so please give yourself grace. Do your best to support each other and your community.
I'll leave you with a quote:
"I alone cannot change the world, but I can cast a stone across the water to create many ripples." – Mother Teresa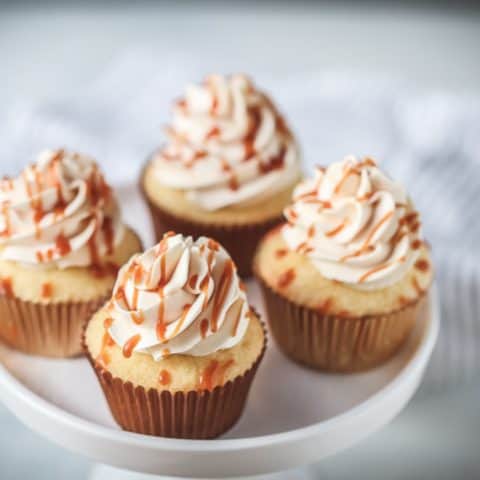 Yield: 18 cupcakes
Whiskey Caramel Cupcakes
A rich, moist and delicious yellow cake with a salty caramel frosting to complete.
Ingredients
For the Whiskey Caramel:
1 cup granulated sugar
6 tablespoons unsalted butter (cut up into cubes)
½ cup heavy cream
1 teaspoon fine sea salt (optional)
2 tablespoons Irish whiskey (or more to taste)
For the Cake:
1/2 cup (1 stick) unsalted butter, softened at room temperature
1 1/4 cups granulated sugar
3 large eggs
1 1/2 cups cake flour, sifted
1/4 teaspoon baking powder
1/4 teaspoon baking soda
1/2 teaspoon salt
1/2 cup sour cream, room temperature
3 tablespoons vegetable oil
1 teaspoon pure vanilla extract
1/2 to 1 tablespoon whiskey (I used Jameson Whiskey)
For the Frosting:
1 cup (2 sticks) unsalted butter, cut up into cubes
4 cups powdered sugar
1 teaspoon vanilla extract
1/4 cup whiskey caramel (made above)
Instructions
TO MAKE CARAMEL SAUCE:
In a medium saucepan, melt sugar over medium-high heat. When the sugar starts melting, whisk until all the sugar melts. Sugar will clump in whisk but keep whisking.
Once all the sugar is melted, stop whisking and let the sugar get to a deep amber color. You can swirl the pan to mix. Keep your eye on the caramel, as it will easily burn at this stage.
Whisk in the butter and mix until completely melted. Remove pan from heat and gradually add in the heavy cream. Whisk until smooth. Whisk in the sea salt (if using) and whiskey. Transfer caramel immediately into a glass jar and let cool.

For the Cake:
Preheat oven to 350 degrees. Prepare two muffin tins with cupcake liners.
In the bowl of a stand mixer (or large mixing bowl), using the whisk attachment, whip the butter on medium-high speed for two minutes. Gradually add the sugar with the mixer going and cream together until light and fluffy, about 5-6 minutes. Add in the eggs, one at a time, and mixing until combined between each addition.
In a small bowl, whisk together the cake flour, baking powder, baking soda, and salt. Reduce the speed to low and add in the flour mixture in two additions. Mix on low until just combined. Add in the sour cream, vegetable oil, vanilla extract, and whiskey. Beat until incorporated.
Divide batter evenly into prepared cupcake liners, filling each 2/3 full and bake cupcakes until a tester inserted into the middle comes out almost clean, about 12-15 minutes.
Remove cupcakes from the oven and transfer to a wire cooling rack and let cool completely.
For the Caramel Frosting:
Whip butter on medium speed for about 2-3 minutes in the bowl of a stand mixer fitted with the paddle attachment until light and creamy.
Add the powdered sugar and whiskey caramel and mix on low for 1 minute until combined.
Increase speed to medium-high and whip for 4-5 minutes until light and fluffy.
Using a pastry bag fitted with your decorating tip (I used Wilton 1M), frost the cupcakes with the frosting.
Notes
NOTES
Cupcake batter adapted from Grandbaby Cakes Cookbook
Recommended Products
As an Amazon Associate and member of other affiliate programs, I earn from qualifying purchases.