Easy Chicken Fajitas Recipe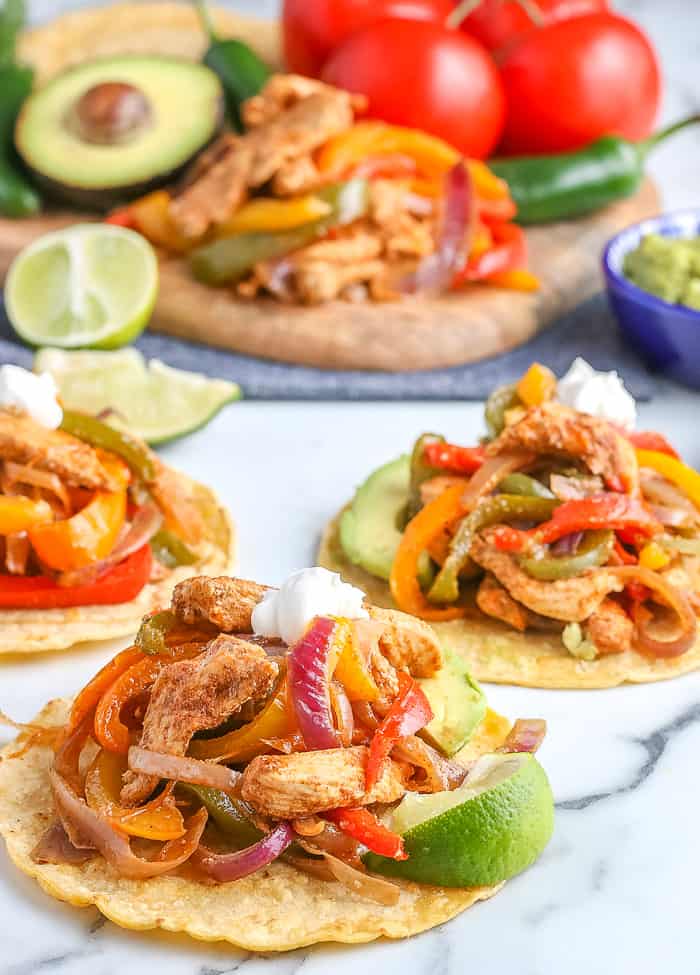 It's been a while since I shared with you a savory recipe. I know I am primarily a baking website but I also love cooking and exploring savor recipes. In my family, I am the cook who looks to try new recipes while my husband sticks to his basics. His go-to favorites that are weekly rotations on our dinner table. This easy chicken fajitas recipe is one of those favorites. He makes it at least once a week and we all love it, including my one-year-old and especially the four-year-old.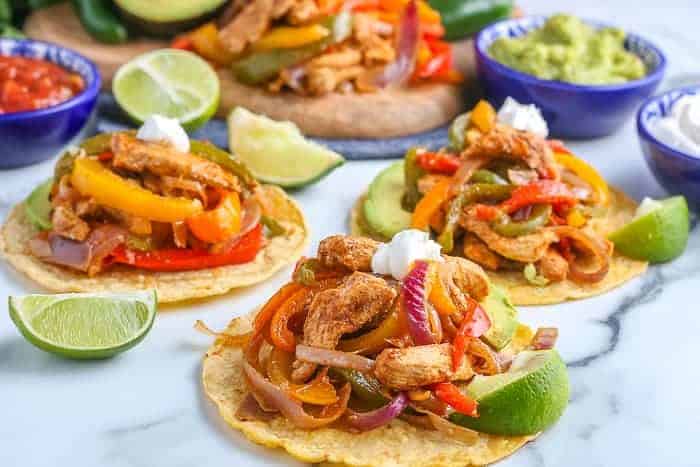 What's not to love? An easy, weeknight 30-minutes meal that is versatile is every working parent's dream. We usually have hectic evenings and try to prep as much of our meals over the weekends. With two kids under 5, when I get home from work, I have little time to be creative and be cooking for fun. I save that for the weekends :). This sheet-pan chicken fajita speaks my language for a weeknight meal.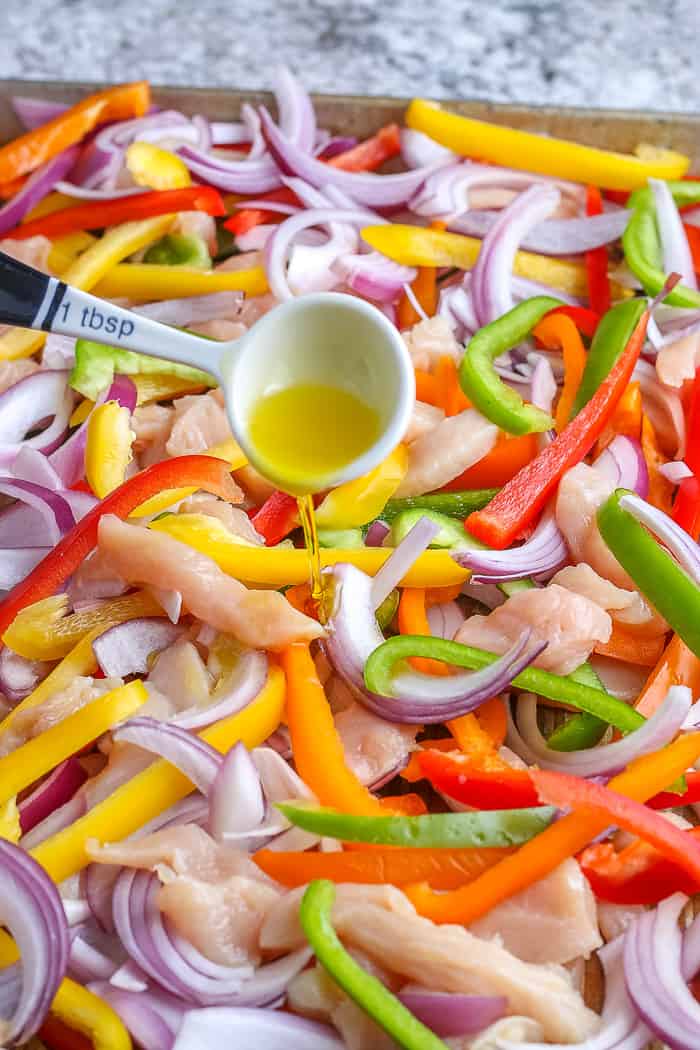 What makes this chicken fajitas perfect for a weeknight is the fact that it can all be cooked on a sheet pan. Similar to one-pot recipes, this is made in one pan and there is less to clean up. Thinly sliced chicken is tossed with sliced onions and peppers and seasoned right on the pan. I usually prep my vegetables the night before and just toss onto the sheet pan when I get home. I love this sturdy sheet pan for making sheet-pan dinners.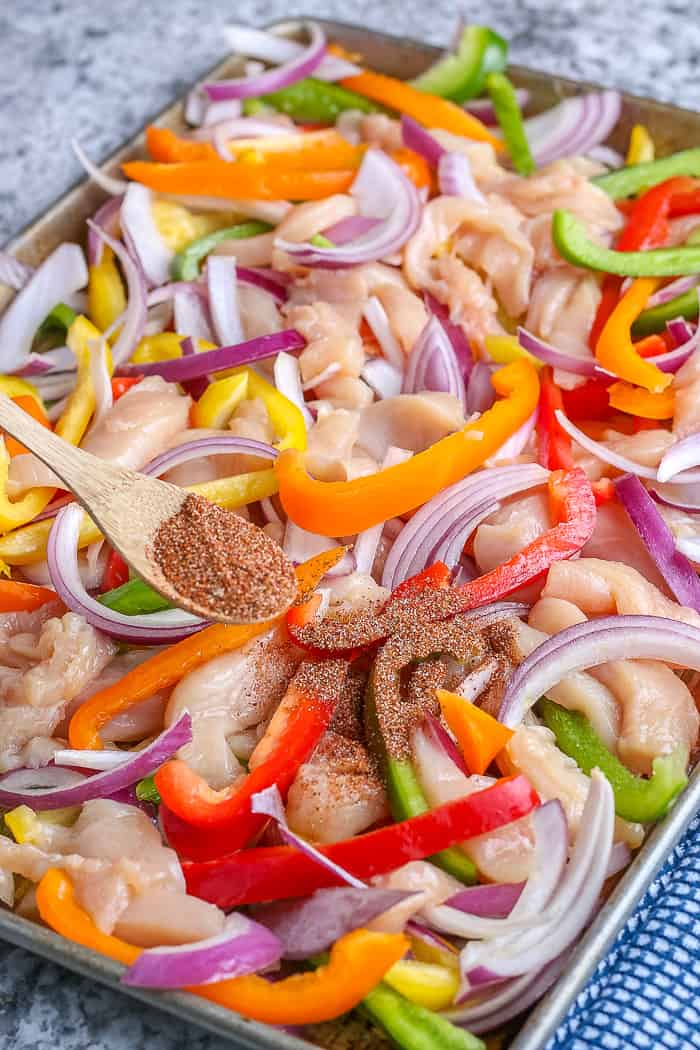 Another thing I love about this recipe is that it is versatile. You can change out a few things based on what tour family loves/ doesn't eat. I have been lucky to not have picky eaters (knock on wood) but I understand this struggle. You can also add spices based on your preference. I love using spicy smoked paprika and adding more chili powder but my family loves spicy. If you don't do spicy, feel free to cut back on these.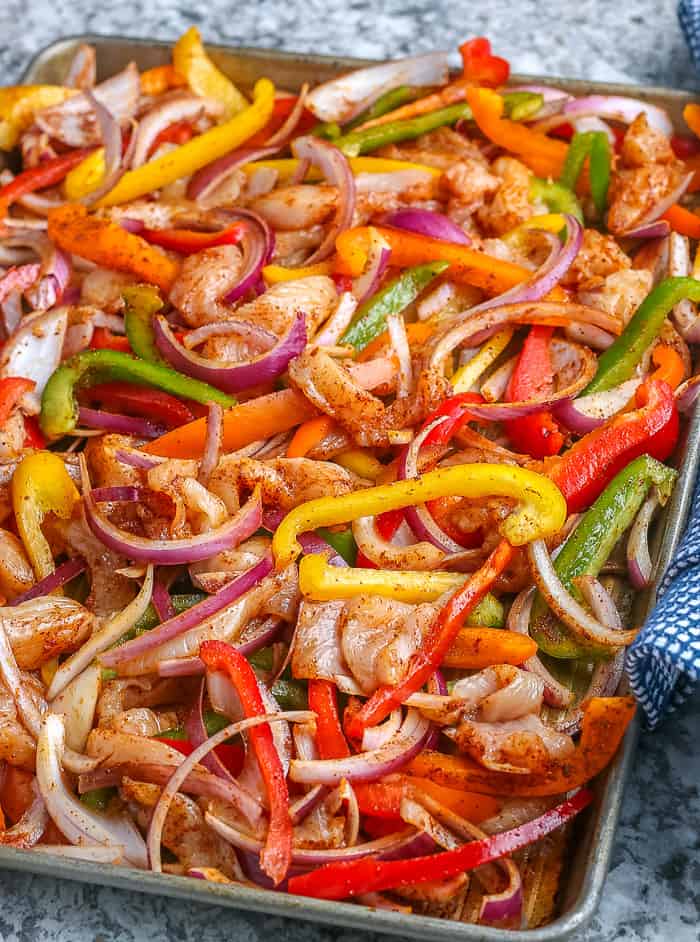 As far as serving, you can serve your chicken fajitas with tortillas or rice. We love it for taco Tuesdays but can also serve it with rice on those days when we don't have tacos around. I've also made batches for weekday lunches with a low carb option of quinoa or even cauliflower rice. See? The options are endless.
If you are like me and looking for wast family dinners, then you will love this easy chicken fajitas recipe. Add it to your weekly dinner menu plan and you will not be disappointed.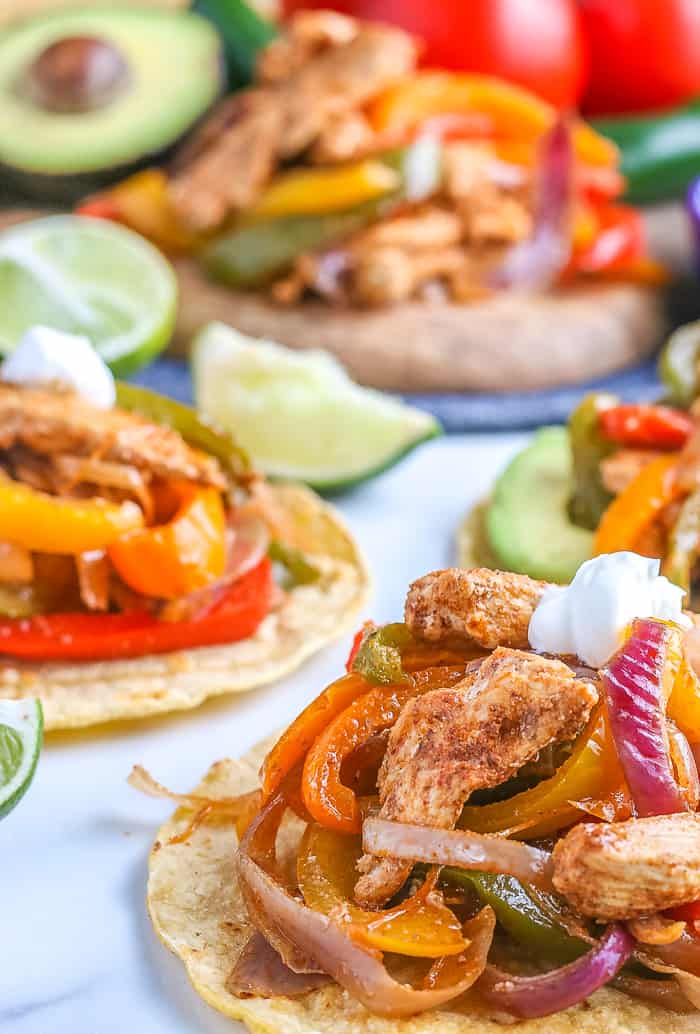 What are your other easy dinner recipes??
Here are some ideas: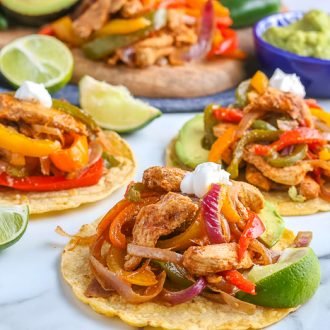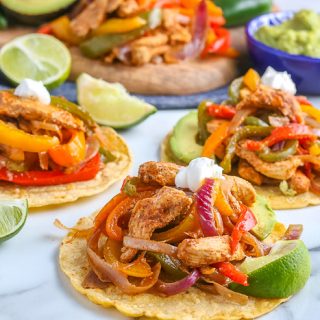 Yield: 4-6 servings
Easy Chicken Fajitas Recipe
Ingredients
2 pounds skinless boneless chicken breasts, thinly sliced into 2-inch strips
1 each bell pepper - orange, yellow, red and green or a combination, thinly sliced
1 red onion, thinly sliced
3 tablespoons extra virgin olive oil
1 tablespoon chili powder
1 teaspoon garlic powder
1 teaspoon onion powder
2 teaspoons ground cumin
1 ½ teaspoons smoked paprika
½ teaspoon cayenne pepper or more
Salt and pepper to taste
Toppings:
Tortillas (corn or flour)
Lime wedges
Salsa
Sour cream
sliced avocado
Guacamole
Instructions
Preheat oven to 425 degrees. Spray a large sheet pan with cooking spray.
Place the sliced chicken breast, peppers, and onions on the prepared sheet pan.
Drizzle the olive oil and sprinkle all the seasonings over the chicken and vegetables.
Using your fingers, mix well to incorporate into chicken and vegetables.
Bake for 25-30 minutes or until chicken is no longer pink and the vegetables are tender.
Serve immediately in warmed tortillas.
Top with your favorite toppings.