Pineapple Cashew Quinoa 'Fried Rice'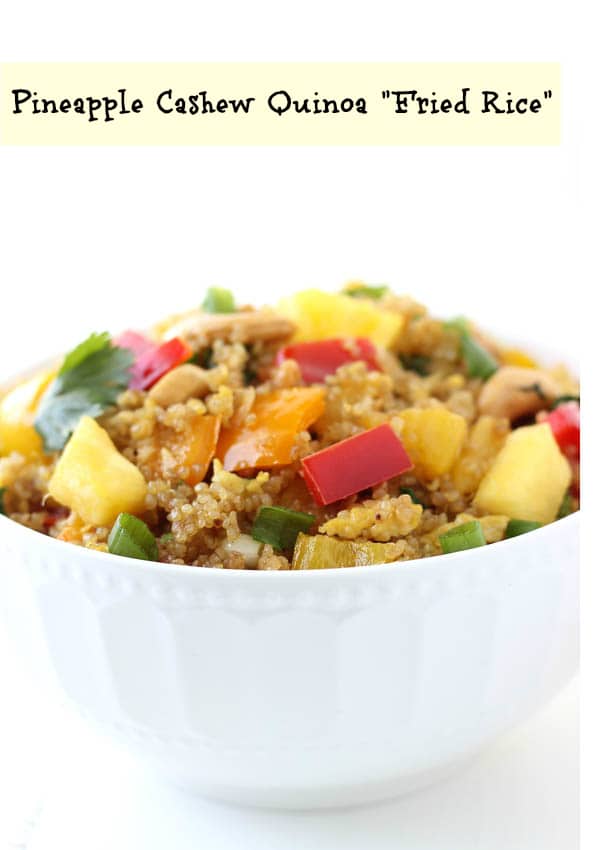 Hello friends!! Sunday I shared with you some of my favorite fresh spring salad recipes. Yesterday it was this bonkers amazing funfetti Golden Oreo Ice Cream and today we have pineapple cashew quinoa fried rice! Do you see a trend? I eat real food AND indulge in sweets 🙂 The warmer weather is inspiring me to get more creative and healthier with my dishes and I am thinking I should start sharing with you some of my yummy savory recipes. What do you think?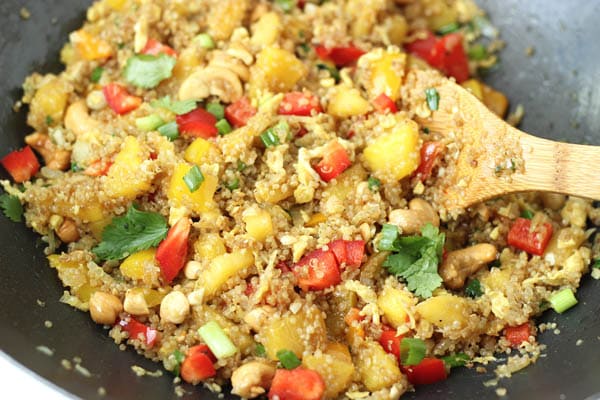 It's time for another edition of Mystery Dish! I was inspired to create a healthier version of my favorite all time fried rice recipe when I saw this month's ingredients. Our lovely host Jen over at Yummy Healthy Easy, picked the ingredients this month and I think she gave us a well-rounded list that got my wheels spinning as soon as I saw it.
The ingredients were garbanzo beans, eggs, flaxseed, cilantro, potatoes (any variety), bread, quinoa, lime, popcorn, dark chocolate, ground turkey and asparagus.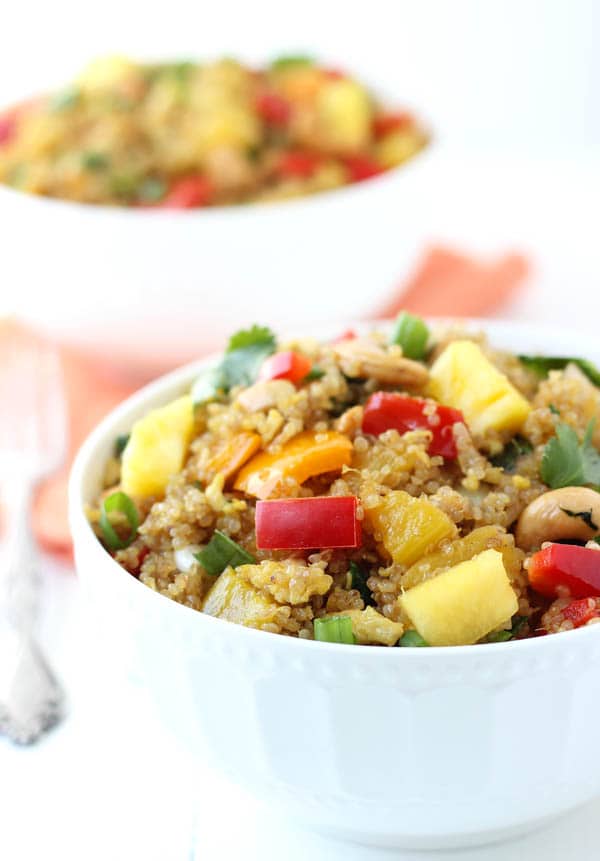 Using three of the ingredients, this quinoa 'fried rice' is packed with nutrients and flavor. It's full of vegetables, pineapple chunks and crunchy cashews! Starting from the crispy lime coconut quinoa, to the flavorful tender vegetables, this is the perfect weeknight dinner.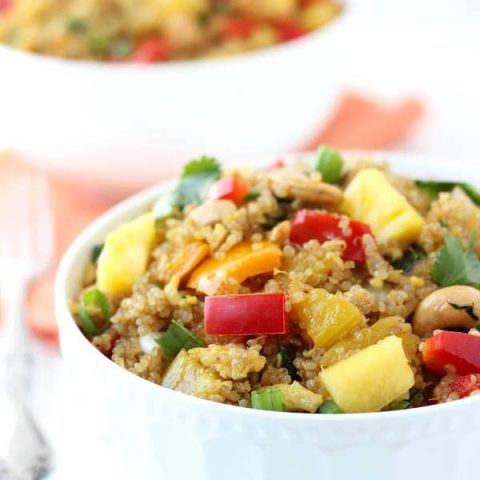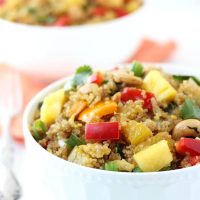 Yield: 2-4 servings
Pineapple Cashew Quinoa 'Fried Rice'
Using a handful of ingredients, this quinoa 'fried rice' is packed with nutrients and flavor. It's full of vegetables, pineapple chunks and crunchy cashews!
Ingredients
1 cup uncooked quinoa
2 cup low sodium chicken stock or water
1 tablespoon coconut oil
1 lime, juiced and zest
½ teaspoon salt
½ teaspoon pepper
5 tablespoons coconut oil, divided
½ red bell pepper, chopped
½ orange bell pepper, chopped
½ sweet onion, chopped
4 garlic cloved, minced
½ teaspoon freshly grated ginger
2 cups cubed pineapple
2 large eggs, lightly beaten
1 ½ tablespoons low-sodium soy sauce
4 green onions
½ cup cashews
¼ cup cilantro, chopped
Instructions
In a medium saucepan, add the quinoa and chicken stock. Bring to boil over medium high heat. Once boiling, reduce heat to low and cover pot. Cook until all the liquid is absorbed, about 15 minutes. Stir in the coconut oil, juice and zest of lime, salt and pepper. Let quinoa cool completely before using. You can do this ahead of time or the day before.
In a large wok, heat one tablespoon coconut oil over medium heat. Add in onions and peppers and cook until soft, about 2 minutes. Add in garlic and ginger and cook for additional minute stirring. Transfer veggies to a bowl. Increase heat a little. In the same wok, add another tablespoon of coconut oil. Add pineapples and cook stirring occasionally until golden, about 5-6 minutes. Add pineapples to bowl of veggies.
Add ½ tablespoon of coconut oil to wok and cook egg stirring to break apart. Cook for a minute and transfer eggs to a separate small bowl.
With heat on high, add the remaining 2 ½ tablespoon coconut oil to wok and add in the cooled quinoa. Stir to coat quinoa in oil and let sit for about 1-2 minutes to crisp. Stir to break up clumps. Reduce heat once quinoa is crispy and golden. Stir in soy sauce. Add the veggies and pineapple and stir. Stir in eggs, green onions cilantro and cashews. Add salt and pepper to taste. Serve immediately.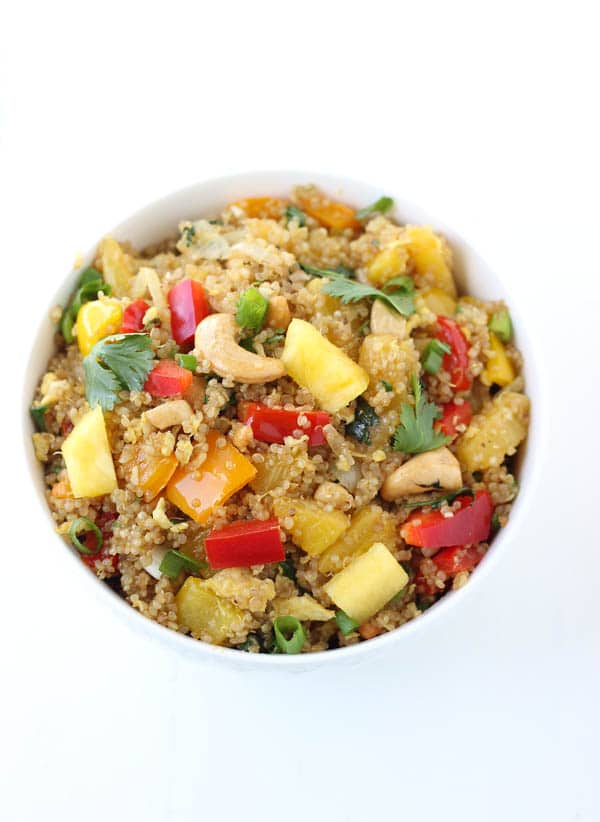 Here is a list of the creative recipes members of the group made this month! Be sure to click over to each.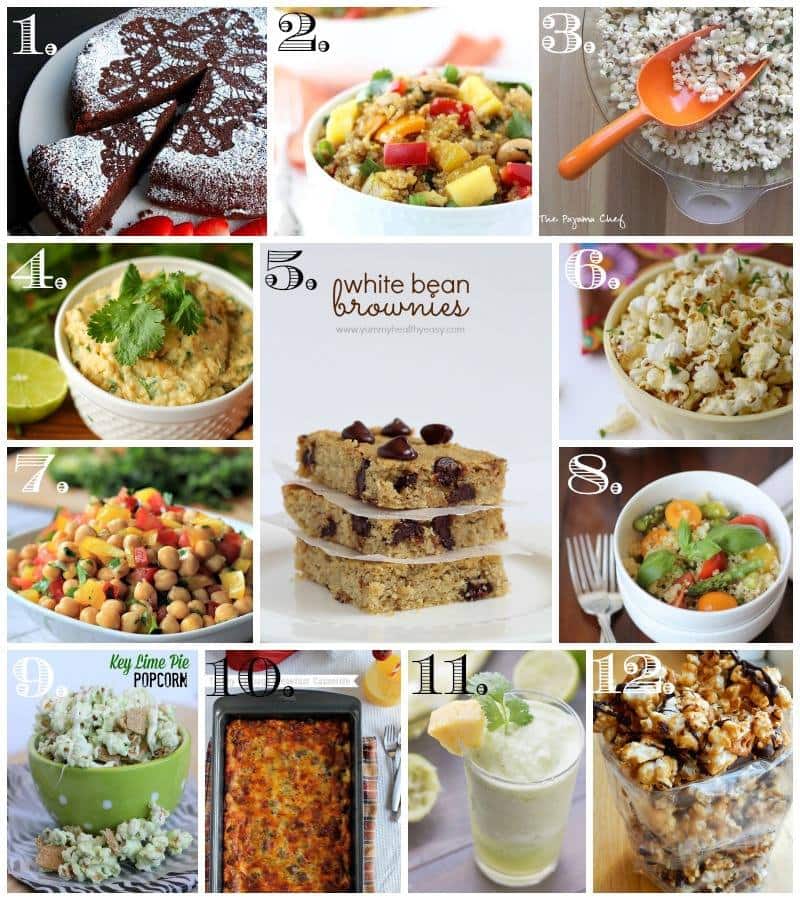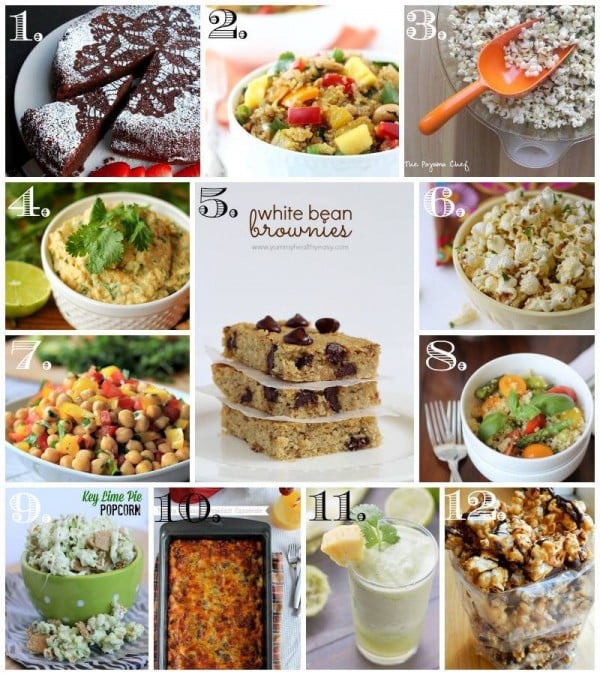 1.
Easy Flourless Chocolate Cake
by Culinary Couture 2.
Pineapple Cashew Quinoa "Fried Rice"
by Blahnik Baker 3.
Chili Lime Popcorn
by The Pajama Chef 4.
Cilantro Lime Hummus
by The Weary Chef 5.
Gluten Free White Bean Brownies
by Yummy Healthy Easy 6.
Homemade Popcorn with Cilantro Lime Butter
by The Well Floured Kitchen 7.
Tex-Mex Chickpea Salad
by Joyful Healthy Eats 8.
Quinoa Salad with Asparagus and Tomato
by Chez Catey Lou 9.
Key Lime Pie Popcorn
by I Dig Pinterest 10.
Turkey Sausage Breakfast Casserole
by I Want Crazy 11.
Frozen Pineapple Cilantro Mojito
by Baking a Moment 12.
Pretzel Caramel Crunch
by The Dessert Chronicles
Other Mystery Dish Recipes
Honey Lime Coconut Oatmeal Cookies– March Mystery Dish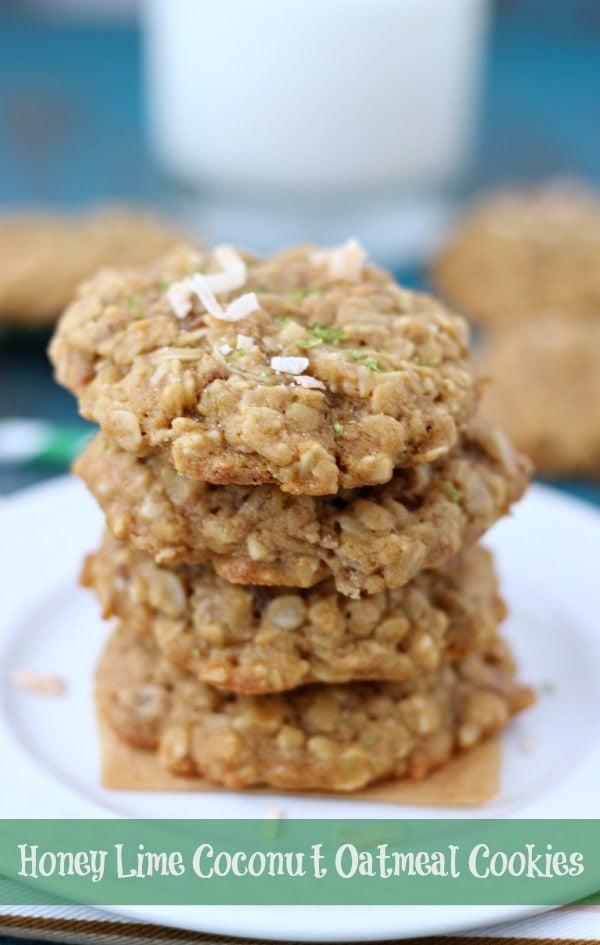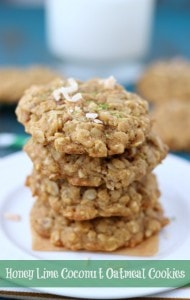 Pina Colada Cheesecake– February Mystery Dish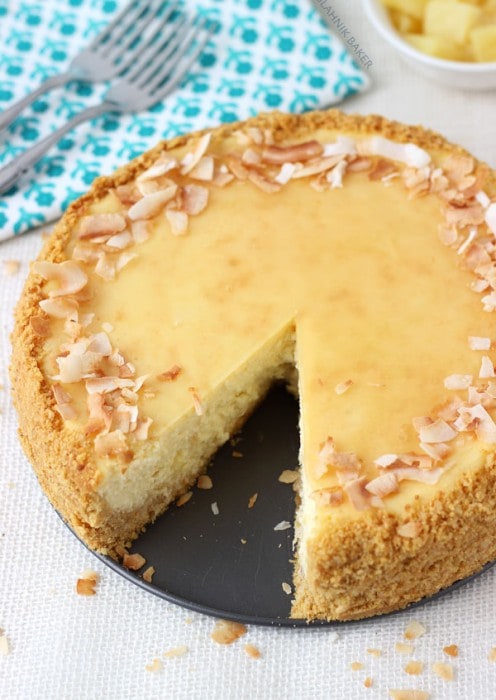 ** Don't forget to enter the two amazing giveaways going on now. Enter to win Breakfast to Dinner cookbook HERE. And enter to win a Canon camera and lens HERE! Both end soon **