Funfetti Golden Oreo Ice Cream + Camera Giveaway
Golden oreos are crushed and stuffed into a creamy homemade funfetti ice cream for the perfect spring into summer treat!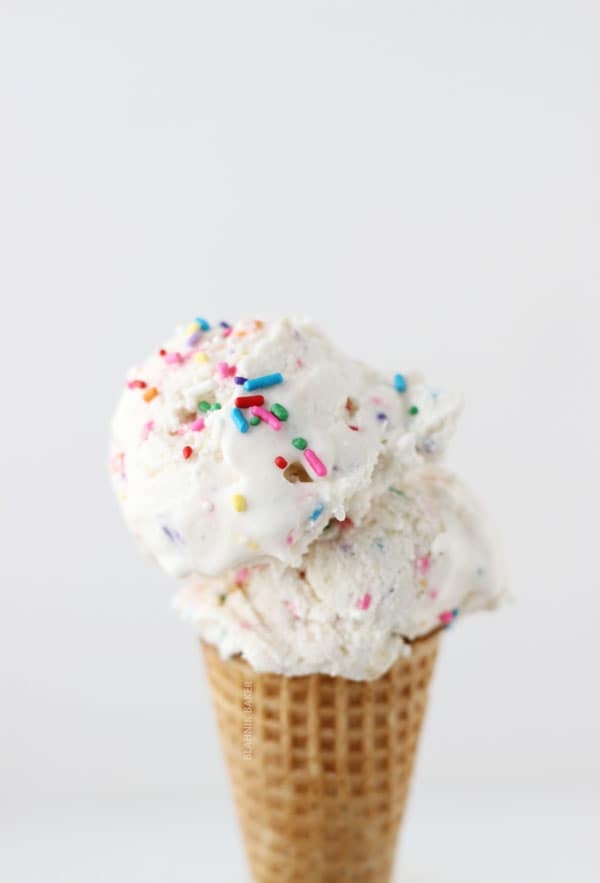 Got some golden Oreos lying around? Silly question I know but I got a great use for those odd ones you didn't get to. (Leftover cookies don't exist in my house, just saying.) But if you happen to have self-discipline, let's crush up your golden Oreos and stuff them in some creamy homemade funfetti ice cream. How's that self-discipline doing now in front of this Funfetti Golden Oreo Ice Cream??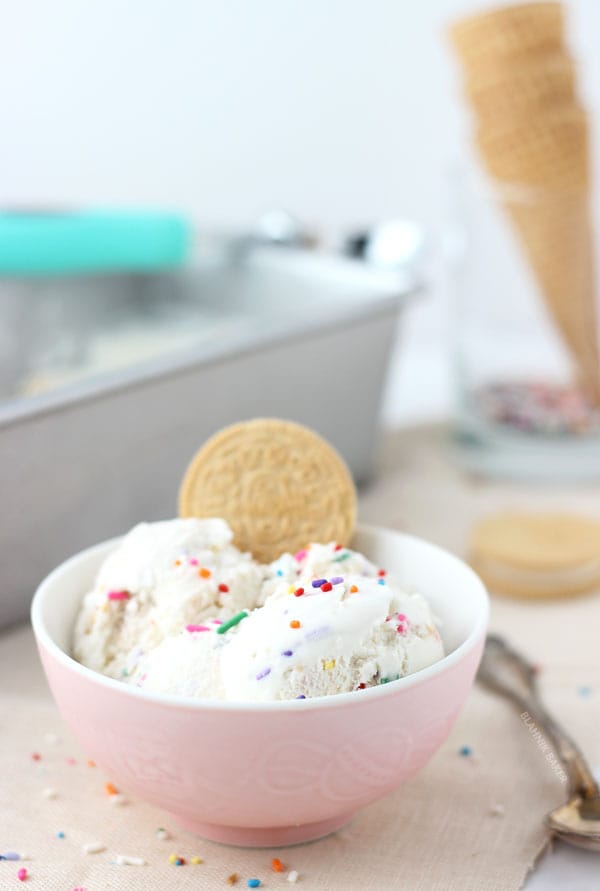 To be honest, I didn't always have a thing for ice cream. I will grumble along as I follow the hubster to an ice cream stand every summer. Although once there, I will gladly indulge in a blackberry sorbet (addicting!!) But I think my slight ice cream aversion was because I was missing the homemade aspect. As with almost everything, homemade ice cream is the BEST. Like seriously creamy, delicious and just totally amazing. And guess what? You are the boss of everything that goes into it! Not only can you pronounce all the ingredients, you can also be as creative as your right hemisphere can let you. Of course my right hemisphere screamed sprinkles as soon as it saw golden Oreos and I gladly obliged 🙂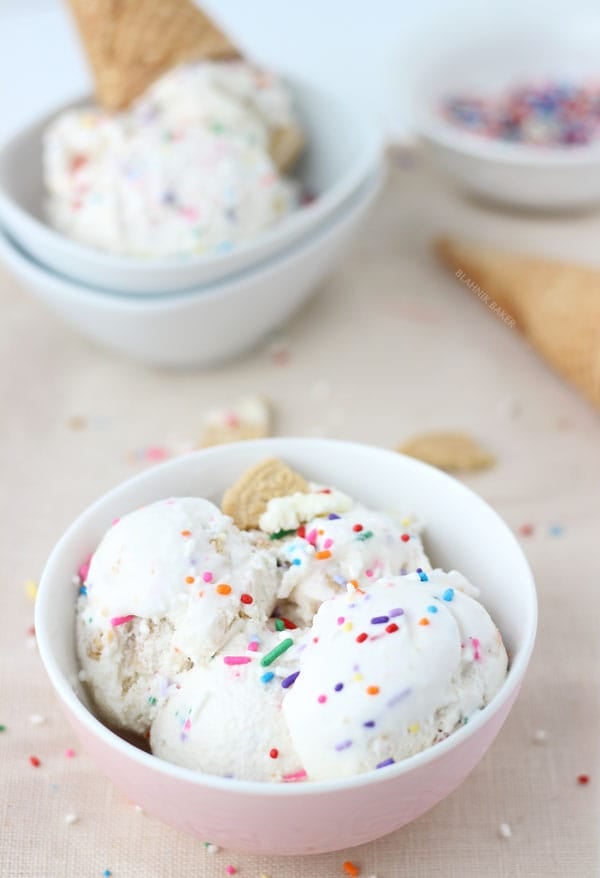 Remember this Baileys Mint Oreo Ice Cream from a few months ago? That was my first experience with homemade ice cream and of course I was hooked after that addictive combination. But now, this funfetti golden Oreo ice cream is taking things to a whole other level that I am not sure I am going to be able to handle. This time around I used a quicker vanilla ice cream base (not the custard method) mainly because we wanted ice cream stat and added in crushed golden oreos and lots of funfetti at the end of churning. The resulting combination of creamy vanilla ice cream and crunchy Oreos is just amazing. And if you don't believe me, just try it. You will totally fall in love with Oreos all over again. After all, as Sheldon Cooper says "There's only one cookie with something in the middle that solves life's problems… and that's a Oreo".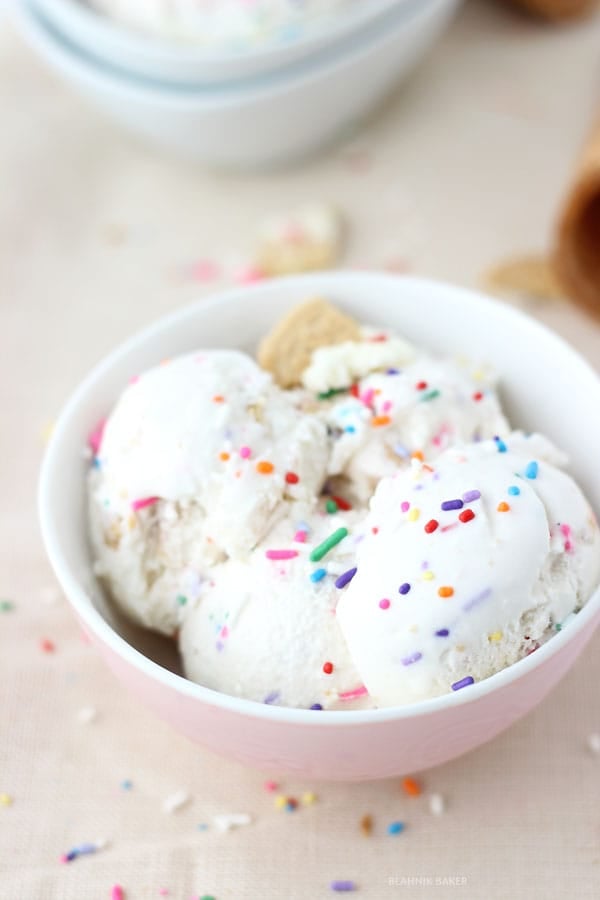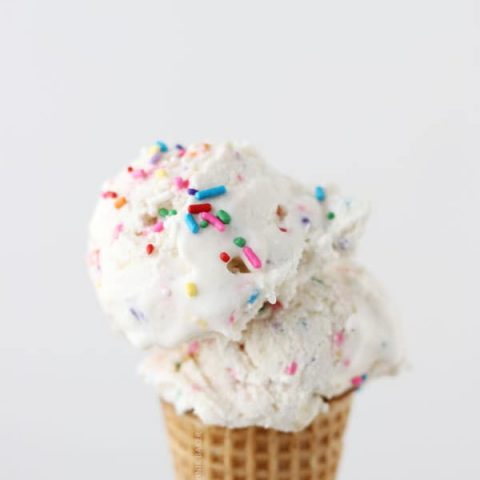 Yield: 5 cups
Funfetti Golden Oreo Ice Cream
Golden oreos are crushed and stuffed into a creamy homemade funfetti ice cream for the perfect spring into summer treat!
Prep Time 5 minutes
Cook Time 25 minutes
Total Time 30 minutes
Ingredients
1 cup whole milk, chilled
¾ cup sugar
2 cups heavy cream, cold
½ vanilla bean, seeds scraped (or two teaspoons vanilla extract)
1 cup chopped Golden Oreo cookies
⅓ cup sprinkles
Instructions
In a the bowl of an electric mixer with the whisk attachment, whisk together the milk , sugar and vanilla bean seeds on low-speed until the sugar dissolves, about 1-2 minutes. Stir in the heavy cream until combined. Turn on your ice cream maker. Pour mixture into the freezer bowl and churn until thickened, about 20-25 minutes following the instructions of your manufacturer. During the last 5 minutes of mixing, add in the chopped Oreos. During the last minute, add in the sprinkles.
Transfer ice cream to a freezer safe container and freeze for 2-3 hours or overnight.
OK enough about ice cream and Oreos. Guess what? I have a super-duper summer giveaway for you!! Together with some blogging friends, we are giving one of YOU a chance to win a brand new camera and lens!!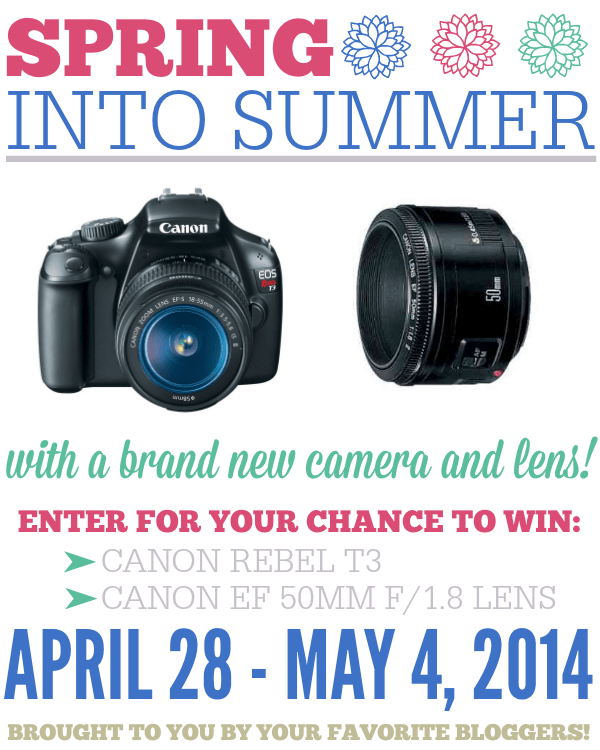 This is a similar camera to mine (I have the T3i) and the exact lens that I use right now. Let me tell you, I LOVE my camera and lens!  They have not only visibly improved my photographs but also inspired me to learn more about photography and I have fallen madly in love with it! So trust me when I tell you, this camera and lens will absolutely make you love taking photos. SO enter today for a chance to win 🙂
Disclaimer: The giveaway will begin at midnight on Monday morning April 28th and run until 11:59pm on Sunday night May 4th. The winner will be randomly chosen on May 5th 2014 and will be notified by email. If the winner does not respond within 48 hours, another winner will be chosen and contacted via the same method. Open to US residents only.