Coconut Key Lime Bread
This coconut key lime bread is soft and fluffy, coconut-y with the perfect hints of citrus. It's like whoa!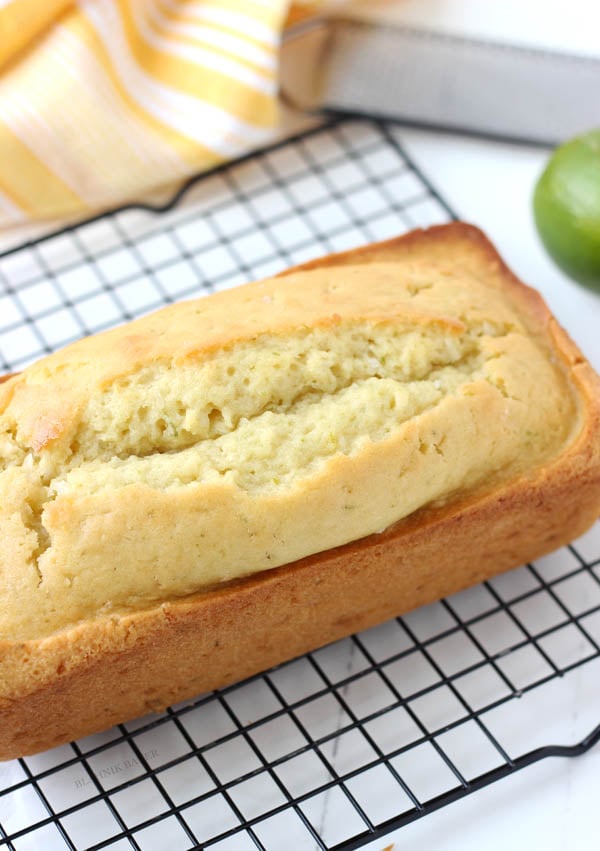 It is May folks! And I have a very tropical bread for you today. Because what better way to get ready for the summer than enjoying flavors like coconut and lime? This coconut key lime bread is deliciously moist, coconut-y and perfectly citrus-y. It's like whoa! Seriously!
But I'd expect nothing less since the recipe for this coconut key lime bread is from the new e-cookbook of a talented baker and friend. Steph of Girl Versus Dough created 30+ mouth-watering quick bread recipes and collected them all in a beautiful photographed e-book, Quick Bread Love.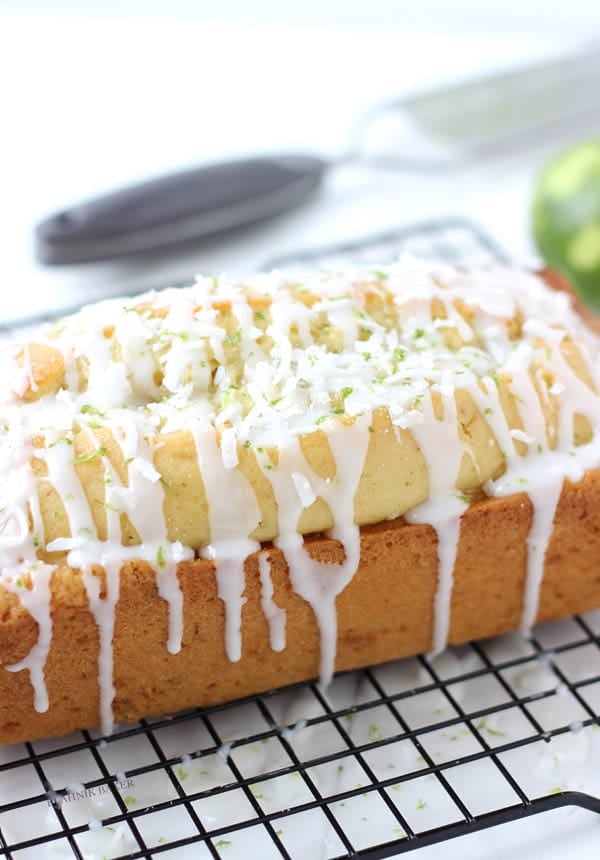 The e-book has recipes from savory breads to muffins to this tropical darling here. When I first saw the book, I couldn't close my mouth. Each page has a gorgeous photograph accompanying the recipe, making you drool as you bake! You will seriously want to buy this e-book and start making the hard choices of which bread to bake first.
It was very hard to decide what to make first. There was a savory sun-dried tomato spinach bread that caught my eye and this peaches and cream streusel bread makes me hungry but my coconut loving self eventually won and I tried this coconut key lime bread. I'm so glad I did. I tell you my friends, it's the best combination EVER! This bread is so quick and easy to make. One mixing bowl action here. Filled with coconut flakes in each bite and the zesty hints of key limes, this soft and fluffy sweet bread is going to disappear in no time. I'd advise just making two loaves to be safe like I did 🙂 Give one to a loved one, like your mother-in-law!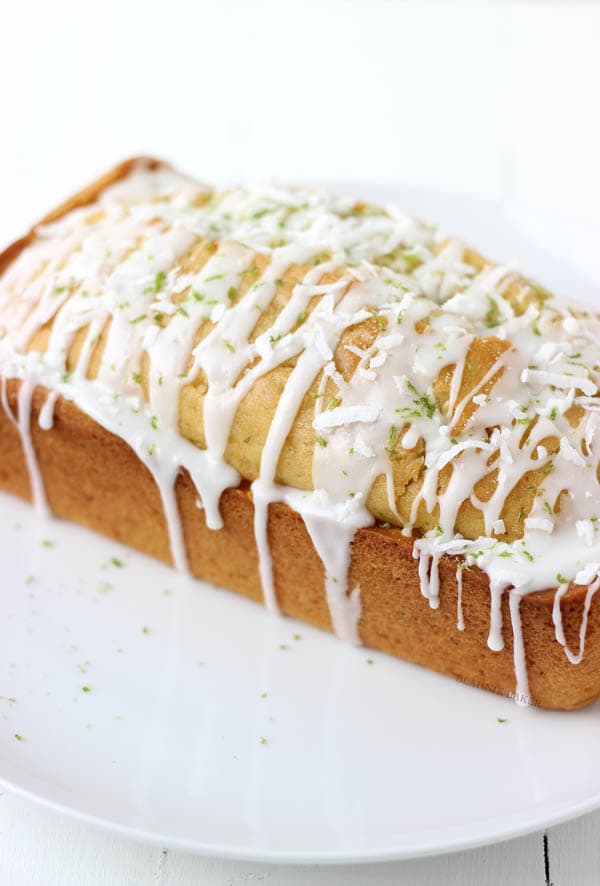 As you go into the weekend, add this recipe to your must-bake recipe. You can get Steph's e-book, Quick Bread Love here.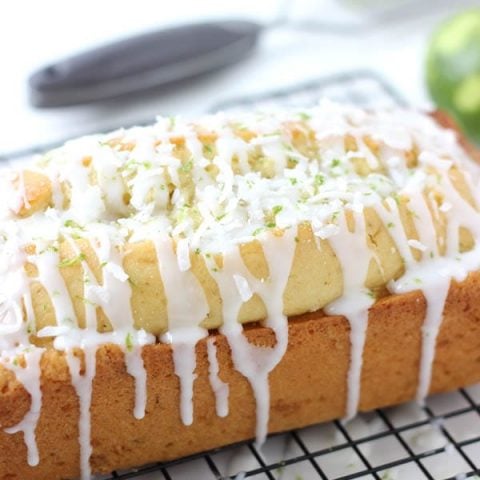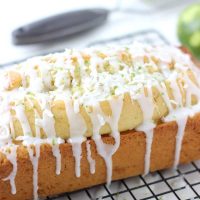 Yield: 1 8 x 4 loaf
Coconut Key Lime Bread
This coconut key lime bread is soft and fluffy, coconut-y with the perfect hints of citrus. It's like whoa!
Total Time
1 hour
15 minutes
Ingredients
• ½ cup granulated sugar
• 6 tablespoons vegetable oil
• 2 eggs
• 1 cup canned coconut milk
• 1 tablespoon lime zest
• 1½ cups all-purpose flour
• 1½ teaspoons baking powder
• ½ teaspoon salt
• ½ cup sweetened coconut flakes
For Glaze:
• ½ cup powdered sugar
• 2½ teaspoons key lime juice
• 2 tablespoons sweetened coconut flakes
• 1 teaspoon lime zest
Instructions
Preheat oven to 350 degrees F. Lightly grease a 8-by-4-inch loaf pan and set aside.
In a medium bowl, whisk together the sugar, oil and eggs until combined. Whisk in coconut milk and lime zest. In a separate small bowl, sift together the flour, baking powder and salt. large bowl or bowl of stand. Add the dry ingredients to the sugar mixture. Stir until combined. Fold in the coconut flakes.
Spoon batter into prepared pan and bake for 50 minutes to 1 hour until a toothpick inserted in the center comes out clean. Let cool in pan for 10 minutes before turning out onto a cooling rack to cool completely.
To make glaze: Mix powdered sugar and key lime juice together until smooth in a small bowl. Drizzle over cooled cake. Top with coconut flakes and lime zest.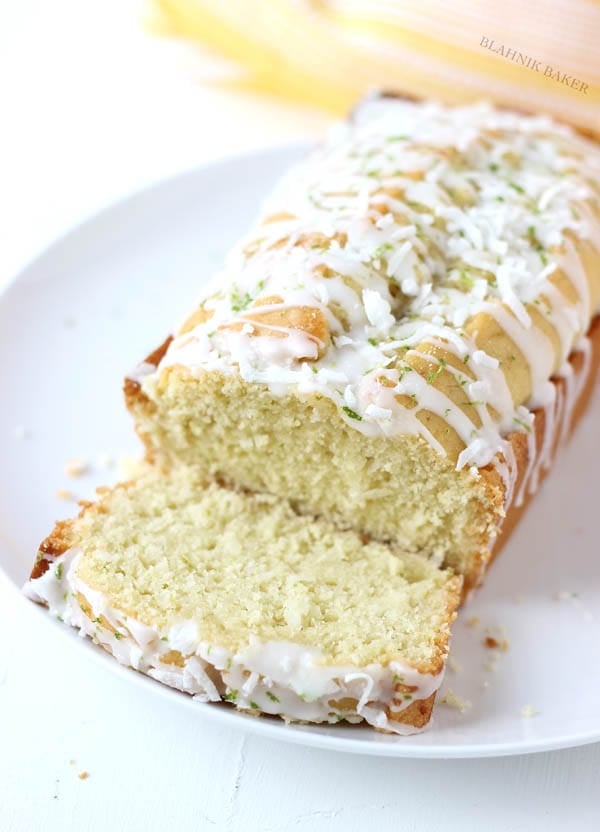 ** Some affiliate links above**