Salted Caramel Twix Cookie Bars
I am a member of  Collective Bias®  Social Fabric® Community.  This shop has been compensated as part of a social shopper amplification for Collective Bias and its advertiser. All opinions are 100% mine.

Brown butter chocolate chip cookies are sandwiched with homemade salted caramel and Twix bites to make these ooey gooey salted caramel twix cookie bars.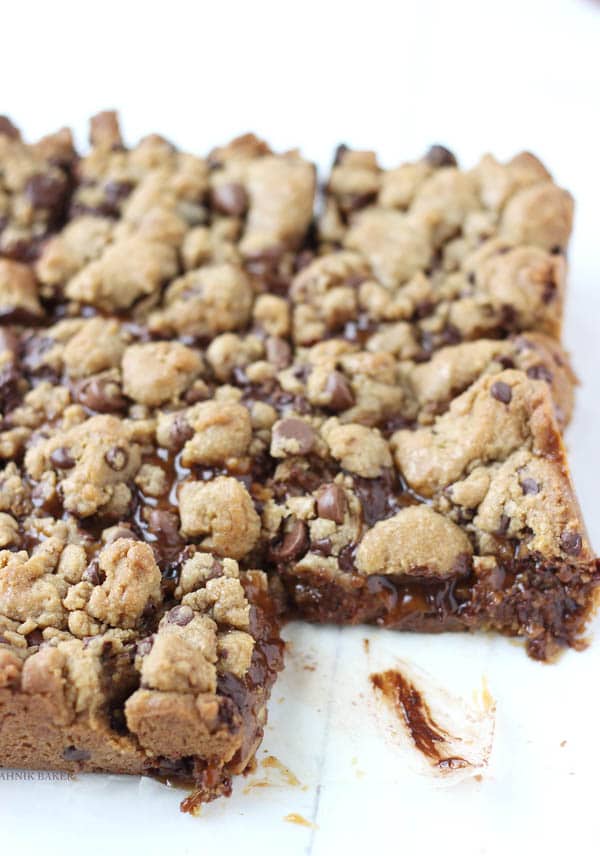 How do you guys slow down? Or treat yourself during a busy/ difficult week? The hubby and I both enjoy movies and we always set aside time to watch a movie together every so often without any distractions. Now that we are an old married couple and life is busier with work and school, we hardly make it to the movie theater as much as we should. The last time we went to see a movie at the theater was when Gravity was playing. A million years ago I know. But we always get the DVDs and have our own movie nights! Here's what our movie date night looks like: a sweet treat, movie (duh!) and some popcorn.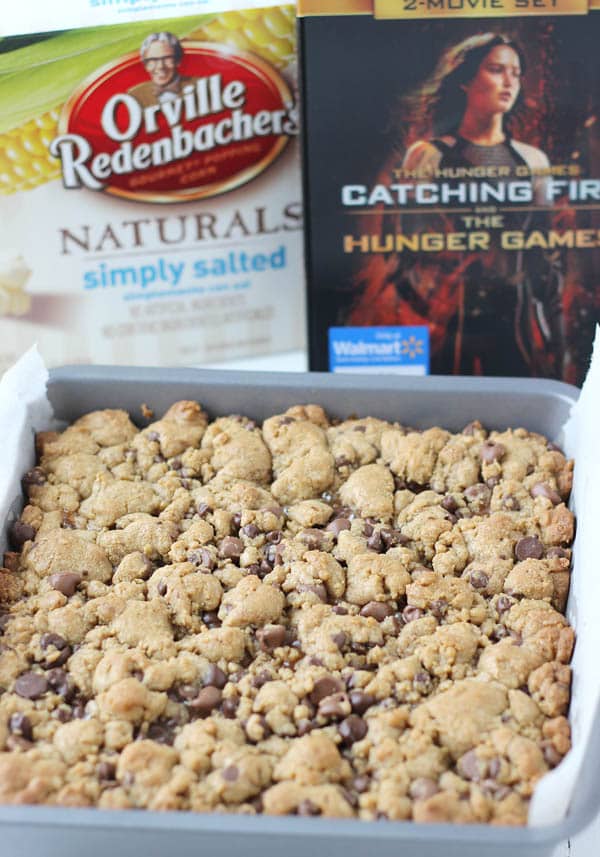 Movie nights are always a fun date night for us. We use the time to unplug and enjoy being in each others company. We enjoy some of the same genre of movies and take turns in picking what to watch. He doesn't approve of my chick flicks of course but neither do I dig the hard-core action movies. Picking movies to buy at the new releases aisle has become a favorite activity (more like bickering fun!). I should say though that I love his superhero movie choices as I love staring at the superheroes. Captain America, Thor (hmmmm!!) and Iron Man are a few of my Marvel favorites 🙂 Ok, I digress. Back to these ooey gooey cookie bars.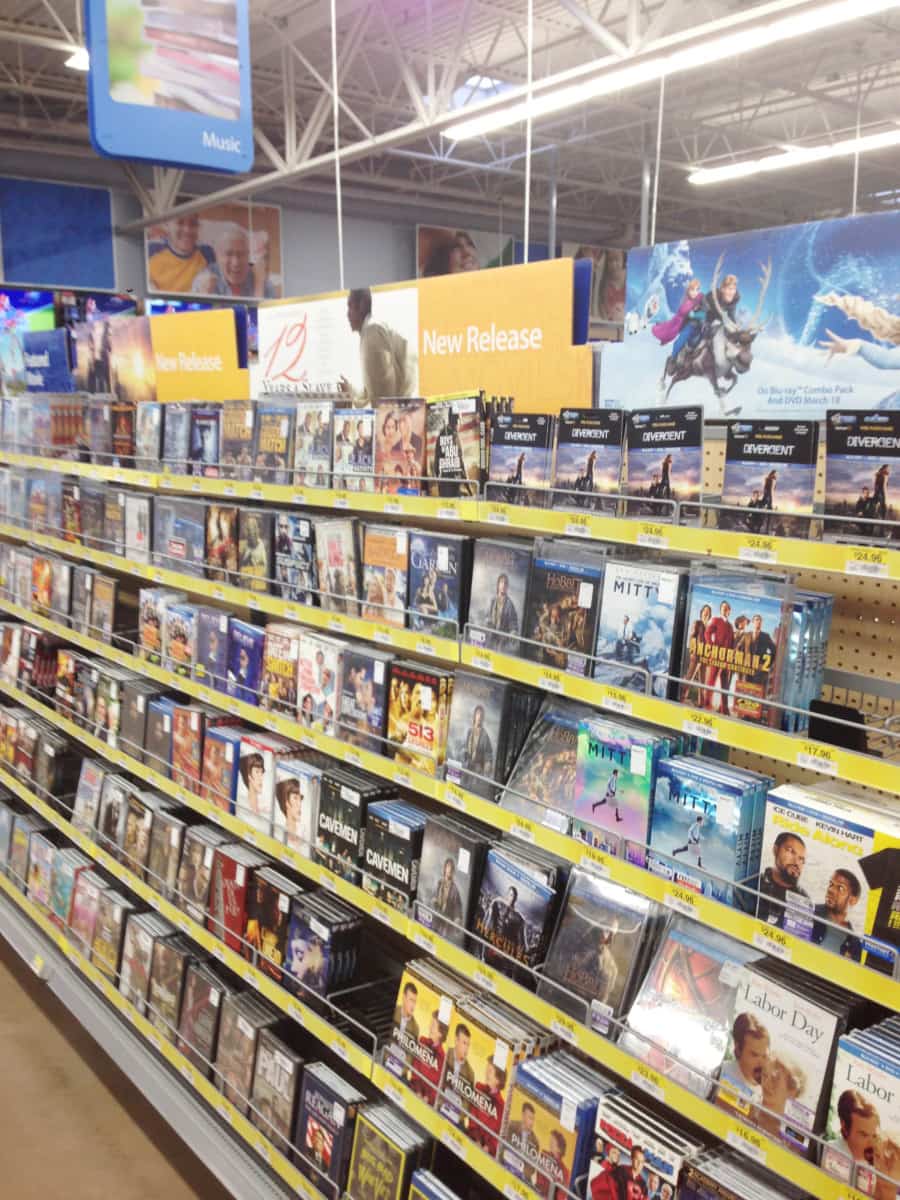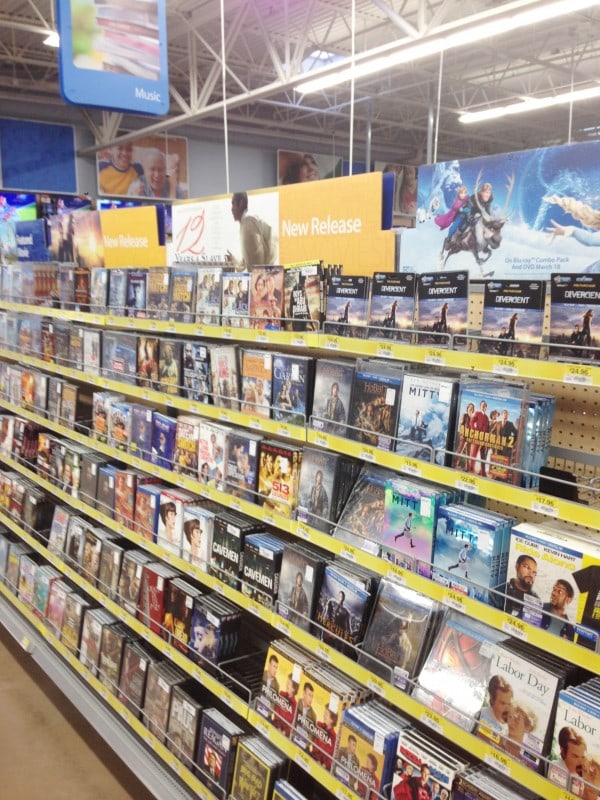 Where we don't agree is our snacking habits when it comes to movie nights. He is a die hard popcorn fan. Movies cannot be enjoyed without popcorn for him. His mother even gave him a popcorn machine last Christmas and it is used pretty frequently around here. I, on the hand, am always with a cup of tea and something sweet. Nothing beats that. In trying to combine our sweet and salty tastes, I made us these salted caramel twix cookie bars for our movie date night last week. The perfect sweet and salty combo to make us both happy.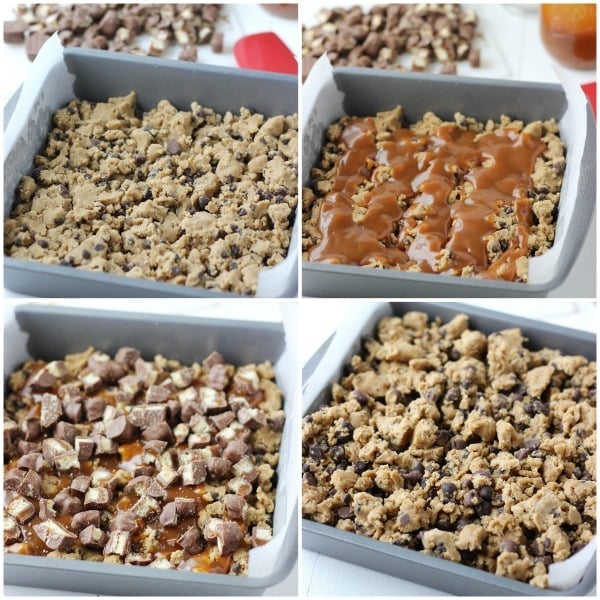 I know you guys love salted caramel just as much as I do. These salted caramel chocolate chip cookie bars are one of the top recipes on the blog. I don't blame you, sweet and salty combo is the best! For these salted caramel twix cookie bars, I took my favorite brown butter chocolate chip cookies and sandwiched them with homemade salted caramel and chopped Twix bites I picked up from Walmart. The resulting ooey gooey cookie bars are the most addictive cookie bars I've had. So soft and chewy in the center and of course crispy on the edges. It is the best companion for any movie night in.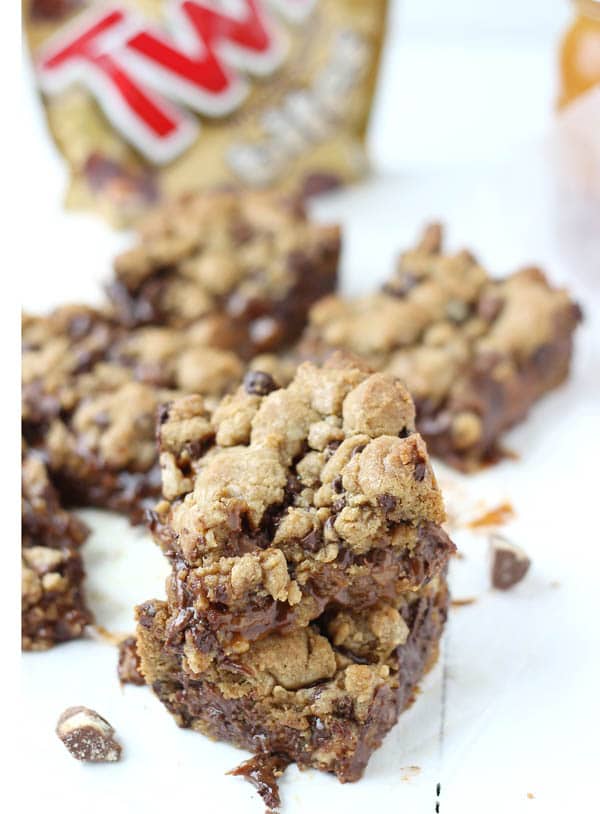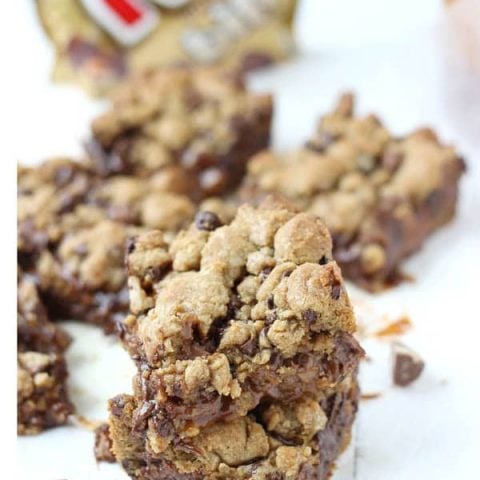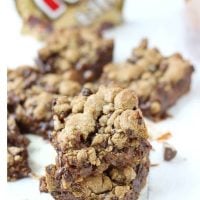 Yield: 8-10 bars
Salted Caramel Twix Cookie Bars
Brown butter chocolate chip cookies are sandwiched with homemade salted caramel and Twix bites to make these ooey gooey salted caramel twix cookie bars.
Ingredients
1 cup (2 sticks) unsalted butter
2 ¼ cup all purpose flour
1 ¼ teaspoon baking soda
¼ teaspoon salt
1 ¼ cup packed dark brown sugar
¼ cup granulated sugar
1 egg + 1 yolk, room temperature
1 ½ teaspoon pure vanilla extract
1 tablespoon plain Greek yogurt
¾ cup semisweet chocolate chips
¼ cup milk chocolate chips
¼ cup dark chocolate chips
½ cup chopped Twix Bites
⅓ cup salted caramel sauce (recipe below)
Coarse sea salt for sprinkling
1 cup granulated sugar
6 tablespoons unsalted butter (cut up into cubes)
½ cup heavy cream
1 teaspoon fine sea salt
Instructions
Preheat oven to 325 degrees F. Line a 8' X 8' baking pan with parchment paper (or foil) leaving overhang. Spray with nonstick cooking spray.
To make caramel sauce:
In a medium saucepan, melt sugar over medium high heat. When sugar starts melting, whisk until all the sugar melts. Sugar will clump in whisk but keep whisking. Once all the sugar is melted, stop whisking and let sugar get to a deep amber color. You can swirl the pan to mix. Keep your eye on the caramel as it will easily burn at this stage. Whisk in the butter and mix until completely melted. Remove pan from heat and gradually add in the heavy cream. Whisk until smooth. Whisk in the sea salt until dissolved. Allow caramel to cool in pan for 10 minutes. Transfer to a jar and let cool.
For Cookie Bars:
Start by browning the butter. In a medium saucepan, melt butter over medium heat. Start whisking when it starts to foam and bubble. Whisk continuously until brown bits forms at the bottom of the pan. Remove from heat and pour into a heatproof bowl. Allow to cool to room temperature.
In a medium bowl, whisk together the flour, baking soda and salt. Set aside. In the bowl of an electric mixer, beat the cooled butter and sugars until light, about 2 minutes on medium speed. Add the egg, and yolk, vanilla extract and Greek yogurt. Beat until well combined. Reduce speed to low and slowly mix in the dry ingredients until just combined.
Using a rubber spatula, gently fold in the chocolate chips into the cookie dough.
Add half of the cookie dough to the prepared pan. Press gently and smooth the top with a spatula. Drizzle/pour the caramel sauce over the cookie dough and sprinkle with sea salt. Sprinkle the chopped Twix bites over the caramel. Using a small cookie scoop or a tablespoon, drop spoonfuls of cookie dough over the caramel. Spread the dough with a spatula until the caramel is covered. Sprinkle again with sea salt.
Bake for 25-30 minutes or until the top of the bars are light golden brown and the edges start to pull away from the pan. Cool bars on a wire rack to room temperature. Cut bars into squares and serve.