Grilled Heirloom Tomato and Goat Cheese Pizza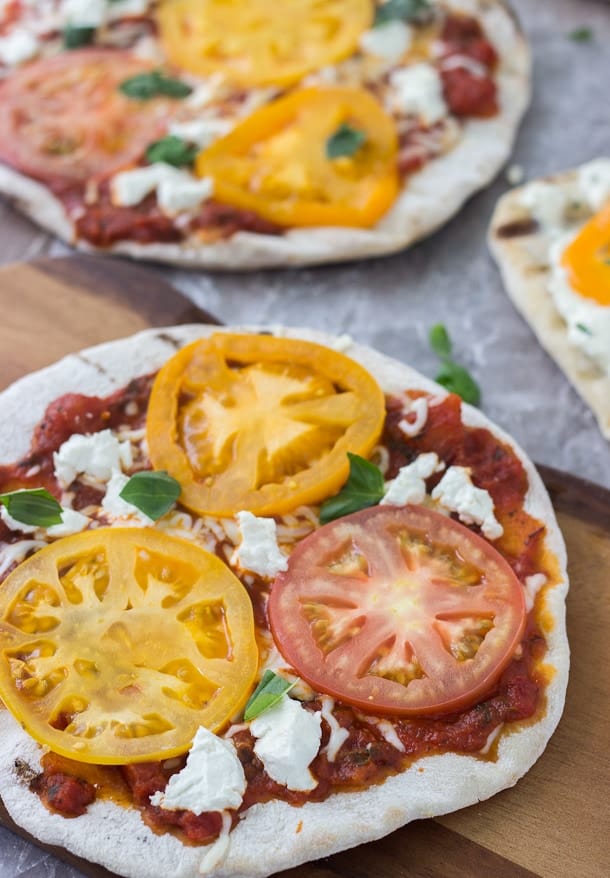 Eeekkkk I am grilling again folks. Sorry another savory recipe in your face today (#totallyNOTsorry) after these hot dogs last month. Ever since we got this new KitchenAid grill for the hubs for Father's Day, I've been on a grilling frenzy. I promised I will share with you some of the goodies I have been firing up and this Grilled Heirloom Tomato and Goat Cheese Pizza has been my favorite lately. (PS: A sweet grilled dessert is coming your way soon to make up for all this savory!)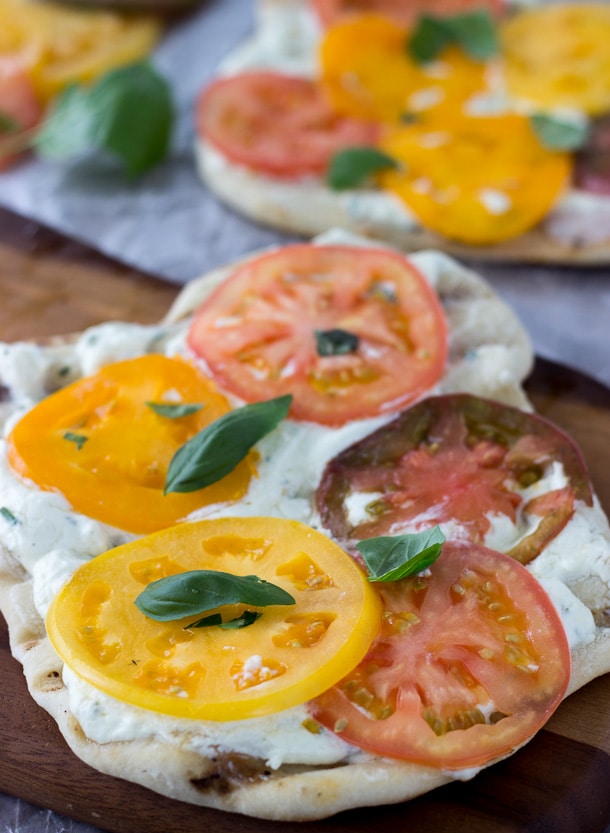 Grilled pizza has been on my to-try list for a while since my friend Alice over at Hip Foodie Mom shared her grilled pesto pizza but my lazy self did not get around to it until last weekend. Call it pregnancy cravings but anything dough-y and carb related has been top priority. So what makes these pizza amazing?? A simple pizza dough topped with two different kinds of sauces are graced with beautiful heirloom tomatoes, goat cheese and freshly chopped basil. Don't they sound wonderful?? They taste even better than they sound you guys!!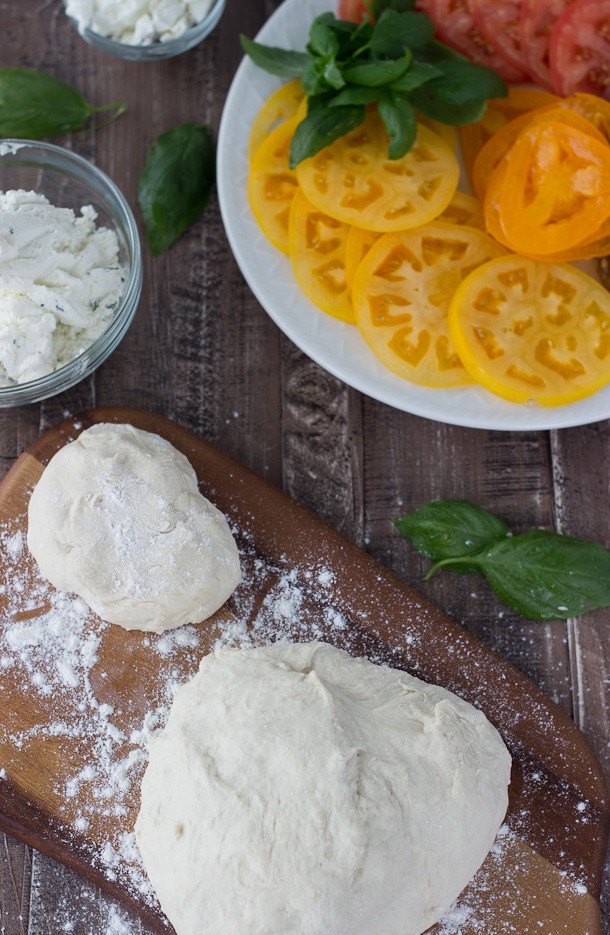 It really all started with some beautiful heirloom tomatoes I picked up from the farmers market. Knowing that they will be best just eating them as is, I decided to top them on pizzas. I didn't have a go-to homemade pizza dough recipe so I went with this recipe from The Kitchn that's specifically for grilling. It's an easy to work with dough and very versatile. If you are looking for a great pizza dough recipe, you have to try this one.
As far as toppings went, I had a few ideas and couldn't decide which way to do. SO I made two varieties because why choose?? I decided to make a 'white' pizza with a goat cheese-cream-herb spread and a more classic 'red' pizza with pizza sauce and goat cheese as the base. Both varieties get adorned with the fresh heirloom tomato slices and freshly chopped basil. The recipe below makes 8 small individual pizzas (I made 4 of each kind) but you can make this into two bigger pizzas for a crowd. Just be sure your grill is big enough to grill the bigger dough.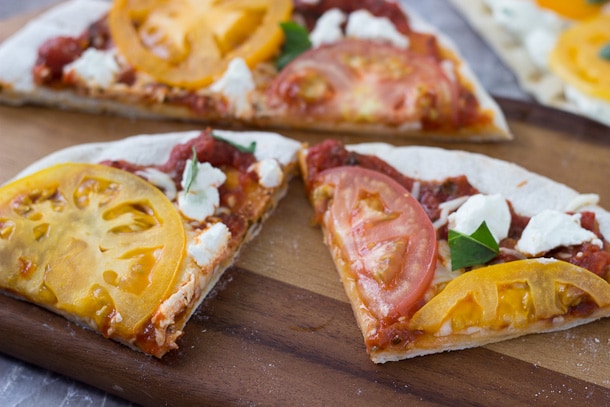 I hope you give these pizzas a try at your next Pizza Night!! They won't disappoint 🙂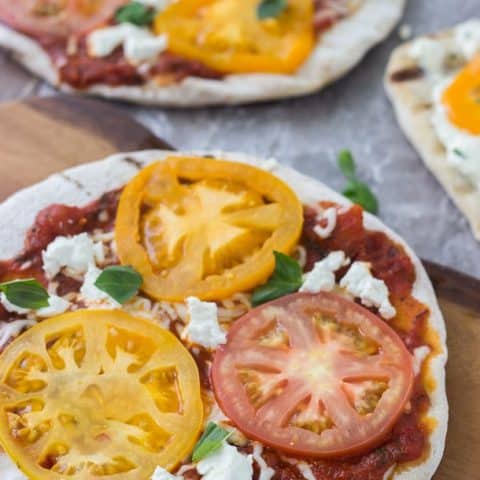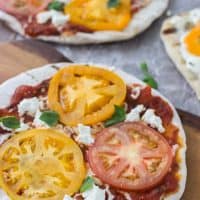 Yield: 8 small pizzas
Grilled Tomato Goat Cheese Pizzas
Ingredients
For Pizza Dough:
1 2/3 cups water
1 to 2 teaspoons active dry or instant yeast
¼ cup olive oil
5 cups all-purpose flour
2 teaspoons salt
For toppings:
6 oz packaged goat cheese, divided
¼ cup heavy cream
salt and pepper to taste
½ cup pizza tomato sauce, warmed
¼ cup shredded mozzarella
3-4 ripe heirloom tomatoes, sliced
Freshly chopped basil
Instructions
To make Pizza Dough:
Note: If making pizza the same, use 2 teaspoons of yeast. If letting dough rise overnight in refrigerator, use 1 teaspoon yeast.
In the bowl of a stand mixer, combine the water and yeast together. Let sit for 2-3 minutes until yeast dissolves. Stir in the oil into the yeast mixture and then add in the flour and salt. Using a spatula mix until dough starts to form.
Knead the dough on low speed with the dough hook for 5-7 minutes or knead by hand on a lightly floured counter for 6 to 8 minutes. The dough should be smooth.
Divide dough into 8 balls. Place dough balls onto a lightly greased baking pan and turn them over so they are lightly coated with oil. Cover the baking pan with plastic wrap or a damp kitchen towel.
For same day use, let dough rise for about an hour to an hour and a half, or until doubled in size.
To use dough the next day, place the baking pan directly in the refrigerator and let rise slowly overnight or up to 24 hours. Before making the pizza, remove the dough from fridge and let sit at room temperature for at least an hour.
To Grill Pizza:
Preheat your gas grill with all burners for 15 minutes. Once heated, lower half of the burners to create an area of indirect and direct heat.
While grill heats up, prepare the toppings.
) In a small bowl, whisk together 4 ounces of the cheese and heavy cream until whipped and spreadable. Season with salt and pepper to taste. Mix in a dash of chopped basil.
) Heat up your tomato/pizza sauce if using store bought sauce. Slice up the rest of the goat cheese and set aside
Working with one dough ball at a time, pull and stretch a dough ball into a round. Use your hands or fists to continue stretching into a thin round. Alternatively, roll out dough on a lightly greased surface into a thin round.
Place the shaped dough onto the grill over the direct heat area. Cover and let cook for 2-3 minutes or until the bottom is just cooked. Flip the pizza over and transfer to the indirect heat section of the grill.
For the white pizza, spread the pizza with the goat cheese spread and top with a layer of sliced tomatoes. Top with freshly chopped basil and a crack of salt and pepper to test. For the red sauce pizza, spread the pizza with the tomato/pizza sauce, top with a sprinkle of mozzarella cheese, tomato slices and goat cheese slices. Top with freshly chopped basil. Work quickly.
Close the grill and cook until the toppings are warmed through and the cheese starts to melt, another 2-3 minutes depending on your grill.
Remove finished pizza from heat and cut into slices.
Repeat with the remaining balls of dough. You will make 8 small pizzas (4 white and 4 red pizzas).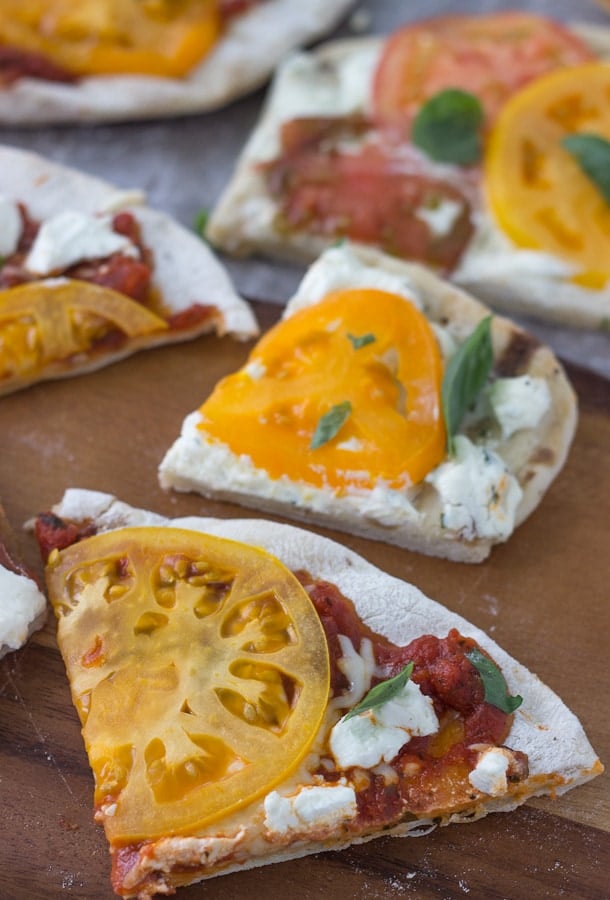 Disclosure: I received the grill from KitchenAid for recipe development purposes.