Hot Dogs with Grilled Corn Relish and Chipotle Mayo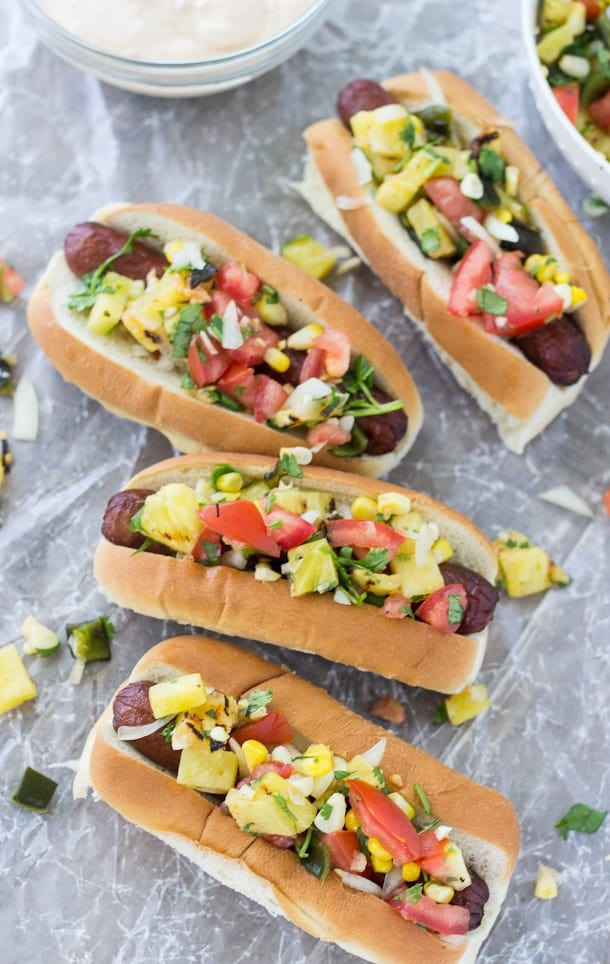 It's grilling season!! And we are having a hot dog party today folks. I know it's weird for this part of the interwebs, but it is what it is. This recipe for hot dogs with grilled corn relish and chipotle mayo is perfect to celebrate the dads in your life this Father's Day!
I was looking for a way to celebrate the hubs this Father's Day since he is already such an amazing dad to our little man coming soon. While thinking about presents for him, I realized now that it is summer, his favorite activity besides mowing the lawn, is grilling. He loves his little weber grill we've had for years during our apartment living days but now that we live in a house and he has lots of man space, he needs a man sized grill. And this lady got him one for Father's Day!!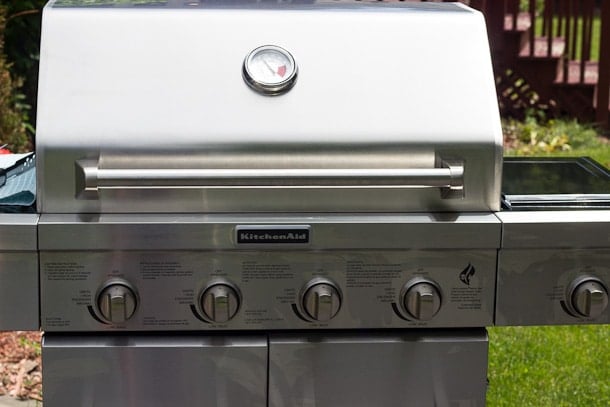 You should have seen his eyes when the grill dropped at our door step. I think it was Christmas all over again. It must be a guy thing as he was all about the specs of this KitchenAid grill with 4 stainless steel gas burners. Needless to say he loved it!
And because of that, all we've had for the past week has been grilled; from steak and hot dogs to grilled pizza and grilled fruits for dessert. I've even been permitted to use it to make some 'girly' recipes on his grill and will be sharing some of them with you over the next few weeks.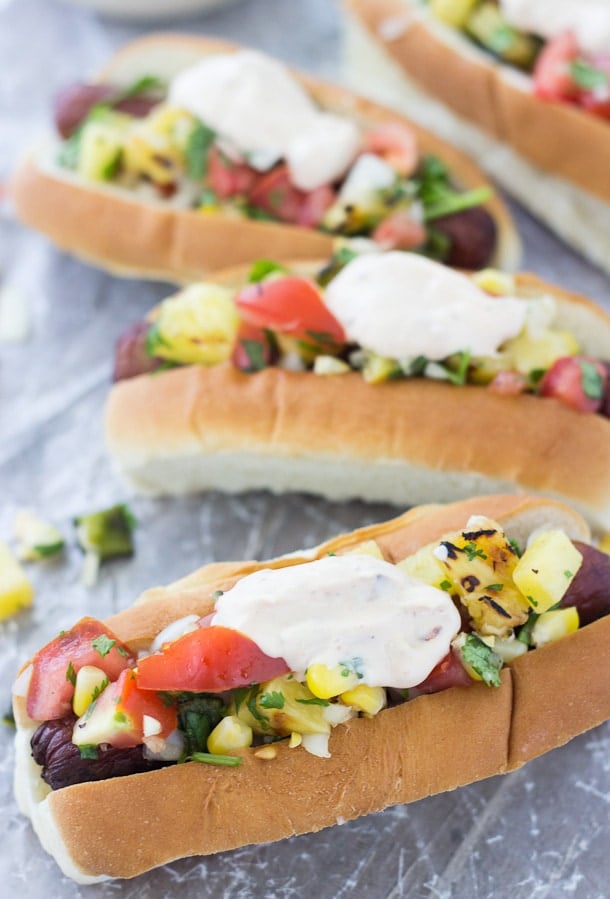 First up were these dressed up hot dogs. I love hot dogs (well beef dogs since I don't eat pork) but I do find them boring with just ketchup and mustard. And nothing is stopping us from dressing up our hot dogs on a daily basis folks. I whipped up a fresh grilled corn and pineapple relish to go with these hot dogs and topped them with a simple chipotle mayo. See? That was not hard right?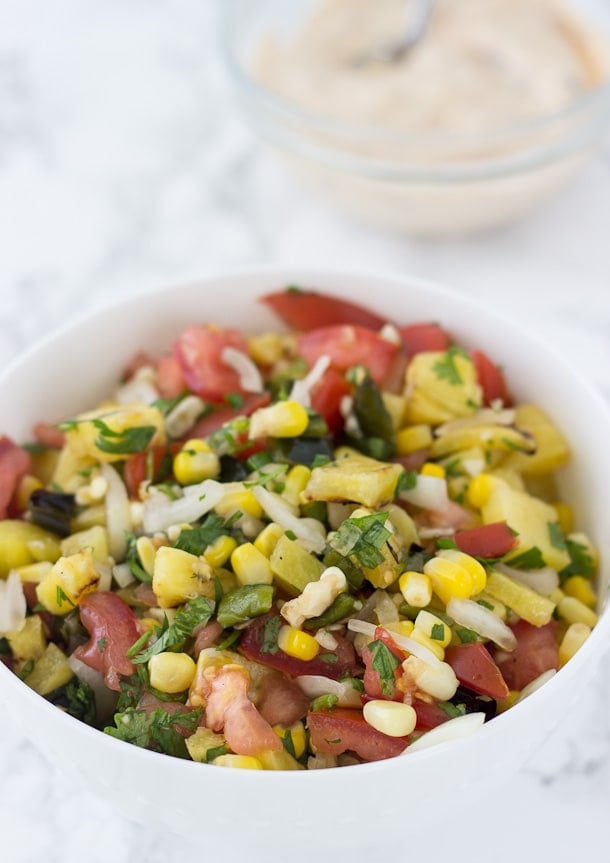 It was such a great combination of flavors with the sweet pineapple corn relish and a little heat from the chipotle mayo. It took the hot dogs to a whole new level and it's seriously the level you want to be at this summer. Even the hubs declared these were the best hot dogs he's had and never knew you could take hot dogs beyond ketchup and mustard.
So folks, make these hot dogs with grilled corn relish and chipotle mayo for your men (ahem, yourself I mean) this weekend as you celebrate the wonderful dads, grandfathers, brothers, uncles and father figures in your life.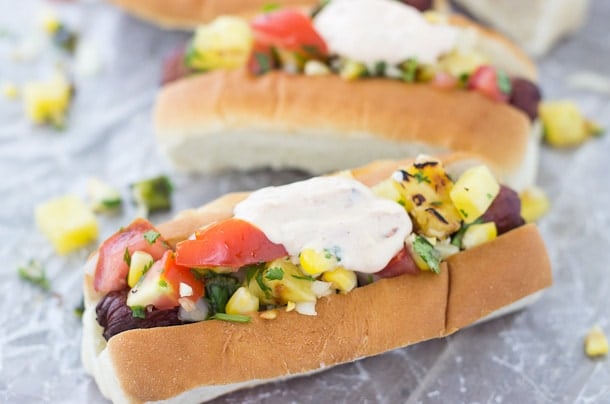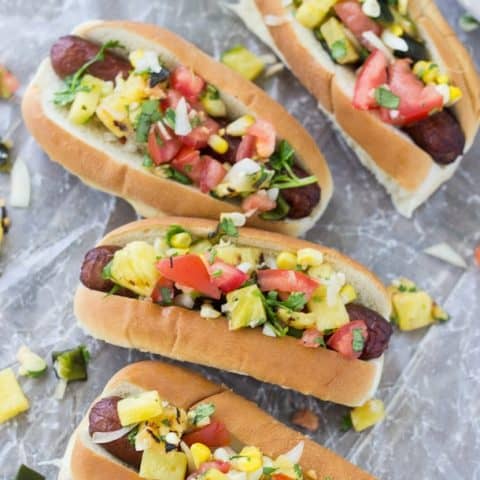 Yield: 5 hot dogs
Hot Dogs with Grilled Corn Relish and Chipotle Mayo
Ingredients
For Grilled Pineapple Salsa
1 poblano pepper, grilled and chopped (or use 2 jalapenos)
1 ear of corn, grilled
2-3 slices pineapple, grilled
½ cup white onions, chopped
2 tomatoes, diced
1 garlic clove, minced
1/3 cup cilantro, chopped
1 teaspoon grated ginger
Juice of 1 lime
Salt to taste
For Chipotle Mayo:
2 chipotle peppers in adobo sauce, chopped
3 tablespoons mayonnaise
For Hot Dogs:
5 beef hot dogs
5 hot dog buns
Instructions
Start by making the pineapple salsa. Grill the pineapples, poblano peppers and corn on your grill. Once cooked, chop each and place in a medium bowl.
In a small bowl, soak the chopped onions in cold water for 15 minutes. Drain onions and add to grilled mixture. Toss in the tomatoes, garlic, cilantro and ginger. Mix until well combined. Add in the lime and salt and pepper to taste. Let salsa sit while you assemble the hot dogs. You will have more salsa than you need for the hot dogs. Enjoy leftovers with chips.
In a small bowl, combine the chipotle peppers and mayo. Mix well. Season with salt and pepper to taste.
Grill hot dogs until well cooked. Assemble in buns. Top with grilled salsa and mayo. Enjoy immediately.
Disclosure: I received the grill from KitchenAid for recipe development purposes.