Summer Vegetable Galette
A summer vegetable galette that's simple, honest, and delicious with juicy veggies!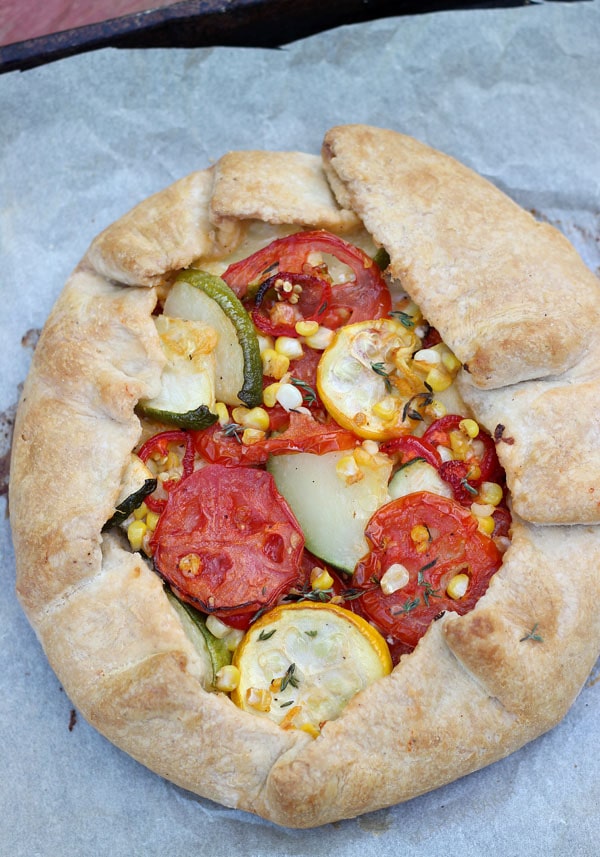 We are going to embrace this summer head-on today people with a summer vegetable galette! Embrace and hold on to it for as long as possible because before we know it, it will be GONE.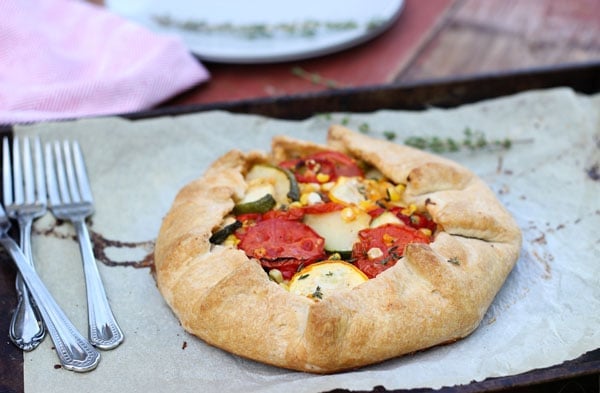 Are you swimming in summer vegetables right now? Please tell me I am not the only one. Between our tomato plant and my weakness for corn and the farmer's market, I am swimming in vegetables. A co-worker has a load of zucchini and that cued the zucchini baking. But first up, a savory galette for dinner on Saturday. When I am feeling lazy after a long day of chores, this easy galette was just the answer.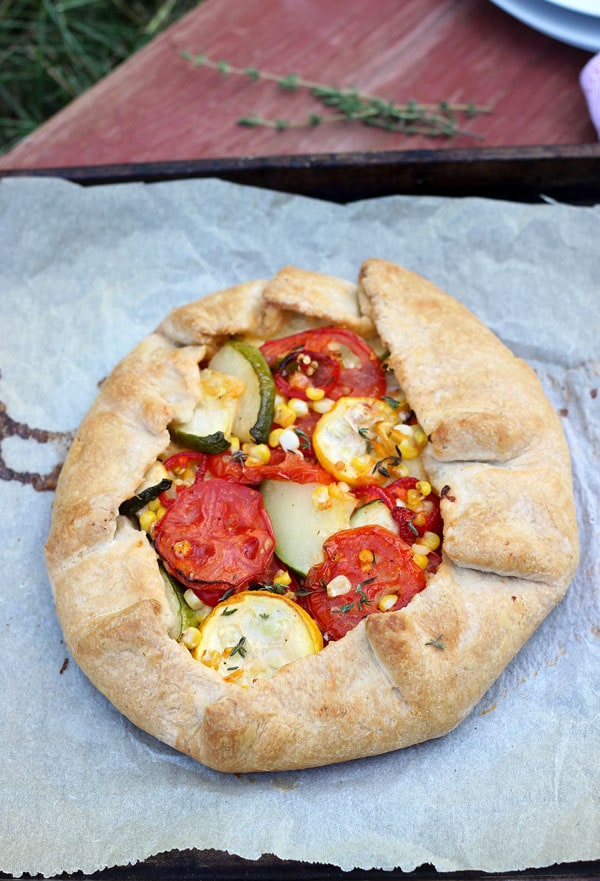 So what's going on here? Well, it's quite simple. A flaky buttery pie crust is spread with a fresh herb cheese mixture and then topped with summer vegetables tossed in olive oil and fresh herbs. Simple good. It's incredibly delicious to say the least and just perfect for the summer. You can use any of your vegetables from your garden here. I used zucchini, summer squash, corn and tomatoes. But I am sure any combination will be delicious here too!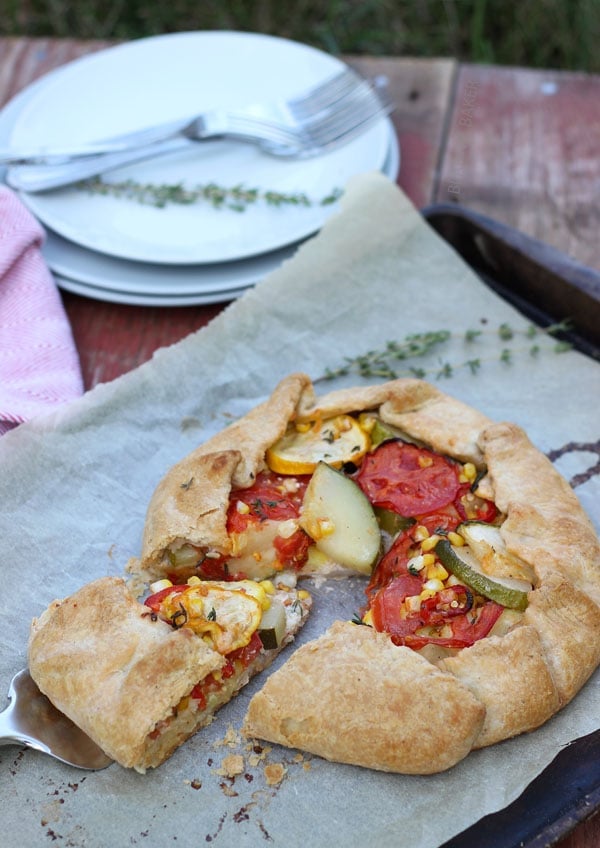 I hope you are having a great summer!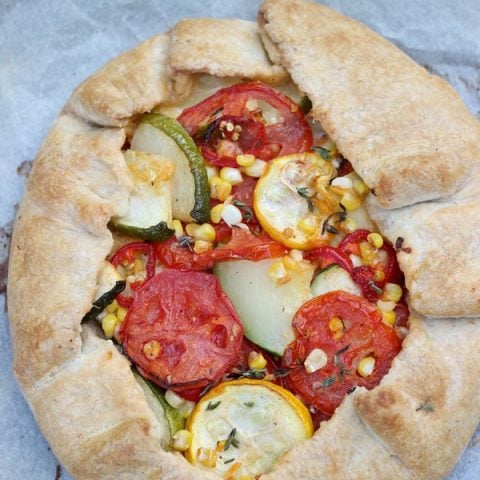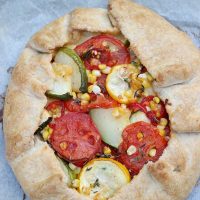 Yield: 1 galette
Summer Vegetable Galette
A summer vegetable galette that's simple, honest and delicious with juicy veggies!
Total Time
1 hour
25 minutes
Ingredients
For the Pizza Crust:
1¼ cup all-purpose flour
6 tablespoons unsalted butter, cold and cut into cubes
2 tablespoons shortening, cold and cut into cubes
2 tablespoons granulated sugar
1 teaspoon black pepper
½ teaspoon salt
½ teaspoon fresh thyme leaves
For the Filling:
2 tablespoons freshly grated Parmesan cheese
2 tablespoons cream cheese, softened at room temperature
2 tablespoons mayonnaise
¼ medium onion, diced
1 teaspoon fresh thyme leaves
½ cup zucchini, sliced
½ cup summer squash, sliced
1-2 medium tomatoes, sliced
¼ cup corn kernels (from fresh corn)
Olive oil
Salt and pepper to taste
1 egg beaten with 1 tablespoon water for egg wash
Instructions
To make the crust:
Prepare ¼ cup ice-cold water and refrigerate until use. Combine all the ingredients in a food processor. Process a few times until butter is about the size of a pea. With processor on, slowly drizzle in ice-cold water to the mixture, one tablespoon at a time, until dough comes together. Remove dough from the bowl and pat down into a disc. Wrap in plastic wrap and chill for at least an hour.
Filling:
In a small bowl, mix together the Parmesan cheese, cream cheese, mayo, onion, thyme, and black pepper. Salt to taste.
In a medium bowl, toss the vegetables with olive oil, fresh thyme, salt, and pepper.
Assembly:
Preheat oven to 375 degrees F. When the dough is chilled, roll out into a 12-inch circle. (I rolled mine between two well-floured parchments to make transfer easy). Transfer to a baking sheet.
Spread cheese mixture evenly in the middle of the dough, leaving a 2-3 inch border around. Spoon vegetables into the dough, placing them on top of the cheese mixture. Fold up the sides, gently tucking in over the veggies in a folding/pleating pattern. Brush dough with egg wash.
Bake galette for 50-60 minutes until crust is golden and juice from the vegetables runs out. Let cool before serving warm.
More Uses for Your Summer Veggies:
Summer Vegetable Galette with Pesto
Can I ask you guys for a favor before you leave? I've been preoccupied with the health care epidemic facing my country, Sierra Leone, and the region of West Africa. If you are not reading the news, there is a deadly outbreak of Ebola currently in West Africa that has claimed the lives of almost a thousand people. My family (mom, brothers, and sisters, extended relatives) lives in Sierra Leone where the outbreak is rapidly spreading and they are all living in fear. Worse of all, my little sister just started her residency at one of the local hospitals and is in the middle of this battle. Needless to say, I am scared, helpless, and just on edge praying for a resolution soon.
I am asking for your prayers. Please keep the people of Sierra Leone and all those affected in your prayers.