Mango Kiwi Mousse
This light and refreshing mango kiwi mousse is bursting with tropical flavors!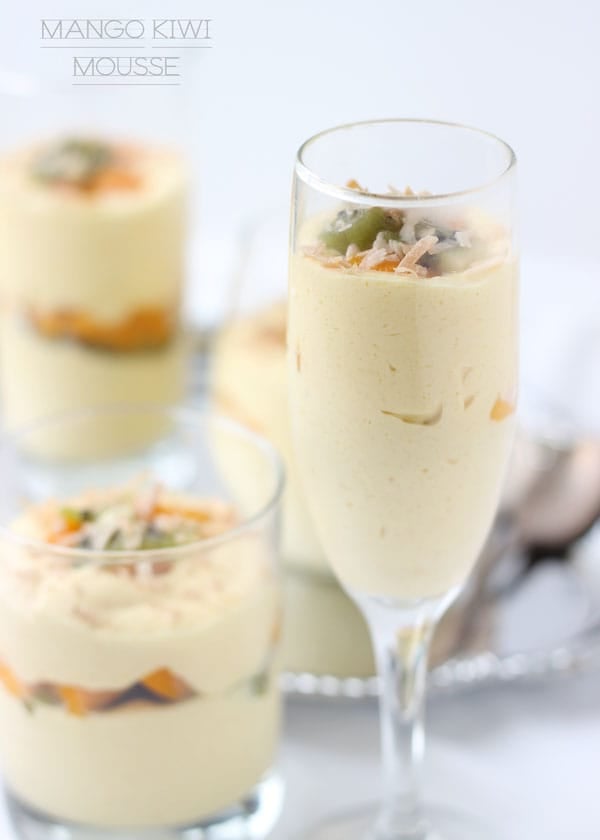 Happy Friday 🙂 I am posting two recipes for you today! I couldn't keep these from you. You know tropical flavors are my favorites and it's because they are so perfect over the summer. With the humid days and blistering heat upon us, I am turning on the oven less these days and enjoying some no-bake recipes. This mango kiwi mousse is perfect for summer entertaining and it is so easy to whip up!
These mousse cups are bursting with lots of summer flavors starting with a light and airy mango coconut mousse which is topped with fresh slices of kiwi, toasted coconut and mango. Imagine the tropics in a jar!! Amazing 🙂
I'm sharing the recipe over at my friend's Meriem's blog, Culinary Couture , today. She is one of my favorites as she LOVES macarons and of course this girl is a fan. She is observing Ramadan and a few of us are stepping in to keep her blog going while she observes this holy month. Be sure to stop by for the recipe and check out her numerous mouth-watering recipes.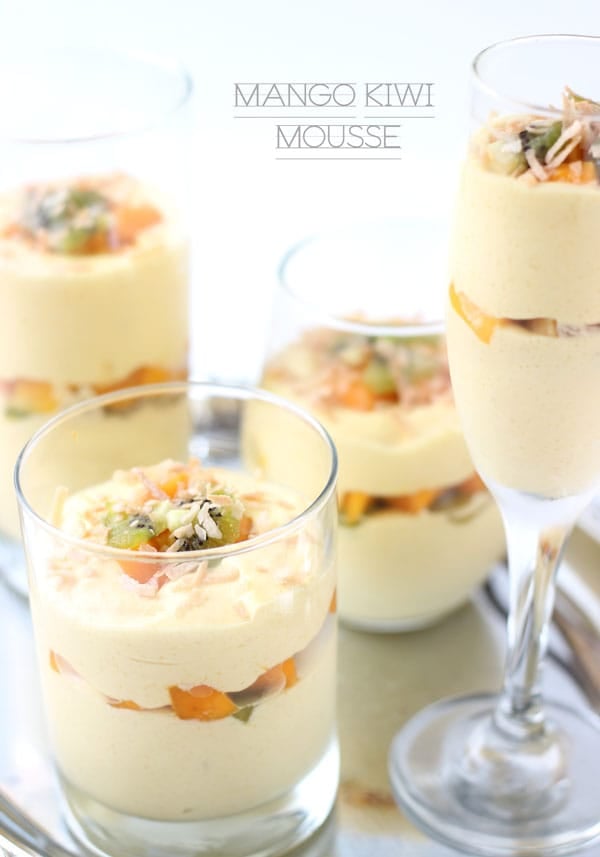 I hope you have a great weekend!! And be sure to grab the recipe for these mango kiwi mousse cups HERE.
*************************************************************************************************
Update 4/13/16: I am including the recipe below for you here as well.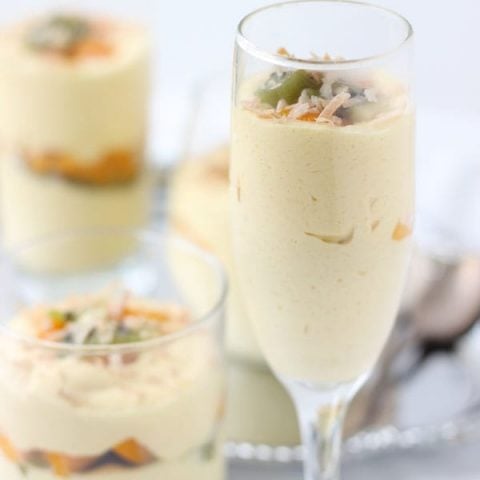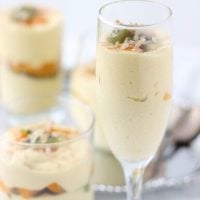 Yield: 6 6-oz servings
Mango Kiwi Mousse
This light and refreshing mango kiwi mousse is bursting with tropical flavors!
Ingredients
3 ripe mangoes, peeled and chopped up
⅓ cup sugar
1 teaspoon unflavored gelatin
1 cup heavy cream
¼ teaspoon coconut extract
2 kiwis, peeled and sliced
¼ cup coconut, toasted
Instructions
In a food processor, process 2 cups of the chopped mangoes until smooth. You should have about 1 cup puree. In a medium saucepan, combine sugar and gelatin. Stir in 2 tablespoons cold water. Cook over low heat and stir until gelatin dissolves. Remove from heat and stir in mango puree. Let cool to room temperature.
In a chilled bowl, beat the heavy cream and coconut extract using an electric beater until soft peaks form. Fold in the mango puree until just combined. Cover with plastic wrap and chill for at least 4 hours or overnight until set.
To serve, divide half the mousse among ramekins, bowls or cups. Top with kiwis, mangoes and coconut. Top with remaining mousse. Sprinkle with toasted coconut.