Roasted Strawberry and Lavender Ice Cream
This rich and creamy roasted strawberry and lavender ice cream is bursting with layers of flavors and is what you need this summer.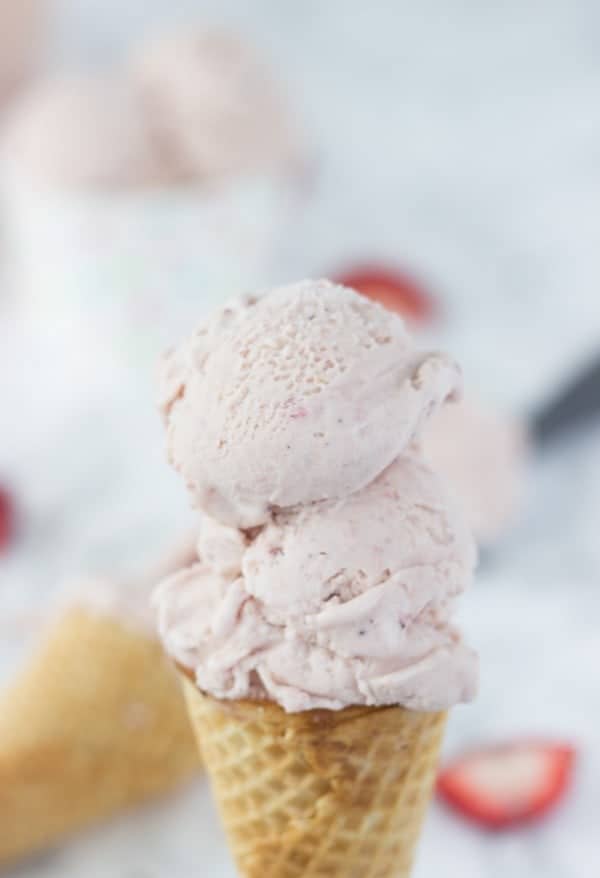 We have another epic ice cream recipe today friends. This one is even better than the Pina Colada ice cream I shared a few weeks ago. Yes I said it … this roasted strawberry and lavender ice cream is better than my good ole coconut lover. Why? Well because this one is richer, creamier and built with layers of flavors.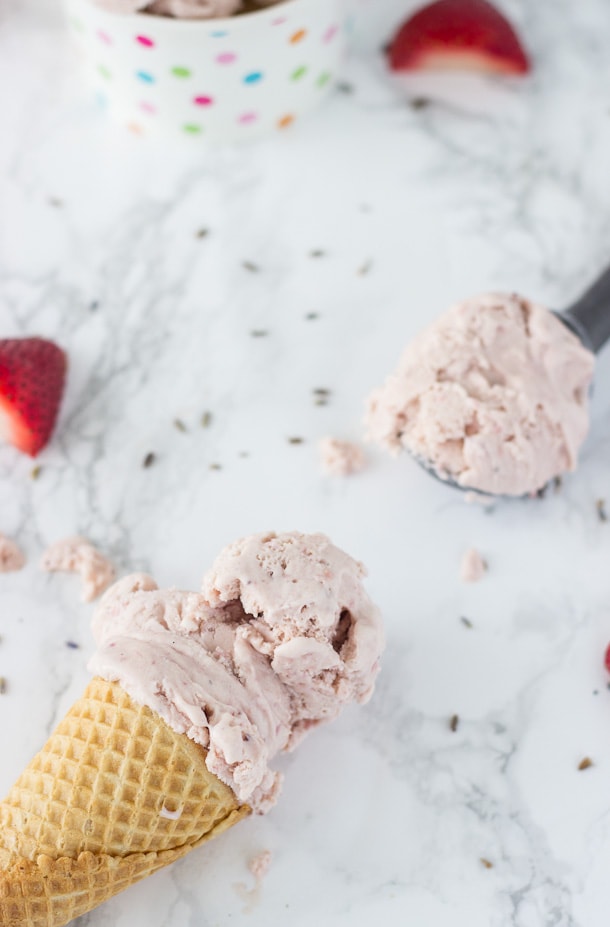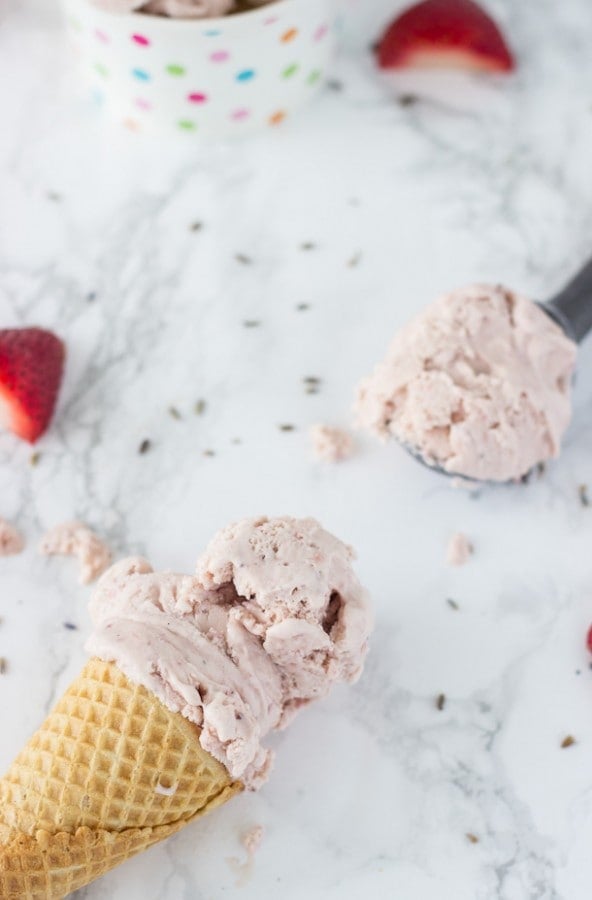 Starting with slowly roasting some fresh juicy strawberries I picked up at Aldi, this custard based ice cream is also bursting with lavender infused heavy cream and milk mixture. Steeping the lavender in the milk mixture for at least an hour and slowly heating up the mixture to make the custard base is the key to integrated lavender in the rich custard that is the base of this ice cream.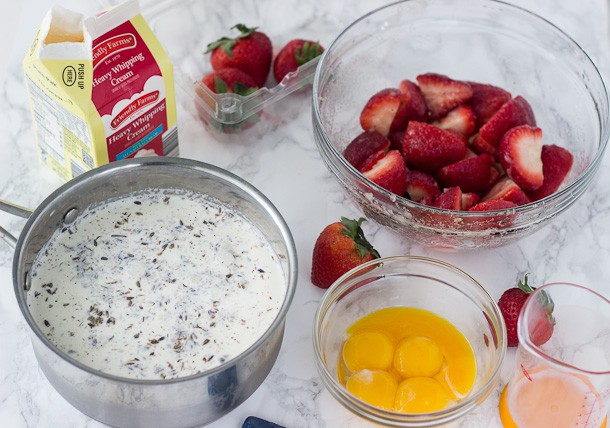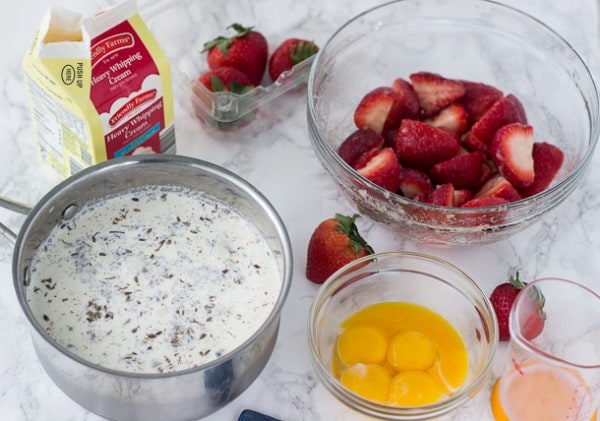 It's all just layers of flavors and I think you will love this one. I made this ice cream this weekend as a treat for the hubs. I pestered him all weekend to get some big projects done around the house. You know the kind that involves cleaning out the garage, basement and painting, all hard work that needed him to do. The least I could do after all his sweating tasks was hand him a few scoops of this homemade ice cream. It's creamy, delicious strawberry goodness did not last in our freezer after that and all the projects got done :0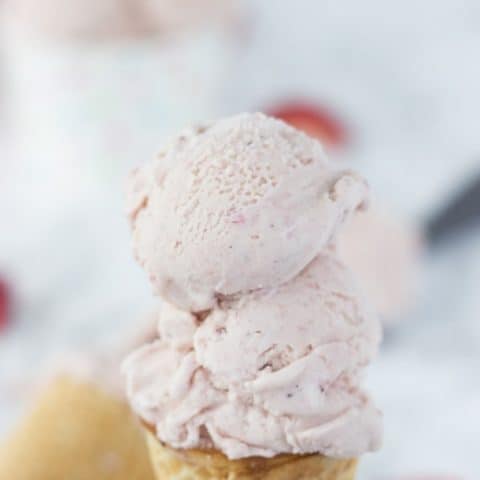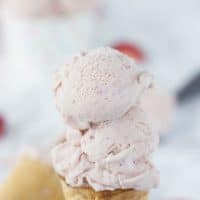 Yield: ~ 5 cups
Roasted Strawberry and Lavender Ice Cream
Ingredients
1 pound strawberries, hulled and halved
¼ cup granulated sugar
zest of ½ a lemon
1 teaspoon vanilla extract
1 ½ cups whole milk
1 ½ cups heavy cream
1 teaspoon dried lavender flowers
1 vanilla bean, cut in half or two tablespoons vanilla bean paste
2 large eggs
3 large egg yolks
¾ cup granulated sugar
Instructions
In a medium bowl, toss together the strawberries with sugar, lemon zest and vanilla extract. Let sit for 15 minutes.
Preheat oven to 400 degrees F. Transfer strawberries to a baking dish or sheet and bake for 25 – 30mins, until strawberries are soft.
Transfer 2/3 of the roasted strawberries and juices to a blender or food processor. Reserve the rest to fold into the ice cream later. Process until a thick paste forms. Transfer to a bowl and chill.
In a medium bowl, combine the milk, heavy cream and dried lavender. Let steep for at least an hour or overnight in the refrigerator. Transfer the mixture to a medium saucepan. Split the vanilla bean and scrape out the seeds. Stir the seeds into the milk mixture. Over medium heat, bring the milk/cream mixture to a slow boil. Reduce heat to low and simmer for 30 minutes, stirring occasionally. Do not let boil over.
In a large bowl, combine the eggs, yolks and sugar together. Using a mixer, beat the eggs until the mixture is thick, smooth and pale yellow in color, about 2 minutes on medium speed.
Remove the vanilla bean pod from the milk mixture and pour out a cup of the hot milk/cream mixture. Reduce the mixer speed to low and slowly add the hot milk to the egg mixture. Be sure not to scramble your eggs, so add the milk in a slow steady stream while mixing the mixture on low speed. Mix until combined. Then pour the egg mixture back into the saucepan with the remaining milk/cream mixture and stir to combine. Cook, stirring constantly, over medium low heat until the mixture is thick enough to cover the back of a spoon. Remove from heat and pass through a fine sieve into a bowl. Cover with a plastic wrap touching the top of the custard. Chill completely.
When chilled, turn on your ice cream maker. Whisk together the strawberry puree and chilled custard to combine. Pour the mixture into the bowl and churn according to your manufacturer's instruction..
Transfer ice cream to a freezer safe bowl. fold in the rest of the reserved roasted strawberry at this time. Freeze for about 3 hours or overnight. When ready to serve, let ice cream sit out for 10 minutes at room temperature to soften. Scoop and serve with reserved roasted strawberries.

I'm sharing this recipe in partnership with ALDI. As always all opinions are 100% mine. Thank you for supporting the companies that make it possible for me to continue to create great recipes for you. For more information and recipe ideas, visit ALDI on Facebook, Twitter and Pinterest.