Lemon Honey Beehive Cake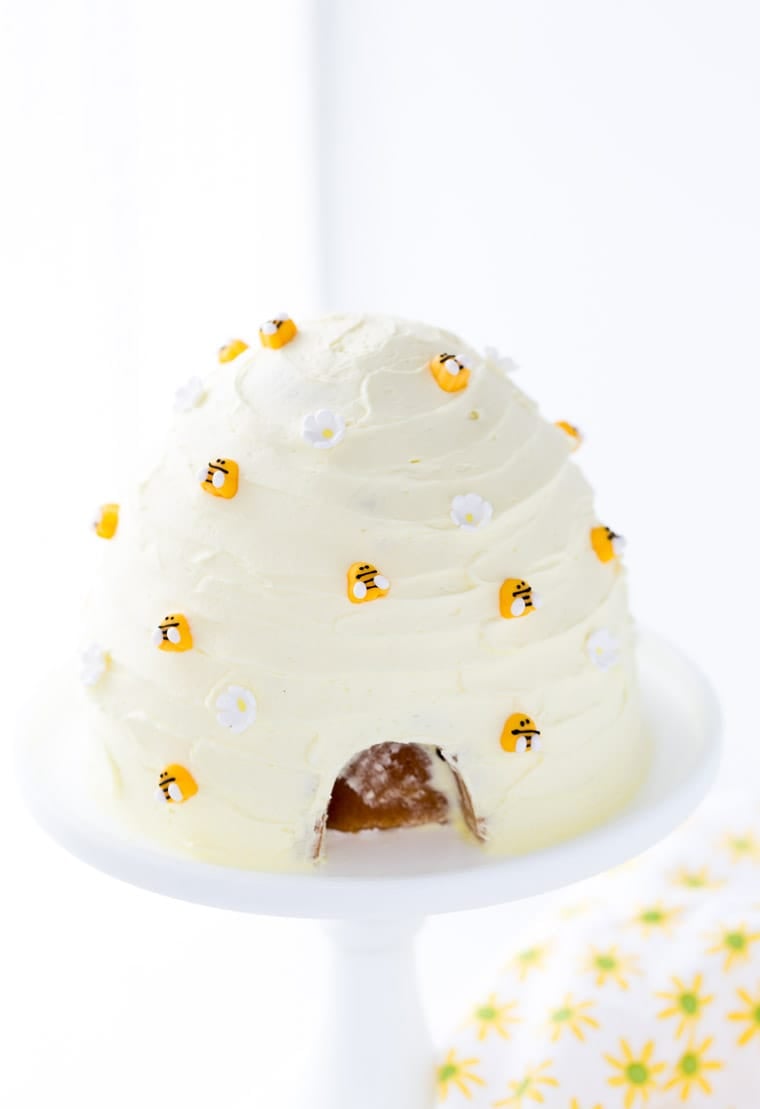 Hi guys! I'm BACKKKK!!
After six months of barely being present on the blog, I am done with my hiatus. I missed you guys. I missed baking. And also realizing I missed out on summer too being busy and cooked up in the library. But I still have one month to go in which I intend to get some summer baking done. I will share a few with you but I am sure you guys are already enjoying the best of summer.
While I was away, the baby had his first birthday party (Can I still call him the baby??). It was a bee-themed party and I made him this lemon honey beehive cake. It was the centerpiece on a dessert table which turned out great for being put together in a hurry.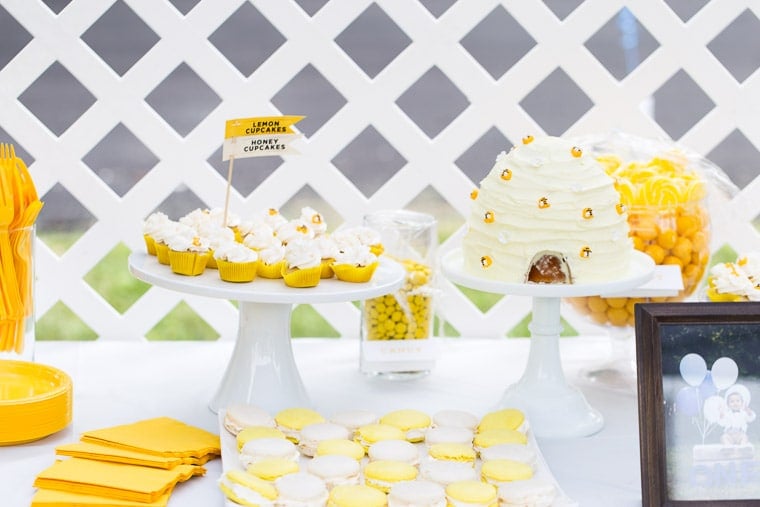 To make the cake, I used this beehive cake pan. It was actually Allie's idea which made my life so much easier. If you make this lemon honey beehive cake, I suggest you get the pan. Otherwise, you will have to make two round cakes and a ball-shaped half for the top and trim the cake to the hive shape. Complicated right? Yes, get the pan!
Since it was a beehive theme, I made a honey lemon cake. The cake itself is a soft crumbly cake and I frosted it was my favorite whipped butter cream frosting in yellow. I finished the cake with these Mini Daisy Icing Flowers and these bumblebee icing decorations.
It was extremely easy to pull together and I think it makes for a great buzz-themed cake. And he loved the little sugar bees on the cake. He got distracted by them and didn't even bother with the whole face-smashing aspect.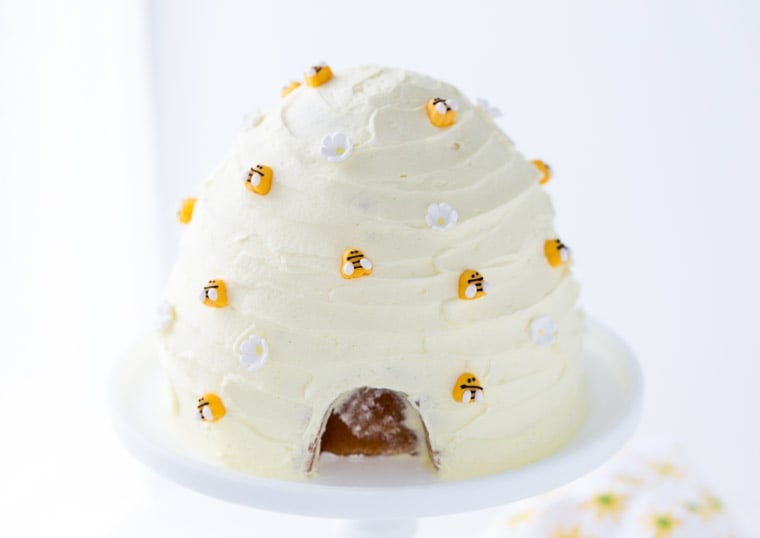 Let me know if you try this cake out! I'd love to see how it came together for your birthday party.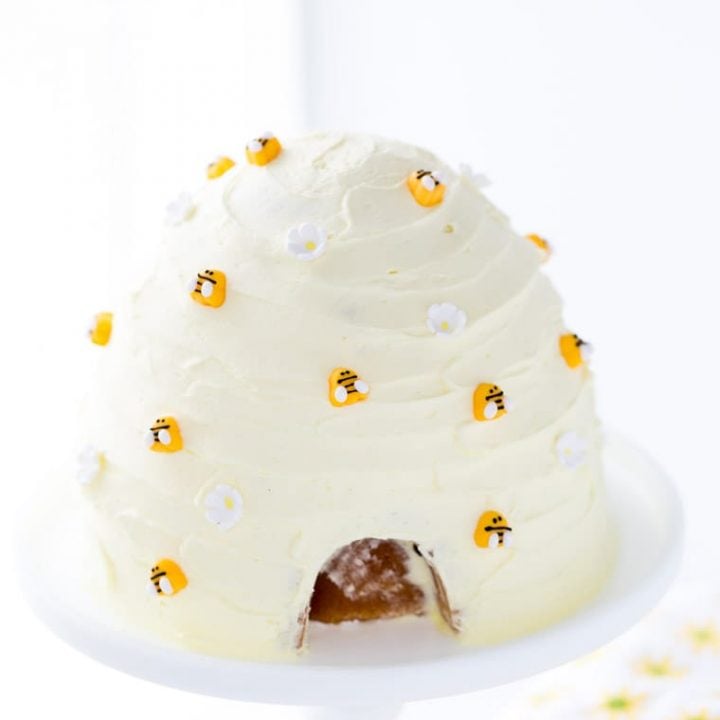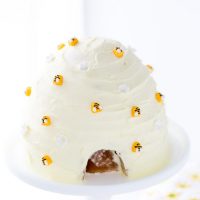 Yield: 8-10 servings
Lemon Honey Beehive Cake
Total Time
1 hour
45 minutes
Ingredients
For cake:
2 3/4 cups all-purpose flour
1 1/2 teaspoon baking powder
1/2 teaspoon kosher salt
1 cup (2 sticks) unsalted butter, softened
1 2/3 cups granulated sugar
zest from one lemon
4 large eggs
1 teaspoon vanilla extract
2/3 cup milk
1/4 cup honey
2 teaspoons fresh lemon juice
For Frosting:
1 cup (2 sticks) unsalted butter, softened
3-4 cups confectioners' sugar
1 teaspoon vanilla extract
1 teaspoon lemon zest
2-3 tablespoons milk or heavy cream
a pinch of salt
a drop or two yellow food coloring
2-3 tablespoons honey
Instructions
For the Cake:
Preheat oven to 325 degrees F. Grease and flour a beehive cake pan.
In a medium bowl, whisk together flour, baking powder and salt.
In the bowl of an electric mixer, cream butter and sugar together until pale and fluffy, about 2-3 minutes on medium speed. Add lemon zest. Add the eggs one at a time, beating to combine between each addition. Beat in the vanilla extract.
In a small cup, whisk together the milk, honey and lemon juice.
Reduce speed to low and alternatively add the flour mixture with the milk, starting and ending with the flour. Scrape down the side of the bowl as needed. Do not overmix.
Transfer batter into the prepared pan. Bake cake until lightly golden or a toothpick inserted into the center comes out clean, about 55- 60 minutes. Remove from oven and let cake cool in pan for at least 10 minutes before turning over on to a cooling rack. Let cool completely.
For Frosting:
Whip butter for 8 minutes on medium speed using the paddle attachment of an electric mixer. The butter will become pale and creamy. Add the rest of the ingredients and mix on low speed for 1 minute. Then increase speed to medium and mix for 6 minutes until the frosting is light, creamy and fluffy.
Assembly:
Stand one half of the cake vertically on the base. Use a serrated knife and level the flat side of cake. Repeat with the other half.
Spread a thin layer of buttercream on the flat side of one of the cake halves. Press the other one against the frosted side. Smooth the frosting at the seam. Roughly coat the cake with a layer of buttercream. Chill for 20 minutes.
Finish frosting the cake with another layer of buttercream. Smooth and decorate as desired.
Notes
Cake recipe adapted from Williams Sonoma.