Coconut Almond Cake
Coconut almond cake is a moist and delicate cake, but bold with coconut flavor. It's perfect for any occasion.
As I was preparing for this week's class on stacking cakes, I couldn't help but think of our recent wedding cake. Venturing down memory lane, it seemed as if the wedding cake was the easiest decision we made. Mr. J was very interested in partaking in this aspect, more so than in making the DIY card box or pocket fold invitations. In the end, we decided that I would be in charge of the exterior aesthetics of the cake while he took care of the inside.
After several hours on Pinterest, I decided on this (above; photo credit: weddingchannel.com) four-layered round cake for our wedding cake. I liked that it was simple and elegant as that was the theme of our entire wedding. Our flowers would be fuchsia pink sugar roses and we would have a cake topper instead of the floral bouquet.
Photo credit: Vanessa Finch Photography
Our cake (above; photo credit @ Finch Photography) turned out beautiful! And it was exactly what I wanted. A family friend bakes and designs beautiful cakes for Heirloom Bake Shop, and I am happy we asked her (Thanks Jolene!).
After several cake tastings, the hubby decided on a lemon cake with raspberry filling for the bottom layer, chocolate cake with chocolate ganache for the second and for the top cake, he went with a coconut almond cake. All were very great combinations and I'm sure they tasted great on the day…but I wouldn't know since I didn't eat any.
So back to the cake stacking class that started this reminiscing. I was inspired by our wedding cake and decided to recapitulate it for this project. For the cakes, I made two 10″ cakes for the bottom layer and two 6″ cakes for the top. Both cakes were frosted with my go-to Swiss meringue buttercream (SMB) with lime zest and lemon extract.
The bottom cake is a new recipe that I'm sharing below. It's a coconut almond cake that I experimented with and it turned out moist and amazing!
For the floral arrangements, I made pink gumpaste roses and fondant leaves earlier in the week (while watching Criminal minds… I love that show!). I went for a much simpler piping design than our original wedding cake. After all, I'm only just starting and not a pro. In the end, I think the piping has lots of room for improvement and I will be working on that more. The roses turned out great and I am in love with them.
The small cake is also a test recipe for a purple velvet cake. Why purple? It has to do with my little announcement. I was asked to design and set-up a dessert table at a bridal shower this summer! Of course, I am super excited (and secretly scared…shh) and honored that the maid-of-honor hosting the shower (ahemmm Trista!) trusts me to pull this off.
I am testing several variations for this purple velvet she requested and once I nail the recipe, I will share it here. Needless to say, there will be lots of posts on this first gig as we get closer to the summer. There are so many ideas racing through my mind and I am spending lots of hours on Pinterest, trying to figure out how to bring them all to life on one small table.

Here's the recipe for the coconut almond cake!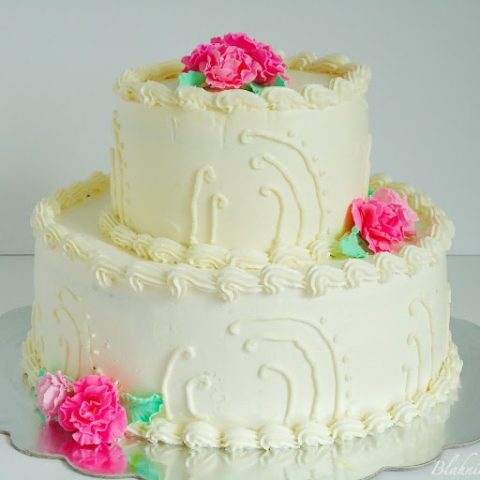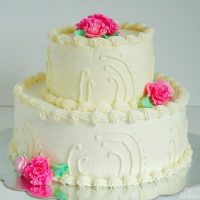 Coconut Almond Cake
Total Time
1 hour
30 minutes
Ingredients
For the Almond Cake
1 pound unsalted butter (4 sticks)
3 cups granulated sugar
6 large eggs
4 ½ cups all-purpose flour
1 ½ tablespoons baking powder
½ teaspoon salt
1 ½ cups heavy cream
1 ½ tablespoons pure vanilla extract
1 teaspoon almond extract
¼ cup sweetened coconut flakes
For the Lemon Swiss Meringue Buttercream
5 large egg whites
1 ¼ cups sugar
1 ½ cups (3 sticks) unsalted butter, room temperature, cut into tablespoons
1 teaspoon pure vanilla extract
1 teaspoon lime zest
1 teaspoon lemon extract
Instructions
For Cake
Preheat oven to 325 degrees. Spray two 10-inch round cake pans with cooking spray; set aside.
In the bowl of an electric mixer fitted with the paddle attachment, cream together butter and sugar on medium speed until light and fluffy, 5 to 6 minutes. Add eggs, one at a time, and beat until creamy, occasionally scraping down sides of the bowl using a spatula.
In a large bowl, sift together flour, baking powder, and salt. In a small bowl, mix together cream, vanilla, and almond extract. With mixer on low speed, add flour mixture, alternating with cream mixture, and beginning and ending with flour; beat until just combined. Gently fold in coconut flakes.
Pour batter into prepared cake pans and bake until a toothpick inserted into the cake comes out clean, 40 to 45 minutes. Let cool completely on a wire rack before removing cakes from pans.
For Lemon Swiss Meringue Buttercream
Wipe down the bowl of an electric mixer with lemon juice or vinegar to remove all traces of grease.
In the heatproof bowl of an electric mixer set over a saucepan of simmering water, combine egg whites and sugar. Cook, whisking constantly, until sugar has dissolved and mixture is warm to the touch (about 160 degrees), 3-4 minutes.
Attach the bowl to the mixer fitted with the whisk attachment. Beat the egg-white mixture on high speed until it holds stiff (but not dry) peaks. Continue beating until the mixture is fluffy and cooled, about 10 minutes.
Switch to the paddle attachment. With mixer on medium-low speed, add butter several tablespoons at a time, beating well after each addition. (If frosting appears to separate after all the butter has been added, beat on medium-high speed until smooth again, 3 to 5 minutes more.) Beat in vanilla, lemon and lime zest. Beat on lowest speed to eliminate any air bubbles, about 2 minutes.
Frost and decorate cakes as desired.