Halloween Monster Cookies
The start of October always means it's time to start decorating the house for Halloween and start rolling out those Halloween treats! I have a great one for you today: these Halloween monster cookies are just crunchy delicious.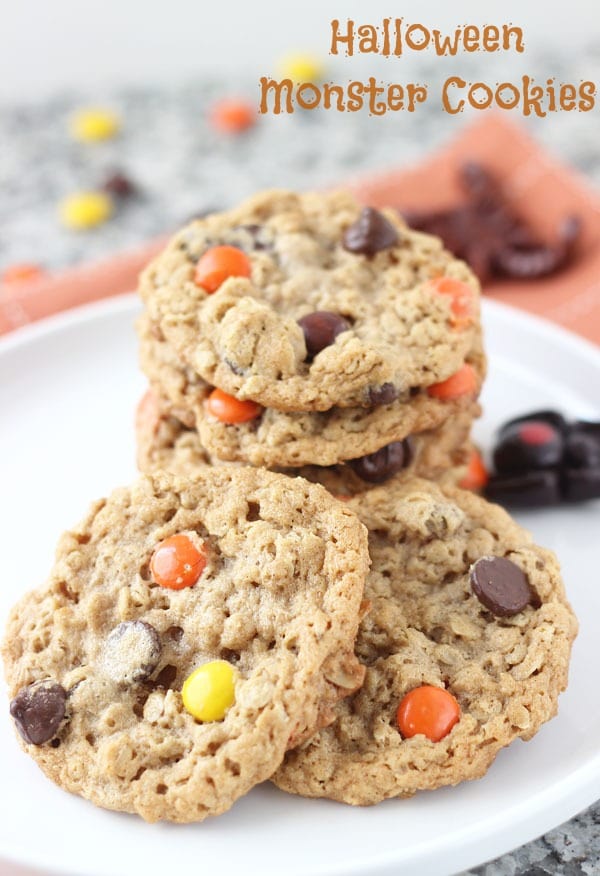 Is Halloween one of your favorite holidays?? Are you rolling your eyes saying 'Duh, Zainab. It is THE holiday of candies!'? That is what Mr. J says all the time. He is a huge fan of Halloween and sometimes I am not sure who he is buying the candies for—the kids trick-or-treating, or himself once they leave.
As for myself, Halloween is slowly growing on me. I am not a fan of the monsters and scary she-bang that goes with it. Yes. There, I said it. I'm a 30-year-old lady who is scared of monsters (and dislikes candy corn!!). Every year, I jump out of my skin a little when I see people dressed up in their scary costumes. Why can't everyone be "Cinderella" or "Angry Birds" or "Flo"? Instead there are witches, Frankensteins, and Draculas roaming the night. Eeeeppp, pass me a cookie!!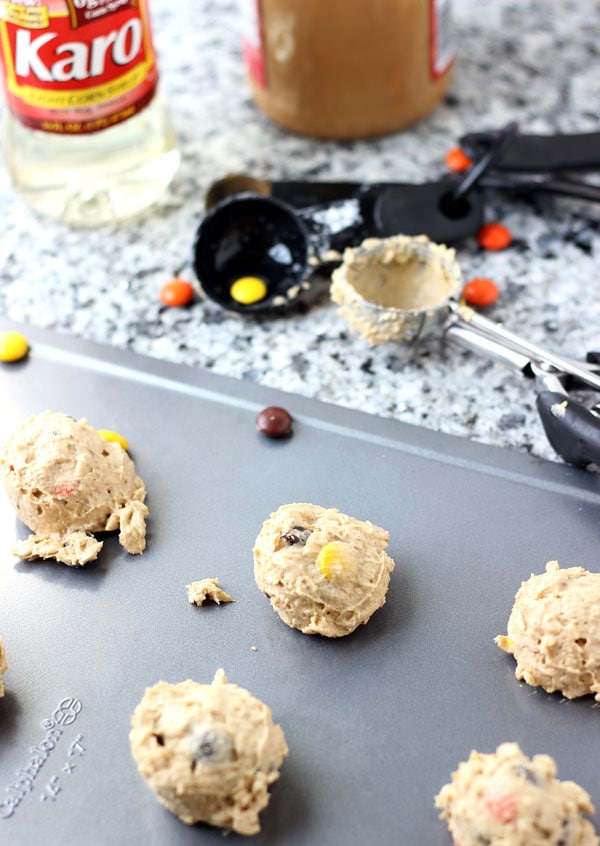 I made these cookies in advance to test a recipe for Halloween night. While the kids coming to the door will be getting candy of their choice, we will be munching on these Halloween monster cookies as we wait through the night.
They are peanut butter oatmeal cookies that are crunchy and chewy! Just the way oatmeal cookies should be. They are a perfect treat for you peanut butter lovers (Mr J approves!!) as the extra Reese's pieces add some more peanut love.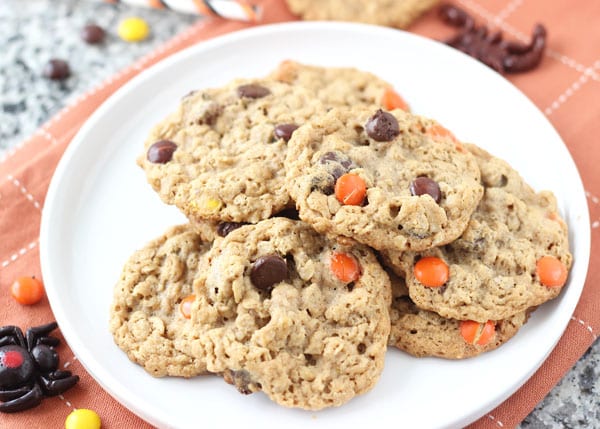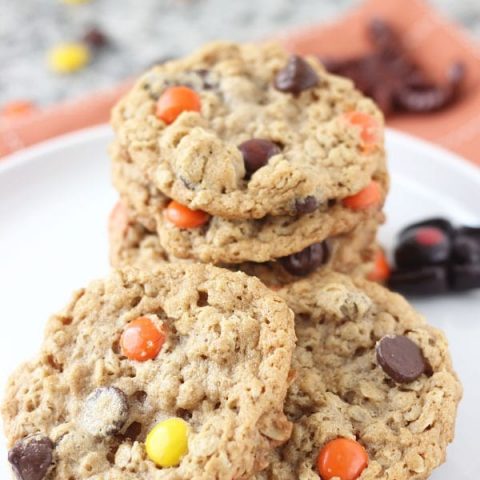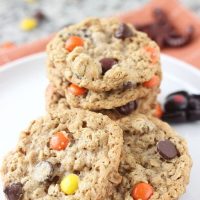 Yield: ~ 30 cookies
Halloween Monster Cookies
These Halloween monster cookies are just crunchy delicious, and they make the perfect Halloween treat!
Ingredients
1 ½ cups quick oats
¼ cup all-purpose flour
1 teaspoon baking soda
½ teaspoon Spice Islands® Ground Saigon Cinnamon
½ cup unsalted butter, softened
½ cup brown sugar
½ cup sugar
⅔ cups creamy peanut butter
1 egg, at room temperature
2 tablespoon Karo® Light OR Dark Corn Syrup
1 teaspoon Spice Islands® Pure Vanilla Extract
1 cup semi-sweet chocolate chips
1 cup Reese's pieces
Instructions
In a medium bowl, combine the oats, flour, baking soda and cinnamon.
In the bowl of an electric mixer, beat the butter and sugars together until light and fluffy, about 3 minute son medium speed. Add the peanut butter and mix until combined. Add the egg and vanilla and beat until just combined. Reduce speed to low and stir in dry ingredients until just combined. Using a rubber spatula, fold in the chocolate chips and Reese's pieces. Chill dough for at least an hour.
Preheat oven to 350 degrees F and line a baking sheet with parchment. Using a medium cookie scoop, drop cookie mounds onto prepared cookie sheet. Bake 12-15 minutes until cookies are just set. Remove from oven and let cookies cool on sheet for 5 minutes. Transfer cookies to a cooling rack.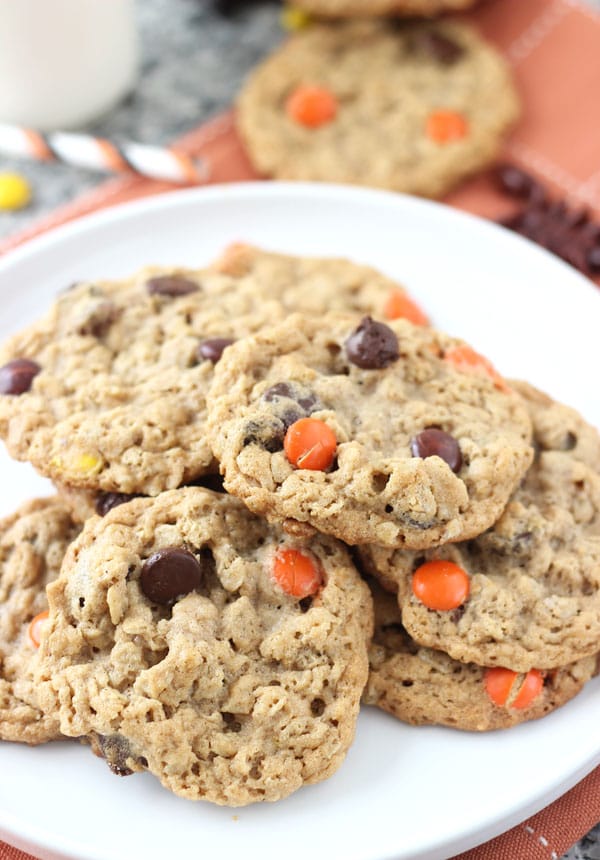 As a Become a Better Baker Blog Ambassador, this post was sponsored by ACH Foods through their partnership with One2One Network. As always, all opinions are 100% my own. Thank you for supporting the brands that keep me inspired!