Vanilla Cupcakes with Whipped Vanilla Bean Frosting
These vanilla cupcakes with whipped vanilla bean frosting are soft, moist and the perfect vanilla cupcake recipe you need for any occasion.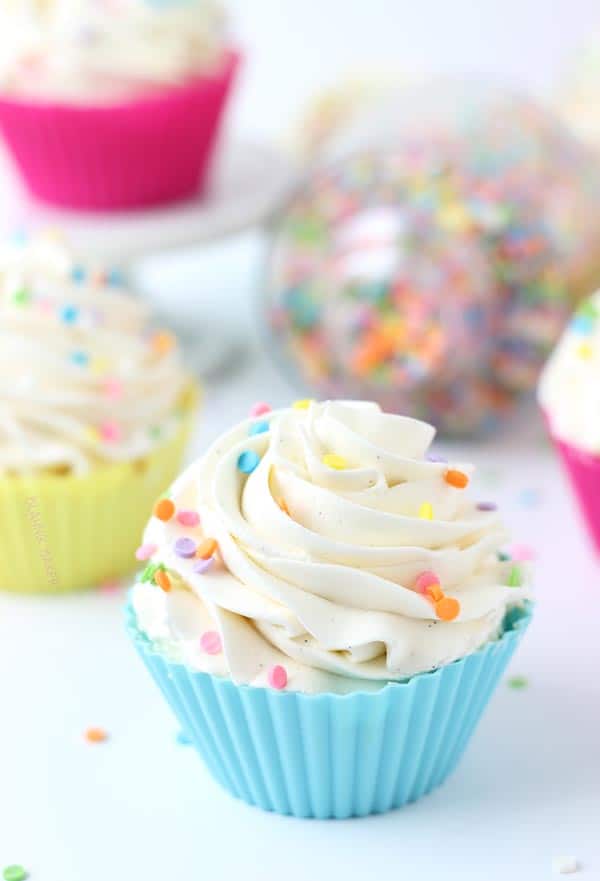 Happy St Patrick's Day! I hope you had a great weekend celebrating. I don't have an Irish treat for you today but if you are looking for some ideas to make for your family and friends today, check out last week's Chocolate Guinness Cupcakes with Whiskey Caramel Filling and Baileys Frosting, or these Guinness Pistachio Sweet Rolls or this Baileys Mint Oreo Ice Cream.
Today, I am sharing my favorite vanilla cupcakes with whipped vanilla bean frosting. A few weeks ago, a girlfriend texted me asking for a solid vanilla cupcake recipe to bring to her in-laws and I told her to check the blog, I have a few there. But she told me she did already and I only have one. ONE. 141 posts and just one vanilla cupcake recipe. And that was way way back when I was learning how to bake anything (so don't judge if you click there). Insane considering I'm a vanilla girl and will take a vanilla cake over chocolate any day without a blink!!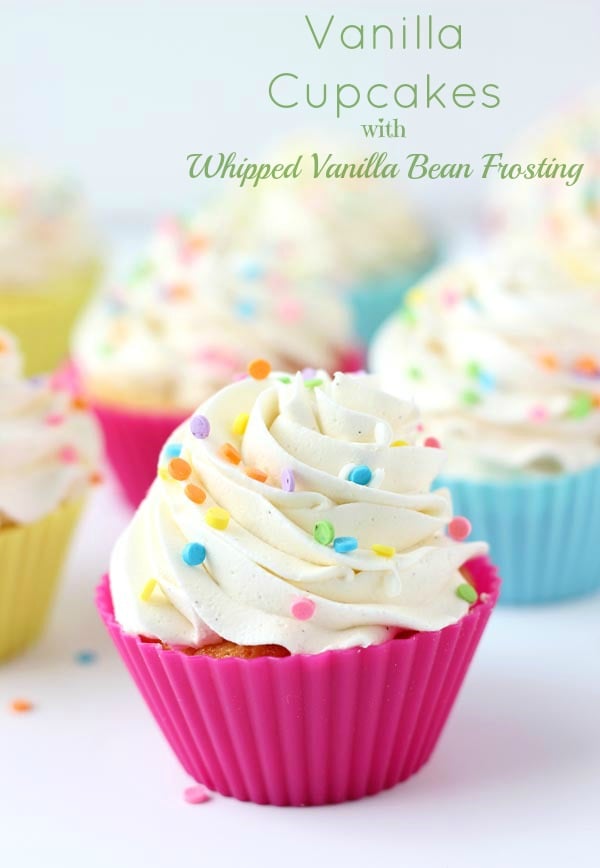 So here I am today, fixing that problem! And to apologize for this oversight, I am giving away a dozen of these bright, fun and easy-to-use silicone baking cups but more on that at the end. First the cupcakes. These vanilla cupcakes with whipped vanilla bean frosting are really my go-to for a quick treat! I make them all the time to bring to birthday parties but often on a whim to test a new idea or if I am in the mood to bake. The cupcakes are simply moist, fluffy, airy and so so soft. The key is to cream the butter and sugar sufficiently in the first step and not over-mix the batter once you add the dry ingredients. This will give you a very light and moist cupcake.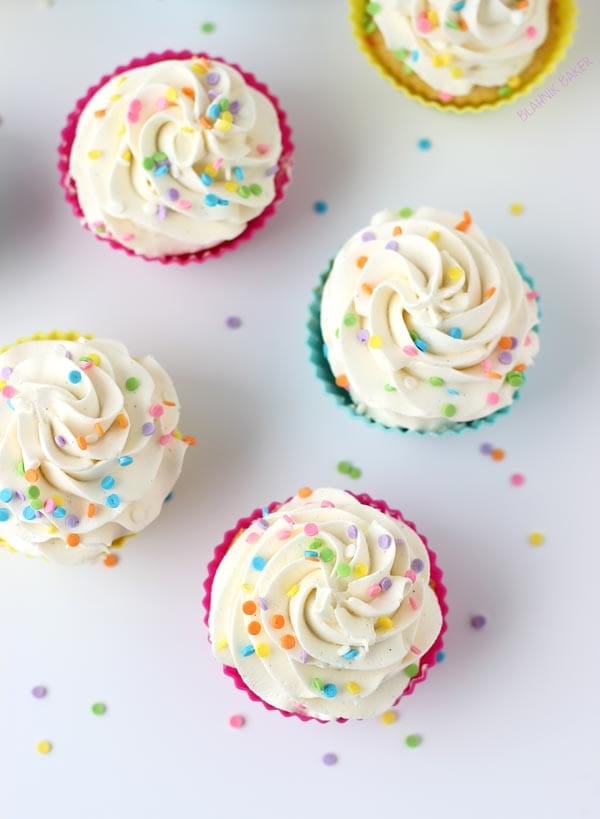 I always top these cupcakes with whipped vanilla bean frosting. Despite being a lover of Swiss meringue buttercream, I must say this is my go-to frosting whenever I am in a pinch. It tastes just like the frosting you get at a bakery…at least that's what everyone who tries it says. To me, it's creamy, sweet and perfectly fluffy to pipe (always my priority!). I love using vanilla bean in the frosting because you get a richer, bolder vanilla flavor that complements the sweet cupcakes. These cupcakes are truly a delicious classic and I hope you will try them the next time you are in dire need of a solid no-fail vanilla cupcake recipe to impress.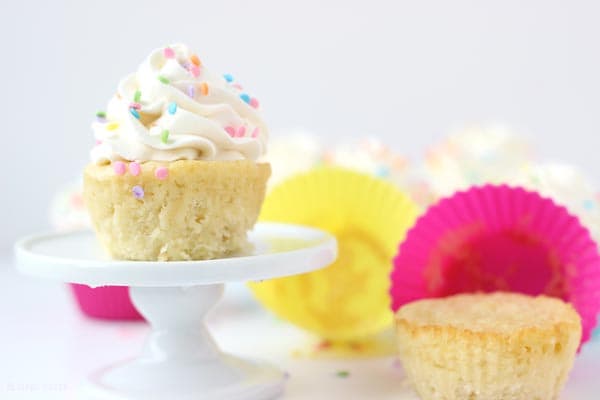 OK enough talk about cupcakes, let's talk about their outfits which in this case, are these colorful silicone baking cups from OvenArt Bakeware
. I've been meaning to get some silicone cupcake baking cups for a while now and I even asked Santa a few months ago but he failed to deliver. They are very versatile and can be used for things beyond cupcakes (think snack cups, Quiche etc). I used them in muffin tins for easy handling but you can just set them on a baking sheet. They are also so vibrant and add instant glam to your cupcakes. I love them. The only problem is remembering to tell people not to throw them out after enjoying their cupcakes.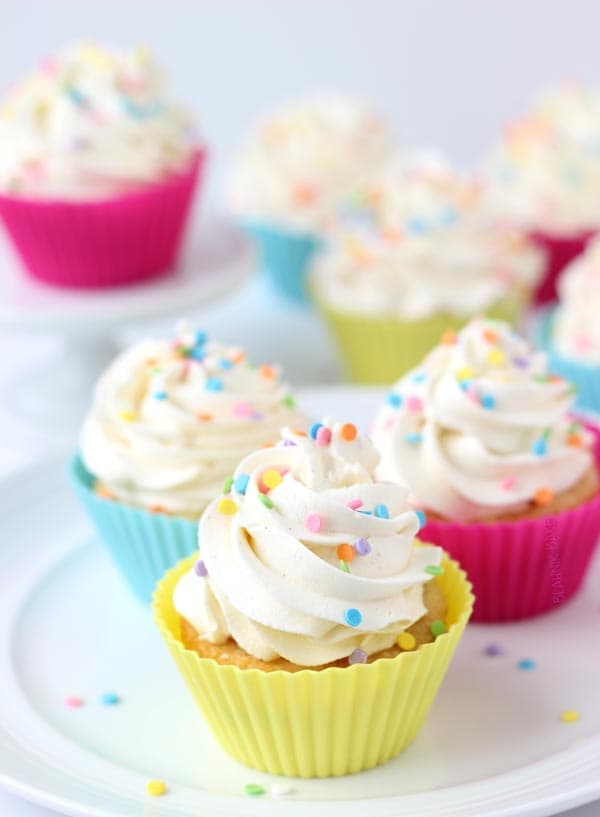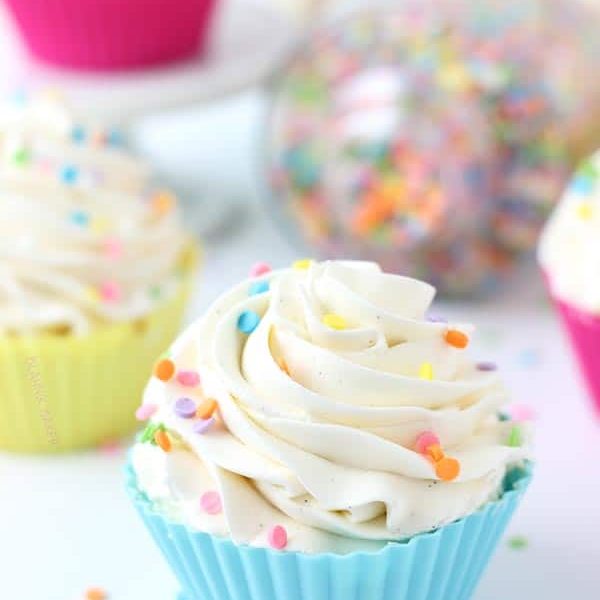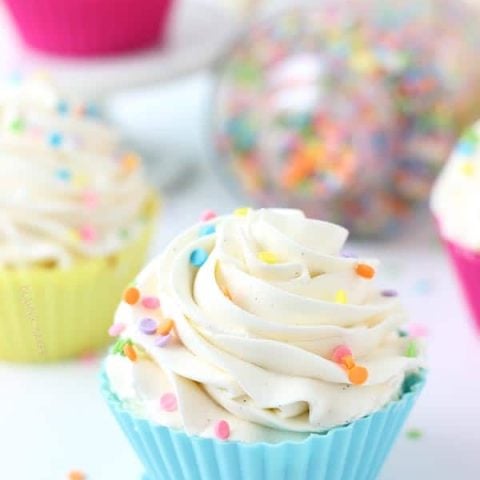 Yield: 24 cupcakes
Vanilla Cupcakes with Whipped Vanilla Bean Frosting
My favorite vanilla cupcake is this moist, light and airy vanilla cake with fluffy whipped vanilla bean frosting.
Ingredients
For Cupcakes
2½ cups all-purpose flour
¾ teaspoon salt
1½ teaspoon baking powder
¼ teaspoon baking soda
1 cup (2 sticks) unsalted butter, room temperature
2 cups granulated sugar
3 large eggs, room temperature
2 teaspoon pure vanilla extract
1 cup buttermilk, room temperature
For Whipped Vanilla Bean Frosting:
1 3/4 cup (3 ½ sticks) unsalted butter, softened
5-6 cups sifted confectioners' sugar
3 tablespoons milk
1 tablespoon vanilla bean paste or 1 vanilla bean, scraped (or use 1 tablespoon vanilla extract)
Pinch of salt
Instructions
For the cupcakes:
Preheat oven to 350 degrees F. Line two muffin pans with cupcake liners or silicone baking cups.

In a medium bowl sift together flour, salt, baking powder and baking soda.

In the bowl of an electric mixer, cream butter and sugar until pale and fluffy, about 5 minutes on medium speed. Add eggs one at a time, beating until combined after each addition. Beat in vanilla extract.

Reduce mixer speed to low and slowly add about a third of the flour mixture. Add half of the milk, another third of the flour and the rest of the milk and ending with the rest of the flour. Beat until just combined. Scrape down the side of the bowl as needed.

Pour batter into prepared pans. Fill liners about 2/3 full. Bake cupcakes until lightly golden or a toothpick inserted into the center come out clean, about 12-14 minutes.

Cool in pan 1-2 minutes, then remove cupcakes from pan and finish cooling on a wire rack.
For the Whipped Vanilla Bean Frosting:
Whip butter for 8 minutes on medium speed using the paddle attachment of an electric mixer. The butter will become pale and creamy

Add the rest of the ingredients and mix on low speed for 1 minute. Then increase speed to medium and mix for 6 minutes until the frosting is very light, creamy and fluffy. Use immediately or store refrigerated until ready.

Frost cooled cupcakes.
Notes
Cupcake recipe adapted from Sweetapolita
Recommended Products
As an Amazon Associate and member of other affiliate programs, I earn from qualifying purchases.
 * Disclosure: I was provided with a set of OvenArt Bakeware silicone baking cups to try and a set to giveaway. I was under no obligation to write about them. All opinions are 100% my own. Some affiliate links included. *