Black Raspberry Cheesecake Milkshake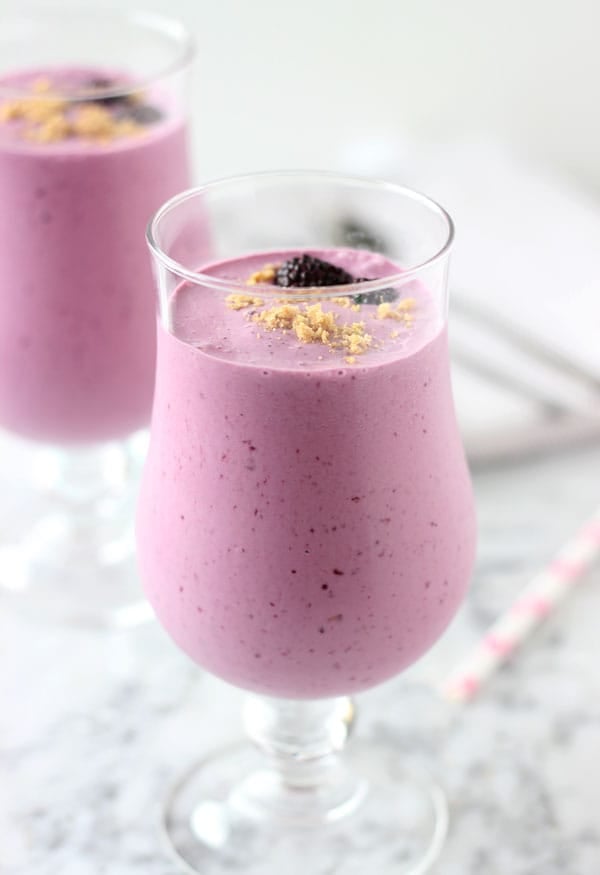 Guess what?? It's National Cheesecake Day!!! To celebrate, I did not make a traditional cheesecake but instead I made a Black Raspberry Cheesecake Milkshake! Yup this is a summer time celebration 🙂 And you guys, I'm not the only one celebrating this wonderful food holiday. A whole bunch of fabulous bloggers are celebrating too and sharing their favorite cheesecake recipes! Just scroll to the end of this page to see their delicious cheesecake creations.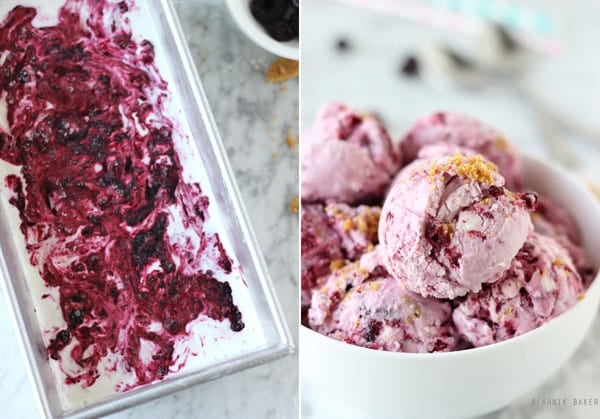 But before you go check them out, let's talk about this black raspberry cheesecake milkshake. I found this rare form of raspberries at a local U-pick berry farm and was super excited to experiment with it! The only other way I had tried black raspberries was in ice cream so that was immediately my go-to. But of course we all know cheesecake makes everything better so cheesecake ice cream had to happen (oh my gosh the best idea ever!!). I could have just stopped there but noooo, I wanted to go even further and make ice cream floats. Must be the gorgeous pictures in last month's Food Network magazine that inspired this need. I was all excited to see them turn out beautiful too but hold and behold, it was a complete disaster. They did not look anything like I envisioned.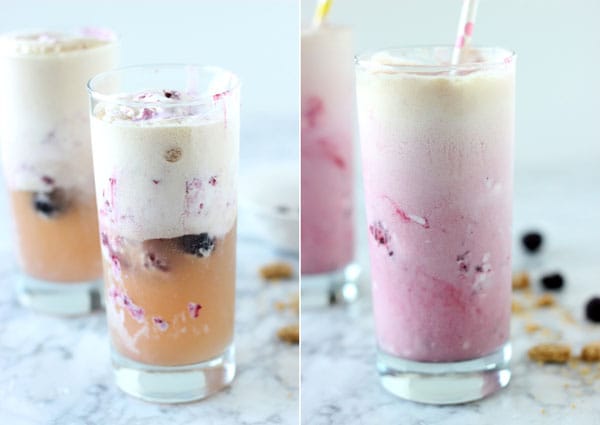 But as the saying goes, when life gives you failed ice cream floats, make milkshakes!! Well, that is my saying and I am so glad I went ahead and turned things around with these milkshakes. I took the rest of my delicious ice cream and blended it up with some milk since I was determined to drink this ice cream one way or another. The milkshakes are very creamy!! Delicious!! And addicting. The sweet, slightly tart, ice cream combined with graham cracker crumbs is just a dream come true!
So learn from my mistake and make cheesecake milkshakes right off the bat with your ice cream!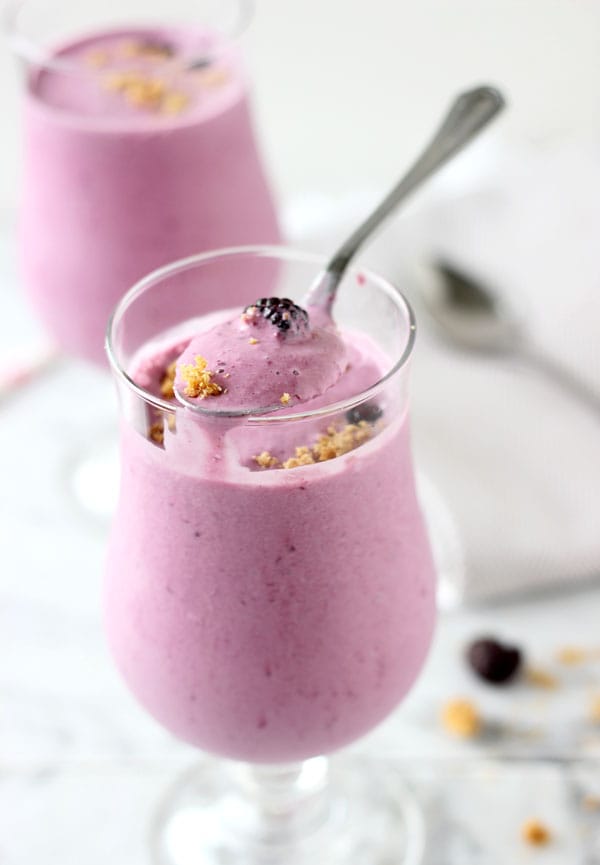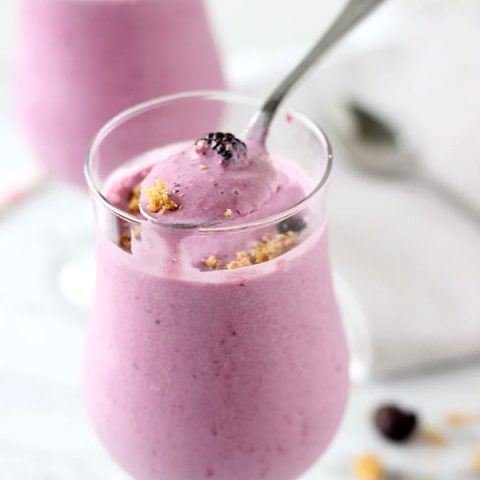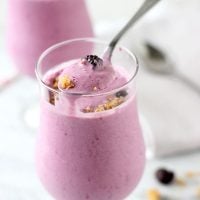 Black Raspberry Cheesecake Milkshake
The sweet, slightly tart, ice cream combined with graham cracker crumbs is just a dream come true!
Total Time
4 hours
25 minutes
Ingredients
1 cup black raspberries
¼ cup sugar
1 tablespoon fresh lemon juice
1 cup graham cracker crumbs
1 tablespoon sugar
2 tablespoons butter, melted
8 oz cream cheese, softened at room temperature
1 cup whole milk, chilled
¾ cup sugar
2 cups heavy cream, cold
2 teaspoons vanilla extract
3 scoops (~1 cup) of Black Raspberry ice cream (recipe above)
1 tablespoon malt powder
¼ - ½ cup milk
graham cracker crumbs (optional)
Instructions
To make Black Raspberry Ice Cream
In a medium saucepan, combine the black raspberry with sugar and lemon juice. Cook down until berries start to break down and thicken. Remove from heat and let cool. Pass through a sieve if you do not want seeds in your ice cream (optional)
To make graham cracker: In a large bowl, combine the cracker crumbs and sugar. Stir in butter. Pat down into baking pan. Bake at 350° for 10-15 minutes or until lightly browned. Let cool completely then gently break into pieces.
Beat the cream cheese in a medium bowl with an electric beater until smooth. Add heavy cream, milk, vanilla extract and sugar and mix on low-speed until the sugar dissolves, about 1-2 minutes. Fold in half of the black raspberry puree and mix until combined. Turn on your ice cream maker. Pour mixture into the freezer bowl and churn until thickened, about 20-25 minutes following the instructions of your manufacturer. Transfer ice cream to a freezer safe container. Pour half of the ice into a freezer safe container and layer with graham crack crumbs. Top with remaining ice cream. Swirl the rest of the black raspberry puree on top and freeze for 2-3 hours or overnight. Enjoy separately or make milkshake below.
Milkshake
In a blender, combine the ice cream, milk and malt. Blend until combined. Serve in glasses and top with graham cracker crumbs if desired. Enjoy!!
 Check out all the delicious cheesecake recipes below:
Baked Cheesecakes:
No Bake Cheesecakes:
Cheesecake Beverages:
Cheesecake Cookies and Bars:
Cheesecake Desserts and Treats:
Frozen Cheesecakes and Treats: