Cherry Almond Popsicles
Love cherries? Then you will love these creamy cherry almond popsicles. They are sweet and refreshing!!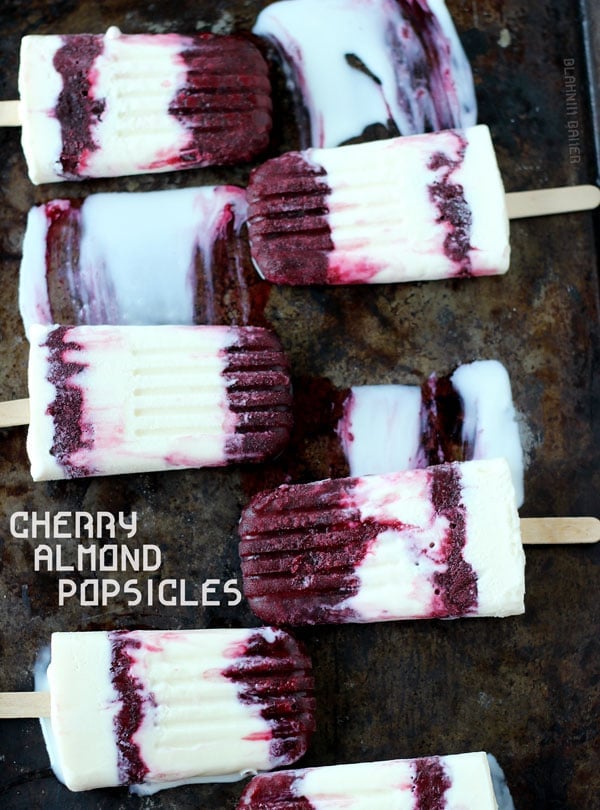 I have a few recipes for you this week that I cannot wait to share!! You may feel slightly overloaded but bare with me as I share my excitement for ridiculously easy but delicious recipes featuring summer's finest fruits. Yesterday, you saw this cherry plum hazelnut galette that's nutty, juicy and so pretty. Today, I am sharing with you these cherry almond popsicles that came about as a result of a 5-pound cherry columdrum! After snacking and making the galette, I still had a few cups left so my niece and I made these creamy layered popsicles.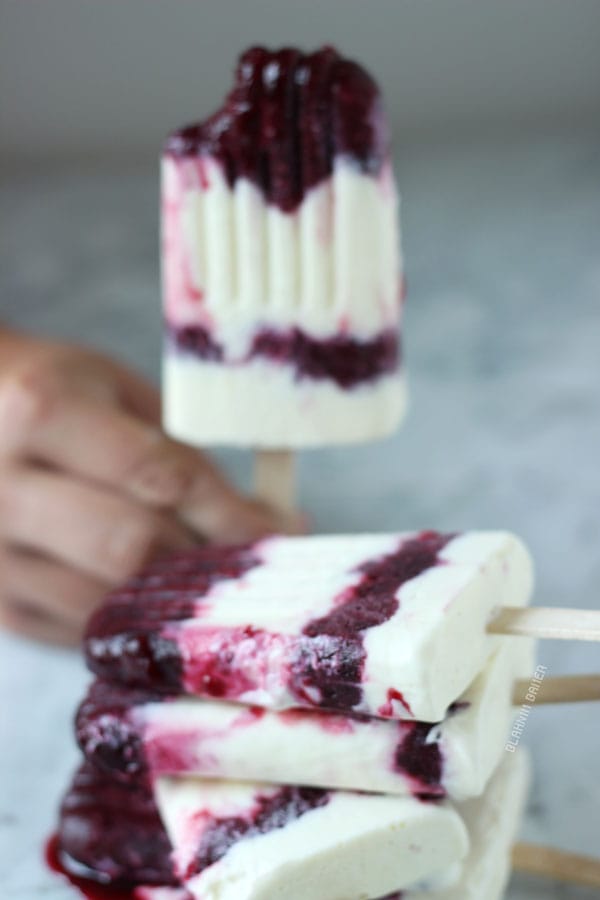 These cherry almond popsicles were featured at the back of the current Food Network magazine and when I saw them, I knew they would be perfect for this month's ingredients of Mystery Dish. Our wonderful host for July, Sarah, picked some exciting ingredients for us: coffee, sour cream, farro, almonds, cherries, watermelon, cantaloupe, jicama, cucumber, tomatoes, infused or flavored olive oil, fresh herbs, cornmeal, hot peppers. What a great list of ingredients! I seriously made three recipes just from this list of ingredients but only one made it to the blog. Here's why: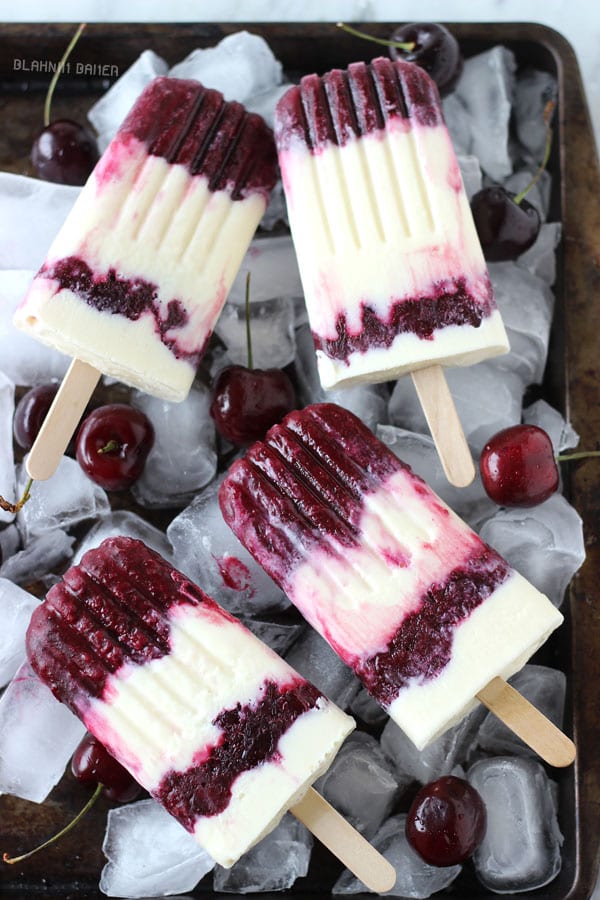 My first idea was a farro greek salad (using cucumbers, tomatoes with fresh herbs) and it was so good but I did not take pictures before half of it disappeared. The hubby still doesn't grasp the "I need pictures before you dig in" concept so we working on that. Next was a fresh watermelon-cantaloupe fruit salad. This one I brought to a July 4th party and it was not a big hit so I assumed you wouldn't love it either. And then I made these cherry almond popsicles! So creamy, sweet and refreshing, perfect on any summer night. It's definitely a dessert pop so enjoy after a meal. In the end, I am so happy I was forced to try this recipe because now I'm hooked :0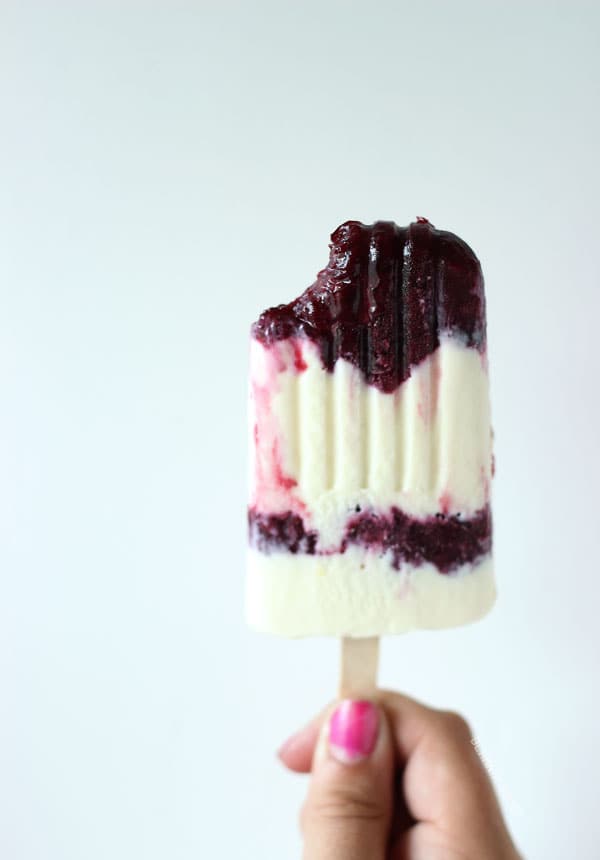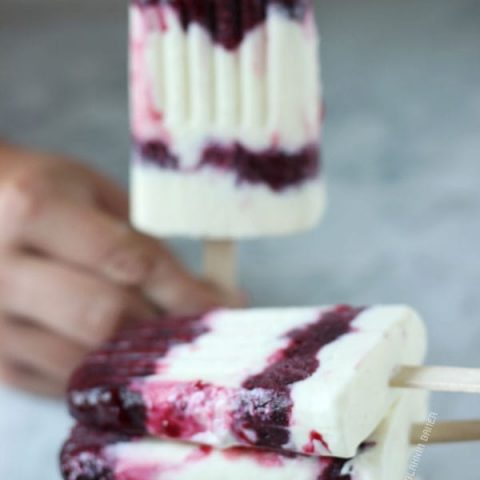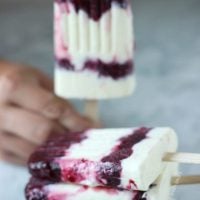 Yield: 6 popsicles
Cherry Almond Popsicles
Love cherries? Then you will love these creamy cherry almond popsicles. They are sweet and refreshing!!
Ingredients
2½ cups cherries (fresh or frozen)
3 tablespoons sugar
1 tablespoon fresh lemon juice
¾ cup sour cream
⅔ cup sweetened condensed milk
¼ teaspoon almond extract
pinch of salt
Instructions
In a medium saucepan set over medium heat, combine the cherries, sugar and lemon juice. Cook until thickened, making a chunky syrup, about 8 minutes. Let cool completely.
In another medium bowl, whisk together the sour cream, condensed milk, almond extract and salt.
Fill popsicle molds with cherry mixture about ¼ of the way. Freeze until set, about 30 minutes. Top with sour cream mixture, another fourth of the way. Freeze again until set, about 30 minutes. Repeat with the remaining cherry mixture freeze. Finally top with the remaining sour cream mixture. Insert wooden sticks into the pops and freeze until completely solid, at least 2 hours or overnight.
To release popsicles, run the molds under hot water for a few seconds. Enjoy!
Check out the recipes below from the Mystery Dish team!