Winter Citrus Tart
This Winter Citrus Tart encompasses the flavors of winter with grapefruit and blood oranges!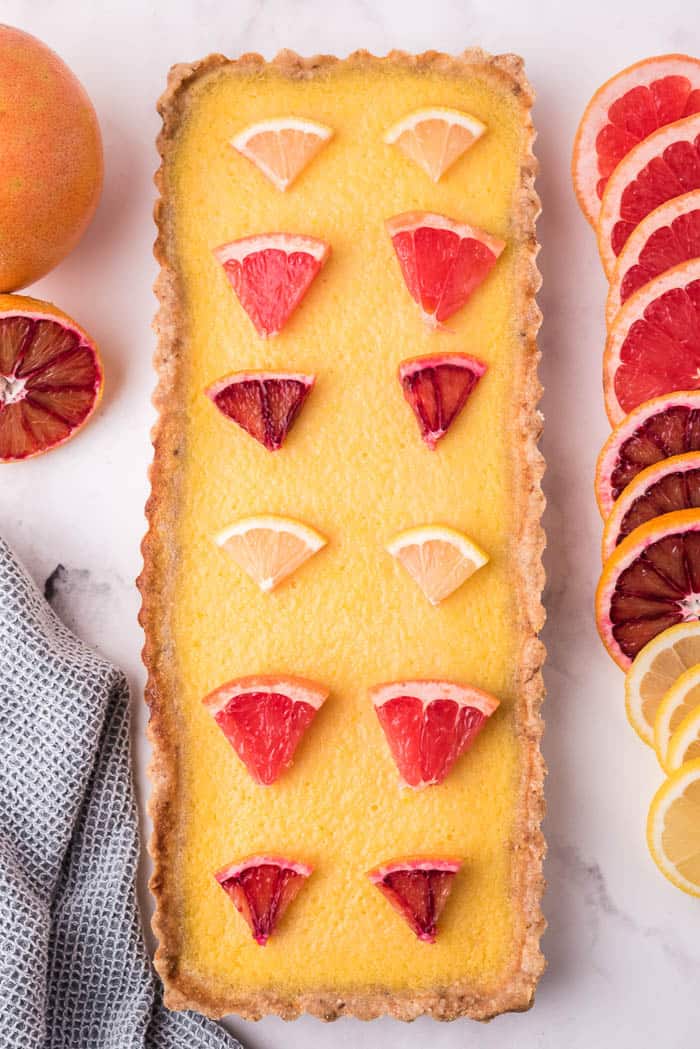 Happy Monday!! I hope you all had a great weekend. It's a three day weekend for some of us and I intend to enjoy this extra day to it's fullest. Looking at my work calendar, I realized this is the last holiday until Memorial Day in May which is sooooo far away!! I'm definitely going to freeze and hopefully thaw by then.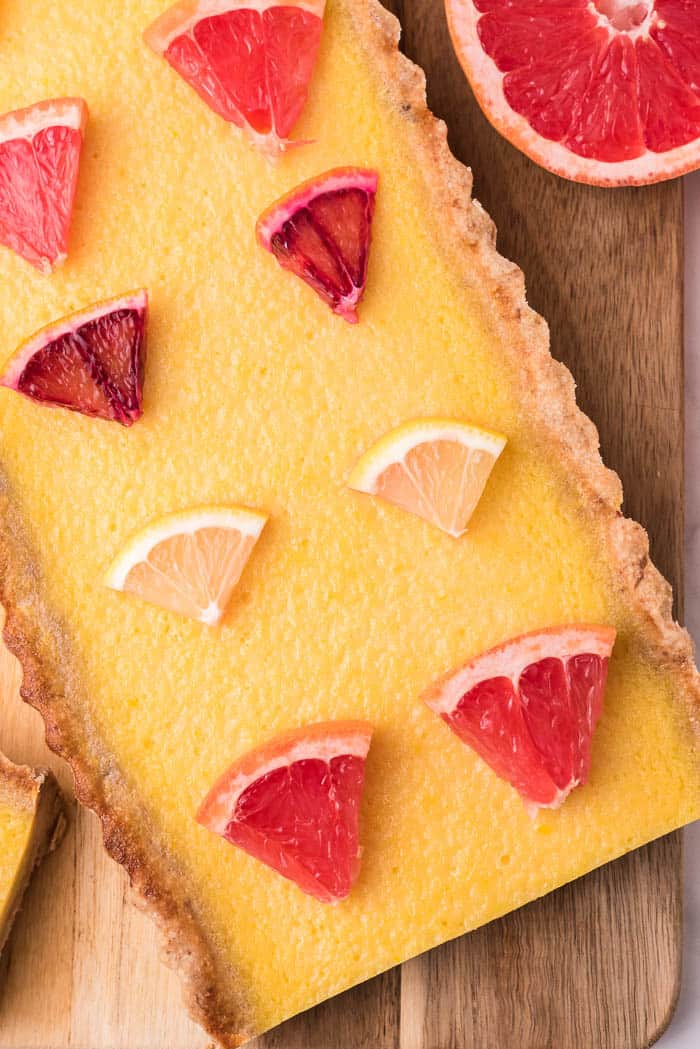 Winters in Upstate NY are no fun. I don't care how jolly you are about snow or it's pureness, I dare you to live in Upstate NY for just one winter and then tell me about this jolly snow you speak of. And when I mean live, I mean actually leave the house daily. It's beyond miserable but that's why I focus on the good. The fresh juicy winter fruits, the cute boots, the abundance of comfort foods, and the nightly fires. A girl gotta survive, right?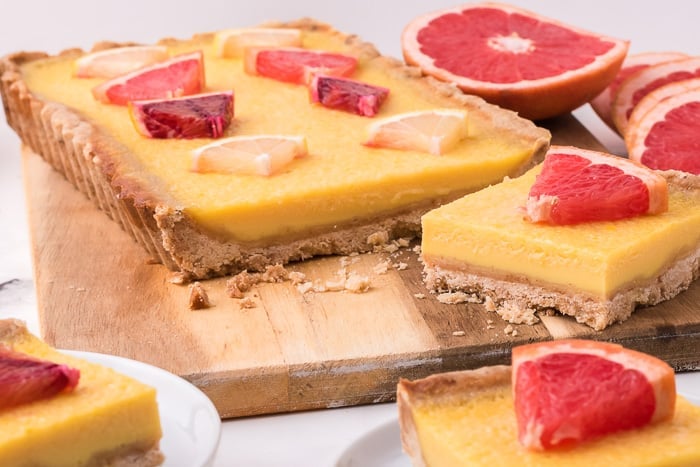 I found myself with a little too many grapefruits and blood oranges the other day and decided to use up the freshly squeezed juices to make this winter citrus tart that is reminiscent of spring and all the sunshine it brings. I am so glad I did because it did brighten up our days for a little while.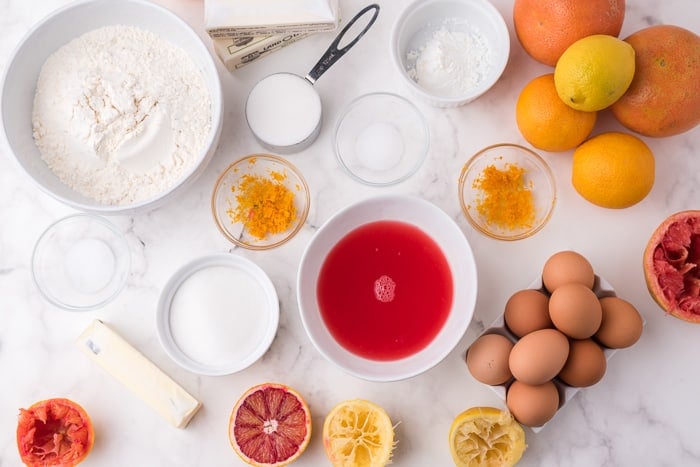 Starting with a brown butter shortbread crust, this winter citrus tart is bursting with sweet blood orange and tart grapefruit juices. Oh, so tart and citrus-y. It is very similar to lemon bars but with a sweet undertone from the blood oranges and grapefruits.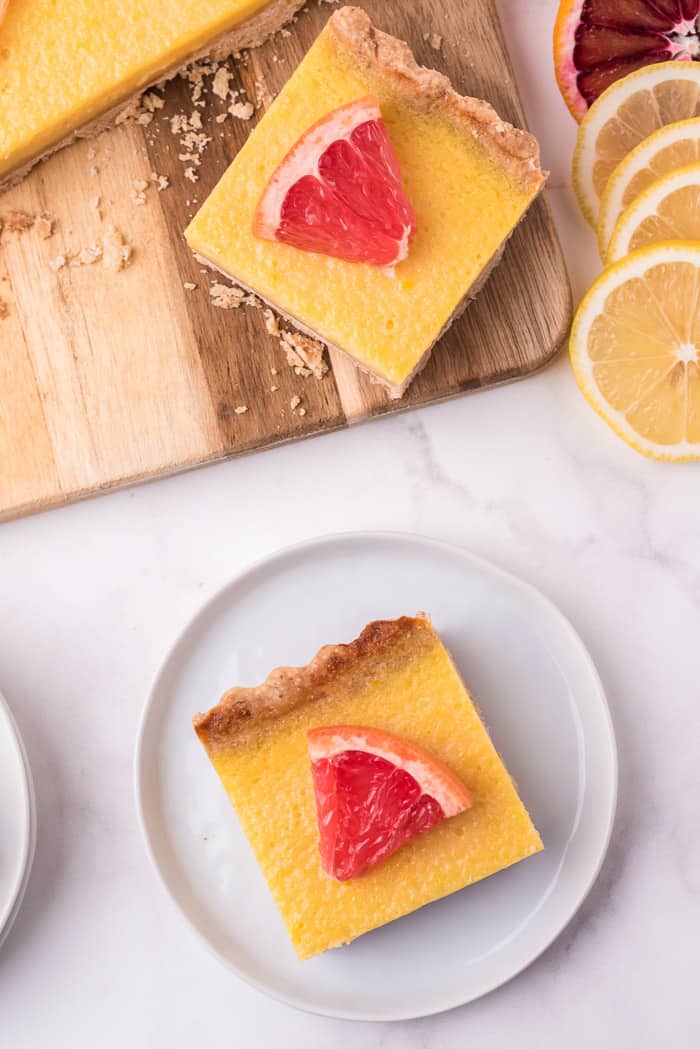 I really think you will enjoy this tart as you bundle up in your sweaters and cozy blankets.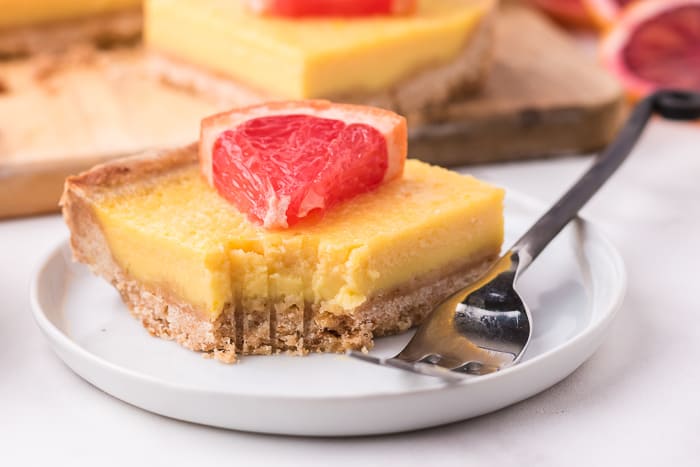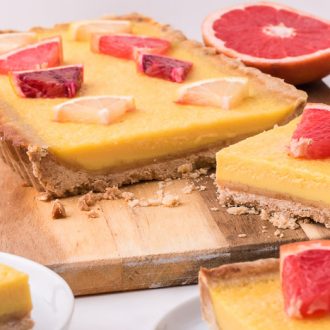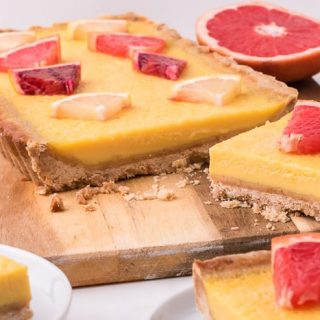 Yield: 1 rectangular tart
Winter Citrus Tart
This Winter Citrus Tart encompasses the flavors of winter with grapefruit and blood oranges!
Total Time
5 hours
5 minutes
Ingredients
For the Crust:
1 cup (2 sticks) unsalted butter
1/2 cup granulated sugar
3 cups all-purpose flour
½ teaspoon salt
zest of half a blood orange
For the Filling:
2 tablespoons cornstarch
¾ cup granulated sugar
½ teaspoon salt
6 large whole eggs
2 large egg yolks
zest of 2 blood oranges
1¼ cup citrus juice (~2 blood oranges, 2 grapefruits, 1 lemon)
½ cup (1 stick) unsalted butter, cut into cubes
Fresh grapefruits and blood oranges, for topping
Instructions
For Crust:
Preheat oven to 350 degrees F.
In a medium saucepan, melt butter over medium heat. Cook butter, whisking constantly until it begins to change color to "amber' and smells "nutty". Remove butter from heat and pour into a medium bowl.
Stir in sugar, flour, salt, and zest. Mix until completely incorporated.
Press crumbly mixture into a long rectangular tart pan. (this makes enough for a 4" x 13" pan). Make sure the mixture is pressed up the sides and evenly across the bottom.
Bake the crust for 25-30 minutes or until golden.
For Filling:
Make the filling while the crust bakes.
In a medium heatproof bowl, whisk together the cornstarch, sugar, and salt. Add in the eggs, yolk, zest, and citrus juices and whisk together.
Set the bowl over a pot of simmering water and whisk frequently until the curd thickens.
Remove from heat and stir in the butter until completely melted. Pass the curd through a fine-mesh strainer.
Pour the curd into the crust after you take it out of the oven. Return the tart to the oven for 15 minutes or until the filling has thickened.
Let cool slightly on a cooling rack and then refrigerate for at least 4 hours or overnight to chill.
Serve chilled.
Notes
You can bake this tart in a 9-inch round tart pan.
Recommended Products
As an Amazon Associate and member of other affiliate programs, I earn from qualifying purchases.
More Winter Citrus Recipes from Across the Web:
Blood Orange Macarons – The Viet Vegan
Persimmon Salad with Blood Orange Dressing – Love and Olive Oil
Blood Orange and Rosemary Cake – What Katie Ate
Glazed Tangerine Cake – It Bakes Me Happy