Apple Cider Bundt Cake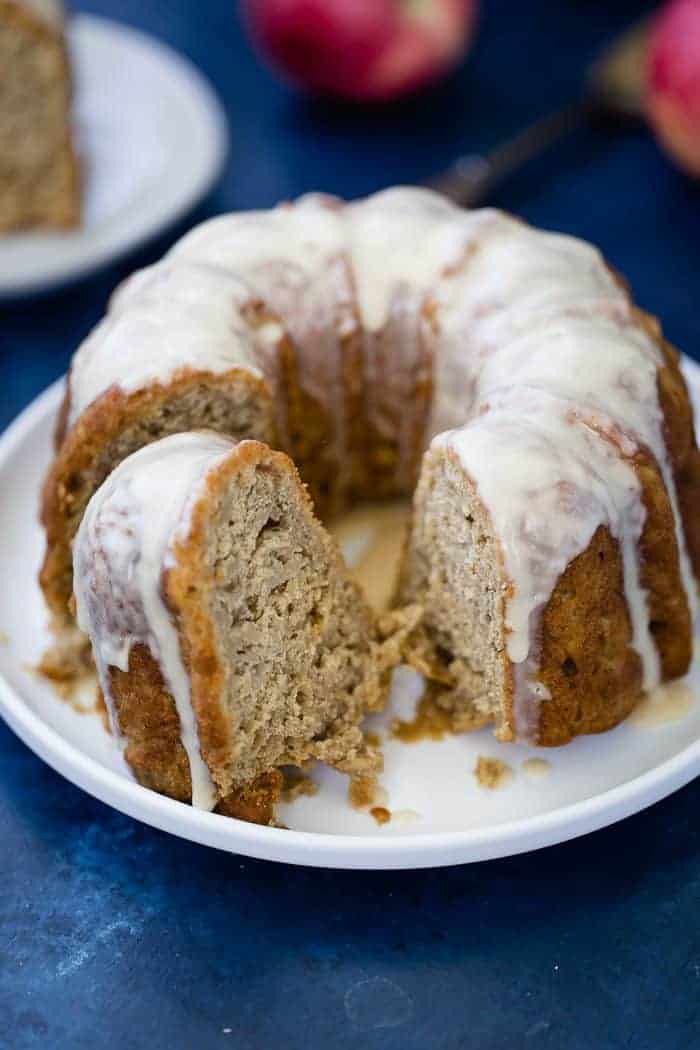 Hi friends! I have a very good cake for you today. This one knocked me off my feet and I was amazed at how much flavor was packed in every slice. If you love fall baking as much as I do then this apple cider bundt cake is for you. Moist, packed with fresh apples and your favorite fall spices, it will blow your mind away while keeping you warm in the crisp air.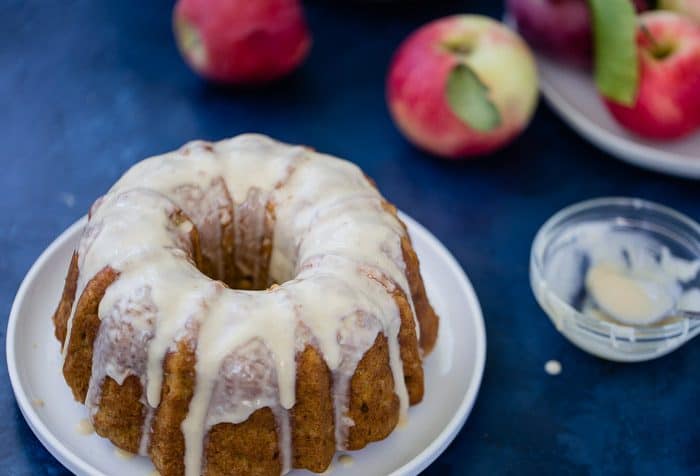 I'm still drowning in apples after apple picking last weekend. Apple picking is one of my favorite annual fall activities. Drinking hot apple cider and eating apple cider doughnuts as you pick apples is the best ever. If you happen to live in the part of the country where you can apple pick, do it!! It's always a good activity for the kids too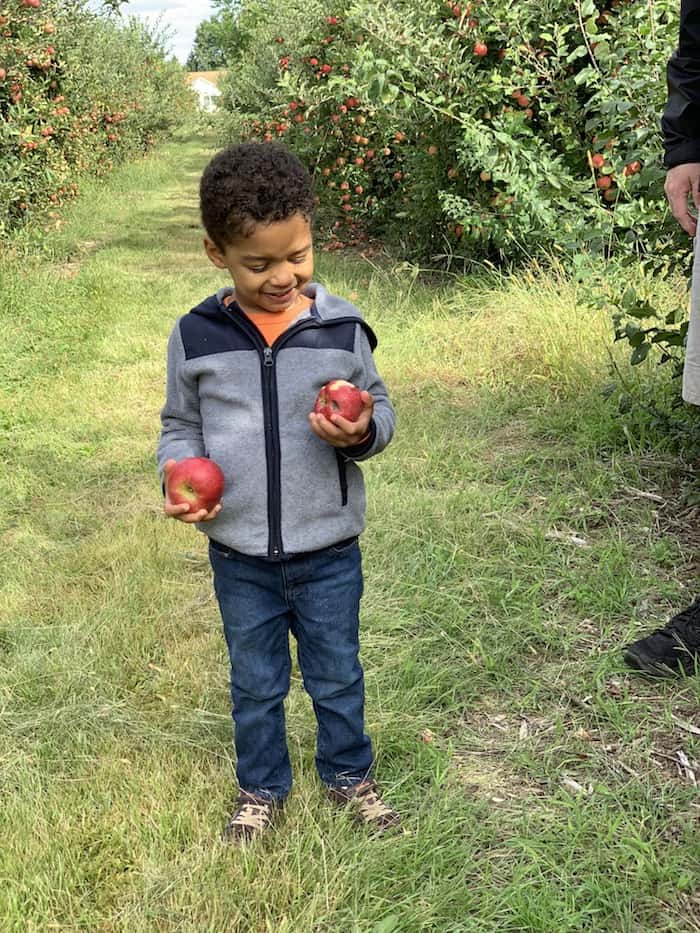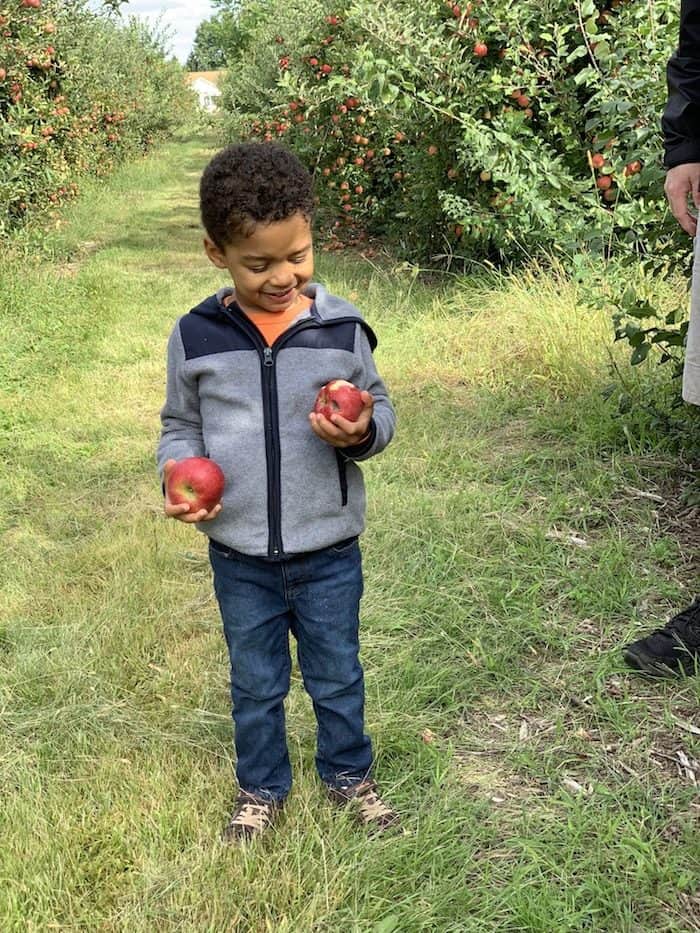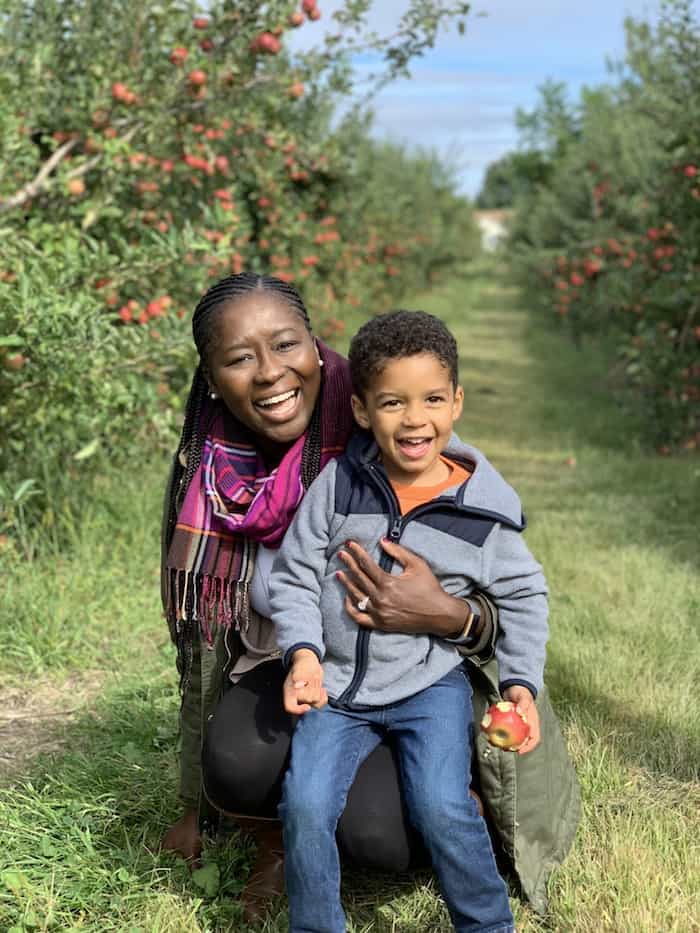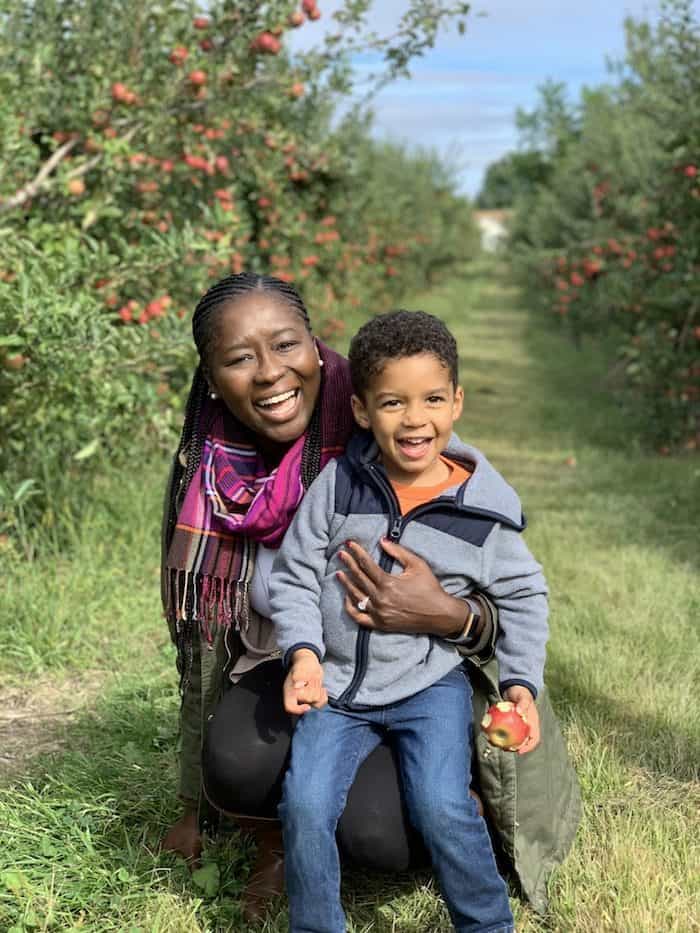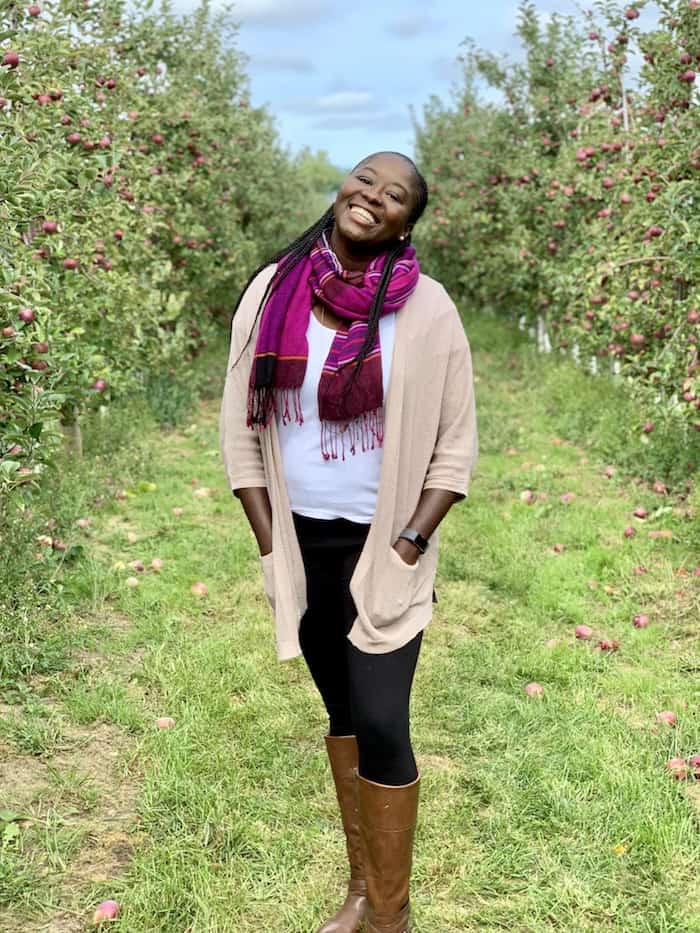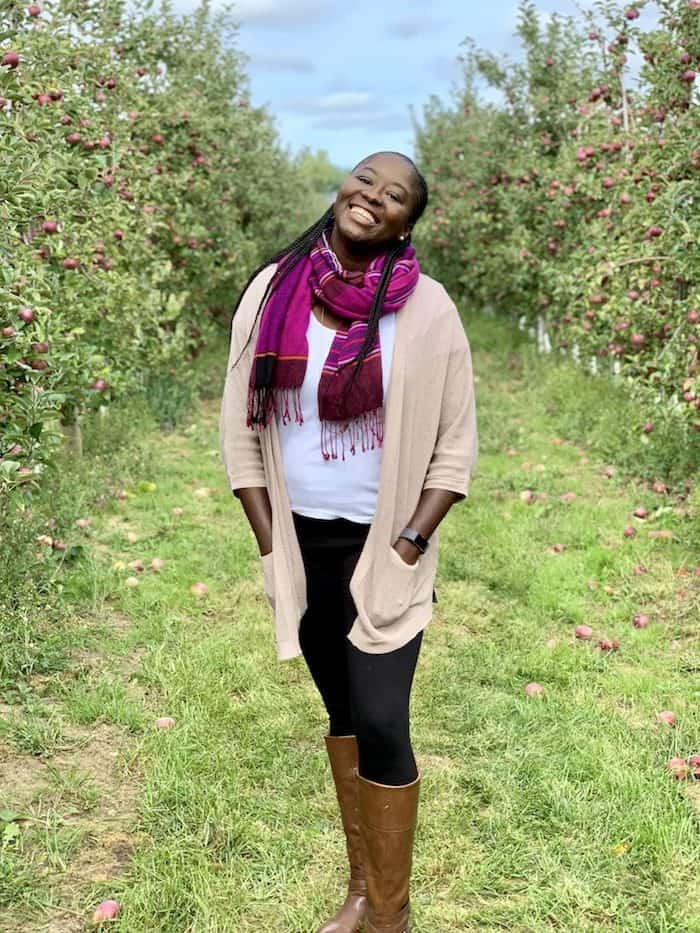 Okay, back to this apple cider bundt cake. It's seriously insane. It starts with a browned butter (yes, browned butter) batter filled with concentrated apple cider, fall spices and fresh grated apples baked to perfection. The freshly baked cake is also brushed with apple cider concentrate as soon as it is out of the oven. This adds another layer of flavor and moistness to the cake.
The cake is also finished with an apple cider glaze which could be optional if you'd like to enjoy it that way. The glaze is sweet and for a sweet tooth, the perfect addition to the cake. However, a simple dusting of powdered sugar will be sufficient.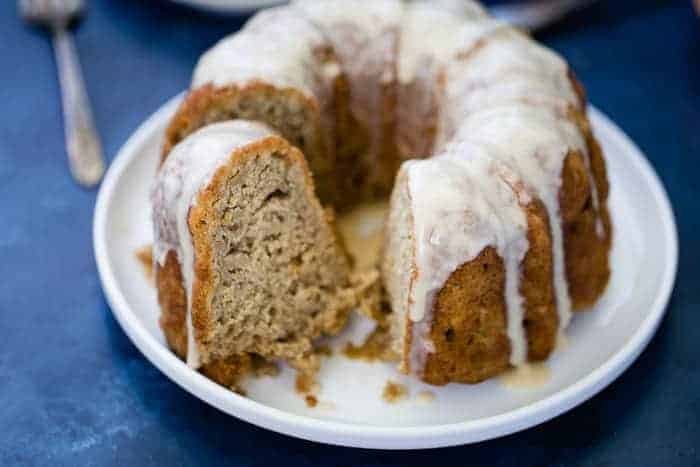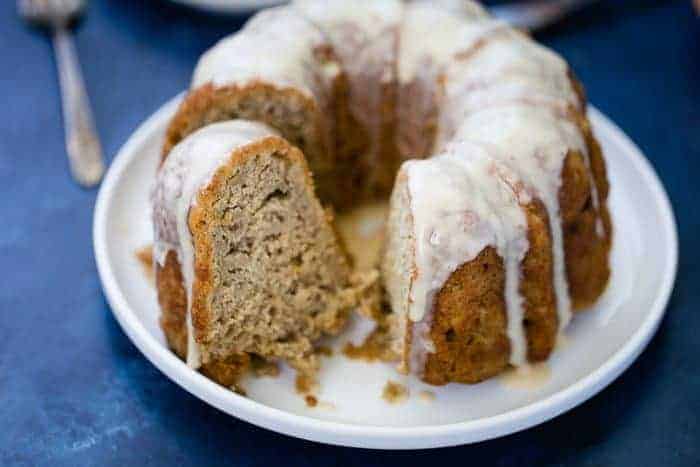 This cake is great with a cup of warm apple cider or tea on a fall evening. We all enjoyed it and was a good way to use some of the apples we picked.
Next up – I need to make apple pie or this apple cardamon crisp to make a dent in my apple loot.
Hope you are all having a great week. Here's to another lovely fall weekend ahead. Bake yourself this apple cider bundt cake to truly enjoy the season 🙂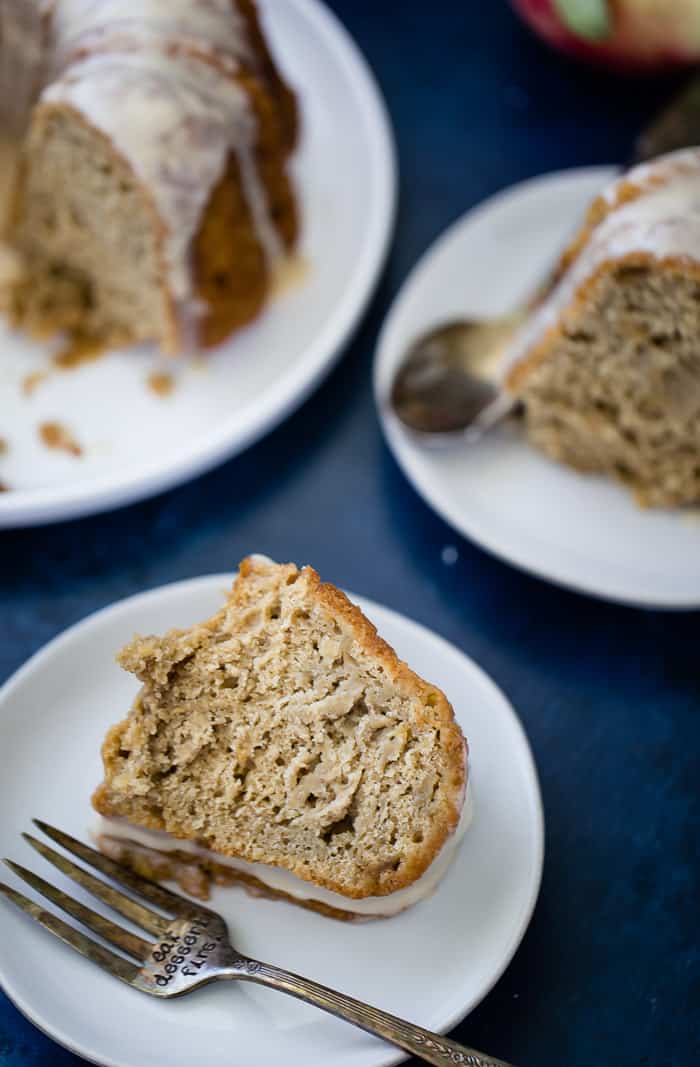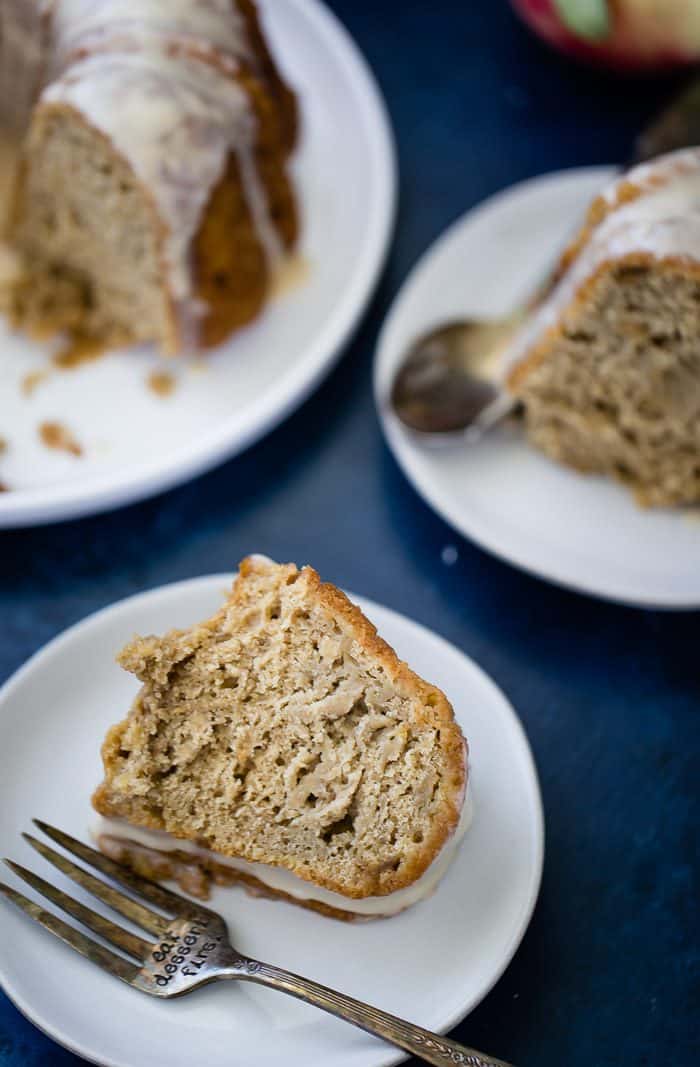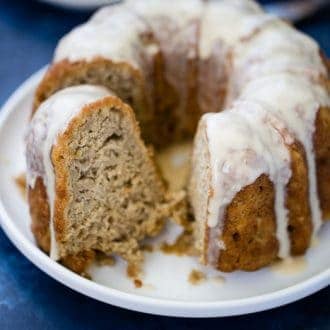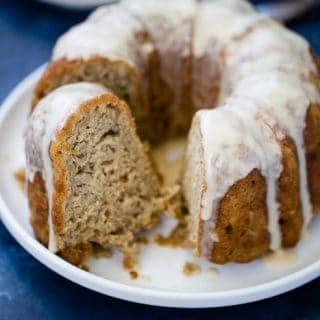 Yield: 1 12-cup bundt cake
Apple Cider Bundt Cake
Cook Time
1 hour
5 minutes
Additional Time
25 minutes
Total Time
2 hours
20 minutes
Ingredients
4 cups apple cider
3 ¾ cups all-purpose flour
1 ½ teaspoons kosher salt
1 ½ teaspoons baking powder
½ teaspoon baking soda
¾ teaspoon ground cinnamon
¼ teaspoon ground allspice
1 cup (2 sticks) unsalted butter, melted and browned
1 ½ cups dark brown sugar
3 large eggs, at room temperature
2 teaspoons vanilla extract
1 ½ pounds apples, peeled, cored and shredded (~3 cups)
¾ cup confectioner's sugar
Instructions
In a medium heavy bottom pan, bring the cider to boil over high heat. Cook until reduced to 1 cup, 20 to 25 minutes. Reserve ½ cup of the reduced cider for later.
Preheat oven to 350 degrees F. Grease a 12-cup bundt pan with baking spray. In a large bowl, whisk together flour, salt, baking powder, baking soda, cinnamon and allspice.
In a separate large bowl, whisk together ½ cup cider reduction, melted butter, brown sugar, eggs and vanilla extract. Pour the cider mixture over the flour mixture and stir with a rubber spatula until just combined. A few a flour streaks is okay. Stir in the shredded apples until just combined.
Transfer the batter to the prepared pan and evenly smooth the top.
Bake cake until a skewer inserted into the center comes out clean, about 55 to 65 minutes. Transfer the pan to a cooling rack. Immediately brush the exposed surface of the cake in the pan with 1 tablespoon of the reserved cider. Let cake cool for at least 10 minutes before inverting onto wire rack.
Brush the top and sides of the cake with more apple cider reduction. Let cake cool for at least 20 minutes before drizzling icing.
For the icing, combine the confectioner's sugar with 2 tablespoons of the remaining cider reduction.
Drizzle the icing over the cake and let cool completely.
Notes
Cake adapted for Test Kitchen
To make a smaller bundt (6-cup bundt cake), cut the recipe above in half but use 2 large eggs.
Recommended Products
As an Amazon Associate and member of other affiliate programs, I earn from qualifying purchases.