Apple Hand Pies
These classic apple hand pies are filled with juicy apple pie filling cooked in warm fall spices and wrapped in a buttery flaky pie crust.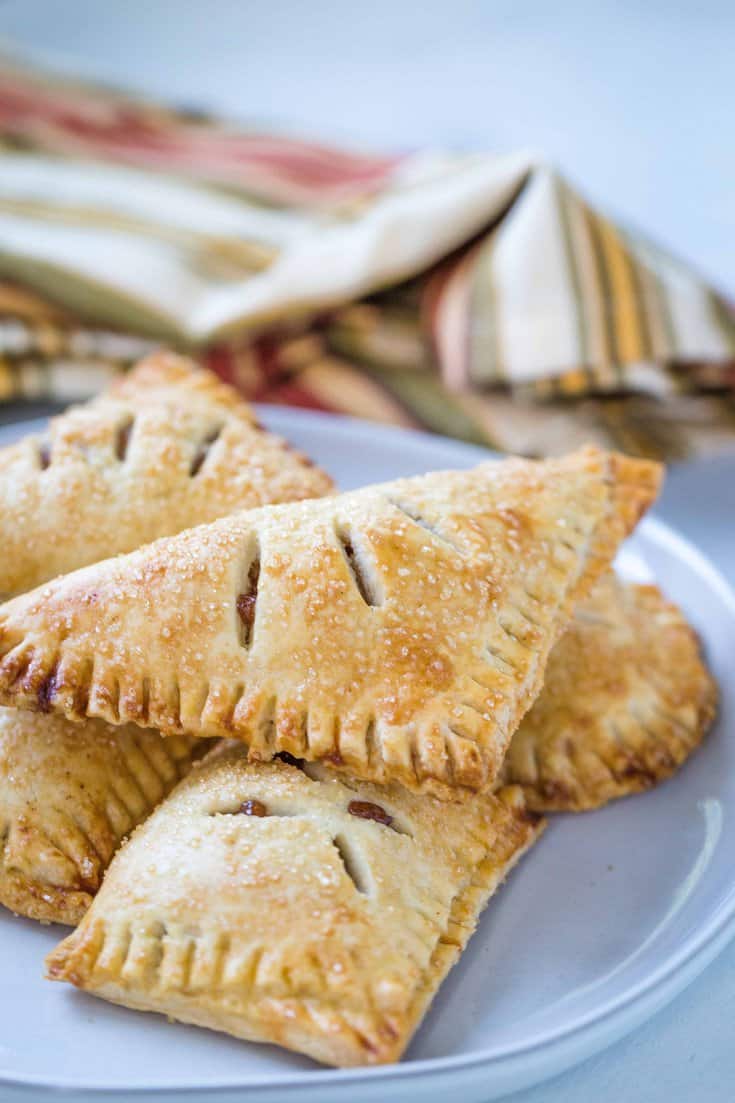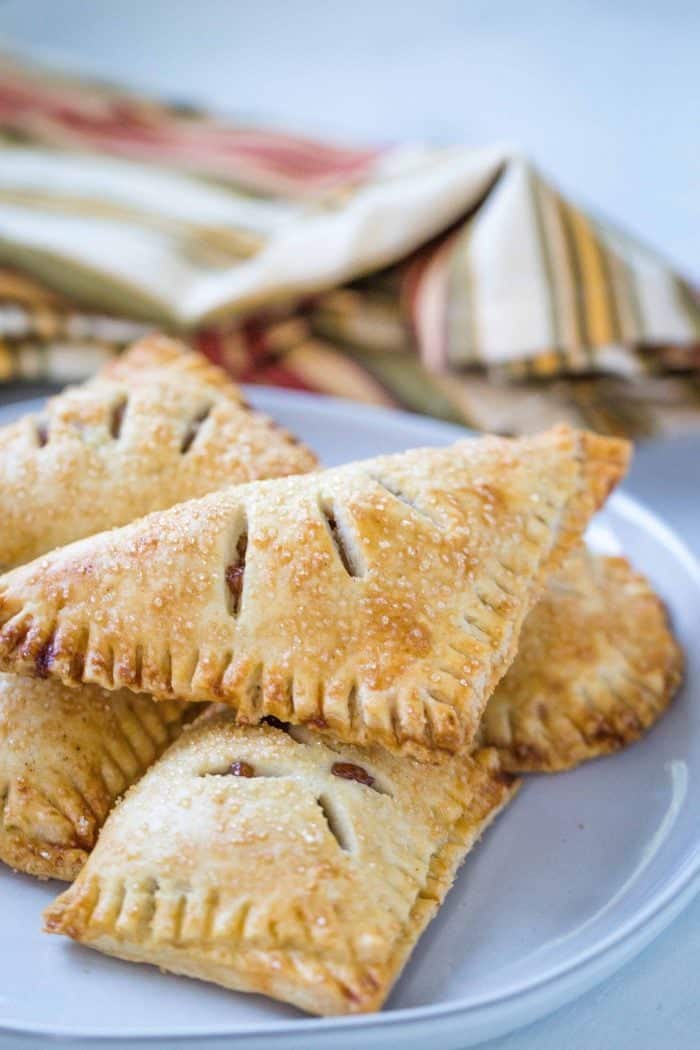 Happy Monday!
It's officially Fall friends and the air has changed. It's crisp, cool and the trees are just starting to change color. Which of course means it is APPLE SEASON in New York. We went apple picking this weekend to celebrate the start of the season and stock up on my favorite apples for the next few weeks. These apple hand pies were the first treats to come out of my kitchen after apple picking. They are perfect for the season and a great way to welcome everything fall.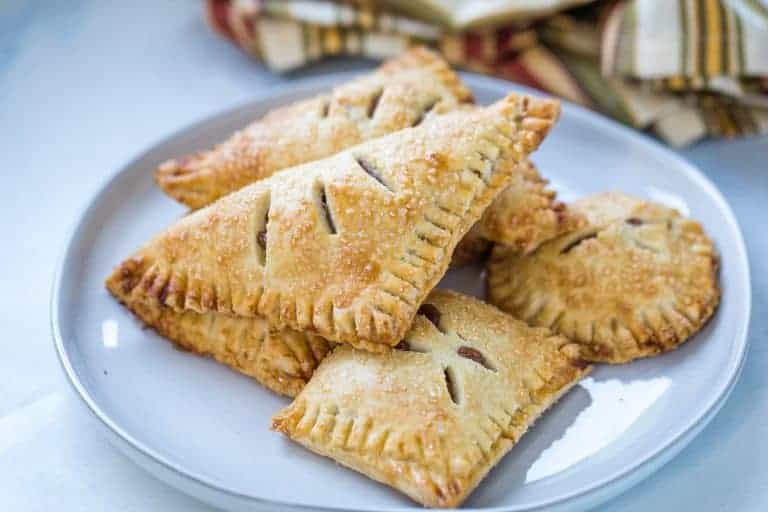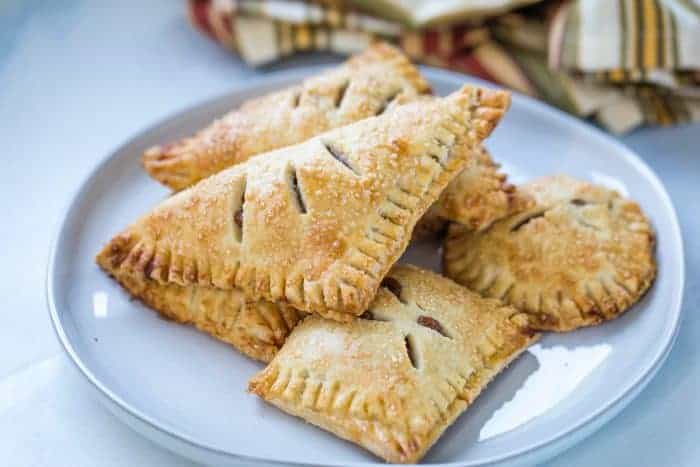 I love hand pies but who doesn't right? These little pockets of flaky, buttery crust filled with juicy pie filling are just like a slice of pie but even better. You don't have to share! My husband is also a hand pie fanatic and is always requesting them. In the summer we make blueberry hand pies almost every month or these cherry hand pies perfect for picnics. But, as it is fall, we need to savor some of that.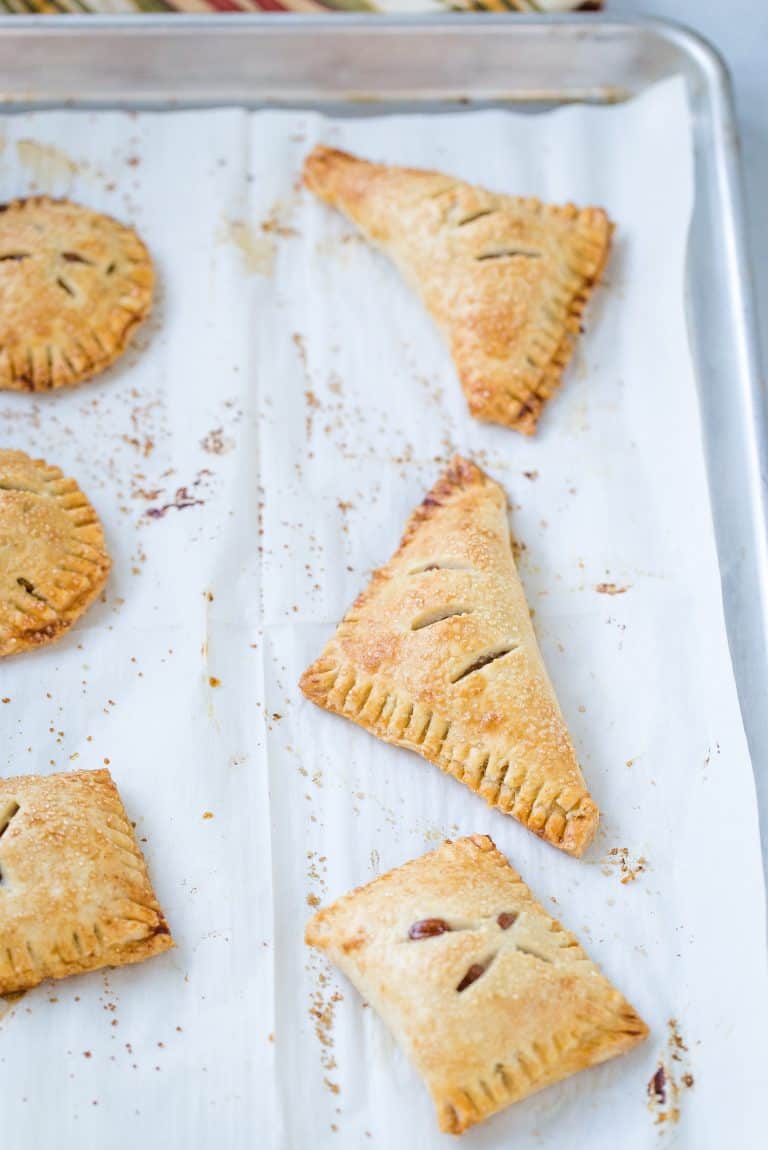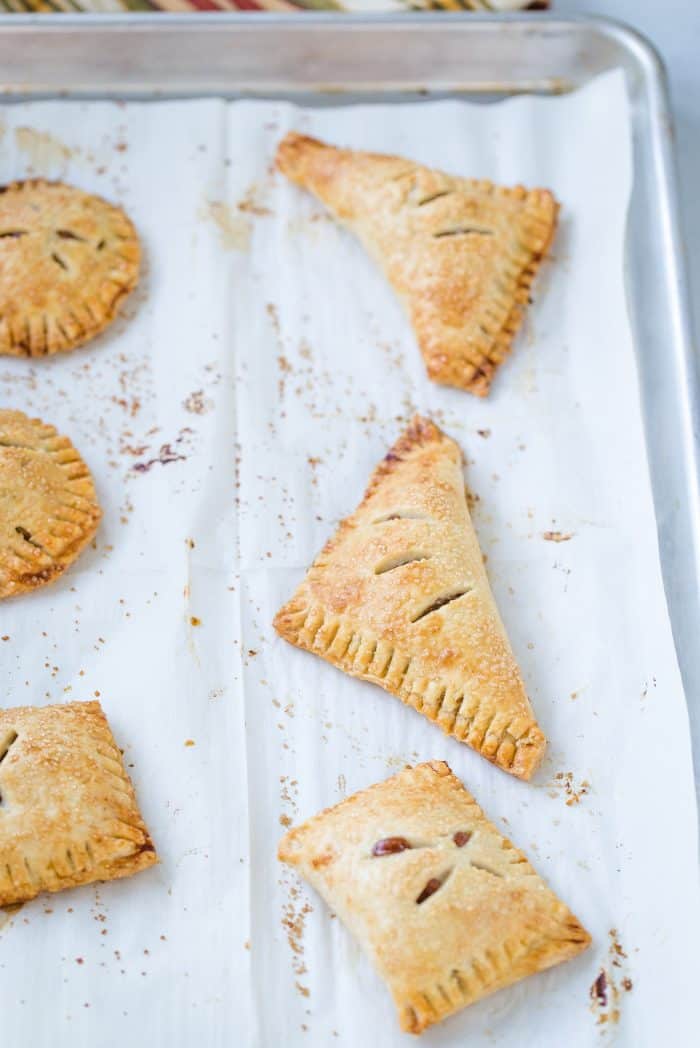 Nothing beats good 'ole apple pie. Juicy apple filling cooked with warm spices is wrapped around a buttery pie crust. Everything dreams are made of and that's why you need these apple hand pies in your life. They are your favorite slice of apple pie in a hot pocket 🙂 They come together very quickly too and easy to transport. You definitely need them this fall and are a great way to use up pounds of apple bounty.
I still have 15 pounds of apples to use and I need your ideas of ways to use them up! I usually make a batch of applesauce in the slow cooker that I can to enjoy all year round. I also make my favorite caramel apple pie recipe to use up a lot of the apples and some fruit roll-ups.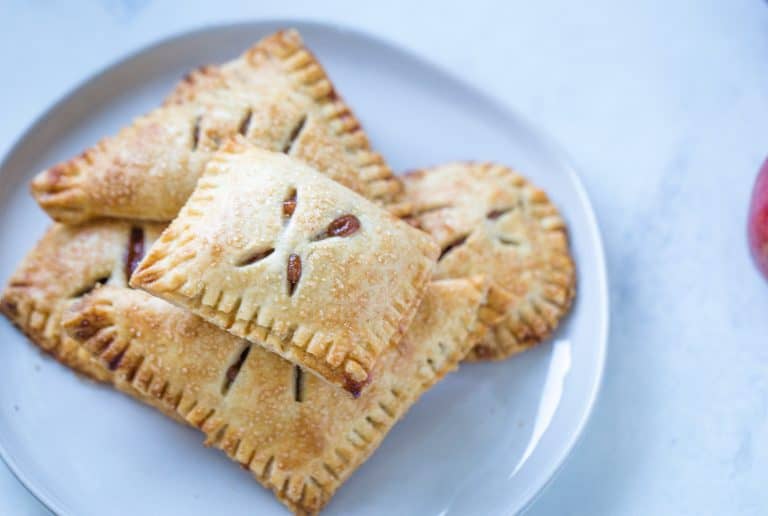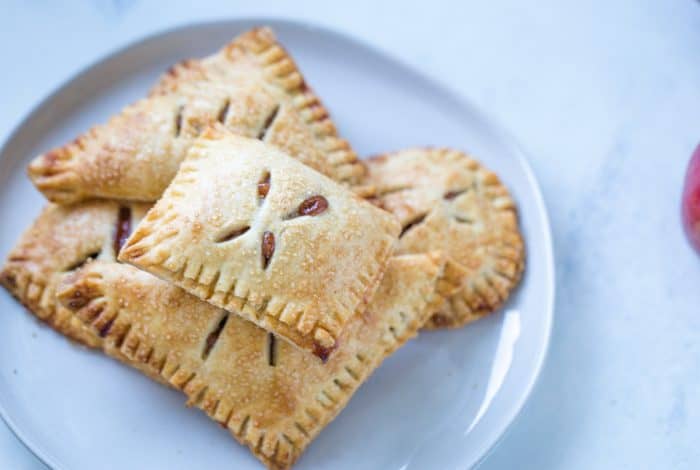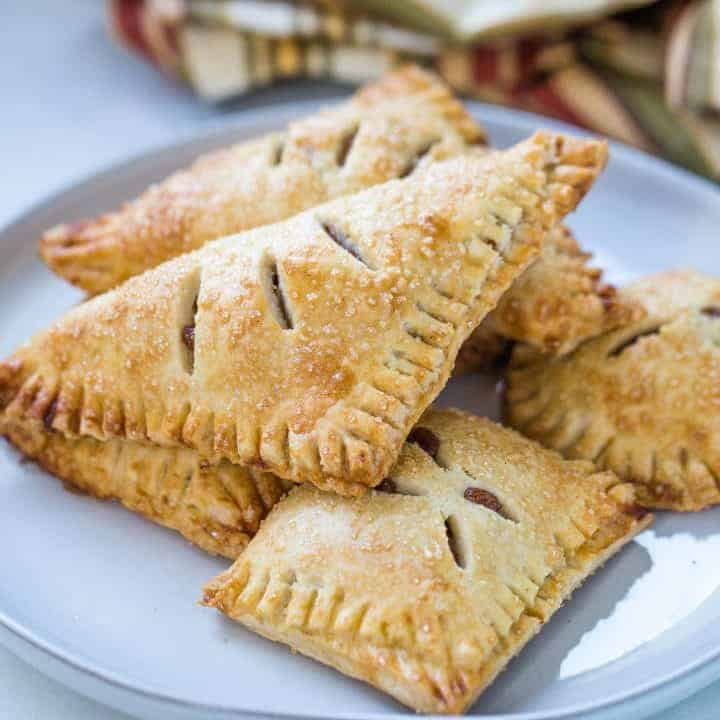 Yield: 12-15 hand pies
Apple Hand Pies
Additional Time
1 hour
40 minutes
Total Time
2 hours
40 minutes
Ingredients
FOR THE PIE DOUGH:
2 ½ cups all-purpose flour
1 teaspoon kosher salt
1 teaspoon granulated sugar
1 cup (2 sticks) unsalted butter, cold and cubed
FOR THE FILLING:
1 pound apples, peeled cored and thinly sliced (I used a combination of Macintoshes, Galas and Cortlands)
¼ cup dark brown sugar
½ teaspoon ground cinnamon
¼ teaspoon nutmeg
A pinch of ginger
A pinch of ground cloves
A dash of lemon juice
2 tablespoons cornstarch
¼ teaspoon salt
1 large egg whisked with 1 tablespoon water for egg wash
2 tablespoon turbinado sugar
Caramel sauce for serving (optional)
Instructions
FOR THE CRUST:
Prepare ½ cup ice-cold water and keep in the fridge. In a food processor, pulse the flour, salt, and sugar until well combined. Add in the butter and pulse until the mixture looks like coarse meal.
Sprinkle 6-8 tablespoons cold water, 2 tablespoons at a time, over mixture and pulse until dough comes together in clumps. If dry, add a little bit more water (1 teaspoon at a time).
Remove dough from processor and divide into two. form each dough into a disk. Wrap in plastic wrap and chill for at least an hour.
The dough can be made up to 3 days ahead. Keep chilled. Let stand at room temperature 15-30 minutes before rolling out.
FOR FILLING:
While dough chills, prepare the filling. In a small heavy bottomed saucepan) combine the apples, sugar, spices and lemon juice. Toss together and cook over medium heat until apples are tender, about 10 minutes.
Remove from heat and transfer to a small bowl. Let cool to room temperature. Once cooled, mix in cornstarch and salt until well combined. Set aside as you prepare the dough.
ASSEMBLY
Preheat oven to 375 degrees F. Prepare two baking sheets with parchment paper.
Roll out one disk on a lightly floured surface to a large circle, about 1/8-inch thick. Using a 4-inch round cutter, cut out 8 circles. Transfer each to the parchment lined baking sheet. You might have to re-roll the scraps once to get 8. Place the sheet in the refrigerator for 5-7 minutes. Repeat with the second disk of pie dough.
Brush the edges of dough with egg wash. Place 1-2 tablespoons of the apple mixture in the center of the rounds. Top with the remaining rounds and seal the edges with a fork. Return to the baking sheet and chill for 15 minutes.
Brush the top of the pies with the egg wash and sprinkle with turbinado sugar. Cut small vents on the top. Bake until golden brown, about 20 minutes. Serve warm with a drizzle of caramel sauce.