Apple Crumble Cheesecake Bars
A triple layer of apples, cheesecake and crumb coat make these apple crumble cheesecake bars a different take on a classic fall dessert.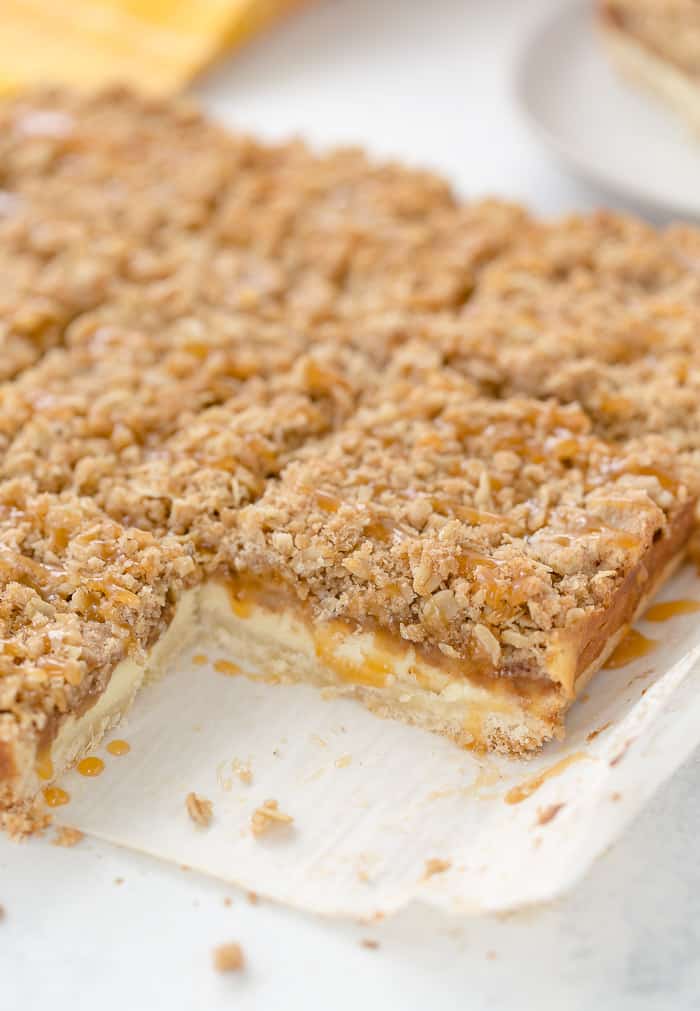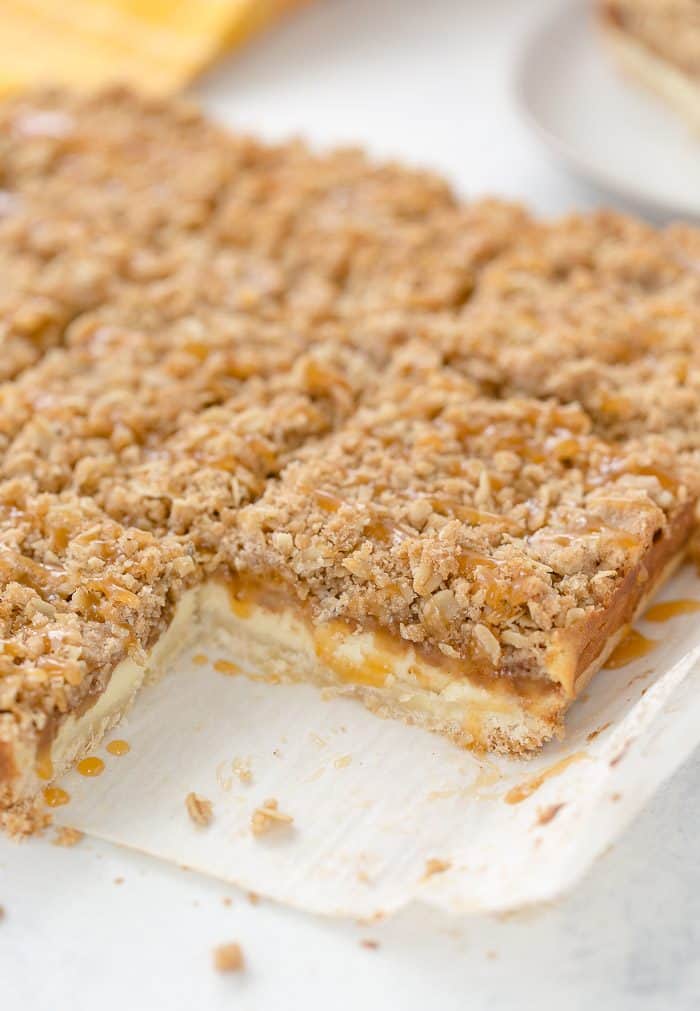 (The recipe and pictures of this recipe were originally published in 2013 but have been updated in 2018)
A lot of you were asking for this recipe here on my site so I am sharing it below. This post was meant to live over on The Spiffy Cookie but I understand you want one less click to get this yummy fall recipe.
Nothing beats the combination of warm apple pie filling with a crumbly crunch topping and a sweet cream cheese layer. These apple crumble cheesecake bars are always a hit when I bring it to the office and one you should definitely add to your fall baking list!
Enjoy!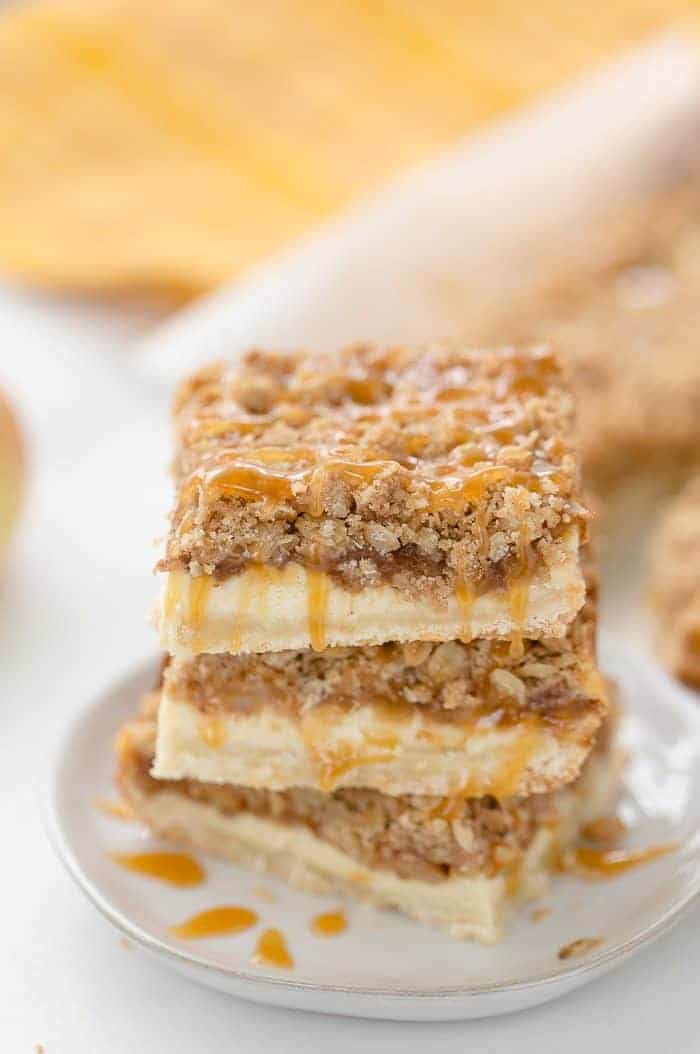 ******************************************************************************************
The original post is still below.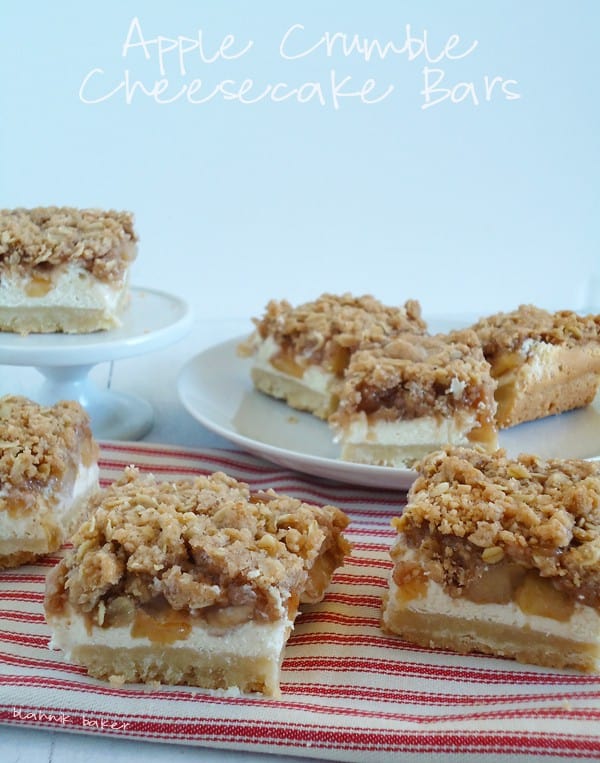 When you start writing posts under a quilt, you know fall is REALLY here. And with the nice fall weather comes apple season and apple baking!!! I jumped the gun a little last week by starting with pumpkin but that was due to my addiction to pumpkin spice latte (so not sorry!). So this weekend I caught up with apples that are actually in season and I baked up a storm.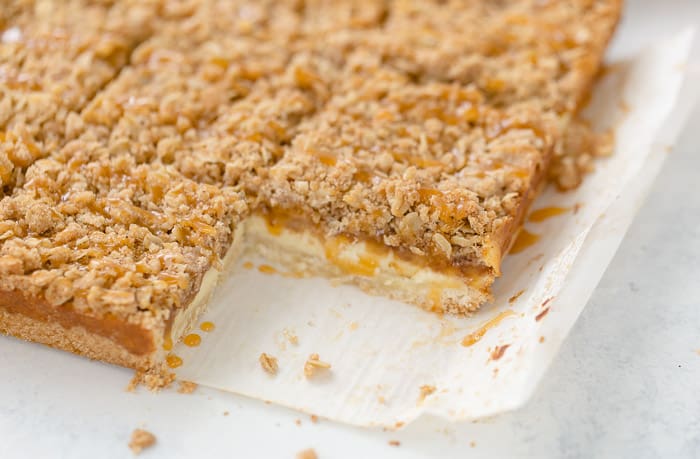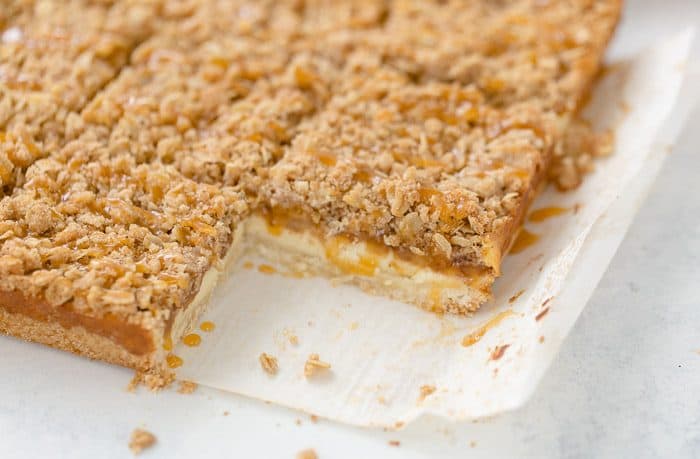 First up on my apple baking list were these apple crumble cheesecake bars. They were inspired by a streusel bar I bookmarked a while ago in Betty Crocker The Big Book of Cookies
and I've been waiting for apple season to experiment with them. I layered the cookie crust with a cheesecake filling, a homemade apple pie filling and topped with a cinnamon crumble layer. They are simply good and addicting.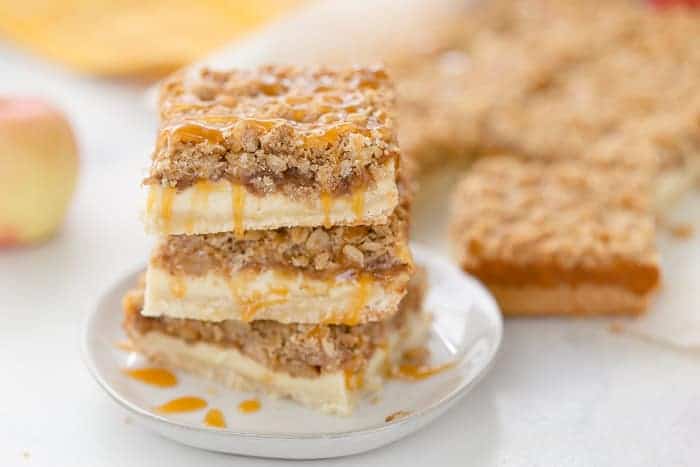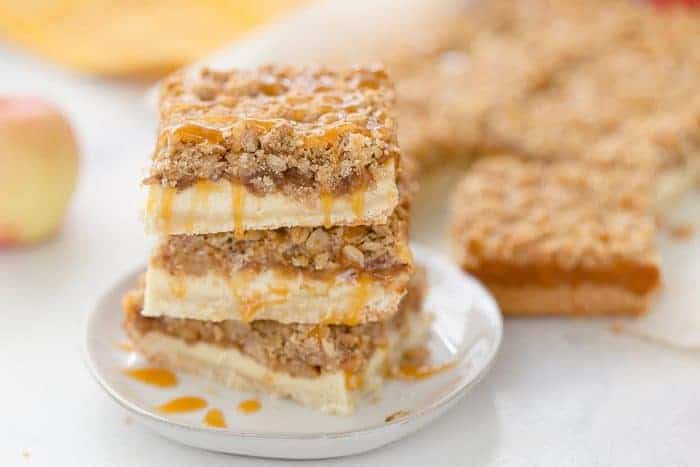 My friend Erin, of The Spiffy Cookie, is defending her Ph.D. thesis in a week and I am over there today sharing this new fall favorite with her readers. Head over there now to get the recipe for these apple crumble cheesecake bars.
If you love these bars you'll love my blueberry crumb bars too!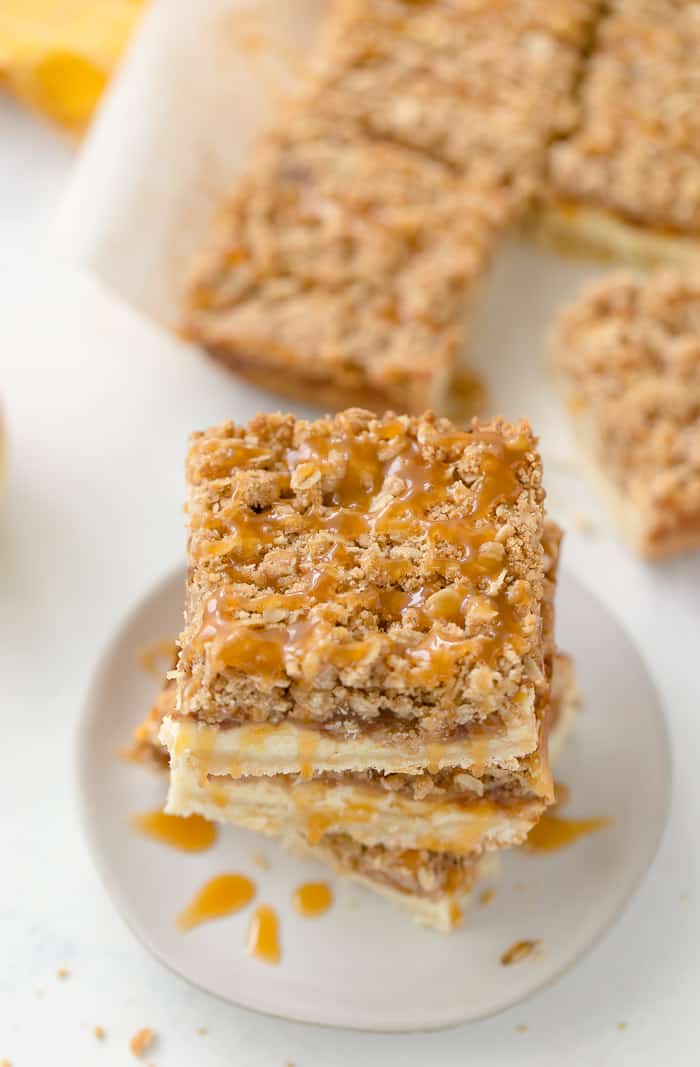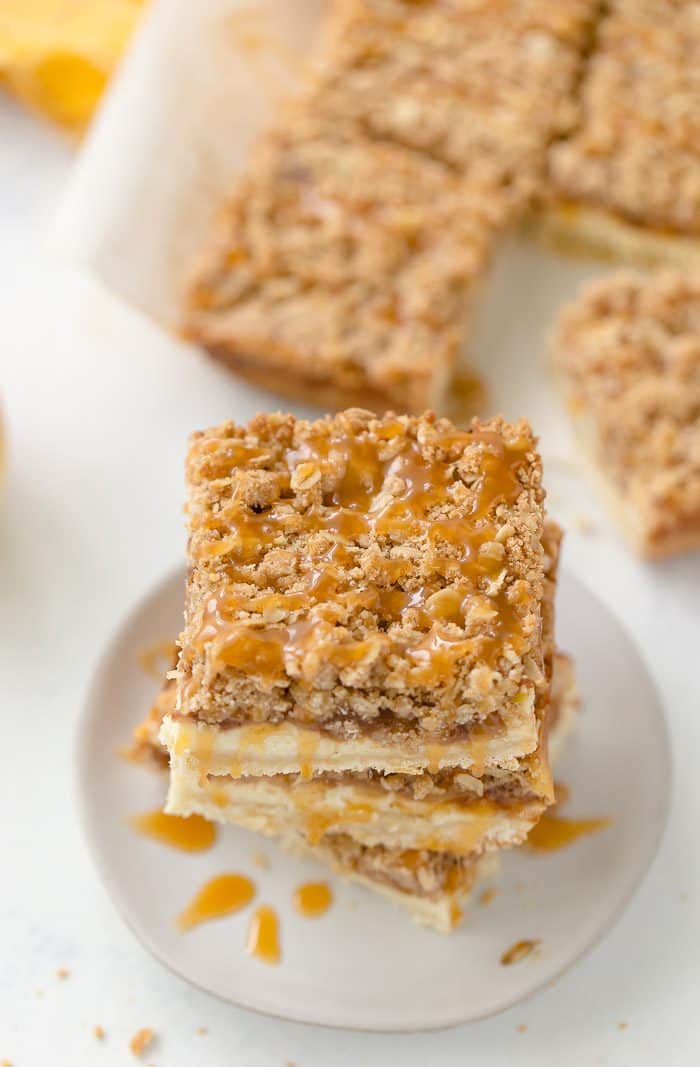 (Some affiliate links included in post)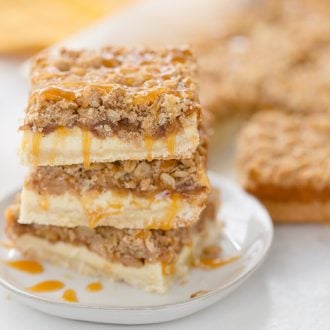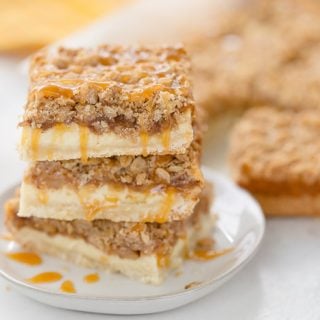 Yield: 1 13x9 inch cake
Apple Crumble Cheesecake Bars
Additional Time
30 minutes
Ingredients
For the Crust:
2 ½ cups all-purpose flour
1 cup (2 sticks) butter, softened
¾ cup granulated sugar
½ teaspoon salt
For the Filling:
2 8-ounce packages cream cheese, softened
½ cup brown sugar
2 tablespoons all-purpose flour
1 teaspoon vanilla extract
1 large egg
3 cups apple pie filling
For the Crumble:
1 cup all-purpose flour
1 cup quick-cooking oats
¾ cup packed light brown sugar
1 teaspoon cinnamon
¼ teaspoon ground nutmeg
10 tablespoons cold unsalted butter, cut into cubes
Instructions
Heat oven to 375 degrees F. Line a 13 x 9-inch pan with foil and grease.
In the bowl of an electric mixer, combine all the ingredients for the crust and mix on low speed until coarse crumbs form. Alternatively, you can stir all the ingredients in a large bowl until coarse.
Press the crumb in the prepared pan and bake for 15 minutes or until golden brown. Let cool for 30 minutes. Reduce oven temperature to 350 degrees F.
To make the cream cheese filling, combine the cream cheese, sugar, flour, extract and egg in a large bowl. Beat until smooth on medium speed using an electric mixer, about 3 minutes.
Spread cream cheese filling over cooled crust and smooth evenly. Spoon apple pie filling evenly over cream cheese layer.
Make the crumb coating by combining all the ingredients, except cold butter in a medium bowl. Mix in butter with your fingers until crumbly.
Sprinkle the crumb coat evenly over the filling.
Bake for 30-40 minutes or until golden brown. Remove pan from oven and let cool for about 30 minutes on a wire rack. Chill for at least 2 hours to set.
Remove bars from pan by lifting foil overhangs. Cut into bars.
Store leftovers refrigerated.
Notes
Adapted from Betty Crocker Big Book of Cookies