Berry Beets Smoothie Bowl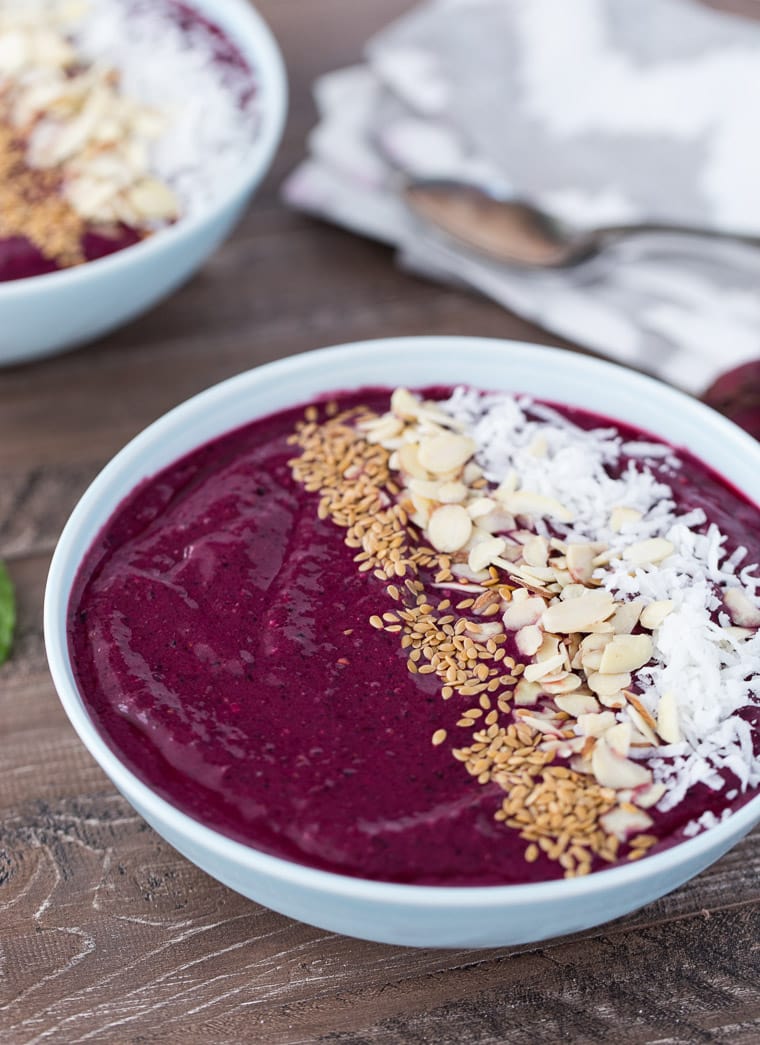 Happy New Year friends!! I hope you all had a great end of year and wonderful holiday season celebrations. This Monday is probably the worst in the year given the festivities and relaxation that usually occurs in the last two weeks of the year. But we cannot start the year with that mindset and we must charge on and tackle the New Year with great spirits, convictions and healthy Berry Beets Smoothie Bowls (plus mucho coffee).
Right about now is when everyone breaks out the salad and green juices while ditching the desserts. Those resolutions of healthier eating and aspirations just make it hard to indulge in sweets without wanting to punch yourself in the face. That's okay, I get it and we probably won't be friends until next month when you are looking for Valentine's Day desserts for your special someone. I'll still be here 🙂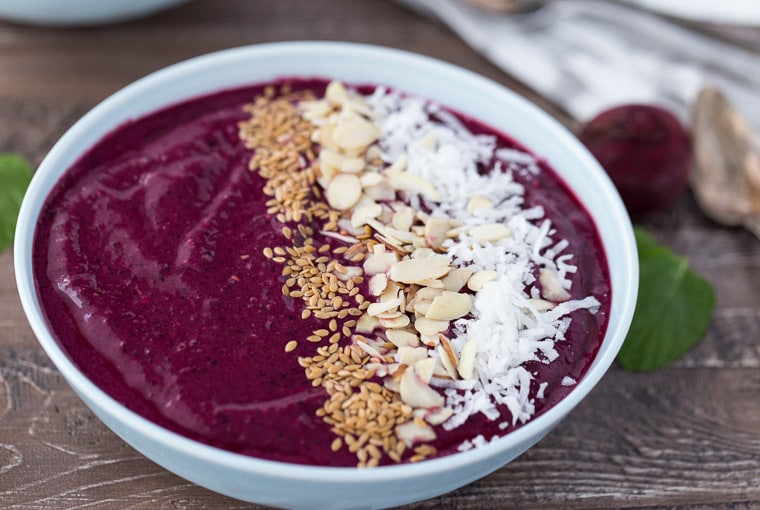 But I bring you these berry beets smoothie bowls today in the spirit of new beginnings and clean eating!
Smoothie bowls are becoming a thing (or are already a thing??) and I figured I should give them a try. Normally, I slurp up my smoothies on-the-go and see no reason why I should trade that for a bowl and spoon when I am always running out of the door. But, I tried this berry beet smoothie bowl on a lazy Sunday yesterday and I can see the benefits of relaxing with a spoon and scooping this goodness. If you feel inclined to try the smoothie bowl, give this combination a try! Filled with berries, beets, mint, chia seeds and of course coconut flakes, it's delicious!! And you will not notice the beet (just putting that out for you beet-haters).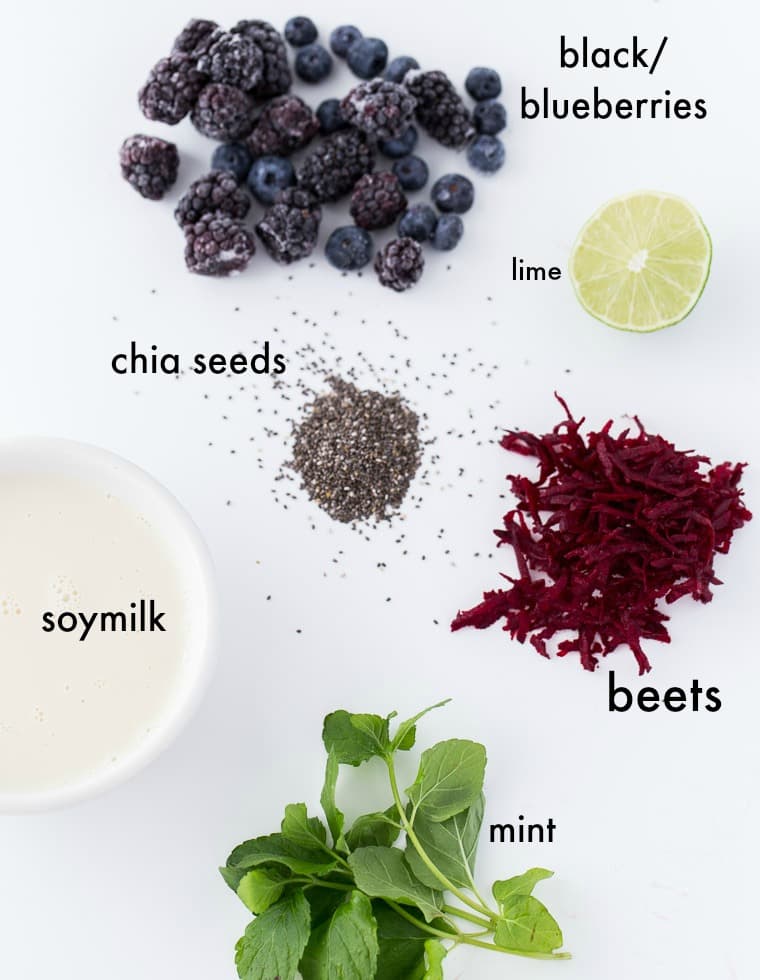 Happy New Year friends! Let's drink up to a great year 🙂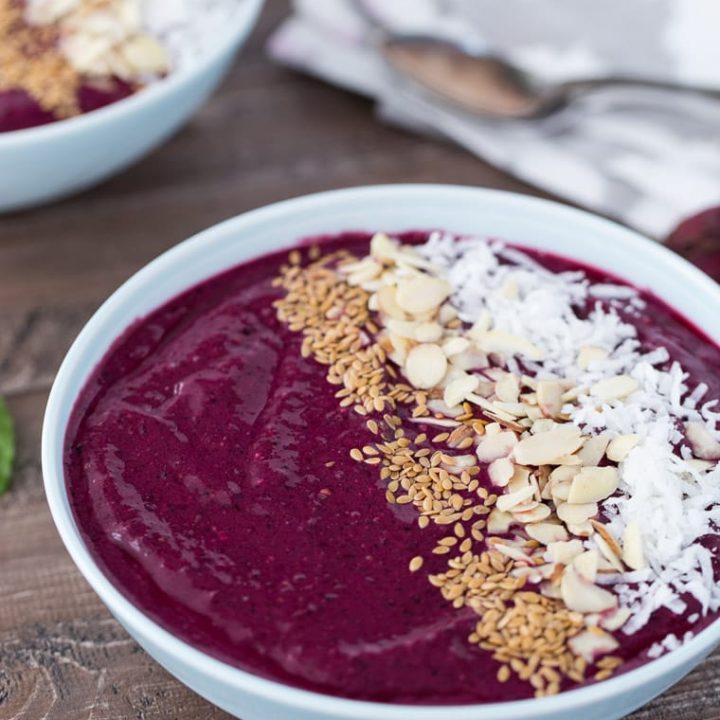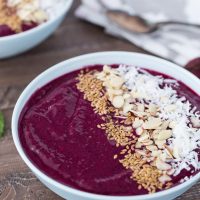 Yield: 2 servings
Berry Beets Smoothie Bowl
Ingredients
¾ cup soymilk
¾ cup blackberries or blueberries, preferably frozen
¼ cup grated beets (1 small beet)
¼ cup mint leaves
2 tablespoons coconut flakes
1 tablespoon flaxseeds
2 tablespoon fresh lime juice
1 tablespoon chia seeds
1 tablespoon honey, maple syrup or agave
pinch of salt
½ cup ice
Toppings (optional):
Coconut flakes
Sliced almonds
Flax seeds
Instructions
Combine all the ingredients in a blender and blend until smooth. Pour into a bowl and top with toppings.
Alternatively, serve in a glass.
Nutrition Information:
Yield:
2
Serving Size:
1
Amount Per Serving:
Calories:

685
Total Fat:

42g
Saturated Fat:

15g
Trans Fat:

0g
Unsaturated Fat:

25g
Cholesterol:

0mg
Sodium:

270mg
Carbohydrates:

69g
Fiber:

18g
Sugar:

44g
Protein:

17g