Blueberry Baked Donuts
Here's a batch of soft and moist blueberry baked donuts to go with your morning coffee!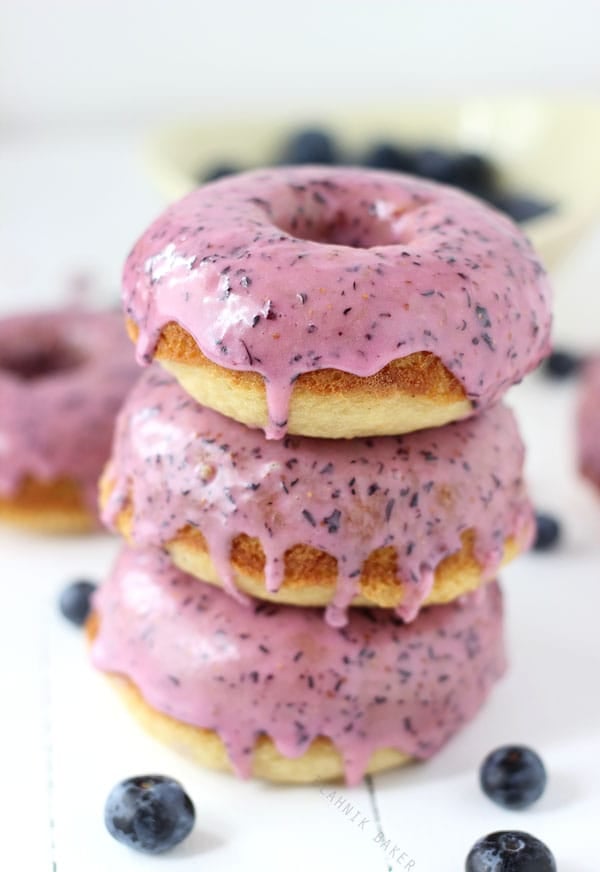 Thank you all for the wonderful birthday wishes yesterday!! They made the day extra special 🙂 I had a great day celebrating with my hubby, with some wonderful dinner and drinks! Do you know what else made my birthday special?? Baked donuts!!!! Yes, I need to scream that. I love baked donuts and it's rather shameful I've not shared more of these with you. That's not representative at all of how much I consume them.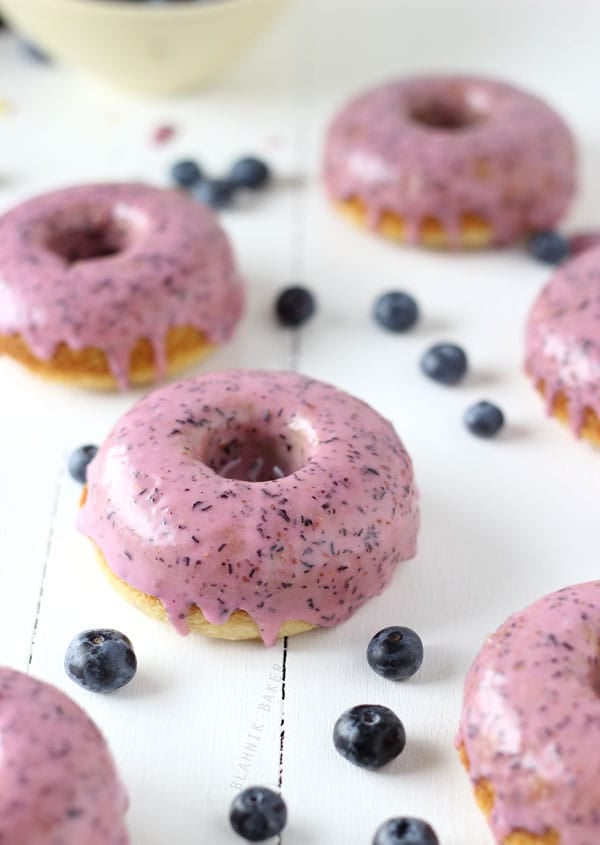 When PAM reached out to me to share some of my "clean up" secrets, I knew these blueberry baked donuts will be the perfect example of how I use PAM baking spray to make my clean up life easier.
I bake a lot (duh!!) and dislike the aftermath of dishes that accumulate especially after a weekend of three to four recipes for the blog. The poor husband gets the daunting task of taste tester AND clean up buddy for those days when I do not feel up to it, which is very often. Washing sticky baking pans, mixing bowls, and tons of spatula really can take the fun out of baking. And it's even worse when you have guests coming over for a dinner party as you want your clean up to be quick and efficient. That's why I eliminate any sticky pans by using PAM baking spray.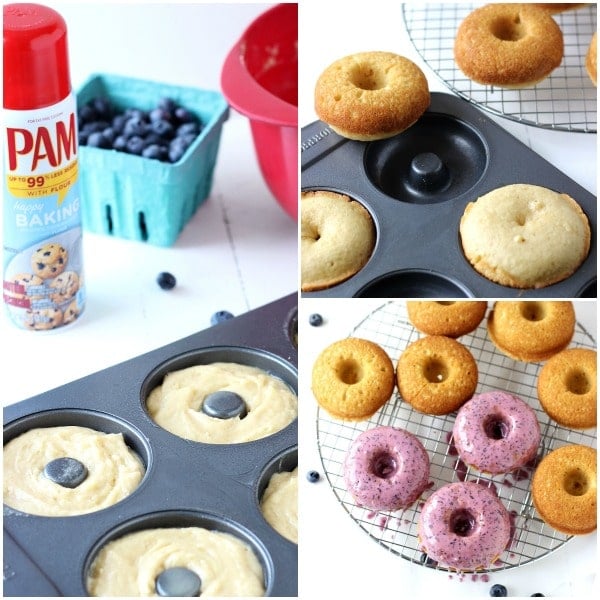 PAM seriously works wonders for my cake pans, bundt pans and clearly, donut pans too. Yeah, I kinda have a lot of different baking specific pans. Did I mention I bake a lot? Back to the topic, using PAM really eliminates the fear of goo at the bottom of your pans and there is no need to soak anything before washing. Clean up is fast and easy!! Every time!! My baked donuts are evidence yo!
These blueberry baked donuts boast a very rich and soft brown butter base (my favorite!) that's topped with fresh blueberry glaze. The glaze is just the touch of sweetness you need to go alongside that morning coffee. They are truly delicious and you need to try them soon.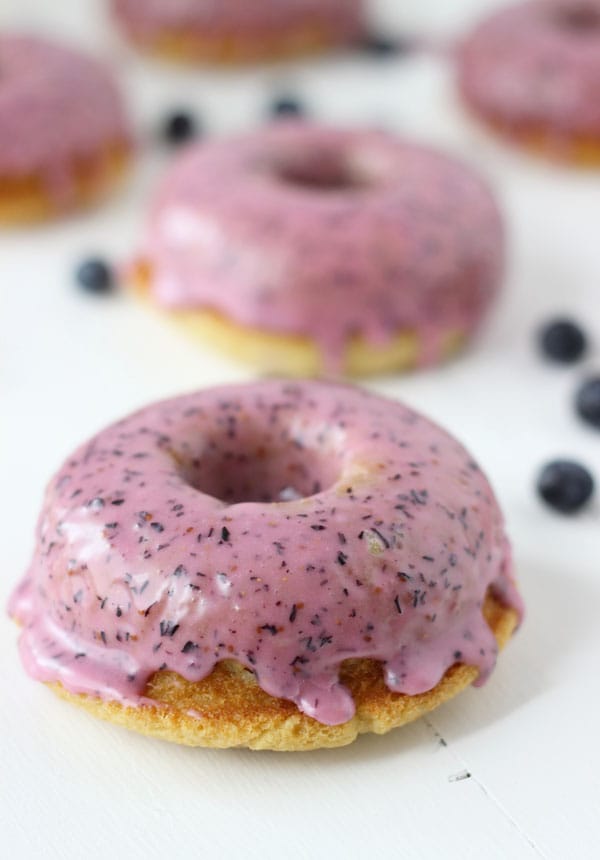 What are some of your clean up secrets? I know everyone has some!!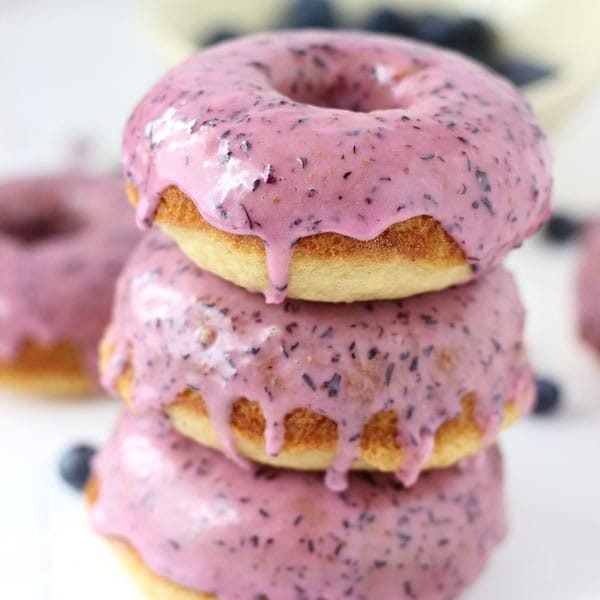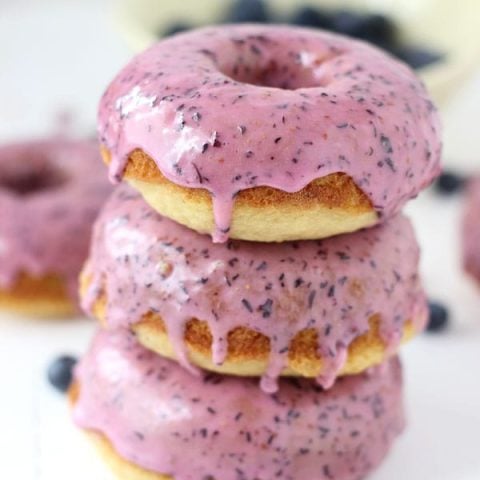 Yield: 8-10 donuts
Blueberry Baked Donuts
Here's a batch of soft and moist blueberry baked donuts to go with your morning coffee!
Ingredients
For Donuts:
1 2/3 cup cake flour
1 cup granulated sugar
1 teaspoon baking powder
½ teaspoon kosher salt
6 tablespoons butter, melted, browned, and cooled
3 large eggs, room temperature
½ cup Greek yogurt, at room temperature
2 teaspoons pure vanilla extract
For the glaze:
½ cup blueberries
1½ cups powdered sugar
Instructions
Preheat oven to 350 degrees F. Lightly grease a doughnut pan with PAM baking spray and set aside.
In a medium bowl, whisk together flour, sugar, baking powder, and salt. In a measuring cup, whisk together wet ingredients; browned butter, eggs, Greek yogurt, and vanilla extract.
Add the wet ingredients to the dry ingredients and mix until just combined. Do not overmix as you will have rubbery donuts. Using a small spoon, scoop batter into the prepared donut pan, filling each about ⅔ full.
Bake for 15-18 minutes or until the donuts are baked through and spring back when lightly touched. Let cool in the pan for 1 minute and then transfer to a cooling rack to cool completely. While cooling, make the glaze.
To make the glaze, combine the blueberries and powdered sugar in a blender or food processor. Blend together until smooth. Pour into a medium bowl. Add some more powdered sugar (one tablespoon at a time) if the glaze is not thick to coat donuts.
When donuts are completely cooled, dip each in a glaze. Let glaze set for 20 minutes before stacking or serving. Donuts are best enjoyed within two days.
Recommended Products
As an Amazon Associate and member of other affiliate programs, I earn from qualifying purchases.
Disclosure: Compensation was provided by ConAgra via Mode Media. The opinions expressed herein are those of the author and are not indicative of the opinions or positions of ConAgra.