Brown Butter Walnut Brownies (Guest Post by Spoonful of Flour)
It's been a crazy two weeks on my front as I've been on the road back-to-back. First it was New York City for Better Homes and Gardens' Stylemaker event and this past weekend I went to my first blogging conference in Philly (pictures coming soon). The problem with back to back weekend trips is that albeit all the fun, I am a full time student and blogger and I only get to bake over the weekends (cue stress!!). But thank goodness for great blogging friends like Meghan who are always willing to step in when I need that extra help.
Meghan, from Spoonful of Flour, is an incredible baker who has the loveliest desserts. She and I bonded over our mutual love for cupcakes two years ago online. I mean just look at her cupcakes archives? But it was not until I met her in person over the summer that I knew we were kindred spirits indeed. We are dessert twins and she makes me want to move to Boston. She loves decadent, simple and everyday desserts like these brown butter walnut brownies she brought for you today!
________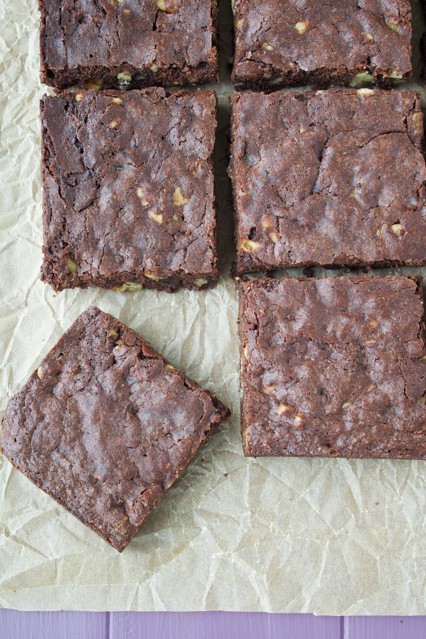 Hello Blahnik Baker readers! I'm Meghan from Spoonful of Flour and I am so excited to fill in for Zainab as she gets back in the swing of things after a weekend away from the kitchen. This past June I got to meet Zainab while she was in Boston for a conference. We hit it off right away as I took her around the city and visited some of my favorite bakeries. Zainab and I have so much in common and I had so much fun chatting and eating cannoli after cannoli with her! If only I could convince her to come to Boston more often.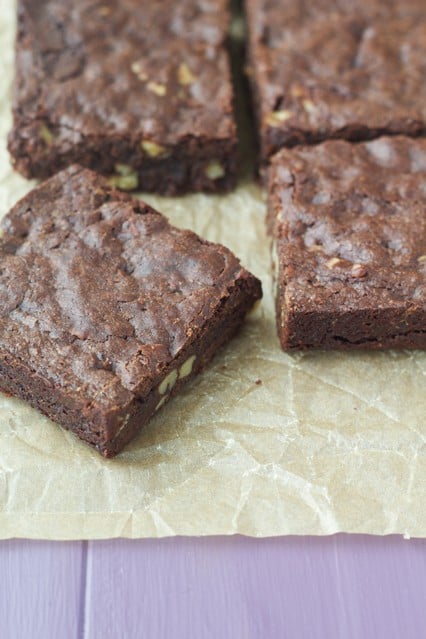 Just in case you need another brownie recipe in your life, I am sharing these brown butter walnut brownies with you today. It has actually been several years since I made these brownies for the first time. I recently came across the recipe again while I was flipping through one of the 500 magazines I currently have in my apartment. And then I remembered just how good they were and decided I needed to bake them again and share with others. The brownies themselves are studded with chopped walnuts and their flavor is further enhanced by the addition of brown butter. They have a chewy interior and a fudgy exterior. In other words, I love them!
Thank you so much for having me here today Zainab!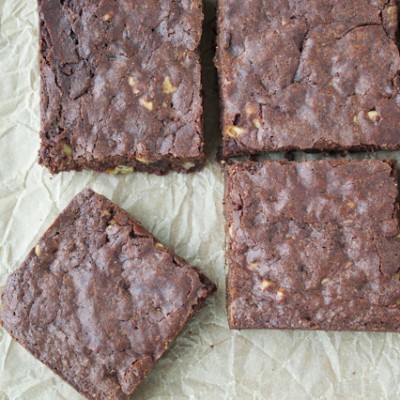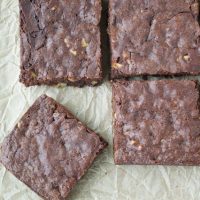 Brown Butter Walnut Brownies
These brownies are studded with chopped walnuts and their flavor is further enhanced by the addition of brown butter. They have a chewy interior and a fudgy exterior!
Ingredients
10 tbsp (1¼ sticks) unsalted butter, cut into 1-inch pieces
1¼ cups granulated sugar
¾ cup unsweetened cocoa powder
1 tsp vanilla extract
¼ tsp salt
2 large eggs, chilled
⅓ cup plus 1 tbsp all-purpose flour
1 cup chopped walnuts
Instructions
Preheat the oven to 325 degrees F. Line an 8x8 inch baking pan with aluminum foil, leaving a 2-inch overhang on each side. Spray the aluminum foil with non-stick cooking spray and set aside.
Melt the butter in a medium saucepan set over medium heat. Continue to cook the butter until it starts bubbling and turns brown in color. Remove from the heat and immediately add the sugar, cocoa powder, 2 teaspoons water, vanilla extract and salt. Stir until fully combined.
Add the eggs, one a a time, stirring until combined after each addition. Add the flour and mix until just combined. Add the chopped walnuts. Transfer the mixture to the prepared baking pan.
Bake for 25 minutes or until an inserted toothpick comes out clean. Allow the brownies to cool completely on a wire rack
__________
Thank you Meghan for this wonderful recipe!! We do need some brownies around here and I am sure Mr J will be happy to indulge in these as soon as we come back from our next trip. It's his birthday this coming weekend and we are heading to Montreal tomorrow. Off on the road again.
To keep in touch with Meghan and her amazing recipes, please follow along on her social media channels: Facebook, Twitter, Pinterest and her blog.