Chewy Toffee Bars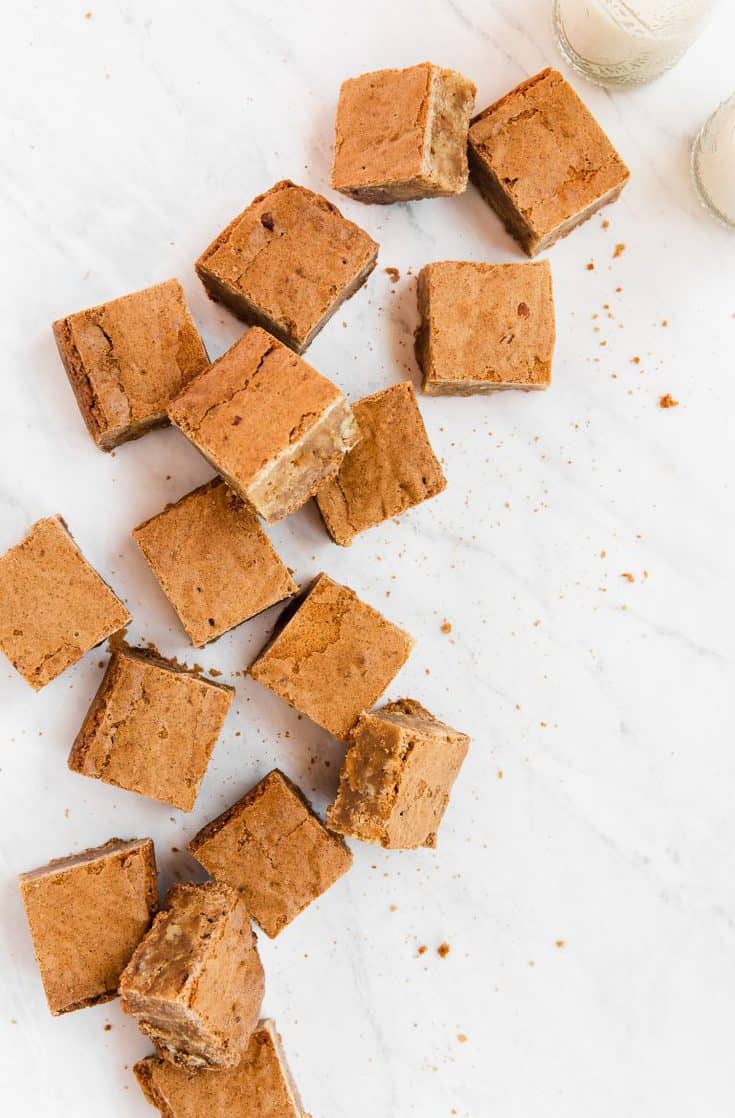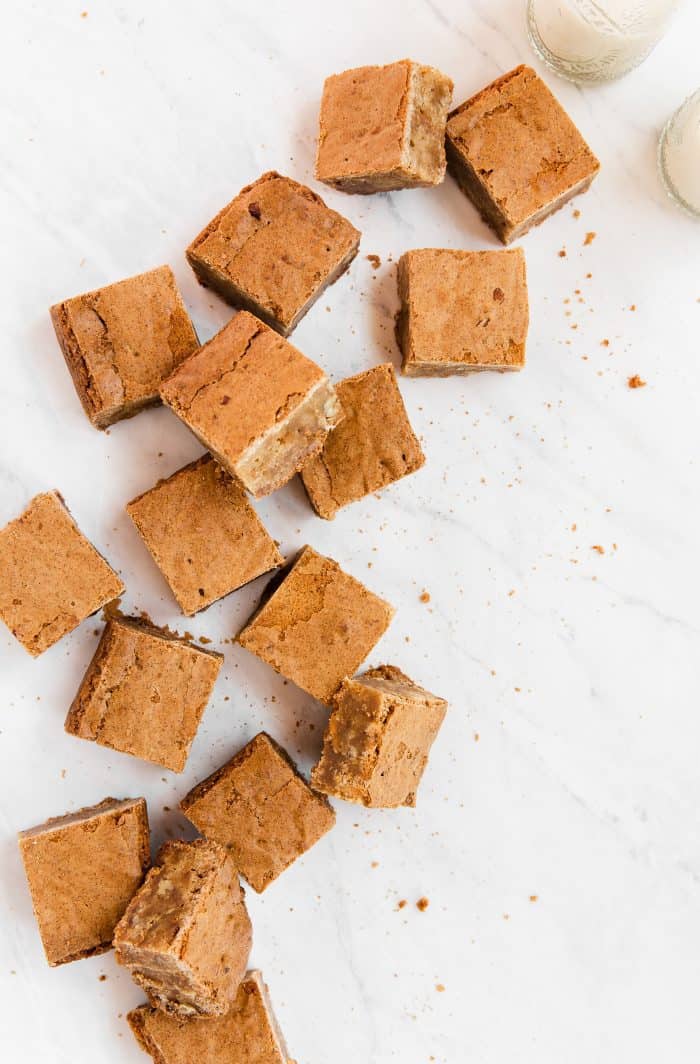 I have a brand new recipe for you today! These chewy toffee bars are a delight with a crunchy, perfectly sweet center.
Nostalgia hit last week and I found myself thinking about my childhood and missing home. It's been so long since I've been home and had food from my mom's kitchen. This led me to think about (and missing) my dad, who would always bring home toffee after work and it was just the best treat ever!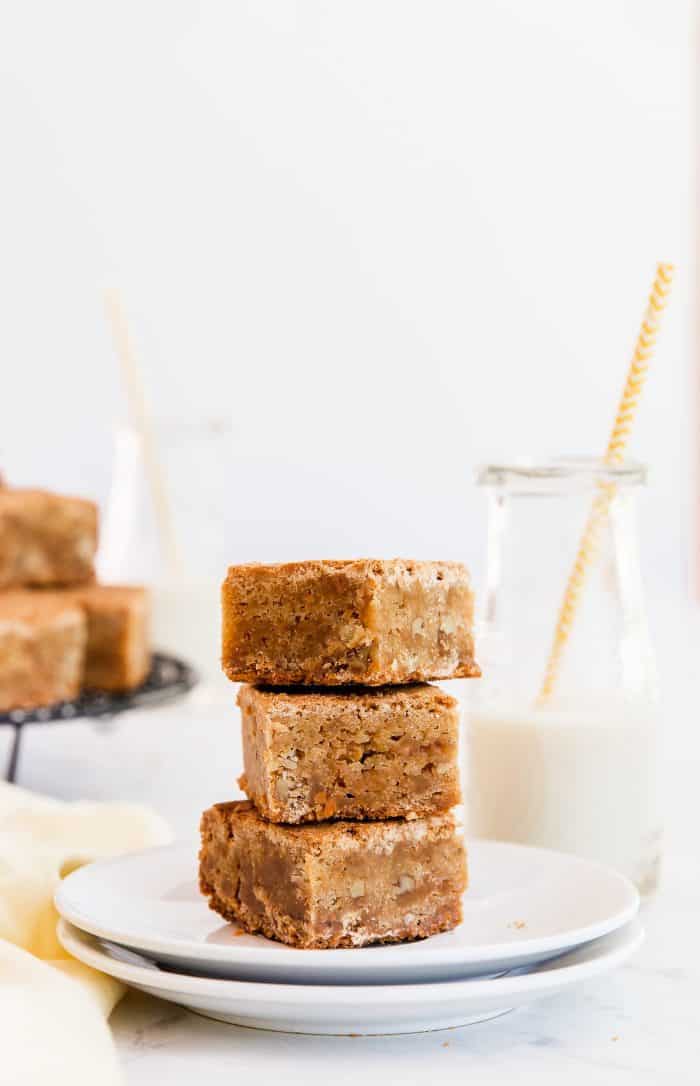 To be honest, I have never been a 'sweet' kind of girl. I don't know why because my little sister is a chocolate magnet and yet we grew up in the same house. But for some reason, toffee is different. It was my go-to candy growing up.
Toffee, most commonly called English toffee in the US, has just the perfect amount of sweetness without being overly sweet. I've not had one in a very very long time and I was prepared to fix that.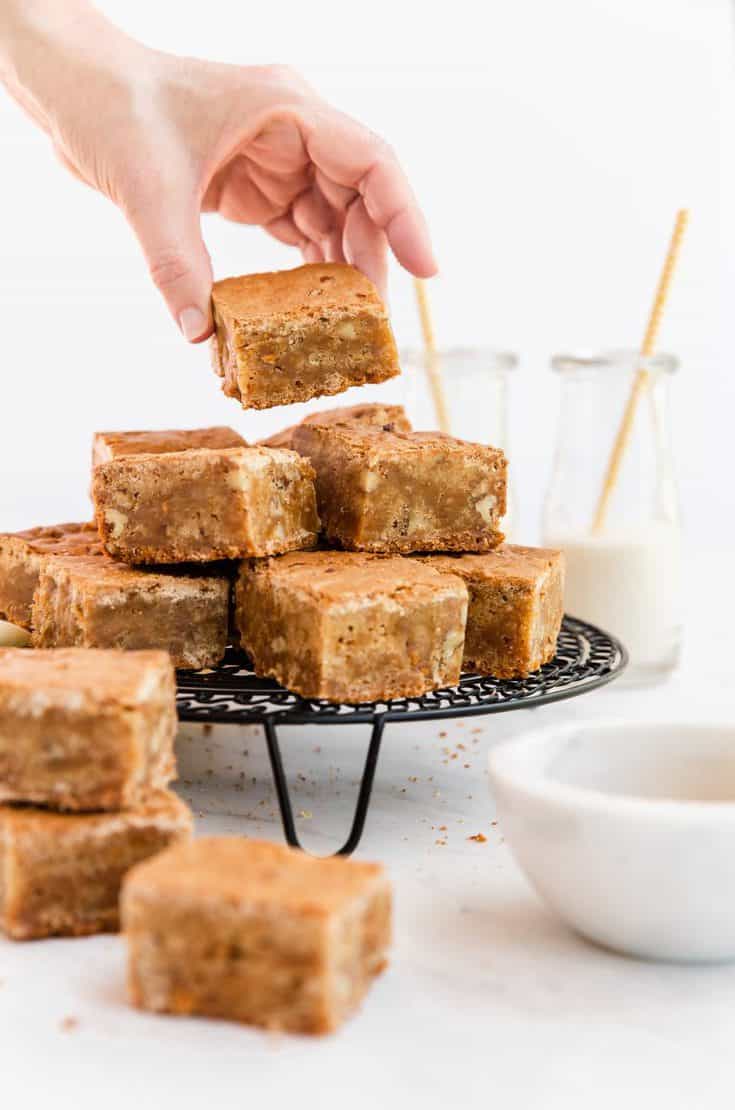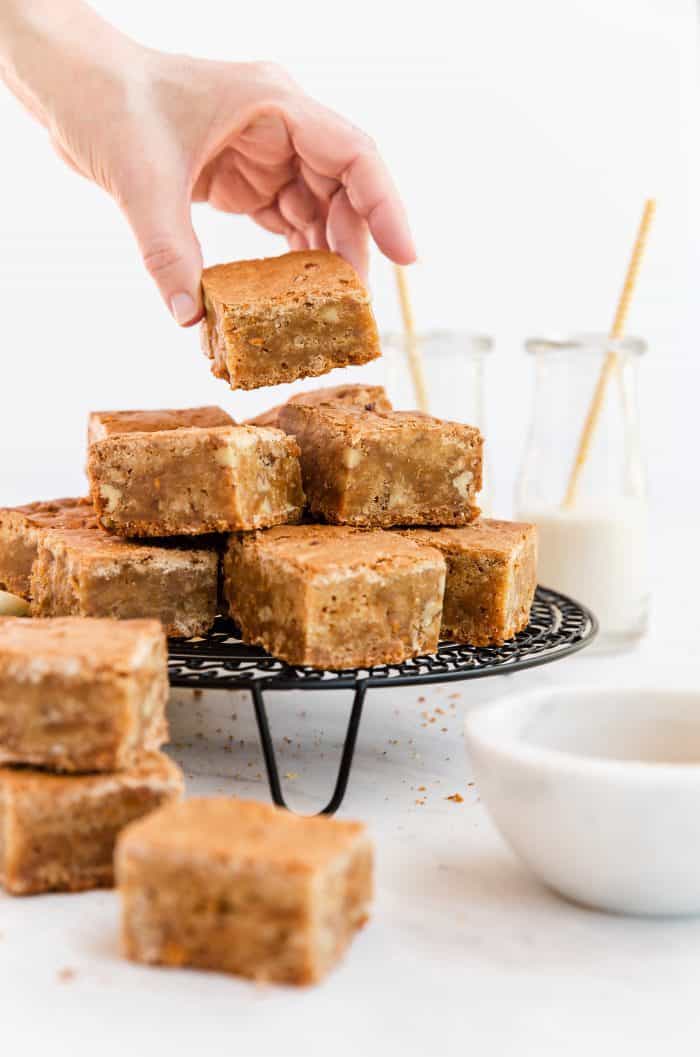 So when I saw these chewy toffee bars in this month's Food Network Magazine, I knew I had to make them. Finding the toffee was the most difficult part of the recipe; I spent hours looking down candy aisles at different grocery stores. In the end, I found chopped pieces at a local frozen yogurt dessert bar (totally not kidding).
The recipe is pretty straightforward and it took only 20 minutes to assemble the ingredients, mix and get them into the oven. The resulting brownie-like bar was chewy, crunchy, perfectly sweet, and brought back to so many happy memories!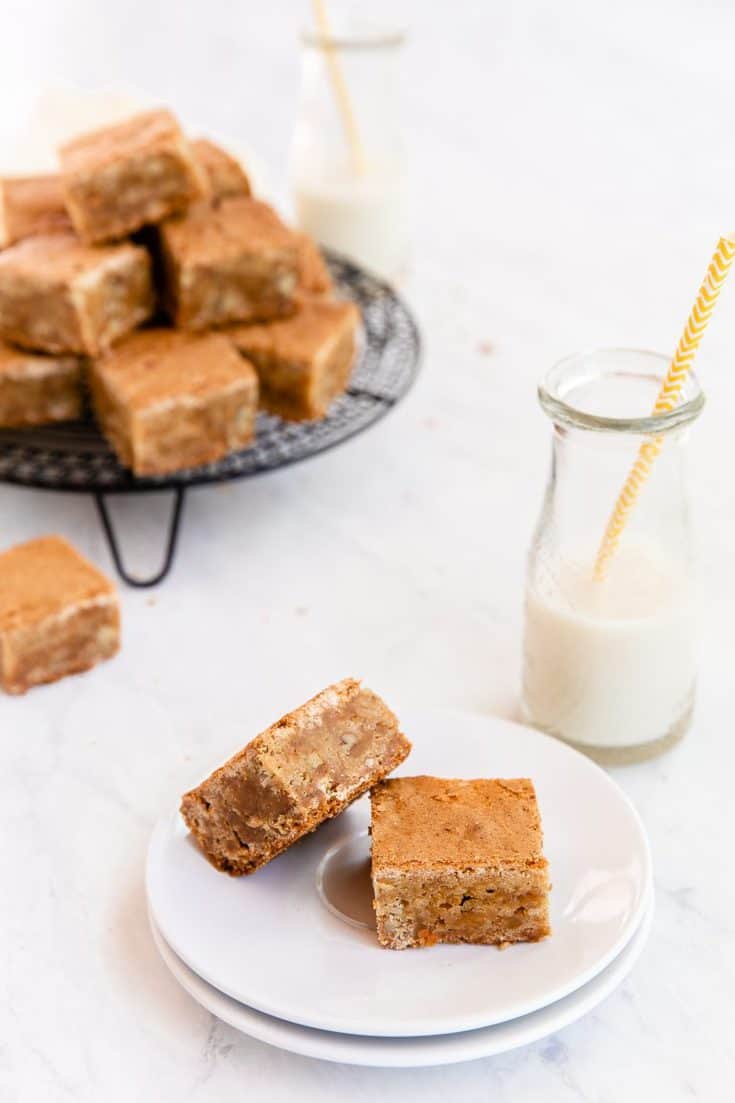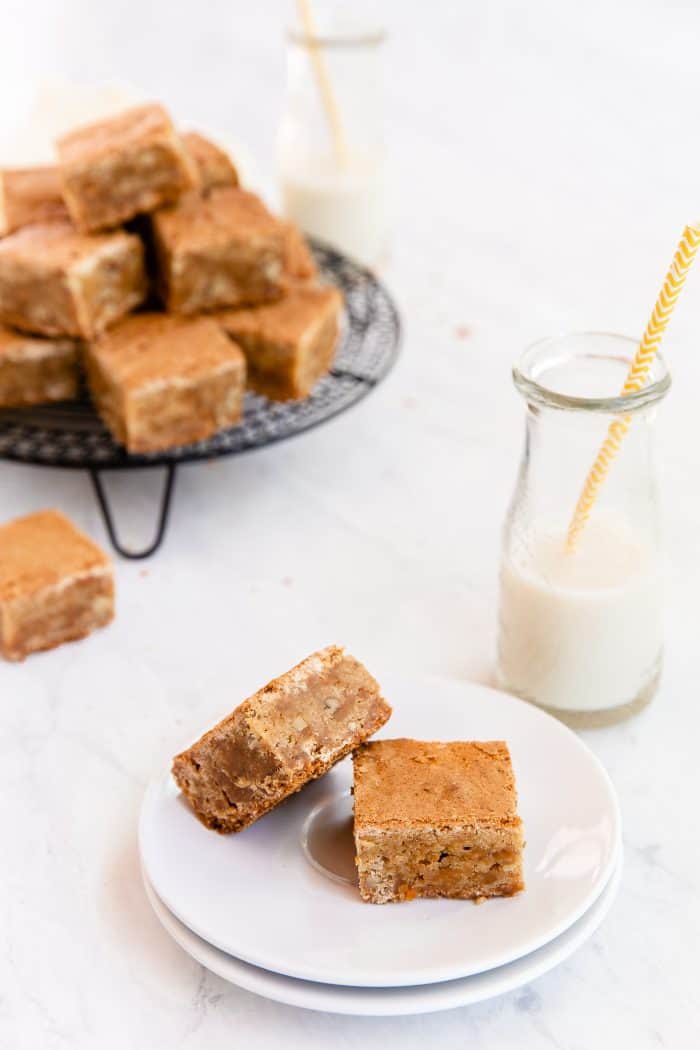 If you are like me and love toffee, these toffee bars are for you. They will hit the spot. If you have yet to fall in love with toffee, try these anyway and they will change your mind.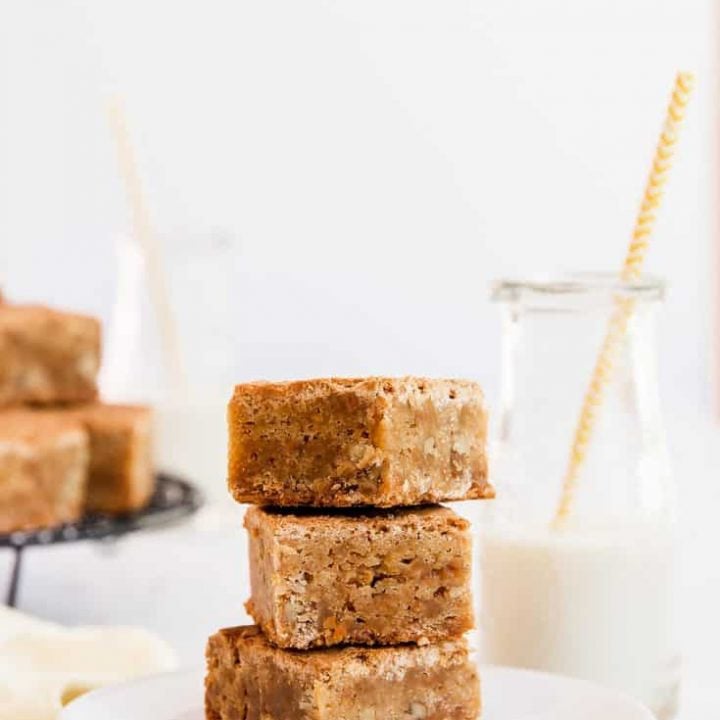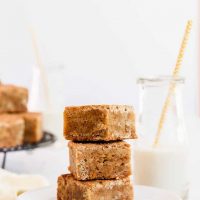 Yield: ~12 bars
Chewy Toffee Bars
These chewy toffee bars are brownie-like, crunchy, perfectly sweet, and chewy. They brought back to so many happy memories!
Total Time
1 hour
15 minutes
Ingredients
1 ½ sticks unsalted butter
2 ¼ cups packed light brown sugar
2 cups all-purpose flour
2 teaspoons baking powder
pinch of salt
¾ cup chopped nuts (I used pecans and walnuts), toasted
2 large eggs
2 teaspoons vanilla extract
1 cup toffee pieces
Instructions
Preheat oven to 350oF. Grease an 8-inch square baking pan and line the bottom and sides with parchment paper. Grease the parchment and set aside.
In a medium saucepan, melt the butter over medium heat. Add the brown sugar and stir until completely melted. Set aside to cool for 5 minutes.
Whisk together the flour, baking powder and salt in a medium bowl.
Add the eggs, one at a time, into the cooled sugar-butter mixture. Whisk to combine. Stir in the vanilla.
Add to the flour mixture and stir until combined.
Fold in the toffee and toasted nuts into the batter. The batter will be thick.
Spread the batter into the prepared pan and bake until golden brown and a toothpick inserted into the center comes out clean. About 30-45 minutes.
Let cool 15 minutes in the pan and lift out of the pan and cut into pieces.
Enjoy!!!