Six-Layer Chocolate Cake with Toasted Marshmallow Filling
This Six-Layer Chocolate Cake with Toasted Marshmallow Filling is heavenly, decadent, moist chocolate cake! Filled with a toasted marshmallow buttercream frosting, this is an extraordinary cake for special occasions. (*Pictures updated June 2018*)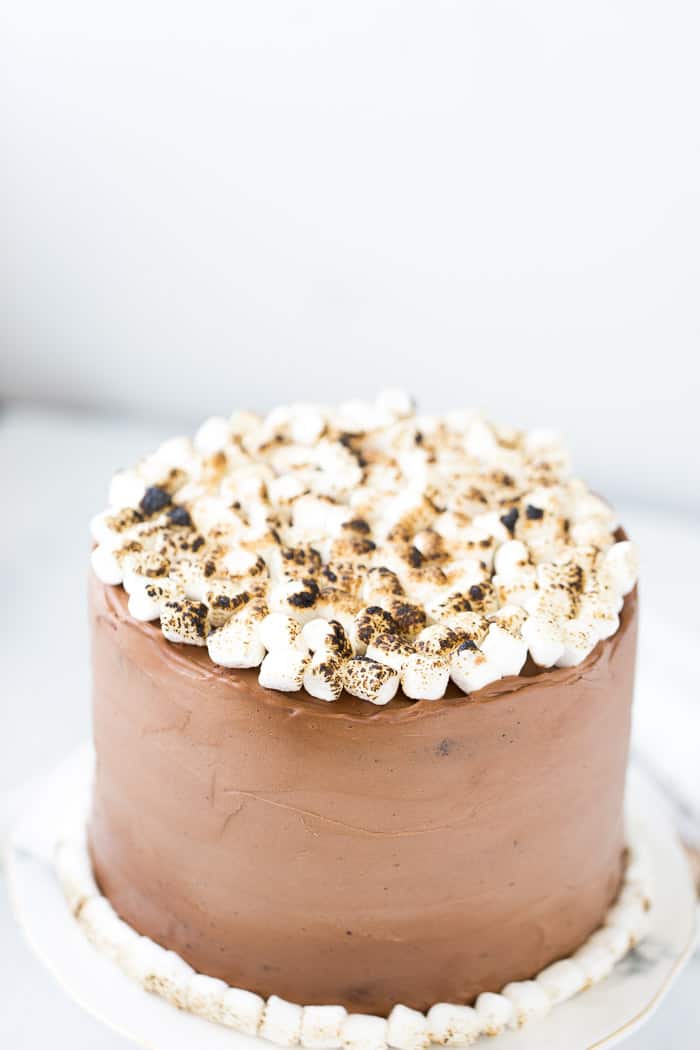 Celebrations always call for chocolate. I made this cake last weekend for a dear friend who just landed her dream job!!!… in San Diego :(. And there is no better way to say "I am so happy for you" and "I'm going to terribly miss you" than a super moist chocolate cake.
Did I mention this friend of mine was the one who introduced me to baking?? Yeah, I made my first cake in her kitchen using her Kitchenaid and baking supplies. She was so kind and laughed gently as I sprayed the cake pan and splattered PAM all over my face and her counter :). I am very grateful!!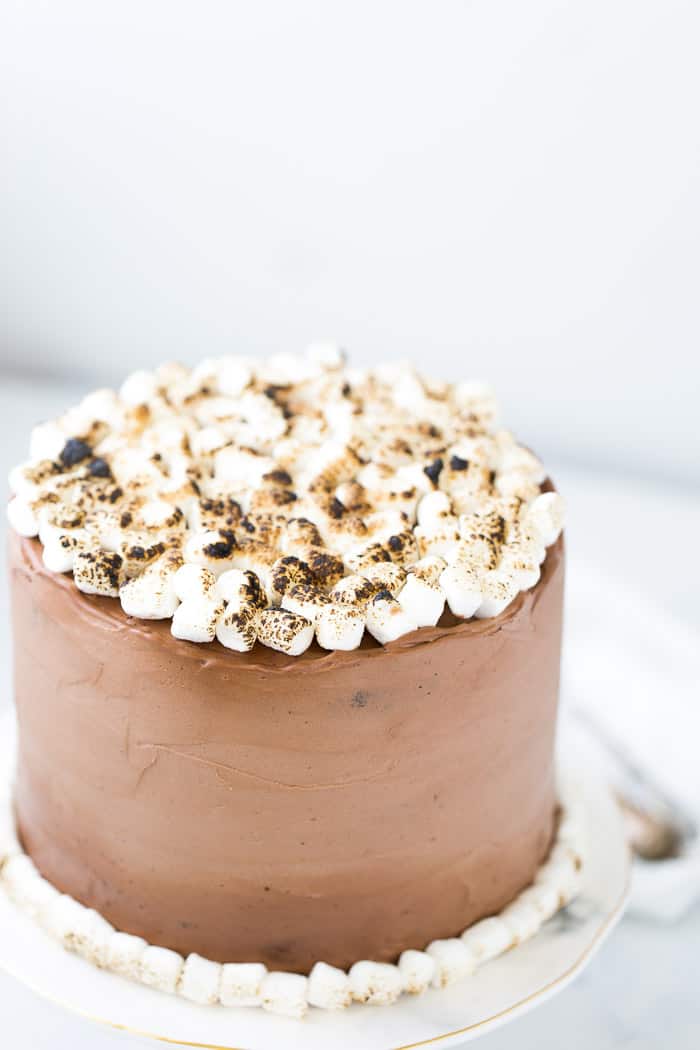 This cake first caught my attention on Sweetapolita's recipe index a year ago, and recently, Brown Eyed Baker recreated it for her birthday. I knew I had to try it, and this occasion was a perfect time.  I needed a WOW cake and this chocolate marshmallow filled chocolate layer cake delivered!
Let's discuss the toasted marshmallow filled chocolate layer cake.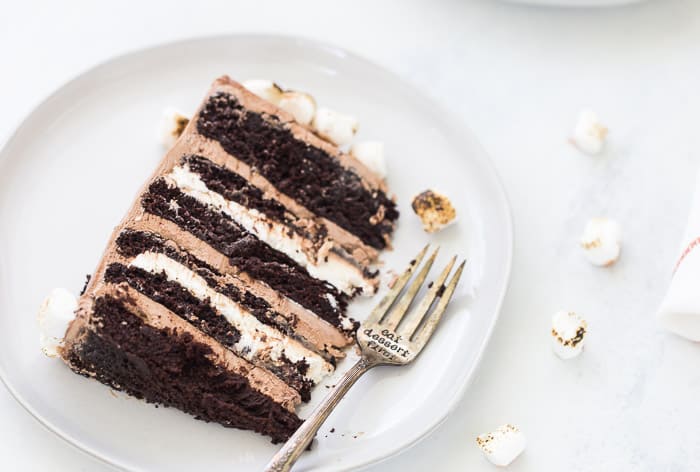 It's six-layers of very rich chocolate cake enriched with hot coffee which makes for a moist cake. Then, the cake is filled with a toasted marshmallow frosting made with crunchy toasted marshmallows, butter, and marshmallow cream. Such goodness!!  The malted flavor in the chocolate frosting was achieved by adding Ovaltine (who knew???) and it complimented the chocolate so well.
This is the best cake I have made so far!!!
And I am glad it was for this occasion. I am so happy for my friend and so proud of her great achievement. There is no doubt, I will miss her and her baby so much, but on the bright side, I now have San Diego on my vacation list and can't wait to visit!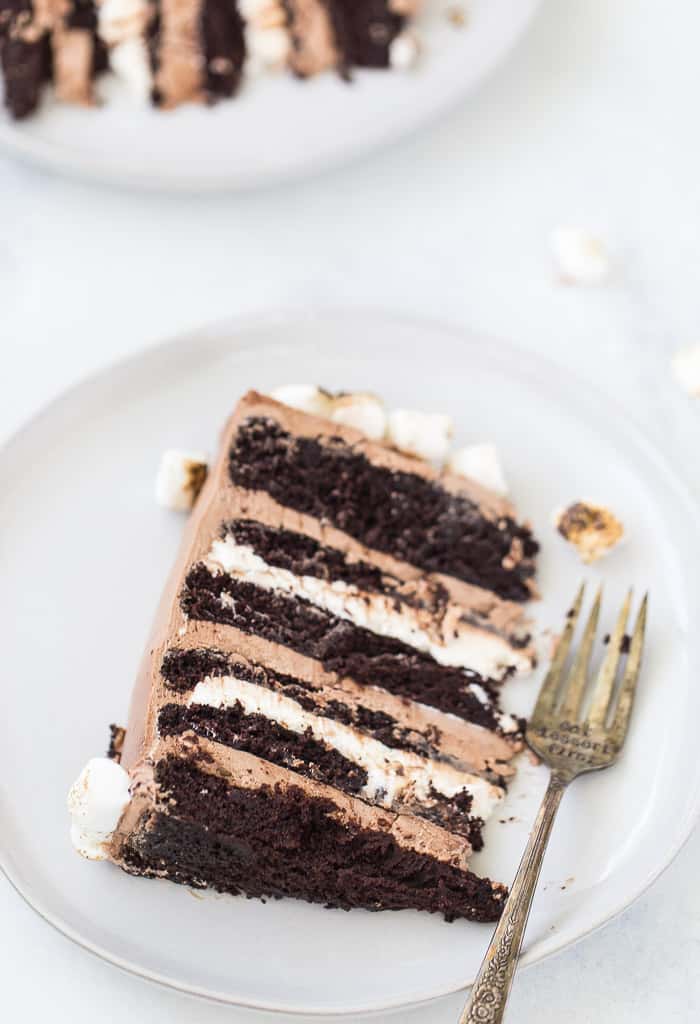 Here's the recipe for this epic six-layer chocolate cake with toasted marshmallow filling. Enjoy!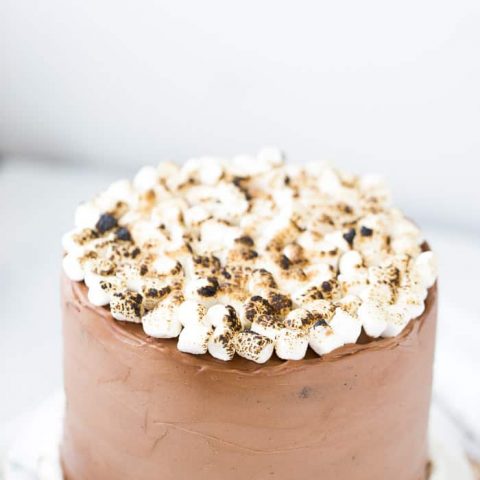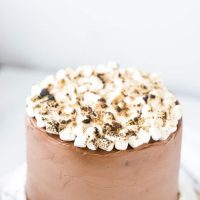 Yield: 1 8-inch layered cake
Six-Layer Chocolate Cake with Toasted Marshmallow Filling
A spectacular six-layer chocolate cake with toasted marshmallow filling and malted chocolate frosting that will be perfect for any celebration.
Ingredients
For Chocolate Cake:
2 ½ cups + 1 tablespoon all-purpose flour
3 cups granulated sugar
1 cup + 1 tablespoon Cocoa powder (I used Ghirardelli)
1 tablespoon baking soda
1 ½ teaspoons baking powder
1 ½ teaspoons salt
3 large eggs, at room temperature
1½ cups buttermilk, at room temperature
1 ½ cups strong black coffee, hot
¾ cup vegetable oil
1 ½ tablespoons vanilla extract
For the Toasted Marshmallow Filling:
16 large white marshmallows
1 cup powdered confectioners' sugar, sifted
1 cup (2 sticks) butter, at room temperature
½ teaspoon vanilla paste or pure vanilla extract
7.5 ounces Marshmallow Fluff
For the Malted Chocolate Frosting:
1 pound unsalted butter (4 sticks), at room temperature
4 cups confectioners' sugar, sifted
¾ cup Ovaltine Classic (brown in color)
1 tablespoon pure vanilla extract
Pinch of salt
8 ounces semisweet or dark chocolate, melted and cooled (I used a combination of both)
½ cup heavy whipping cream
Instructions
For the Cake:

Preheat oven to 350 degrees F. Grease and line three 8-inch round cake pans with parchment paper. Grease parchment and set aside.
Sift together all the dry ingredients in the bowl of an electric mixer.
In a medium bowl, combine all the wet ingredients using a whisk.
Mix the dry ingredients on low speed for 1 minute. Stop the mixer and add the wet ingredients. Mix for 2 minutes on medium speed and scrape the sides and bottom of the bowl. Mix for an additional minute on medium speed.
The batter will be thin. Divide evenly among the baking pans. (I measured the batter by the cup to ensure equal layers of cake.
Bake for 20 minutes and rotate pans in the oven. Continue to bake until a toothpick inserted in the center comes out almost clean, about 12 more minutes.
Cool cakes in pan on wire racks for 20 minutes. Gently invert onto rack to cool completely. Meanwhile, you could start on the filling and frosting.

For the Toasted Marshmallow Filling:

Preheat oven to broil.
Line a cookie sheet with foil and spray with nonstick cooking spray.
Place the marshmallows on the lined sheet and place on the lowest rack of the oven.
Broil marshmallows until brown, about 30-60 seconds. Keep an eye on them as they burn really fast.
Remove pan from oven and turn the marshmallows over.
Broil until golden brown, another 30-60 seconds.
In an electric mixer fitted with the paddle attachment, beat the butter and icing sugar on low until combined, about 1 minute. Add vanilla and increase speed to medium and beat for about 3 minutes.
Add the marshmallow fluff and toasted marshmallows and mix on lowest speed for 1 minute, just until combined.

For the Malted Chocolate Frosting

Beat the icing sugar and butter on low speed for about 1 minute in the bowl of a stand mixer fitted with the paddle attachment.
Add the malt powder, vanilla, and salt and beat on low speed for about 2 minutes until well combined.
Pour in the cooled chocolate and beat for additional 2 minutes on medium speed until smooth.
Add whipping cream and beat on medium-high for an additional minute or two.

Assembling the Cake:

Slice each cake in half horizontally to yield six cake layers. You can use a serrated knife or a cake leveler.
On a cake stand or 8-inch cake board, place the first layer face-up and cover with a third of the toasted marshmallow filling. Place another cake layer face-up and cover with malted chocolate frosting.
Repeat until you come to your final layer, which you will place face-down.
Frost the entire outside of cake with a thin layer 'crumb coat' of frosting. Chill for 20 minutes.
Frost with remaining frosting to create a smooth finish. Decorate and style as desired.