Purple Velvet Cupcakes
 These Purple velvet cupcakes are a deliciously fun twist on red velvet cake. Rich and chocolaty, with a beautiful purple hue, they're perfect for any celebration.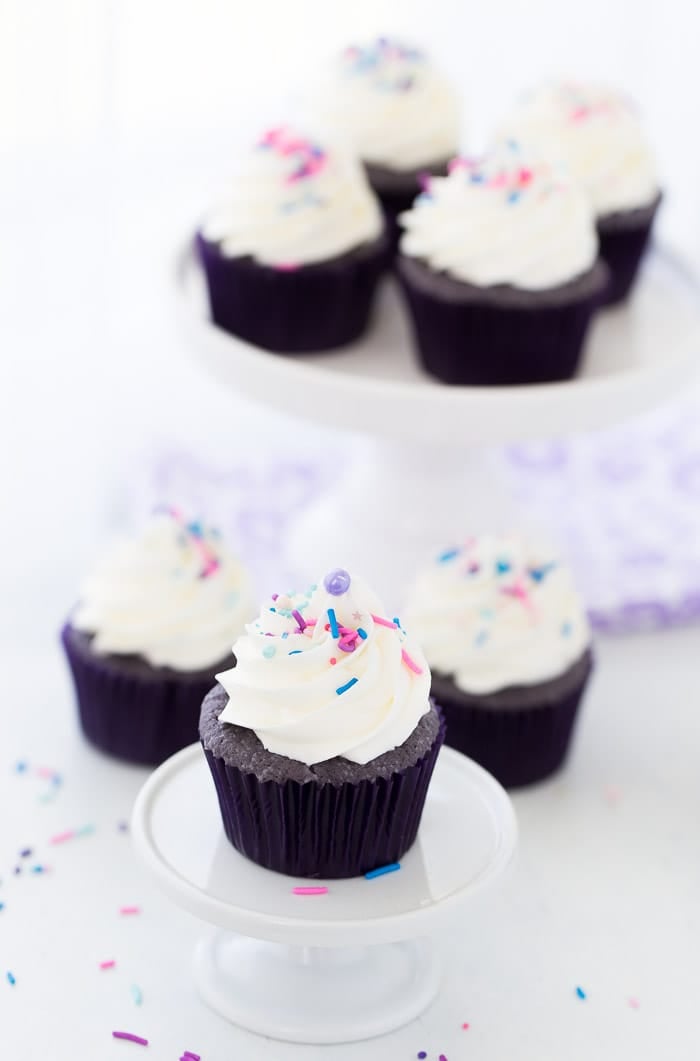 This cupcake recipe is a failed 'success'. I've experimented with different purple velvet cupcakes recipes for several weeks, but I'm still having trouble with the purple hue. This version of purple velvet cupcakes were a recent success but I am still not there yet.
I have to make purple cupcakes for a friend's wedding shower to match her wedding colors and she requested purple velvet cupcakes, spin on the classic red velvet cupcakes. The thing about velvet cupcakes is that most have cocoa powder in them which makes it hard to color the cupcakes. Despite the fact that what makes a cake 'velvet' is the reaction of buttermilk and baking soda (and vinegar) to get that tender cake texture, most people want a hint of cocoa in their velvet cakes. My friend did. So I've been trying to find a velvet recipe with cocoa and purple food coloring that will show up purple.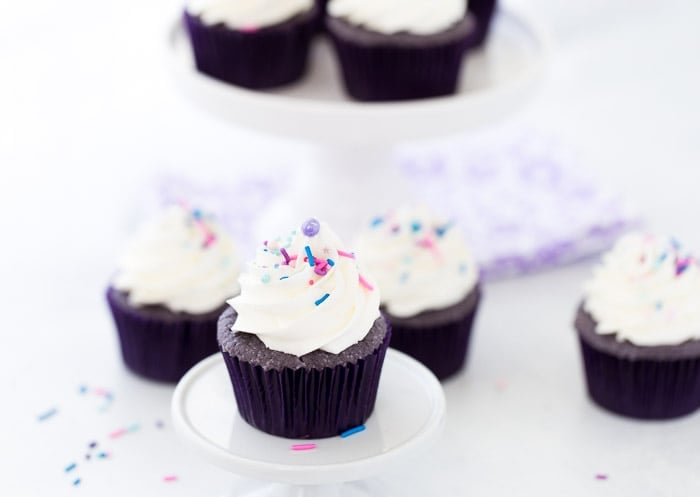 It turns out deep purple is very difficult to create in a velvet cake, calling for some elementary school primary color mixing. I used purple gel coloring which gave a deeper color.
Regardless of the color debacle, these purple velvet cupcakes are AMAZING! Soft, moist and delicious. Topped with classic cream cheese frosting and some festive sprinkles, these cupcakes will be great for every purple themed parties.
These purple velvet cupcakes are delicious and the best part of this experiment!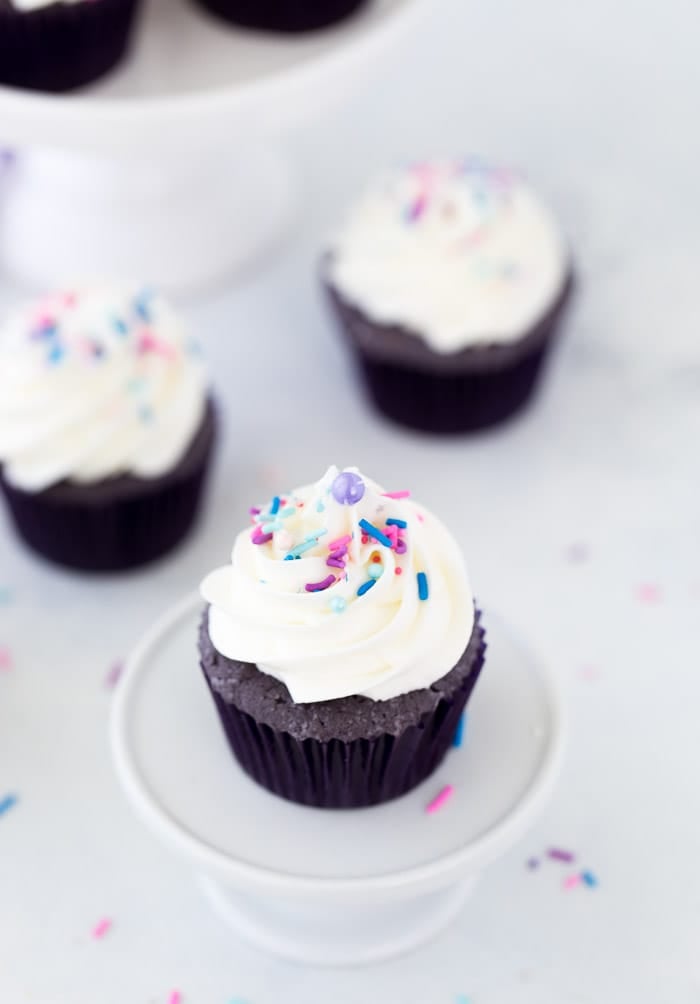 I have the cake side down, so now I just need to work on getting that purple shade I want. If anyone has ideas/advice on how to achieve this, please let me know in the comments below.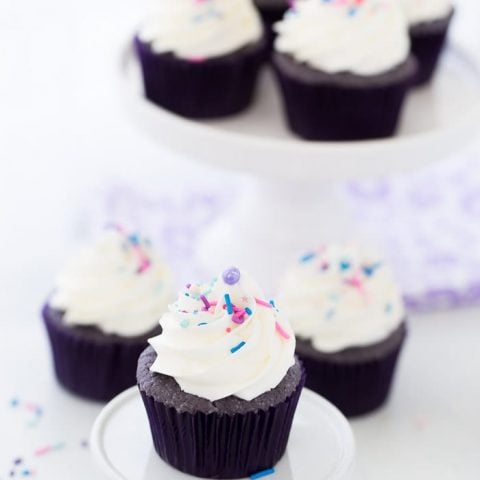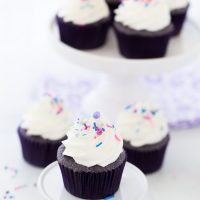 Yield: 12-15 cupcakes
Purple Velvet Cupcakes
Total Time
1 hour
5 minutes
Ingredients
For the Cupcakes:
1 ¼ cups all-purpose flour
½ teaspoon salt
1 cup granulated sugar
½ cup unsalted butter, softened
1 large egg
1 teaspoon vanilla extract
½ cup buttermilk
2 teaspoons cocoa powder
2 teaspoons liquid purple food coloring (or use 1 teaspoon gel coloring)
¼ teaspoon baking soda
2 teaspoons cider vinegar
Cream Cheese Frosting:
8 ounces cream cheese, softened
½ cup (1 stick) unsalted butter, softened
1 teaspoon pure vanilla extract
3 cups sifted confectioners' sugar
2-3 tablespoons milk
Instructions
Preheat oven to 350 degrees F. Line a regular muffin tin with cupcake liners.
In a medium bowl, sift flour and salt together, set aside. In the bowl of an electric mixer fitted with the paddle attachment (or using a hand mixer), cream the butter and sugar until light and fluffy, about 3-5 minutes. Add the egg and mix well. Mix in the vanilla extract. Alternate the flour mixture with the buttermilk, beginning and ending with flour mixture.
In a small bowl, mix the purple food coloring and cocoa powder until a paste forms. Add this to the batter and mix well. In another small bowl, mix together the baking soda and cider vinegar. It will foam. Add to the batter immediately and mix until well combined in batter.
Divide the batter evenly into the prepared liners, filling about ⅔ full. Bake for 12-14 minutes, or until a toothpick inserted into the center comes out clean. Remove cupcakes from pan and let cool completely on wire racks.
In a large mixing bowl, beat the cream cheese, butter and vanilla until smooth. Add the powdered sugar and milk. Mix on low speed for a minute and then increase to medium-high speed to beat until well combined. Frost cupcakes with frosting and decorate with sprinkles.