Cookie Dough Crème Brûlée
Today, Kayle from The Cooking Actress is sharing with us this Cookie Dough Crème Brûlée recipe. Did you know you can put cookie dough in your creme brulee to take it to a whole new level??? I had no idea!!! Thank you Kayle for this revelation :0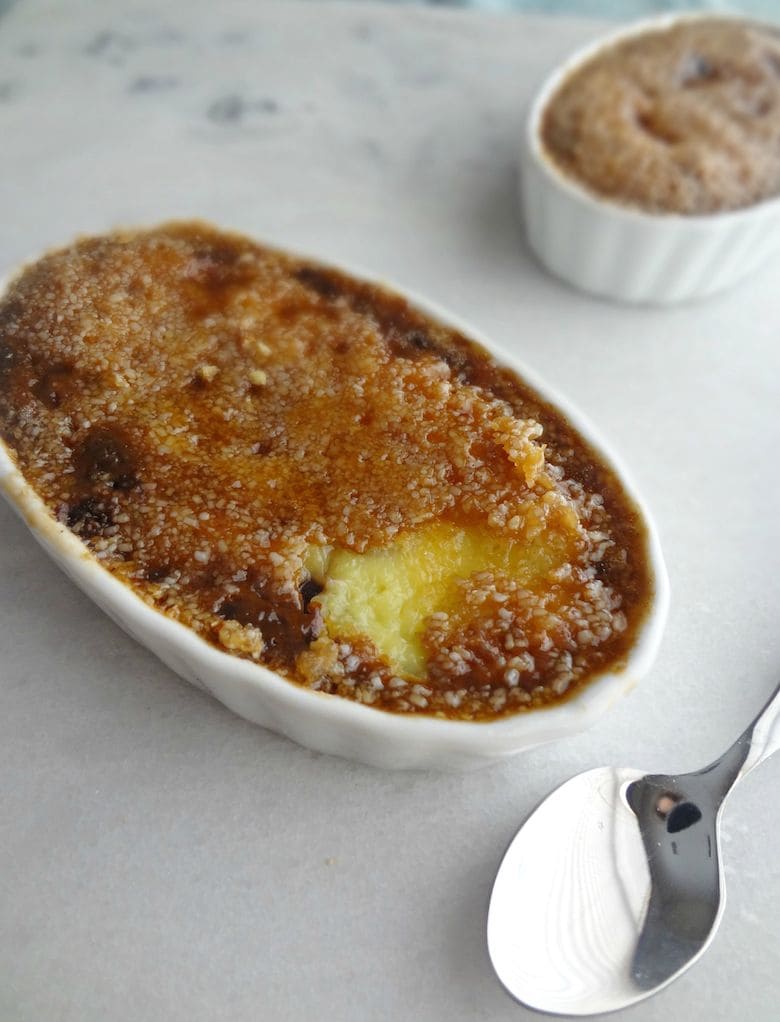 Hi Blahnik Baker readers!! I'm Kayle and I'm the blogger behind "The Cooking Actress"-a little piece of the internet where I rant randomness and share recipes for tasty tasty food. I am SO excited to be guest posting for Zainab while she takes some time off to cuddle her brand new little babykins. She deserves this time, amiright? And I of course did not hesitate to step in and help out—Zainab stepped in and guest posted for me when I moved from NYC to Ohio AND when I was gearing up for my wedding (during which time she was preggers and trying to prepare for her own leave, mind you).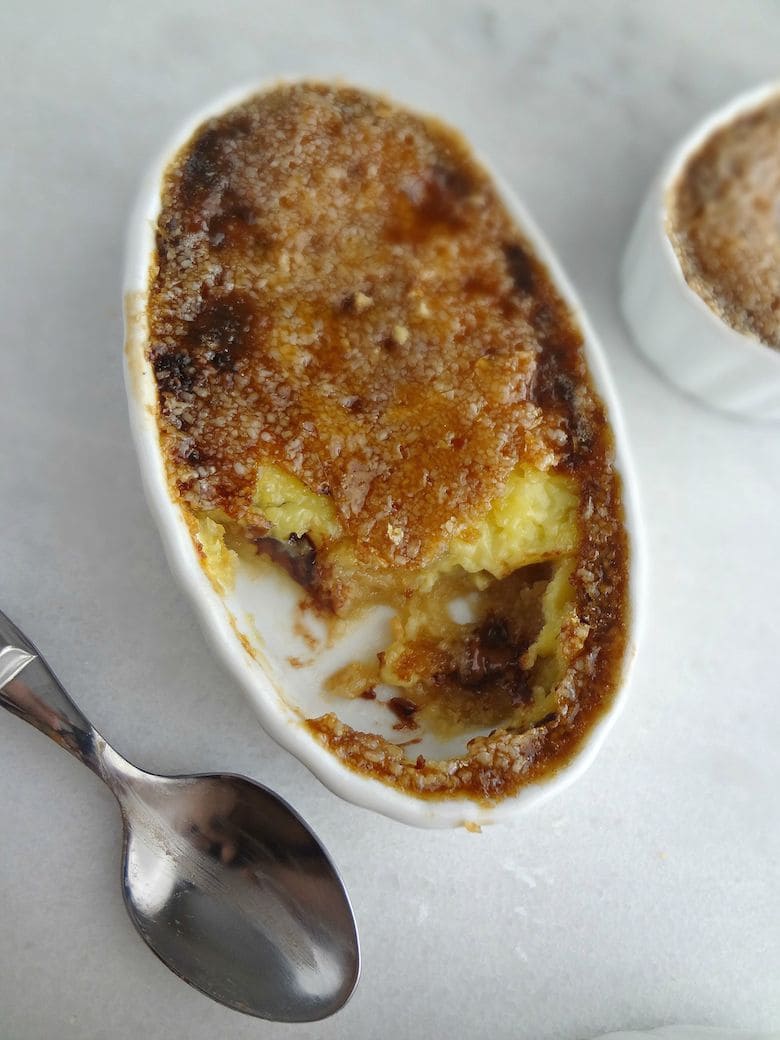 Not only has Zainab been incredibly helpful and generous over the course of our friendship-but she has been that way literally since the inception of our friendship! Almost as soon as we discovered each others blogs she noticed that I was whining about how much I wanted a copy of "The Cookie Dough Lover's Cookbook". And do you know what she did? SHE SENT ME ONE. Zainab bought me, essentially a stranger, a cookbook and shipped it to me. That is how amazing of a person she is. So, I thought it was only fitting that for my guest post today, I make one of the recipes from that very cookbook! And omigosh it is a good one!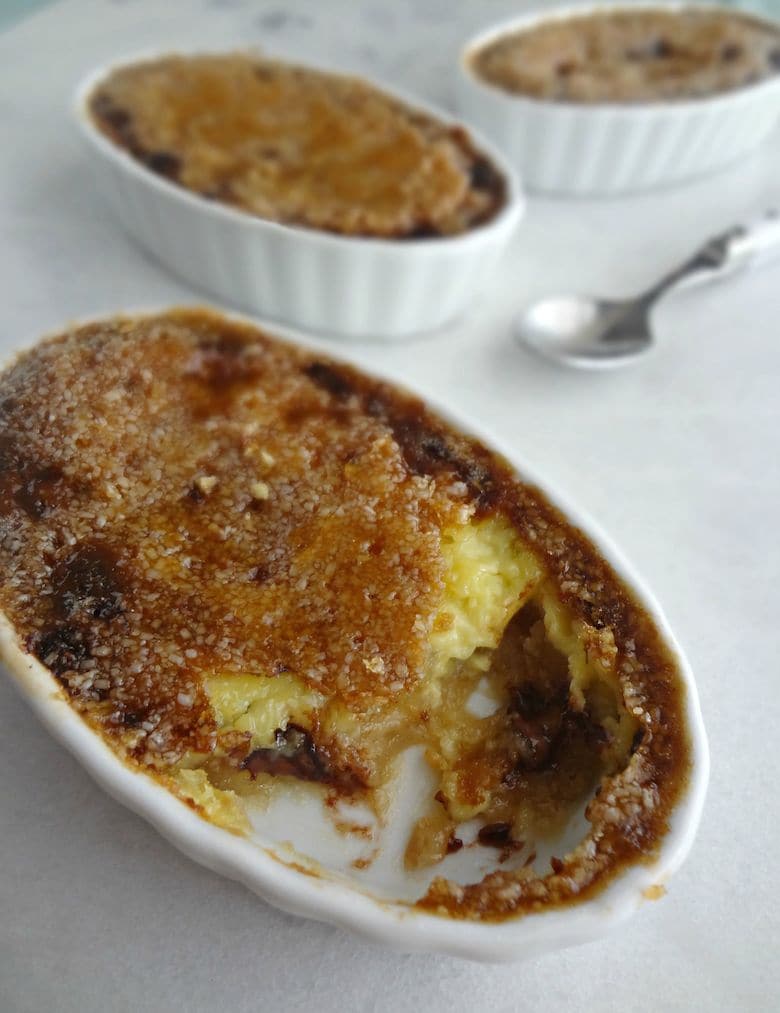 So crème brûlée is essentially just vanilla pudding with caramelized sugar on top, yeah? Pretty good, would just be ok if it weren't for the aforementioned caramelized sugar. But these are special. These are great. Because there's a layer of cookie dough under the custard. And somehow that cookie dough, even after baking, retains it's dough-like quality. And it is insanely delicious. Rich yet light and creamy with crunchy bites of the caramelized sugar. Heaven. I intended to break in my new kitchen torch with these but, due to lack of reading the box…I realized I did not have any butane gas for the torch. So I used the broiler. Which worked out just fine-if a teeny less fun than using a torch. Either way, you end up with a fantastic dessert that is sure to impress-whether you're entertaining or just sitting and watching Netflix in your pj's. Or maybe taking a moment to indulge while your baby naps….hmmm Z? 🙂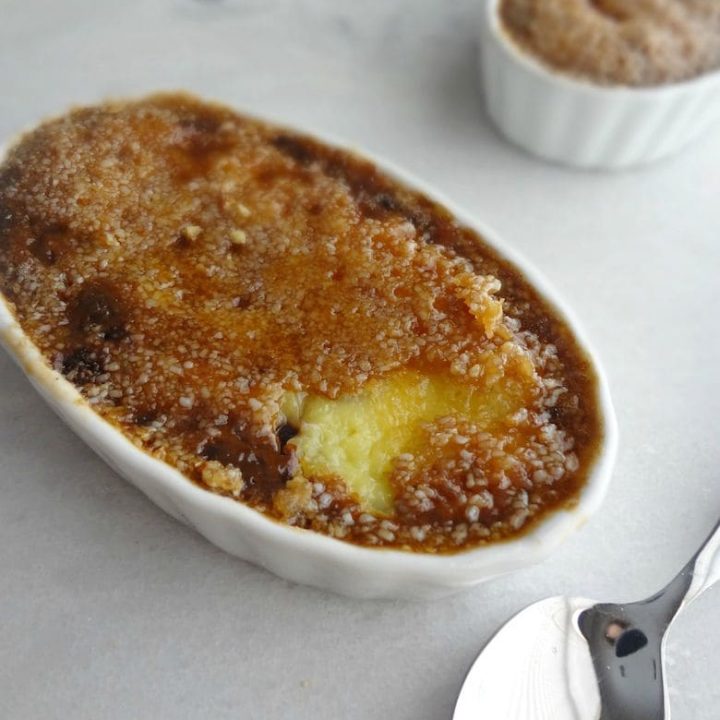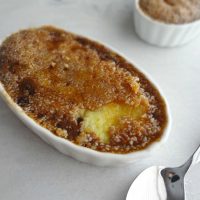 Yield: 5
Cookie Dough Crème Brûlée
Ingredients
Cookie Dough:
¼ cup (or 4 tbsp.) unsalted butter, room temperature
2 tbsp. granulated sugar
¼ cup light brown sugar, packed
2 tbsp. milk or cream
½ tsp. vanilla extract
½ cup all purpose flour
1/8 tsp. salt
2 tbsp. semisweet chocolate chips (full sized or mini)
Custard:
¾ cup heavy cream
2 egg yolks
2 tbsp. granulated sugar
½ tsp. vanilla extract
¼ cup turbinado/raw or granulated sugar
Instructions
Preheat oven to 300F degrees. Bring a small pot of water to a boil (you'll use this to bake the custards in a water bath).
To make the cookie dough:
Beat together butter and sugars on medium speed until light and fluffy. Beat in milk/cream and vanilla extract. Mix in flour and salt.
Spread 1 heaping tablespoon of cookie dough in an even layer on the bottom of five 4 oz. ramekins (or 3 oz. ramekins or deeper 6 oz. ramekins are fine if they're all you have). Sprinkle each ramekin of cookie dough with about ½ tbsp. of chocolate chips and gently press them into the dough.
To make the custard:
Heat heavy cream in a small saucepan until it begins to steam (with a thin layer starting to form) but before it begins to boil! In a bowl, whisk together the egg yolks and granulated sugar for 1-2 minutes, until lightened in color. Pour the warm cream, approx. ¼ cup at a time, into the egg and sugar mixture, whisking constantly until evenly incorporated. Stir in vanilla extract. Skim off foam (I used a spoon to do this) and pour over the cookie dough lined ramekins.
Arrange ramekins in a deep baking dish and place it in the oven. Carefully pour the boiling water into the baking dish until it reaches up about half way up the sides of the ramekins. Bake 25-30 minutes (or 35-40 minutes if using the 6 oz. ramekins) until just set, with slightly jiggly centers. Remove from the water bath and let them cool to room temperature. Cover with plastic wrap and refrigerate for at least 3 hours or overnight.
Before serving, sprinkle raw/turbinado sugar evenly over the top of each crème brulee. Use a kitchen torch to caramelize the sugar, moving evenly to avoid burning it. Or, if you don't have a kitchen torch, you can place them under a broiler until the sugar has melted and caramelized. Let cool a bit and then serve! (You can also refrigerate crème brulee that has already had the top caramelized and eat it later, if need be.)
Notes
Recipe from "The Cookie Dough Lover's Cookbook", by Lindsay Landis
 Thank you Kayle for this wonder!!! I need one of these AND Netflix to indulge. Do follow Kayle for more of her delicious recipes on her blog, The Cooking Actress, Facebook and Pinterest.