Gingerbread Bundt Cake
Packed with cozy and aromatic cinnamon, cloves, ginger, and molasses, this moist gingerbread bundt cake is everything you look for in a scrumptious winter dessert! This easy one-bowl gingerbread cake is elegant, decadent, and smells amazing while it's baking.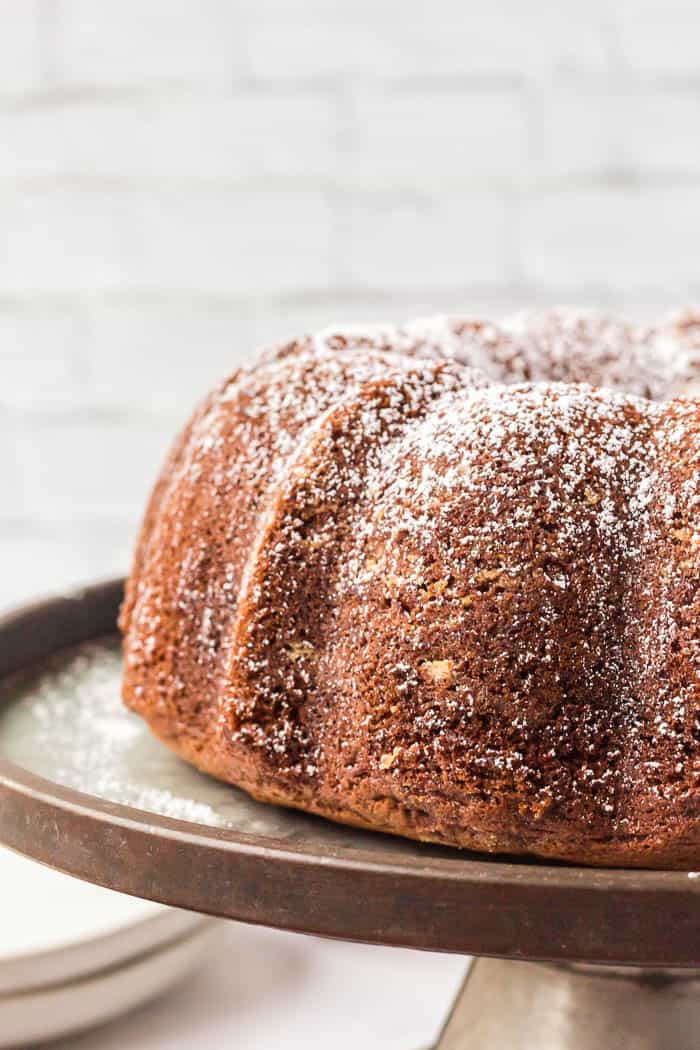 Gingerbread cookies are a winter staple for a reason—they're fragrant, warmly spiced, and super fun to decorate. However, if you're like me, you find gingerbread tedious to make and difficult to bake perfectly. When you're craving the flavors of gingerbread, but don't feel like going through the hassle of making cookies, try making this rich and delicious gingerbread bundt cake instead.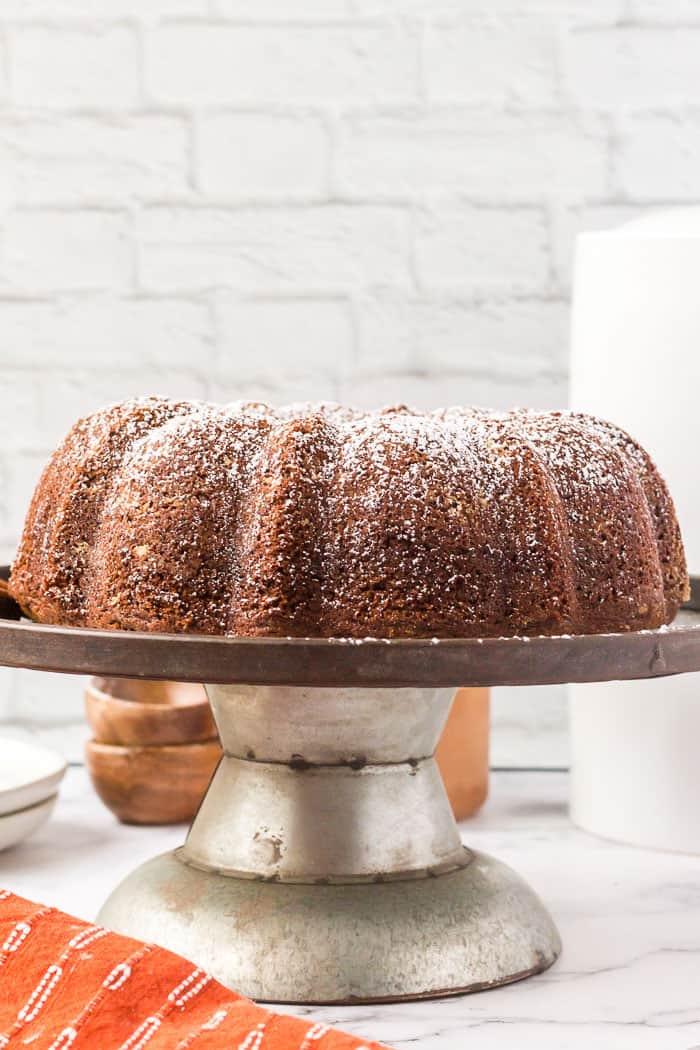 Although this elegant gingerbread cake isn't the quickest dessert to make, most of the cooking time is spent enjoying the delicious aroma of seasonal spices while you wait for your cake to bake. Plus, you can't beat the fact that the batter can be made in a single bowl. Better yet—this cake is so moist that it doesn't need frosting! Simply dust your cooled cake in powdered sugar for a simple, yet stunning snowy effect. This beautiful bundt cake is truly a feast for both your eyes and your stomach.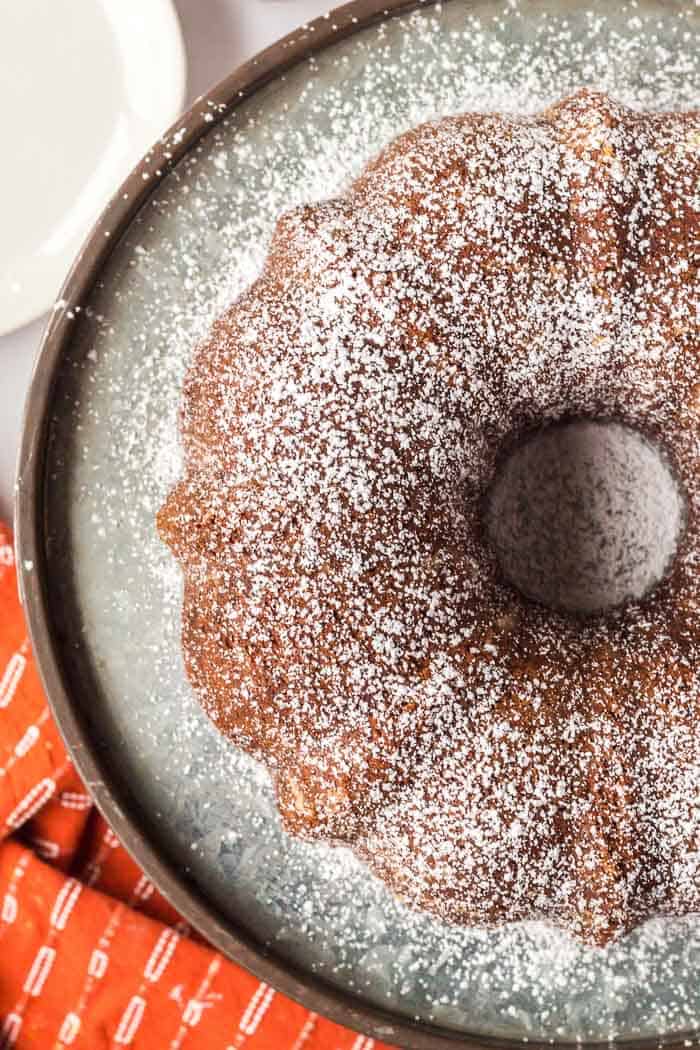 Ingredients You'll Need
All-Purpose Flour—adds a spongy crumb to your finished cake
Sugar—brown and white sugar combine to create a caramelly sweetness
Salted Butter—room temperature works best. It May be substituted for unsalted butter; just don't forget to add a pinch or two of extra salt!
Eggs—these stabilizers help to bind all your yummy cake ingredients together
Whole Milk—this rich milk adds chew to your finished cake. Any other type of cow's milk or plant-based milk may also be used
Molasses—a byproduct of the sugar refining process, this dark syrup is what gives your cake that quintessential gingerbread flavor
Sour Cream—secret ingredient added to help lock in moisture
Spices—cinnamon, cloves, and ginger help to round out the slightly bitter molasses flavor

How to Make Moist Gingerbread Bundt Cake
Begin making this deliciously fragrant gingerbread cake by creaming together your butter, white sugar, and brown sugar. Continue to cream until the mixture is light and fluffy.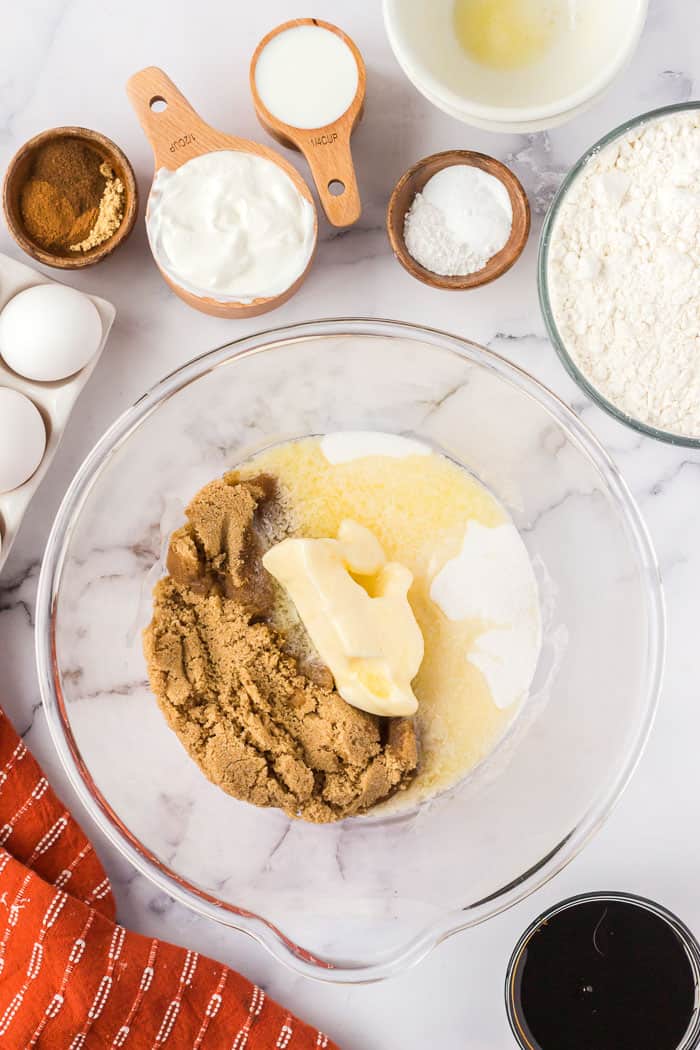 To your butter mixture, add your eggs and mix until thoroughly incorporated. Next, add your sour cream, milk, and molasses and mix until combined.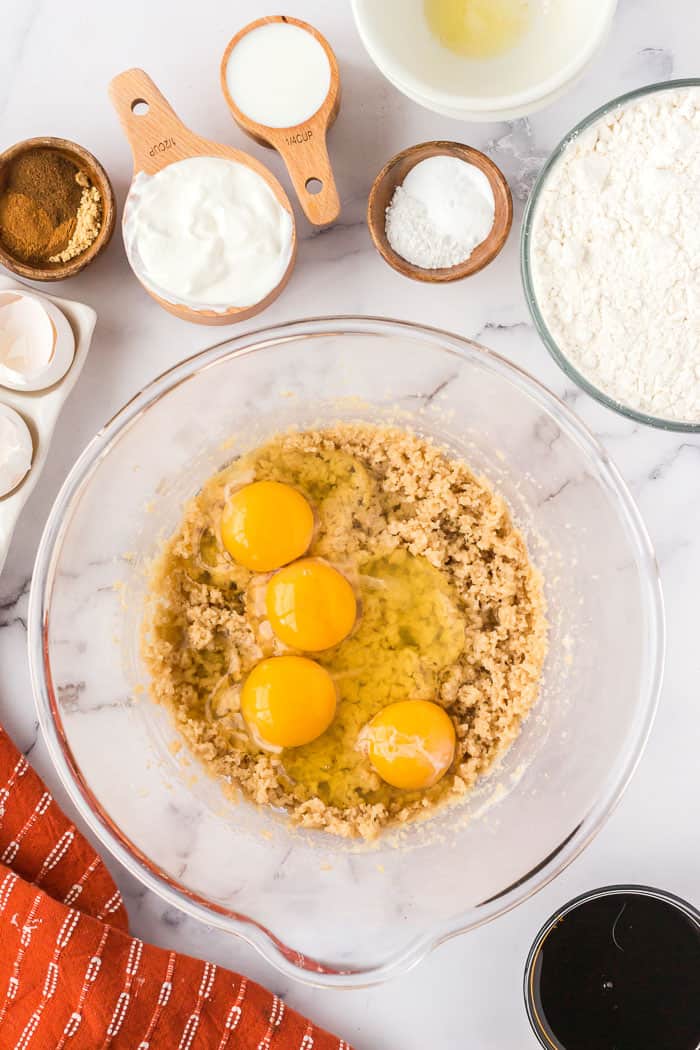 To your wet ingredients, add your cinnamon, cloves, ginger, baking soda, baking powder, and all-purpose flour. Mix until all the flour is just incorporated (you don't want to overmix and develop too much gluten).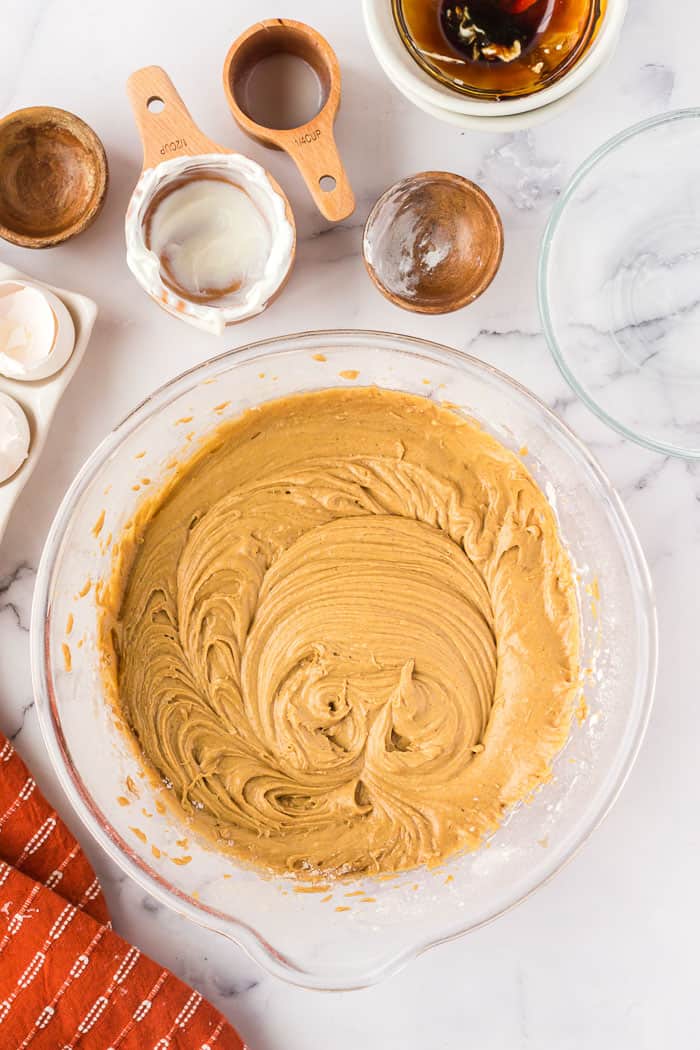 Pour your gingerbread cake batter into a well-greased bundt pan and bake in a 350°F oven for 45 minutes. You'll know your cake is done when a toothpick inserted into the middle comes out clean.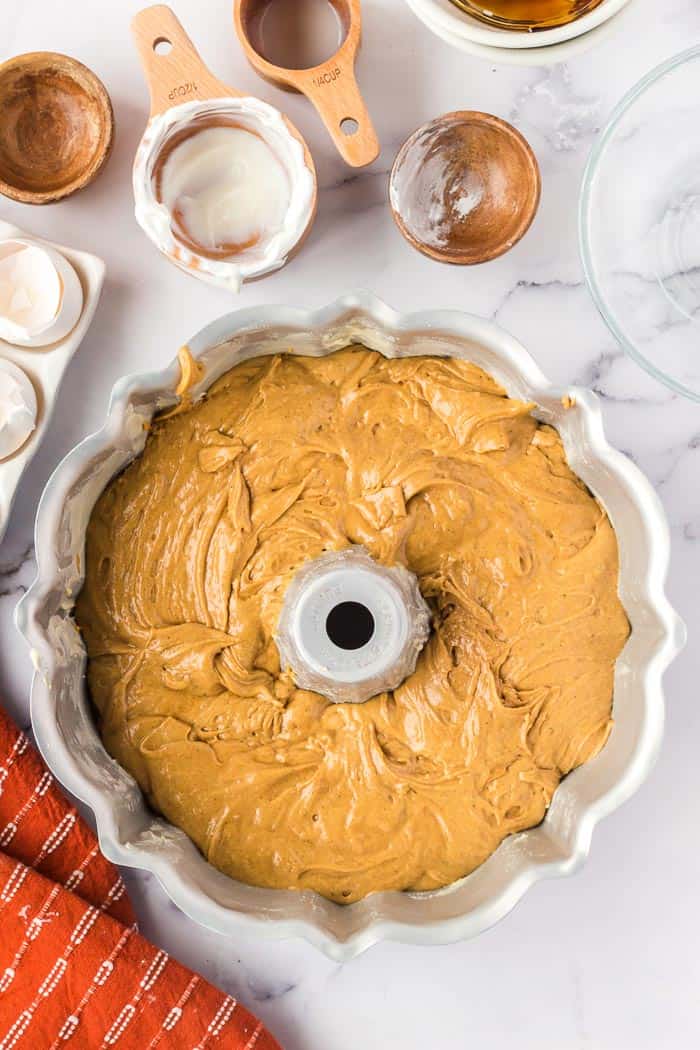 Allow your cake to cool slightly before removing it from the pan, topping with powdered sugar, and serving!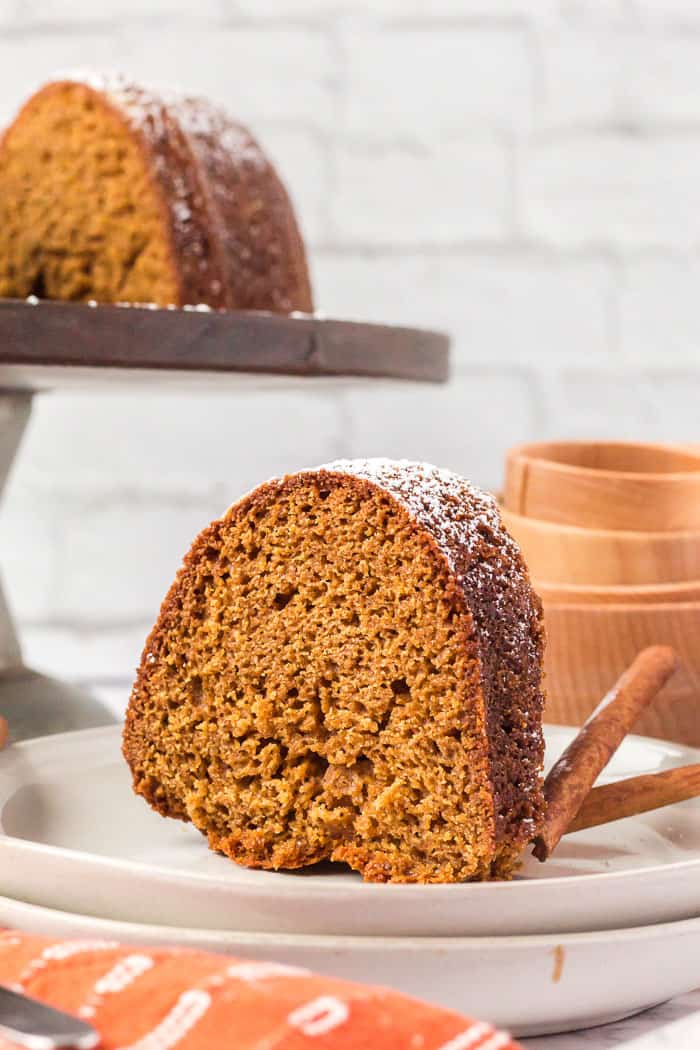 Frequently Asked Questions
Can you freeze the gingerbread cake?
Easily! I recommend slicing your cake before wrapping it tightly in plastic wrap and storing in the freezer for up to 4 months. When you're ready to enjoy this spiced cake, allow a slice to thaw on the counter or heat it up in the microwave.
What kind of molasses should I use?
For maximum gingerbread flavor, I recommend that you use dark or medium molasses in this cake. Light molasses will give your cake a more subtle spice.
How do I keep my gingerbread bundt cake from sticking to the pan?
Before baking this gingerbread cake, I liberally coat my bundt pan in a mixture of softened butter and flour. This "cake paste" will ensure that your intricate and beautiful cake comes out of the tin in one piece.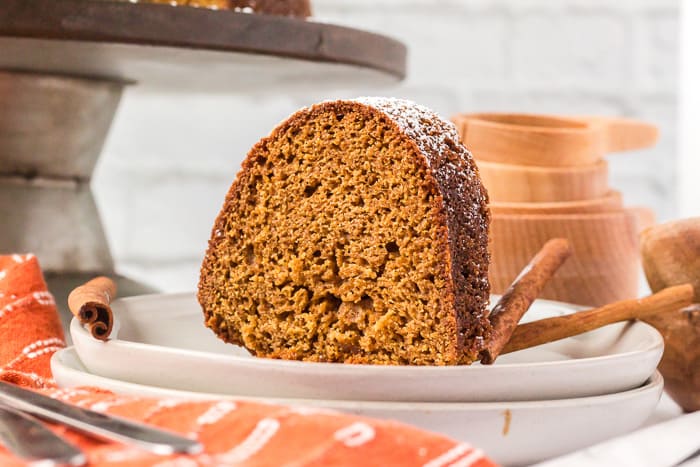 Recipe Variations
Although this rich and warm gingerbread bundt cake is delicious on its own, I find that you can improve it even further by tossing in some fun add-ins. Chopped pecans, chocolate chips, gingerbread cookie pieces, apple chunks, and cinnamon chips are a few of my favorite cake batter add-ins.
I opted to top this elegant bundt cake with a dusting of powdered sugar, but you could totally add frosting to the top of your gingerbread cake. Cinnamon cream cheese frosting, caramel frosting, or a delicate maple syrup glaze would all be great choices.
Transform this simple cake into a show-stopping centerpiece by getting creative with your toppings and decorations. Sugared cranberries, candied orange peel, or frosted gingerbread cookies can be used to add a pop of color to the top of this cake.
What goes well with this Gingerbread Bundt Cake?
This sweet and spicy gingerbread bundt cake is the perfect ending to any holiday meal. A roasted turkey, pot roast, or honey ham dinner isn't complete without this flavorful cake! I like serving this warm and cozy cake alongside scoops of vanilla or eggnog ice cream, dollops of homemade whipped cream, or tall glasses of ice-cold milk.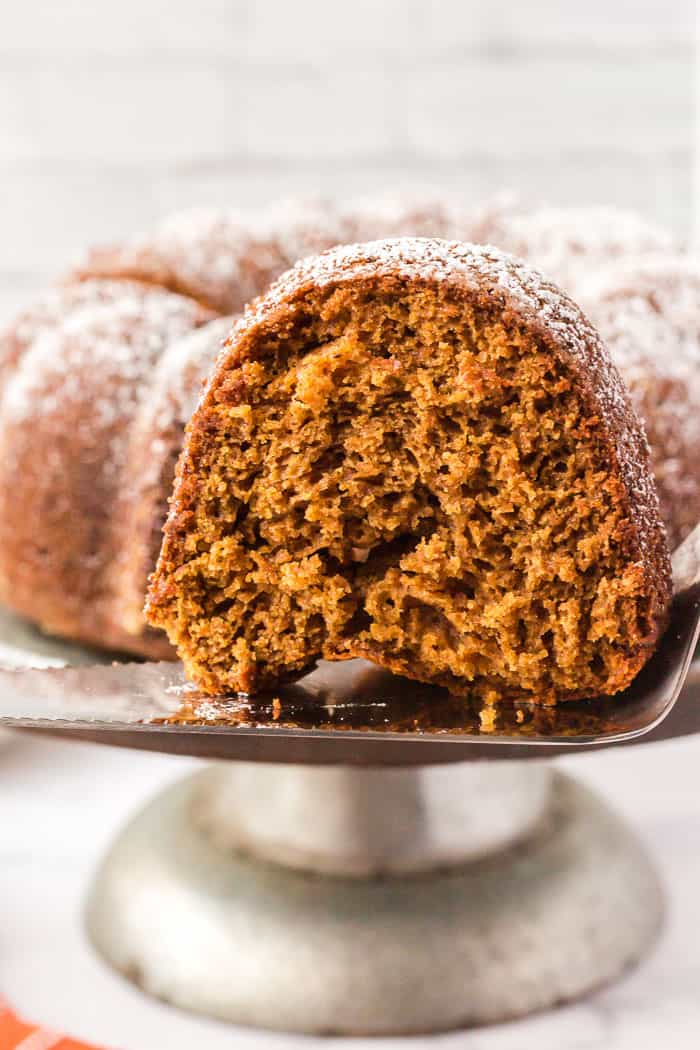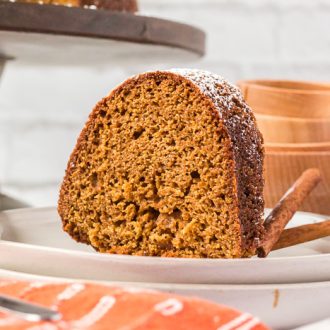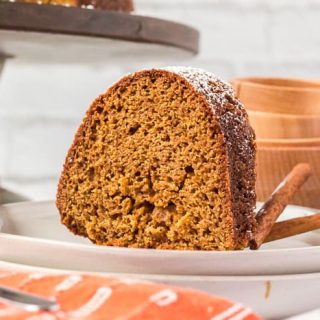 Yield: 1 large bundt
Gingerbread Bundt Cake
Ingredients
½ cup unsalted butter, softened to room temperature
¾ cup granulated sugar
¾ cup light brown sugar
4 large eggs, at room temperature
½ cup sour cream, at room temperature
¼ cup whole milk, at room temperature
1/3 cup molasses
1 tsp ground cinnamon
1 tsp ground cloves
1 tsp ground ginger
1 tsp baking soda
1 tsp baking powder
3 cups all-purpose flour
Instructions
Preheat the oven to 350 degrees F. Grease a 10-inch Bundt pan with baking spray or butter and flour.
In a large mixing bowl or stand mixer, cream together the butter and sugars until smooth and creamy, about 3 minutes on medium speed.
Add in the eggs, one at a time, and whisk until the eggs are fully incorporated into the sugar mixture. Once the eggs have been incorporated, add the sour cream, milk, and molasses. Whisk the mixture again until the batter is smooth and runny.
Add the spices, baking soda, baking powder, and flour and whisk again until the batter is smooth, and no clumps of flour remain.
Pour the batter into the prepared pan.
Bake the cake for 45 minutes, or until a toothpick can be inserted and removed without any batter.
Allow the cake to cool for 10-15 minutes, top with powdered sugar, serve,
and enjoy!
Recommended Products
As an Amazon Associate and member of other affiliate programs, I earn from qualifying purchases.