Maternity Favorites + Vanity Fair Giveaway!!
Over the past year, I've enjoyed reading suggestions from pregnant blogging women about their essential maternity gear. I figured I should do a round-up of some of my favorite maternity items just incase it might help someone out there. Full disclosure: none of these companies are paying me to say nice things about them. I tried and loved their products on my own and I am just sharing my opinions with you.  With that said, you get to win one of these items for yourself…whether you are pregnant or not (see details at the end of this post)!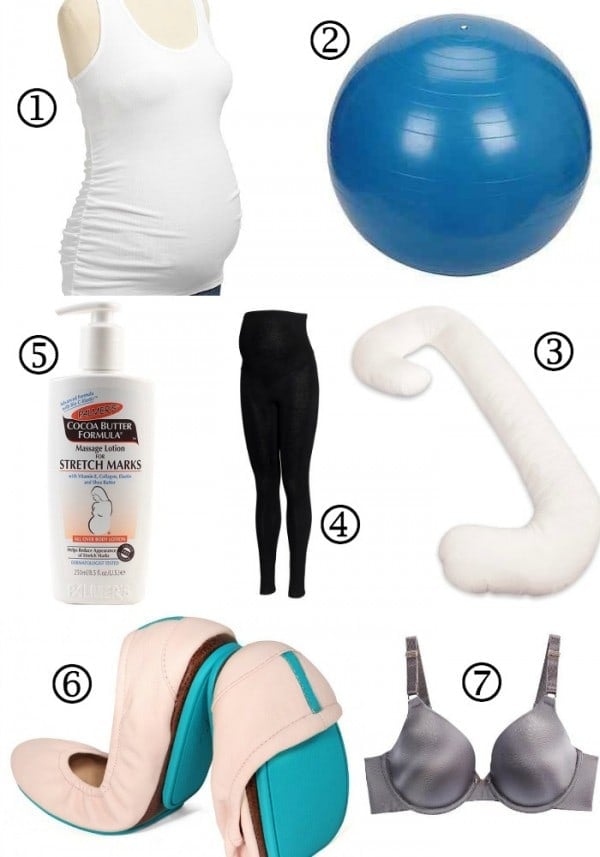 1) Old Navy Maternity Tanks – These have been my basic tanks and I love the long length. They are also reasonably priced so worth stocking up on a few especially for the summer months.
2) Birthing Ball –  this has been a tremendous help with my back pain in the second trimester. I use it to exercise/stretch regularly and usually just bounce on it as I watch TV instead of sitting on the couch for extended periods of time. Rumor has it, it will be helpful during labor contractions as well so we shall see.  https://amzn.to/1dpszSQ
3) Leachco Snoogle Total Body Pillow – This one is controversial in a sense. I had difficulty falling asleep in the beginning of the second trimester and nothing we tried helped until I got this pillow. I was able to go to sleep easily and stay asleep for a while and it helped with my back pain as well. But after about 3-4 weeks, it stopped helping and instead became a nuisance as I felt restricted. I use it once in a while when my back bothers me but figured I would include it on the list.
4) H&M MAMA Leggings : OK, I have to confess, I don't wear leggings. Never have been a fan of them and probably only own one. But as I progressed in my pregnancy, it became obvious I can't live in yoga pants my entire time at home or on quick errands. So I tried these two weeks ago and I've worn them 4 out of 7 days at least. I may have even worn them to work with a long top (:0). They are lightweight, comfortable and perfect for the increasing summer heat. I got a 3/4-length one as well.
5) Palmer's Cocoa Butter Lotion for Stretch Marks – whether this works wonders on reducing or preventing stretch marks, I have no idea. All I know is that my mom used it when she was pregnant with my little brother and I distinctly remember at 8 years old that she was religious about applying it everyday. I've used it everyday since I started seeing a bump and I do not little or no stretch marks.
6) Tieks Flats (in Ballerina Pink) – I've shared with you my love for these flats before but I will say it again; they are the most comfortable flats, I've ever had! And I have a lot of flats since that's all I wear to work in the lab. These do not leave my feet aching after a long 8 hour day. They are just plain amazing and worth every penny (yes, I know they are pricey). The elastic design has been perfect as it makes room for my feet as they get bigger during this pregnancy. My other flats are now too tight but the tieks continues to fit.
7) Vanity Fair Bras– One of the perks of being pregnant has been the bigger boobs…I won't lie I love it! I am sure once it comes to dealing with the pain of breastfeeding I will be singing a different song but for now it's all a plus. I knew I had to find better support for the girls as they continue to grow so I tried a few bras from Vanity Fair's selection. And boy was I in love! They are so comfortable, fit perfectly and help with support tremendously. They are regular everyday bras (not nursing bras) and will work with anyone's closer. Here are the three that I tried VF Beauty Back Bra, Beauty Back Strapless Bra, and Dynamic Duo 2-pack Bralette and I love each of them. And also why I am giving away TWO pairs to TWO lucky readers today!! (See below for details.)
Bonus item: H&M MAMA Skinny Jeans – I've told you about these jeans before but I have seriously worn these (in two colors) non-stop for the past 8 weeks!! Amazing fit and love the skinny style.
GIVEAWAY DETAILS: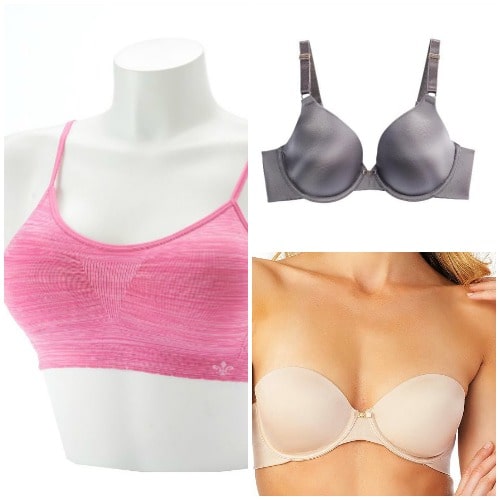 TWO lucky readers will each receive one Vanity Fair item (value up to $40). To enter, tell me one of your maternity favorites (if you are a mommy or preggos) OR one of your favorite summer essentials (if you are not a mommy!) in the comments below. Two lucky readers will be selected at random on Friday, June 5th.
Disclosure: Giveaway is sponsored by Vanity Fair. Open to US residents only (sorry!) T
he prize is good for one Vanity Fair item based on inventory availability, with 

value up to $40 and is not redeemable for cash; please allow 4-8 weeks for delivery. Giveaway ends Friday, June 5th 2015 at midnight. Some affiliate links included.